Your Semi-Ignorant Guide to College Football: Week 4
Craig Mitchelldyer/Getty Images
While agonizing over the possibility of a second straight Alabama-LSU title game, I think I came up with the worst thing about their horrible dominance: as a neutral college football fan, you have to pick a favorite.
Well, let me qualify that. A person like me, who is incapable of watching a sporting event of any kind (including youth Frisbee) without vilifying one team and venerating the other, needs to pick a favorite. Believe me, that is a hateful, torturous task in this world of Tigers and Tide. Anyone with a semblance of love for the amateur unpredictability of college football probably despises these two programs. They are the evil empire, magnified by a power of two. While the rest of us stand by and watch, helpless, Les Miles and Nick Saban have created near-professional super-teams in a non-professional sport, slowly sucking the competitive life out of the game.

That's bad enough on its own. But the really scary part is that their success keeps building on itself in an upward spiral. Since college teams are re-stocked by high school recruits with freedom of choice rather than a balance-restoring draft, the result is a landscape that resembles European soccer more than anything on our shores. Overseas, the best players follow the big wages, and the successful teams are gifted with more money (for participating in big competitions like Champions League) and more prestige, creating a cycle of circular rewards where the top clubs in the big European leagues tend to get better and better as their money and talent feed each other in a gluttonous cycle. While that money element isn't present in college football, at least directly or officially, the promise of future NFL payouts lures players to what they perceive as the best program.
This, of course, has always been the case. But, over the last few years, as Bryan Curtis pointed out earlier this week, three men have become almost too good for their jobs. Miles, Saban, and Urban Meyer, formerly of Florida, now rebuilding Ohio State. Miles and Saban, especially, have established such a competitive imbalance that the drama is basically gone from their games. Anyone who watched Alabama decimate Arkansas has already come to terms with a sad truth — the Crimson Tide are not losing this season. Or, if they do, it will be to LSU, who, by the way, also will not lose this year except maybe to Alabama. The coaches are too smart, the players are too physically superior, and the systems are too efficient. For these two teams, the days when any team could lose on any given Saturday, even the brilliant USC teams of the Pete Carroll era, are long gone. The fluke upset has been eliminated from the realm of possibility, and that, to me, is a tragedy.
So I've already asked myself the impossible question: When LSU and Alabama meet in the regular season with a berth in the title game at stake, and then again in the actual title game when the Pac-12 and Big 12 beat up on each other and leave us with no undefeated challenger, who will I support?
I can't differentiate by style; both have competent offenses and superior defenses, resulting in slow, stifling, boa-constrictor choke-hold victories. The players? Nah. A byproduct of the ultra-efficiency at these schools is that the standouts tend to be bruisers like Eddie Lacy rather than electric wunderkinds like De'Anthony Thomas. In the end, it has to come down to coaches. In spite of myself, I like Les Miles. "The Mad Hatter" is a great nickname, and he seems to embody the kind of gambling spirit that's missing from the rest of his program. I like that he takes risks, and smiles, and seems like a sympathetic character in Wright Thompson stories.
Nick Saban? Nick Saban is an insufferable tyrant who bullies the media. He seems to live a joyless existence, and when he stomps into Wright Thompson's orbit, the resulting story has the word "hate" in the headline.
So I'll root for LSU when the schools meet, because I need a good guy. But it's a huge stretch, and until my hand is forced, I'll be praying for the miracle upset.
On to Week Four!
The Ranked Games
No. 22 Arizona at No. 3 Oregon
You'll quickly notice that this is the week of the road dog. In every game between two ranked teams and a good portion of the others, the home team is a significant favorite. Any upsets are going to have to happen on the road.
I'm really, really excited for this one, and I hope Rich Rodriguez's offense can hang with the Ducks for at least a few quarters. Arizona QB Matt Scott keeps getting better and better, and he can run, too, scampering for 190 yards and two touchdowns in three games. If you're a Cats fan, you hang your hat on this argument: We scored 59 points against Oklahoma State. Is Oregon's defense really that much better than Oklahoma State? And if you're a Ducks fan, you have two responses: Yes, our defense might be better, and even if it's not, 59 points will probably not be enough in Eugene. Anyway, call me a heretic to the old-school style of football, but I love the West Coast shoot-outs, and this one has OK Corral potential. Last thought — how about "The Fluorescent Flash" as a nickname for De'Anthony Thomas?
No. 15 Kansas State at No. 6 Oklahoma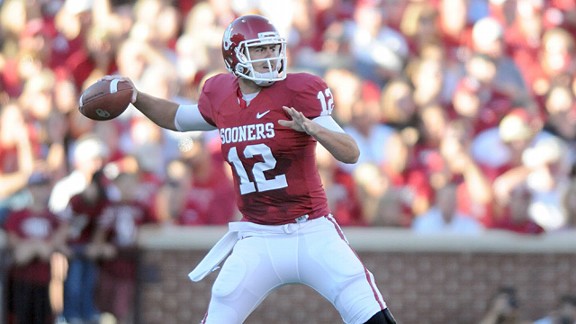 That hissing sound you hear is my dream about to deflate. This is the first real test for the Kleinapple Express, Kansas State QB Collin Klein, and it is a doozy. I'm probably Klein's foremost champion outside of Manhattan, but I'm worried. Last week's 35-21 win over North Texas was dicey at best, and it started to look like previous incarnations of Kansas State, where Klein was forced to put the team on his shoulders (315 all-purpose yards, three touchdowns) and grind out a win. That probably won't cut it against Oklahoma. I say "probably" because I'm not quite sure what to expect from the Sooners. After two easy wins against UTEP and Florida A&M, we know that Damien Williams can run, Kenny Stills can catch, and that Landry Jones is at least semi-efficient when throwing the ball. But this game will come down to the Sooner defense versus the Wildcats offense. If Klein can move the ball, they have a chance. If not? Total wagon stampede, Oregon Trail style. And Klein will be the slow, doomed buffalo crawling across the screen.
No. 10 Clemson at No. 4 Florida State
It's early in the season, but it's already pretty clear that the winner of this game will also win the Atlantic Division of the ACC and move on to the conference title game. But the real stakes for the Seminoles go beyond the conference. At the moment, they have the best defense in the country, allowing one point per game, and the way they dominated Wake Forest last week has the Tallahassee faithful dreaming of an undefeated season.
Clemson, with three offensive stars in QB Tajh Boyd, RB Andre Ellington, and WR Sammy Watkins (back from suspension after missing the first two games), is the first of three obvious tests for the 'Noles. Florida and a theoretical matchup with Virginia Tech in the ACC title game are the others, but none of that will matter if they can't win at home this week. The questions here are obvious; can E.J. Manuel continue his hot start against a good defense? Can Clemson's stars make any progress against the FSU defense? Does Jimbo Fisher finally have his elite team, or will this be another year of unfulfilled promise? Will I catch myself doing the Tomahawk Chop chant, because, screw you guys, it makes me feel like a badass? Yes, to that last one.
No. 18 Michigan at no. 11 Notre Dame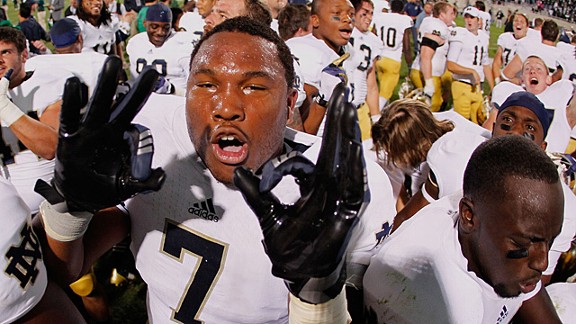 Admit it — the way the Irish stone coldcocked Michigan State surprised you last week. People used to hate Notre Dame, and they still do, kind of, but the hate is diminished by how pathetic they've been over the past decade. But wow, we're one win away from the really vitriolic hate-lava erupting all over South Bend. Because as much as I like Brady Hoke, Michigan is not good, and Denard Robinson is the most unreliable man in the history of college football. The Irish defense will force at least one lazy back-foot interception, and by "force" I mean just sit back and let it happen because Denard is the master of self-sabotage. He's the Brett Favre of Michigan; high profile, exciting, and somewhat adored, but always just one play away from doing something really stupid. And if Air Force can amass 290 rush yards in the Big House by running the same play over and over, Notre Dame can put up 30 points on the Wolverines at home. This game is Irish all the way. I know I'm probably in the minority here, but I think college football is more fun when Notre Dame's good. After all, isn't hatred what makes sports so inspiring?
Top Five Other Games
Count 'em down:
5. Miami at Georgia Tech
I desperately didn't want to put this game in the top five. Georgia Tech's option offense makes me want to rip my hair out, and the Miami players looked like they'd just spent 10 days on Nevin Shapiro's boat while getting blown out by Kansas State two weeks ago. But hey, it's slim pickings this week.
4. Missouri at South Carolina

Upset pick of the week. Done. In the books. This is a patented Spurrier-at-SC loss all the way, and Missouri is underrated after losing big to Georgia. If Missouri QB James Franklin can't play, though, ignore everything I just said.
3. Rutgers at Arkansas
Hey, Rutgers is 3-0! But how 3-0 is 3-0, you know what I mean? This game will be fun as long as Arkansas doesn't win by 30. Also, did you guys see this insane video where Razorback coach John L. Smith screamed at the media to smile? "SMILE! IF NOT, I'M NOT TALKING [toothy grin]!" Man, that was creepy. But it turns out he has $25 million in debt, so maybe he's got a lot to be creepy about.
2. New Mexico at New Mexico State
The first thing you learn about college football is that every annual game with even a hint of mutual disdain has a sweet name. In this case, it's the Rio Grande Rivalry. Also, they played for something called the "Maloof Trophy" from 1993–2000, which I'm pretty sure was associated with the Maloofs who own the Sacramento Kings. If anyone knows the story behind the trophy, or why it was retired, please let me know in the comments, because I'm definitely not paying to read this article.
1. Utah at Arizona State
The Utes bounced back from a rivalry loss to Utah State ("The Battle of the Brothers") with a big win over BYU ("The Holy War"), while Arizona State couldn't quite pull off the road upset over Missouri in "The Cactus Show-Me Showdown" (totally made up). I think the Pac-12 has a legitimate shot at ending up with six teams in the top 25, and the winner of this game could be the sixth. I'm leaning toward ASU because I'm a big Todd Graham fanboy, and I think he's got the Sun Devils back on the road to prominence. Also, I just realized that I might have a bad case of West Coast bias. Frightening.
Your Perfect Saturday
It's starting to get really annoying to me that there are four awesome games every week, and all of them start between 7:30 and 9 p.m. How about spacing things out, schedulers? How about a marquee game at noon? Anyway, here's your perfect Saturday, assuming you have multiple video sources and some remote skills.
Noon — Maryland at no. 8 West Virginia — FX
Geno Smith is putting up absurd numbers right now, and it's worth watching just to see him at work. More on this in a second.
Noon — Virginia at no. 17 TCU — ESPN
What, you don't like the early games? Come on, you guys! Get your chin up. SMILE! SMILE! IF NOT I'M NOT DOING THIS! [Toothy grin]
3:30 p.m. — Missouri at no. 7 South Carolina — CBS
3:30 p.m. — Oregon State at no. 19 UCLA — ABC
Kind of a weird one here. The Beavers have still only played one game due to Hurricane Isaac and a bye week. But that one game was an upset over Wisconsin. UCLA's Johnathan Franklin is one of the best running backs in the country, and Jim Mora's team proved they're legitimate with a win over Nebraska. Can I retroactively put this one at no. 5 in the interesting games instead of Georgia Tech and Miami? Or is that so much West Coast bias that it actually becomes Pacific Ocean bias?
7:30 p.m. — No. 18 Michigan at no. 11 Notre Dame — NBC
Here we go, packing four good games into one night session …
7:50 p.m. — No. 15 Kansas State at no. 6 Oklahoma — FOX
8:00 p.m. — No. 10 Clemson at no. 4 Florida State — ABC
10:00 p.m. — Utah at Arizona State — Pac-12 Network
10:30 p.m. — No. 22 Arizona at no. 3 Oregon — ESPN
This Day in Fake Duke Football History
On September 21, 1908, Duke football star Erasmus "Raspberry" Colburn became the first of many Duke football players to have a "fainting spell" due to a crippling fear of being tackled. Despite the persistent fan chants of "Rasp-berr-y, Rasp-berry-!," Colburn fainted on 13 straight running plays, resulting in a 94-10 loss against a local vocational school.
Unorthodox Heisman Handicap
5. Johnathan Franklin, UCLA
Leads the country in yards with 541, and pretty damn close to the lead with 8.2 yards per carry. The bad news is he's only on pace for 2,141 yards for the season, falling well shy of Barry Sanders's 2,628 record. Someday you'll fall, Sanders, and I'll be there front and center, laughing at you. Why do I hate Sanders, you ask? I have my reasons.
4. Austin Franklin, New Mexico State
Can we do a top five list of only Franklins? Is Benjamin Franklin eligible? Austin makes the list as the nation's leading receiver with 415 yards. He also has five touchdowns, and you can see him this weekend in the Rio Grande Rivalry at 8 p.m. on ESPN3. Franklin is only a sophomore, but you can see some high school highlights here.
3. Phillip Thomas, Fresno State
Three picks, two interception returns for a touchdown … in just one game! All that after coming back from some apparently horrible leg injuries last year. Here's what his coach Tim DeRuyter had to say about him, in a description I can only describe as bizarre: "When you play defense you've got to have fun. You've got to have that train wreck mentality that, I want to go into someone else's backyard, break all their toys and then leave. That's kind of his mentality — have mom chase you out of the yard because you ruined all the stuff." In related news, DeRuyter was arrested last week for destruction of property at a kindergarten playground.
2. Geno Smith, West Virginia
In two games, he's 66-75 (88 percent) for 734 yards, nine touchdowns, and zero interceptions. I mean … if that pace continues, he's going to win two Heismans. Even that son of a bitch Barry Sanders couldn't do that.
1. The Kleinapple Express, Kansas State
Prove me wrong, Oklahoma. We're all waiting. Everyone else, enjoy the games.
Filed Under: College Football, Florida State, Georgia Tech, Kansas State, Nick Saban, Shane Ryan, UCLA, Virginia Tech, West Virginia