Brooklyn's Barclays Center Opens for Business (and Basketball)
Brooklyn Nets via Bloomberg
After years of grappling with eminent domain laws, entrenched homeowners, and Frank Gehry's since-scrapped melty architectural imaginings, the Barclays Center was finally unveiled this morning. Accompanied by giant novelty scissors and a popgun burst of streamers, the ribbon-cutting ceremony capped off a cavalcade of celebratory speeches that were delivered overlooking the glowing hardwood court where the Brooklyn Nets will now play.
The themes of the day were predictable: The world-class greatness of Brooklyn, the fortunate public housing residents who will now be gainfully employed, the painful slog all these gentlemen endured to make it to this moment. Jay-Z, who didn't seem to be around, was mentioned by name on a dozen occasions, each time followed by a pause for light applause.

First on the dais — and on the JumboTron — was Bruce Ratner, the developer from Forest City Enterprises. He spun a plucky narrative about the real estate Goliath that somehow beat the odds. Now, he said, Brooklynites could be "whooshed away" from reality, with children cackling at clowns and teenagers "tapping and rapping to Jay-Z."
Next came Mayor Michael Bloomberg, who lauded job creation and predicted the endeavor would create $400 million in revenue over the next 30 years. Later, Marty Markowitz, the Brooklyn borough president, went on one of his trademark ruddy-faced Borscht Belt monologues that culminated with "mazel tov!" and some butchered Russian phraseology.
The linguistic nod was to Mikhail Prokhorov, who towered above Ratner in a trim gray suit and lavender tie. The Nets' owner is known for fiery proclamations, but was more subdued than usual. "I assure you," he said, in a gently clipped accent, "we're bringing a team worthy of the arena and this great borough." Not exactly a promise to box Raymond Felton's ears, but such was the inoffensively convivial spirit of the day.
As the executives lionized their accomplishments, others outside were less satisfied. A gaggle of die-hard anti–Atlantic Yards protestors brandished signs reading "Brooklyn Swindled" and handed out informational packets to members of the press. One woman wore a shirt that read, "I still call it Atlantic Ave-Pacific St" in reference to the former name of the stadium's subway stop. A couple guys wearing oversize masks of Bloomberg and New York Governor Andrew Cuomo posed for cameras. "You gotta bobble your head," instructed the faux-Governor to the faux-Mayor.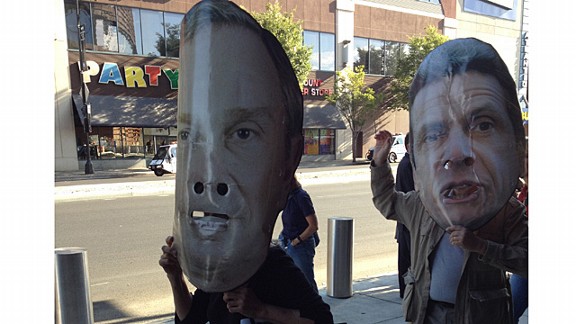 We've seen the outside of the Barclays Center for some time, and the structure already possesses the heft of permanence. The scaly, copper-toned carapace — likely designed to reference the bricks of nearby brownstones — looks like an enormous rusted armadillo or an alien spacecraft that was abandoned eons ago after running out of phosphorescent fuel. It's a modernist fossil, strange and muscular and surprisingly great.
The inside of the arena is all glass and slate-colored walls. The bowl of the arena is dark, with a nest of somber seats beneath charcoal rafters. Depending on the quality of the home team, it could be either intimidating or tomb-like. The lack of another color in the Nets' scheme leaves little room for levity.
Over the past decade, Brooklyn has exploded as a popular brand, although its meaning really depends on the person you ask. It's simultaneously a code word for blue-collar toughness, yuppie stroller-utopia, and rap game panache. Vendors inside the Barclays Center reflect the borough's current breadth, and range from Avenue K Deli to Fatty 'Cue to Paisanos butcher shop. A sign mysteriously reads "GLUTEN FREE" above an empty stand, surely to be offering kale in the future. The VIP area is named after Bronx-born designer Calvin Klein.
The area is mostly a transportation hub, a root ball from which subway lines unspool toward distant parts of the borough like Gravesend and Brownsville. Other than "Hello Brooklyn," the slogan for the Barclays Center is "Eleven Trains, One Destination," which is as much a plea for people to leave their cars at home as it is a boast of convenience.
The neighborhoods surrounding the Barclays Center are gorgeous. Fort Greene is a leafy enclave of brownstones so beautiful one imagines a life built around reading Toni Morrison and drinking coffee on 10-foot stoops. Park Slope is where The Squid and the Whale was set. It's still unclear what impact teeming crowds of fans will have on these placid, family-oriented streets.
We'll get some early answers on September 28, when the Barclays Center opens to the public with the first of eight Jay-Z concerts. In October, Brooklyn boxer Paulie "Magic Man" Malignaggi will fight someone as part of a Golden Boy Promotions bill. And in 2013, musicians like Green Day and Rihanna will perform in the venue. Outside of Jay-Z's Pat Boone–esque residency, it's standard stuff, except in Brooklyn.
Beyond the psychological challenge of traveling into Brooklyn — that's real, even now — the Knicks are still New York's glamor team. If the offseason exit of Jeremy Lin and new canoodling between James Dolan and Isiah Thomas seem like incidents that could drive basketball wives into the arms of a strapping Russian magnate, Knicks devotees who weathered the last decade aren't likely leaving now. Tyson Chandler, Carmelo Anthony, Amar'e Stoudemire, and a fleet of AARP role players give the Knicks their most competitive team since Kurt Thomas and Marcus Camby were here the first time. Brooklyn will have to earn its fans.
David Stern, canny puppeteer and native New Yorker, has the Knicks playing in Brooklyn on opening night. On that evening — with actual basketball instead of triumphant platitudes being lofted by extraordinarily rich dudes — the Barclays Center will be exciting.
Filed Under: Ben Detrick, Brooklyn Nets, Jay Z, NBA, We Went there