Kris Medlen's Super-Secret Season for the Ages
Mike Trout, Bryce Harper, and R.A. Dickey. The A's, the O's, and the Nats. The 2012 MLB season has been flush with unlikely heroes and amazing stories. But the wildest ride going right now isn't a rookie phenom, a 37-year-old knuckleballer, or a Cinderella team. It's a 10th-round draft pick turned Tommy John case, now on one of the most amazing runs in baseball history.
Kris Medlen was never the scouts' favorite. Undersized at 5-foot-10 and 190 pounds, the 26-year-old Braves right-hander needs to rear back just to dial his fastball into the low-90s. He put up big strikeout numbers in the minors while also showing impressive command. But skeptics still wondered if Medlen could do it in the big leagues, given the long history of pitchers who dominated on the farm only to fail spectacularly in the Show. Medlen didn't fail. He pitched reasonably well, though not spectacularly, for his first season and a half in the majors. Then his elbow gave out. On August 18, 2010, he went under the knife for ligament replacement surgery in his pitching elbow. Tommy John recovery has come a long way from its humble beginnings 38 years ago. Today, when a star pitcher has TJ, we have every reason to believe he can return to top form in 18 months, and often much faster. But when a pitcher with legions of doubters gets the surgery, it becomes that much easier to write him off.
Turning your back on Medlen would have been a gigantic mistake. He made it back to Atlanta just before the end of last season, throwing 2⅓ clean innings of relief. He went back to the bullpen to start this season and pitched very well, striking out nearly three times as many batters as he walked, posting a 2.48 ERA, and allowing an opponents' OPS of just .598. When Jair Jurrjens flamed out in his second attempt to hold a rotation job this year, manager Fredi Gonzalez tapped Medlen to take his spot. Making his first start on July 31, Medlen tossed five innings, giving up a single run on four hits and earning the win. That start launched one of the greatest streaks of all time, one that's but ensured a playoff spot for the Braves and catapulted Medlen into the discussion for best pitcher in baseball this year.
Via ESPN Stats & Info, and Elias Sports Bureau, here are the numbers:
• In his 10 starts this season, Medlen has thrown 70 ⅔ innings, struck out 72 batters, walked nine, and given up 49 hits and three home runs. He's 8-0 with a 0.76 ERA. Seventy percent of the pitches he's thrown in those 10 starts were strikes. Opponents are hitting .195/.223/.251 against him during that span.
• Medlen is the first pitcher since earned runs became official in 1912 to have at least eight wins and an ERA of 0.76 or lower, and average at least one strikeout per inning over a 10-start span.
• Only one other pitcher in Braves history won at least eight games with an ERA below 1.00 over any 10-start span. Warren Spahn went 10-0 with a 0.99 ERA over a 10-start span in 1961 (July 30-September 10).
So Medlen, apparently, is now some sort of bizarro hybrid of Carl Hubbell and Pedro Martinez. How the hell did we get here?
The simplest explanation is that this is a product of small sample size — a historic performance, but one he'll never come close to approaching again for the rest of his career. Leaving aside how unsatisfying that reasoning is, 10 starts and 70⅔ innings is essentially one-third of a season and thus not that small a sample size, with several pitching indicators reaching the point where you can start to trust them. That doesn't mean we should expect Medlen to become the best pitcher in the history of the universe. Only that waving away this streak as a total fluke probably isn't a complete enough explanation.
It's not pitch type either. Looking at Medlen's mix of pitches this year, we see the same fastball-heavy approach, leavened with a curve and change. He's a three-pitch pitcher who throws fastballs about 60 percent of the time and breaking balls and off-speed pitches about 40 percent of the time. He did that before, still does it now.
What's changed most is how Medlen locates the ball. Take a look at this heat map showing how Medlen racked up strikes as a starting pitcher from 2009 through 2011.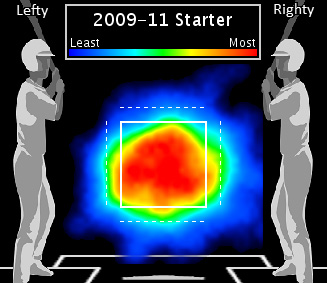 Now compare to this heat map showing how Medlen has bagged strikes so far this season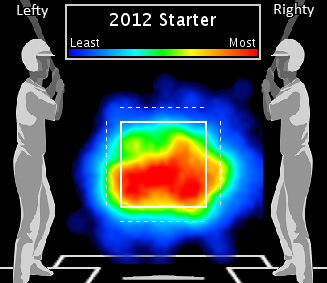 See the difference? He's getting strikes by throwing lower, and also off the plate, away from the corners.
Digging into some granular data shows what's happened thanks to Medlen's new approach. First, he's generated a 52.7 percent ground ball rate, by far the highest of his career (next-highest is 42.9 percent in 2010). Second, he's making batters offer at more pitches off the plate; Medlen's inducing swings on 33.7 percent of his pitches outside the zone, a career high (2010's 29.1 percent was his previous high not counting last season's 2⅓-inning cameo … see the "O-Swing" numbers here).
Hitters will surely adjust at some point, waiting out more pitches and likely doing better than the .261 batting average on balls in play they've managed over Medlen's 10 starts this year (league average is in the low-.290s). But that adjustment might not necessarily happen right away. As things stand, Medlen's reaching the point where he's becoming at least a fringe Cy Young candidate, and maybe a little better than that. His 1.51 ERA and 2.31 FIP lead all National League pitchers by a mile for anyone with as many innings as Medlen's thrown, and he ranks third in the league in xFIP.
Of course, Medlen's innings count will be used against him, and rightfully so: His 125 IP trails league leader R.A. Dickey by 87, and Medlen won't even finish with as many innings pitched as Stephen Strasburg, who became a national story due to the Nationals' extreme caution with his workload. But even with so few innings pitched, Medlen's surged to 12th in the NL in Wins Above Replacement among pitchers, and climbing. At the very least, it's worth asking if Aroldis Chapman and Craig Kimbrel, as unhittable as both have been as closers, should really be regarded as better Cy Young candidates than Medlen, who's thrown more than twice as many innings as Kimbrel and nearly twice as many as Chapman. Medlen's been incredible in his own right, while spending much of his season in a tougher role given short relievers can use maximum energy on every pitch while starters need to get hitters out while also conserving enough energy to pitch into the seventh, eighth, and ninth innings.
Whatever becomes of awards season, Medlen's rise creates an enviable dilemma for the Braves. Tim Hudson is regarded as the team's number-one starter based on experience and reputation, and the fact that he's still pretty damn good. But if Medlen even comes close to continuing his current pace, he'd be a much better choice to be Atlanta's ace in the playoffs. As things stand, Hudson would take his regular turn in the rotation for the one-game wild-card playoff, while Medlen would have to pitch that game on three days' rest. If the Braves win that game, though, their best pitcher suddenly becomes their number-one starter for the League Division Series, able to throw both Game 1 and a potential Game 5 of that series, plus Game 3 and an if-necessary Game 7 in a possible League Championship Series, if the team advances that far.
A lot of hypotheticals to be pondering this far out. But when you suddenly find yourself with the hottest pitcher in the world on your staff, these are plans worth making.
Filed Under: Atlanta Braves, MLB