San Jose Earthquakes Win the Marcus Tracy Lottery
On Wednesday, MLS announced that the San Jose Earthquakes — who have the best record in the league (57 points) and the league's leading goal scorer (Chris Wondolowski, 20 goals) — had won the rights to Marcus Tracy in a lottery. Tracy, a forward, won the 2008 Herman Award (soccer's equivalent of the Heisman) in his senior year at Wake Forest. The season before, he scored the game-tying goal and assisted on the game-winner in Wake Forest's 2-1 victory over Ohio State in the 2007 national championship game, the first NCAA championship in the school's history.
But Tracy, 25, has struggled with injuries for the past three years, and since last October, he hadn't had a professional contract. Until the Earthquakes came calling.

San Jose's coach, Frank Yallop, who managed the team to MLS Cup championships in 2001 and 2003, said: "For us to get a player of that caliber, it could turn out to be fantastic. I hope it does. When he was in college, I would have thought he would have went pretty high, if not number one overall. We're real excited to get him."
How did this former collegiate player of the year, a lethal scorer, land on the league's best team, two months before the MLS playoffs begin? His story speaks to the odd path to professional success for American players, as well as the unusual rigor of Major League Soccer's business dealings.
When Tracy finished his senior season at Wake Forest, he was confronted with the usual dilemma facing all top American prospects: Play in MLS or go abroad. As Yallop said, many people thought he would go as the top pick in the MLS SuperDraft. But Tracy had a special opportunity abroad, with Aalborg BK, a club in northern Denmark that plays in the Danish Superliga.
"The opportunity that came up in Aalborg seemed like the right fit. The coach had seen me play," said Tracy. "It's always good to know that the coach wants you. The fact that I didn't have to go on trial anywhere in Europe. The mobility that you have in Europe in the Scandinavian countries, if you do well, you can move up. I was up for the challenge."
Despite the opportunity in Denmark, Tracy still entered the MLS SuperDraft. But no team selected him, suspecting he was going to play in Europe. Then, in the fifth round, the Houston Dynamo selected him with the 56th overall pick. Tracy turned down the Houston contract and went to Aalborg.
His debut with the Danish club came as a substitute in a UEFA Cup quarterfinal match against Manchester City.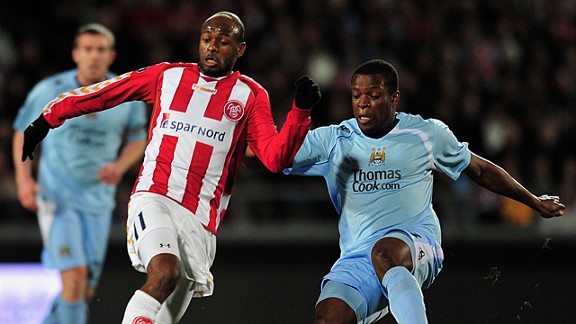 "It was crazy. It was surreal. To just come out of college and be on the field with [Brazilian national team player] Robinho. It's definitely a game I'll never forget."
He started the team's next game, a Danish Superliga match against FC Midtjylland, and scored his first goal. But then the injuries began.
"At first it was a hamstring, then a calf. While the transition going there went smoothly, the remainder of the year was tough."
He struggled with injuries into the summer and the beginning of the 2009-10 season. The main problem became tendinitis in his knees, "jumper's knees."
"I wasn't really able to manage it. I was never consistently playing or training. It was just sort of escalating."
He still managed to play in eight games, starting four and scoring a goal. His performance earned him a call-up to the U.S. national team camp in January 2010. It was Tracy's first national camp ever. In fact, Tracy said, "I never played ODP." For 30 years, ODP — the Olympic Development Program — has been a hallmark of American youth soccer. For a top college player to say he never played ODP is kind of like a 13-year-old kid saying he's never watched TV.
At the national camp, Tracy's injury got worse. "I probably only trained three or four days." He decided to cut the training camp short. "It was pretty frustrating. To have that opportunity ruined by an injury." He went back to Aalborg, cut back on his training for the next few months, all in an effort to avoid surgery. It didn't help.
"Summer of 2010, my injury's not much better, and I've missed six months of soccer. That was the point when I decided I was going to have surgery." He had operations on both knees and missed the entire 2010-11 season, doing rehab the entire time. His goal was to come back for the 2011-12 season, but he never got the chance. In October 2011, Aalborg said they weren't going to renew his contract.
"It was frustrating, but it was expected. You can't really expect a club to re-sign you after you've been injured for most of your contract."
Tracy decided to "come home and rehab and get myself sorted and refreshed." He targeted a move to MLS, the league he'd passed up when he finished college. But entering Major League Soccer was no simple matter.
MLS maintains various regulations and restrictions to create parity in the league and prevent the freewheeling excess that led to the demise of the star-studded NASL in the 1980s. The primary way the league does this is through a salary cap of $2.8 million for all teams. Another is seven — seven — specific "player acquisition mechanisms," the ways a team can acquire a player.
Because Houston had offered Tracy a contract in January 2009, they actually held the rights to him for two years. But the two-year statute had passed. So Tracy had to enter the league through a Lottery. According to league roster rules, lotteries are "reserved for Draft eligible players to whom an MLS contract was offered but who failed to sign with the League prior to the Draft."
Tracy had to sign a contract with the league before the lottery. "I knew that [by] signing that contract and entering into the lottery, I could end up anywhere."
The league holds lotteries a couple times a year. Eight teams entered the lottery for Tracy. They were ranked and given percentages based on their performance in the last 34 games. New England had the highest probability of getting Tracy (33.2 percent). Seattle had the lowest (2.1 percent). San Jose, the league's top team, had the second-lowest, at 4.6 percent.
On Thursday, San Jose won the lottery. So Tracy, an offensive threat, will now join a team that leads the entire league in both points and goals scored.
There are, of course, questions about his health. But Yallop is hopeful he'll be able to manage: "Simon Dawkins [a midfielder on the team] was out 18 months and you see him now and he's doing OK. Speaking to [Tracy], he feels better than he's ever felt. "
The story has another element: At San Jose, Tracy will be reunited with two teammates from the 2007 Wake Forest team that won the national championship: Sam Cronin and Ike Opara, a defender. Both think Tracy can add something to the team:
"He's gonna [be] a good target forward," Opara said. "A guy who does a few things that we don't have on our team."
"On the field," Cronin said, "his athleticism is unparalleled, really. His speed and strength, aerial ability. He's quick and powerful."
Tracy, for all his accolades, remains modest. "My job [in San Jose] is to play well in training. Hopefully make it into the lineup."
But he still has ambitions beyond success in MLS. When asked if he wants to get another shot at the national team, he said: "Definitely. If I didn't think that I could get back to the highest level, I wouldn't have done it."
Andrew Lewellen, a former college soccer player and youth coach, is now a freelance writer based in Los Angeles. He writes about soccer on his blog, AndysPitch.com.