Sandra Bullock: Most Powerful Woman in Hollywood
Universal
Whatever Sandra Bullock's doing, she should keep it up. Get stuck in space again! Play an even more bumbling FBI agent! Adopt two illiterate black football players! We don't care. We might just watch her do anything, including star in another movie with Bradley Cooper, maybe even if it's as rotten as All About Steve. That movie was released in 2009, a year that ranks among the best a movie star has ever had. The Proposal and The Blind Side were such enormous and enormously different hits (broad sex comedy; family tearjerker) that Hollywood could only bow down the next year and give her the Best Actress Oscar instead of giving it to Meryl Streep, Helen Mirren, Carey Mulligan, or Gabby Sidibe.
By a wide margin, Alfonso Cuarón's Gravity, which stars Bullock as a doctor on a botched NASA mission, is North America's no. 1 movie right now. It also features George Clooney, once again making Clooneyness seem like the easiest possible state of being. But the film is Bullock maximus. She's in nearly every shot and is the movie's (admittedly bogus) emotional center. The movie's an experience, and Sandra Bullock is built into nearly every molecule of the spectacle.
The film looks like a billion bucks, but cost only $100 million. Casting her in anything more expensive is a waste. People want to see her. A smart producer looks at Bullock's track record and says, "Keep costs low and we've got a huge hit." The Heat reportedly cost $30 million. Since its June release, it has made $226 million worldwide. It's a dumb-fun, star-driven movie — the kind of dumb-fun, star-driven movie we're always saying nobody makes anymore.
This is all to say that Bullock's 2013 could give her 2009 a run for its money. The numbers are interesting on their own. But they're also instructive. Bullock and her Heat costar, Melissa McCarthy, are the two most bankable women in the movies right now. There are a handful of women to whom the Bullock principle of "spend a little, make a lot" could be applied. But it would have to be the right project: Reese Witherspoon or Kerry Washington or Angelina Jolie with Brad Pitt as opposed to against him. But right now, Bullock stands alone.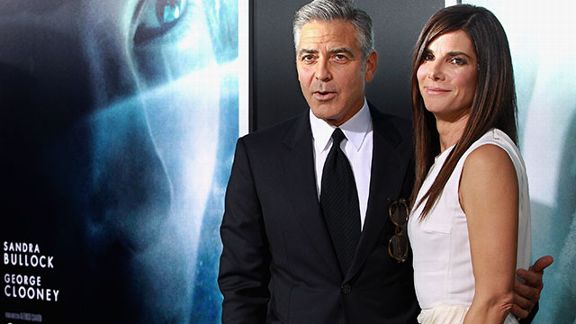 Bullock's pre-2009 career was outstanding. According to Quigley Publishing, a company that for years has been keeping track of the most bankable stars, Bullock has ranked inside the top 10 three times before her Proposal–All About Steve–Blind Side triple-team: in 1995 (sixth with While You Were Sleeping, The Net); 1996 (fifth with Two If by Sea, In Love and War, but mainly A Time to Kill); and 1999 (10th with Forces of Nature, arguably her voice work in The Prince of Egypt, which was released at the end of the previous year). Her first year atop the pile was 2009. What's most impressive about her run has been the relative lack of sweeteners or performance-enhancers: She has never done vampires or zombies or best-selling book series or superheroes. She's made two sequels and learned from both. She has become trend-averse. The superhero appears to be her.
Bullock's achievement is noteworthy both for its 18-year span and because, at 49, she is somehow more captivating than she was at 31. In the mid-1990s, she was yet another Julia Roberts challenger. But her girlishness stood in contrast to Roberts's coltishness and capacity for the contours of womanliness. Bullock is older, but she has always seemed adolescent compared to Roberts. It takes a lot for Bullock to sting you. Her persona is all but set in stone, and for some of us that uptight, highly competent klutz routine was old in 1995. But we're not tired of her yet. As much as Bullock has grown into herself, we, too, have grown into her. The recent news in her personal life, with motherhood and her public divorce, seems only to have solidified our bond to her. You'd like to think that, say, Khloe Kardashian could ride our sympathies to the top of the box office, too. But we know better. Stars still matter. Everything else is dust.
Filed Under: Box office, George Clooney, Melissa Mccarthy, Movies, Sandra Bullock