In Defense of the New RoboCop Suit That's Making Fanboys Lose Their Minds
Shooting on the RoboCop movie — starring fast-rising Swede Joel Kinnaman as the crime-fighting cyborg — started on Saturday in Toronto. Fortunately, ComingSoon has already managed to snag pics of the new suit. Unfortunately, that means everyone on the Internet already hates the new suit.
The revamped look swaps out the original's heavy, clunky design for a sleeker, matte-black Batman deal, and the nerd-purists have come out in full force against it. Voicing the screechy wail of a tortured generation — one that has already seen far too much in the way of cultural sacrilege — Film School Rejects' Jack Giroux writes (via HuffPo), "Changing RoboCop's suit is like getting rid of Jason's hockey mask or Freddy Krueger's whole getup. It just doesn't feel right." Meanwhile, the Guardian writes of "howls of furious anguish from fans of the original film everywhere." This shit is real.
The Internet has been primed for a backlash here. First there was HitFix's Drew McWeeny's scathing review of a leaked RoboCop 2.0 script, which had the audacity to mock the original. "Ouch. Ouch. Ohpleasedon't. Ouch. And a big side order of ouch," McWeeny tweeted, and a nation of die-hard RoboCop-ians nodded grimly in affirmation. Then there was City of God director Fernando Meirelles accidentally tossing his pal Jose Padilha, who's directing the project, under the bus: "[Padilha] is saying that it is the worst experience. For every 10 ideas he has, 9 are cut. Whatever he wants, he has to fight. 'This is hell here,' he told me. 'The film will be good, but I never suffered so much.'" Padilha later claimed he was "happy" with the production, but it was too late — the TROUBLED tag had already been slapped on.
And now they changed the suit. They changed the suit!!
Certainly, though, we are nothing if not rational people, right? And we can understand that judging a movie based on a photo taken of the set on its first day of shooting is perhaps just a touch premature? Let us, then, reconsider the narrative over RoboCop 2.0 by focusing on the suit. Three things to think about here:
When have nerds not been upset about a change from an original? Honestly, it would be much more foreboding if RoboCop 2.0 sailed into theaters without one word of protest from the self-appointed vanguards of the cult canon. A good solid nerdtroversy is nothing but a good omen.
As Kinnaman himself has explained that, since the movie is now set in 2028, it only makes sense to change the suit: "It just comes from the realization that our vision of a robot 30 years from now is very different from the vision of what a robot was in the future in 1987. That is the main thing. Obviously there are some things in the script that lead into that, but that stuff I can't talk about." Progress, people. We must accept progress.
Most important: This way, with the new suit, we can now see Kinnaman's eyes. Again, Joel says, "It's not going to be jaw action. They're still working on the suit and how it's going to look, but the visor is going to be see-through. You're going to see his eyes." Thank God!
Have you ever seen Joel Kinnaman's eyes? Really peered into them? Look at them again.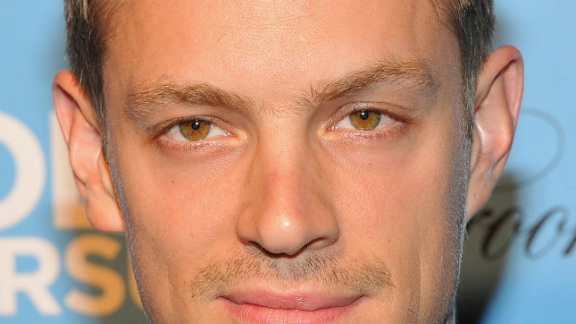 Twinkling, magnetic marvels, they are. Ask yourself the tough question here, proponents of the old suit: Why would you ever want to hide such wonder?
Filed Under: Joel Kinnaman