Beware the $100 Million MLB Man
In his glory years with the Cardinals, Albert Pujols had few leaguemates he could truly call peers. In his first few seasons, there was Barry Bonds, then there was Pujols, followed by the rest of the league. When Bonds left the game, Pujols vied for hardware with the likes of Ryan Howard, Lance Berkman, Carlos Beltran, and Prince Fielder. By 2009 he was the undisputed best player in baseball, taking home his second straight MVP award and leaving even stars like Chase Utley, Hanley Ramirez, and Miguel Cabrera in the dust.
Pujols keeps different company these days. On a park- and league-adjusted basis, his 2013 numbers are in line with those put up by Michael Brantley and Yunel Escobar. He's 33 years old and in his third straight year of sharp decline, with more than eight years and $220 million left on his contract and full no-trade protection. He's been a replacement-level player through his first 63 games this season, one of the biggest reasons the Angels own the second-worst record in the American League.
Have we seen the last of Albert Pujols, baseball superstar? And if we have, what could that mean for the future of gigantic free-agent contracts?
This season, Pujols is hitting just .242/.314/.418. An optimist might point out that Pujols started slowly last year. On May 14, 2012, he was hitting .197/.235/.275; he hit .312/.374/.589 the rest of the season, not quite at peak levels but still a strong enough line to rank among the league's best players, if projected over a full season. Pujols hasn't started as slowly this year. But it's four weeks later in the calendar than it was when last year's struggles started to turn for the better, and we're still waiting for Pujols to come alive.
When talking about his woes, you have to start with injuries. Pujols hasn't actually missed much time for any of them. But there's evidence — even if it's circumstantial — to suggest that health setbacks have eroded his skill set. Though Pujols played in 154 games last year, Baseball Prospectus's injury tracker lists four distinct maladies on his ledger for 2012. On July 18, he was diagnosed with left foot soreness. A week later, it was an elbow contusion. Four weeks after that, a lower leg strain. Finally, at season's end, Pujols had right knee surgery, described as a relatively minor cleanout.
Though he missed only that handful of games, observers frequently discussed the effects of the foot and leg injuries in particular, noting that Pujols didn't look like the player he once was. Did the foot and leg injuries affect, say, Pujols's ability to plant and stride at the plate? That was tough to prove one way or another. But you could draw a more direct link between those injuries, and a severe downturn in Pujols's mobility. FanGraphs tracks a stat called Baserunning Runs above average, which measures everything from stolen bases and times caught stealing to a runner's ability to take extra bases. Once a solidly above-average base runner, Pujols had by far the worst year of his career on the basepaths in 2012, costing his team nearly six runs. Pujols's lower-body injuries have mounted this year, further eating into his once-impressive mobility. He's battled plantar fasciitis in his left foot since the spring, then reported right knee soreness on May 18. Those ailments haven't knocked him out of the lineup. But at the risk of overreacting to a smallish sample size, they have put him on pace to post his worst defensive season (by advanced stats) in more than a decade, with another negative performance running the bases.
Of course most of that's small beer. Pujols at his peak had a fine reputation as a solid first baseman who moved well for a big man. But the Angels obviously signed him primarily for his bat. That bat has gone from an instrument of death to … whatever it is that Michael Brantley uses.
We have plenty of tools to tell us how that's come to pass. For starters, Pujols is hitting for less pop than ever before, posting a career-low Isolated Power (slugging percentage minus batting average) mark of .176. One out of every nine of his fly balls have gone for home runs, by far the lowest result of his career. He's swinging more often than ever before, swinging at more pitches outside the strike zone than ever before, and swinging and missing more than ever before.
ESPN Stats & Info offers further insight. Turns out Pujols can't lay off breaking balls out of the zone anymore.
There's more. Pujols used to crush hanging breaking balls, but he's not doing that anymore.
These two heat maps show his batting average against curves and sliders. The first map shows Pujols crushing breaking pitches up in the zone from 2009 through 2011. The second one shows how limited his success has been against curves and sliders since, with the only remaining hot zone being middle-in.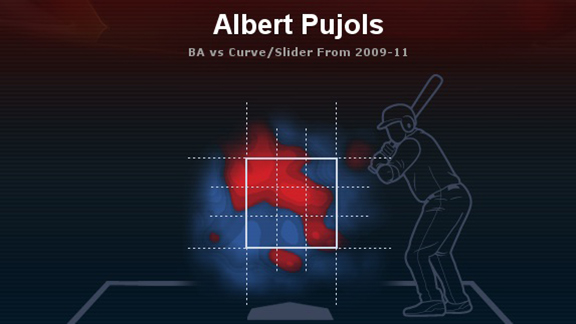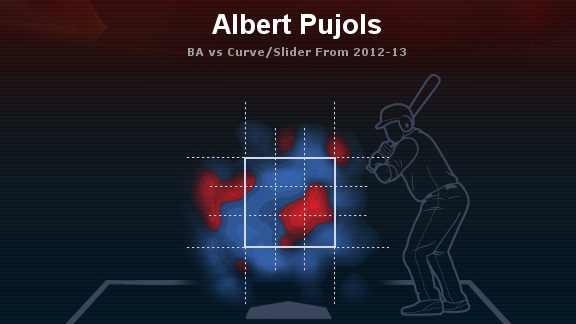 Even if we have the how, the why remains uncertain. We have too big a sample at this point to shrug it off as random chance. So you could argue that those injuries have dragged him down. Or it could simply be the inevitable burden of age. Position players typically peak in their mid-to-late twenties. Pujols celebrated his 33rd birthday on January 16, so what we could be seeing is his age manifesting itself in slower bat speed, which in turn could be causing his higher swing rate and maybe even frustrating him into chasing more pitches out of the zone. Having this precipitous a decline happen this quickly might seem unusual. But the smart money was on some kind of downturn, given what aging has done to even the best hitters of previous generations. You can call that the result of a body's natural deterioration, or be cynical and wonder if players get a bit complacent after signing a monster contract after age 30 — maybe both. Whatever the case, we have enough data to suggest that Pujols has won his last MVP, and that he might never again rank among the game's elite.
Which brings us to the bigger question: With Pujols (and Josh Hamilton) looking like colossal busts, will teams rethink spending nine figures for over-30 sluggers?
For some perspective, consider a larger list of $100 million–plus players. There have been 11 contracts of $100 million or more handed out to players over 30 years old, with Pujols getting the 10th. As the table below suggests, only three of them could be considered any kind of success: Jason Giambi to the Yankees in 2002, Matt Holliday to the Cardinals in 2009, and Cliff Lee to the Phillies in 2010.
Four of the first five contracts on this list have expired, with only Giambi finishing out his deal with the team that signed him. Soriano's expires after the 2014 this season and he's still with the Cubs, providing a small fraction of the value that he did while in his prime. Of course none of those players convinced Angels owner Arte Moreno not to drop $240 million (or more, counting incentives) on Pujols, and another $125 million over five years on Hamilton. I don't see these latest busts dramatically changing future free-agent bidding, either.
First, consider the money that's streaming into the industry now. Major League Baseball is set to become a $9 billion industry in 2014, buoyed by a passel of increasingly lucrative local TV deals and a national television contract that'll double every team's take, dropping an extra $25 million into each team's kitty. Owners can use that money however they see fit, whether it's on capital improvements for their ballparks or just buying bigger yachts. But at least a portion of those funds will inevitably be used on player contracts. The cost of one Win Above Replacement on the open market now sits at around $6 million; if a two-win player is considered average, we can and should expect teams to shell out eight figures a year for merely decent talent, as we've already seen this past offseason with the signing of Shane Victorino and similar players at those prices.
Beyond mere dollars per WAR projections, though, consider who makes the final call on deals of this magnitude. When the Tigers signed Prince Fielder to a nine-year, $214 million deal in January 2012, this wasn't some cold, calculating deal by highly analytical general manager Dave Dombrowski. Instead, this was the will of Mike Ilitch, the then-82-year-old Tigers owner who told Dombrowski in no uncertain terms to get the big, slugging first baseman, because he wanted a fresh World Series ring before he moved on to the next life. Likewise, multiple reports pegged the Pujols and Hamilton signings as having Angels owner Moreno's fingerprints all over them. Maybe Moreno didn't have the same clock ticking against him when he had his own GM pull the trigger. But when you can lure 4,200 people to Angel Stadium in the middle of December just to catch a glimpse of Pujols (and $77.5 million signee C.J. Wilson) standing at a podium, that's going to sway the owner's decision. We've been talking about teams overpaying for talent since free agency's advent in the '70s. We've got decades of aging-curve data to tell how most long-term, big-money deals for over-30 players will fail. Yet whether it's trigger-happy GMs or jewelry-seeking owners, someone inevitably steps forward with a jaw-dropping offer. They might regret it down the road, but that's never done anything to curb future mistakes by other teams.
If there's any enduring lesson from Pujols's increasingly scary-looking contract, it's that teams would do well to build farm systems so flush with talent that those teams don't need to even consider breaking the bank for aging stars who'll likely disappoint. When the Cardinals let Pujols go two winters ago, plenty of fans and local media members wrung their hands over the departure of the franchise's best hitter since Stan Musial. Today the Cards don't simply have an adequate replacement for Pujols. They've got too many options, with 24-year-old slugging first baseman Matt Adams unable to secure an everyday job, and perhaps the best hitting prospect in the game (Oscar Taveras) forced to cool his heels in the minors.
So if you want to avoid making a $240 million mistake you'll regret for a decade, the answer's simple: Assemble a bottomless well of homegrown talent and hire a GM with enough clout to talk his billionaire boss out of doing anything rash. Piece of cake.
Filed Under: MLB, Albert Pujols, Los Angeles Angels