The Hardcourt Shuffle: The Weekend's Top 10 Games
AP Photo/Gerry Broome
Confession time: I have a bad relationship with GIFs. I'm 100 percent alone on this one, I know, especially among young Internet sports types. But to me, GIFs are like "Harlem Shake" videos — hilarious visual gag at first, until you become so inundated that you go numb and begin to hate the person who bought you your first computer and sent you on this horrible, soul-killing journey into the heart of the Internet. (Important note: This is for comedy GIFs only … it doesn't go for the ones that are just meant to show a sweet dunk, a great goal, or any of the other sincere uses of the form.)
Watching a GIF, I get the weird sense that I'm being manipulated, as though I'm laughing begrudgingly at a stand-up comedian whose only bit is to hit himself in the face with a baking pan. The endless repetition is supposed to be what gives the image its humor, but something about it drives me crazy. It's like we're making snark-commodities out of human moments. (Actually, pretend I just said something along the same lines, but less pretentious.)
This is my only soapbox. I only care about destroying the GIF culture. But after all that big talk, I have to admit that I still laugh at the really good ones that transcend the medium, like Ben McLemore dancing. And the reason I'm mentioning it now is that I violated my own principles and … yeah, made a GIF. I couldn't help it: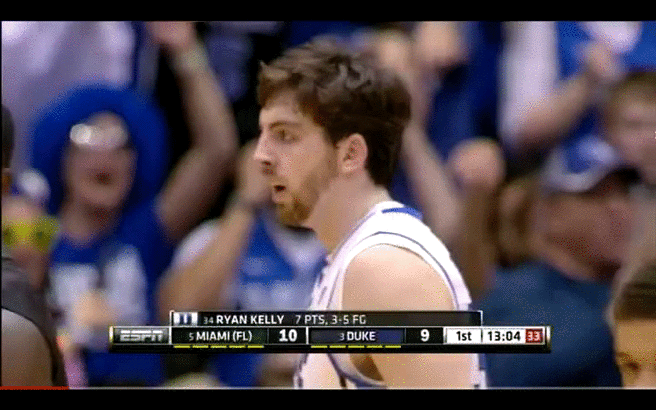 I know I should have stuck to my guns, but the way the cameraman went into soft focus on Kelly and readjusted to the fan doing the White Raven arms — it's like he was begging me to make a GIF. He was my serpent, and his comic shot was the forbidden apple. I hope this isn't the start of a slippery slope, but in three months you'll probably find me lying face down in a dark Internet cafe, dead from a GIF overdose.
On to the games.

10. No. 11 Florida at Kentucky, Saturday, Noon, CBS
All I'm asking, before I pick the Gators to make the Final Four, is that they win one decent road game. They lost to Missouri on the road, which would've been a pretty decent win, and they lost to Tennessee, which was mildly embarrassing. They couldn't beat Arizona or Arkansas, and the few SEC road wins on their résumé are garbage.
Also, let's be honest — if we lived in a just world, Kentucky wouldn't make the tournament. Since Nerlens Noel went down, the Cats beat one really bad team by 30, squeaked by one good team (Mizzou), barely beat a bad one (Vandy), and lost to Tennessee (by 30!), Arkansas, and Georgia. John Calipari has needed church services to cool his temper about the way his team's playing. We're in potential full meltdown mode. And the really important fact is that the Wildcats have no chance to make an impact in the tournament. Joe Lunardi has them as one of the first four off the bubble at the moment, and you get the feeling that only beating Florida, either Saturday or in the SEC tournament, will save their hides.
9. No. 17 Syracuse at no. 5 Georgetown, Saturday, Noon, ESPN
I just don't think this rivalry is all that great, and the game will probably stink.
Kidding! Ha ha! This is not the no. 9 game. I just wanted to stir up some pregame anger in Big East fans. I mean, America-12 fans. Seriously, though, no. 9 …
9. Clemson at no. 6 Miami, Saturday, 2:30 p.m., ESPN3
Here are Miami's seven games since beating UNC by 26 at home:
@ FSU (win by 6), @ Clemson (win by 2), vs. UVa (win by 4), @ Wake Forest (lose by 15), vs. Virginia Tech (win by 18), @ Duke (lose by 3), vs. Georgia Tech (lose by 2)
The dominant narrative after the Duke game, to which I contributed, was that Miami looked pretty good in the loss; it faced a revenge game, stood up Kelly's insane 36-point night, and still came close to winning. But wait … look at those seven games again. That's not the résumé of a team peaking in March. That looks an awful lot like a team that ran out of juice in mid-February. It's something to keep an eye on against Clemson, in a game the Canes should win; it's also notable that if they lose and Duke wins, the ACC regular season title is split.
8. No. 21 VCU at Temple, Sunday, Noon, CBS
Fair warning to the world: After witnessing the best display of Shaka Smart's Havoc defense maybe ever, and writing about it, I've got some serious Ram bias happening. Unless Virginia Commonwealth looks really bad against Temple and in the A-10 tournament, I'm going to have to be restrained from picking the Rams to make the Final Four. Seriously, it's that bad. Anyway, here's a video of the VCU band and student body doing the "It's Havoc You Fear!" song, which is one of the coolest chants in college basketball.
Seriously, how cool is that? Anyway, aside from being a matchup between two teams that could make the tournament (VCU's in, Lunardi has Temple as one of the last four in), this game is interesting because of the A-10 implications. VCU and Saint Louis are now tied atop the league at 12-3, and since there's no tiebreaker (SLU would have it), it comes down to this game and one other. I believe it's time for a perfect segue.
7. La Salle at no. 16 Saint Louis, Saturday, 1:30 p.m., NBC Sports Network
La Salle has had a great season, one of the best under coach John Giannini, and won a share of the Philadelphia Big 5 city title. (You can find my Q&A with Giannini here.) The Explorers will probably make the tournament, as well, and as for Saint Louis … more on the Billikens next week. But for now, it's worth pointing out that they've won 11 of 12 games (the only loss was in overtime to Xavier), handled Butler and VCU at home with ease, and even beat the Bulldogs on the road. That streak is not easy in the very tough A-10, and like VCU, I will be very tempted to pick SLU to go a long way.
6. No. 9 Kansas State at no. 13 Oklahoma State, Saturday, 1:30 p.m., Big 12 Network
Kansas State is the ultimate under-the-radar top 10 team, and it even surprised me when I saw that the Wildcats' record was 25-5. Fair or not, the only games that stuck out in my mind were the two Kansas losses, including the awful showing in Lawrence. Besides those games, they seem to win the games they're supposed to, even if the margins are very small on the road. The best win of the season came at home against Oklahoma State in early January, but the Cowboys have improved and found their identity since then, and I'll be watching this game very, very closely, in an attempt to discern some usable wisdom for the tournament.
5. No. 4 Kansas at Baylor, Saturday, 6 p.m., ESPN
Kansas goes for its 93rd straight Big 12 title. And the Big 12 formed in 1994.
4. No. 24 Notre Dame at no. 8 Louisville, Saturday, 4 p.m., CBS
Revenge time! After the five-overtime loss that involved a 10th-string Irish center named Bubbles McGritStone (I think?) scoring a bunch of weird points by throwing his head at the ball soccer-style, I can only imagine that Rick Pitino is a bit peeved. I love Louisville's chances in the tournament, but the Notre Dame loss gave me pause; what's the offensive plan in crunch time? Hopefully, in the weeks since that game, Pitino has come up with something other than Russ Smith shooting from half-court or charging wildly into the lane.
That will matter in the tournament, but I don't think it will against Notre Dame; Louisville has the best defense in the country and should hold the Irish in check, and if they can score 67 points against a team like Cincinnati, they should reach 70 against Notre Dame without a problem. And barring another quintuple-overtime game, the Irish will be lucky to sniff 60.
3. No. 2 Indiana at no. 7 Michigan, Sunday, 4 p.m., CBS
A game like this in the no. 3 slot is the sign of a great weekend in college basketball. If Michigan wins, it looks very likely that the Big Ten regular season race will end in a four-way tie (Michigan State would have to beat Northwestern and Ohio State would have to beat Illinois, both at home). Which would be fitting, in a way, though the Hoosiers will be kicking themselves for losing at home to Ohio State with a chance to clinch the outright title.
Of the five really good Big Ten teams, the Wolverines seem the most vulnerable to me. They've lost to each of the other four on the road, and defended at home against Michigan State and Ohio State by the skin of their teeth. The interior defense is the biggest problem, especially with Jordan Morgan still limited in his playing time. The guard corps can be great, and it seems like Trey Burke never has an off night. But Tim Hardaway Jr. goes cold at the wrong times occasionally, and Nik Stauskas can be bottled up by a good, lengthy defender. When that happens, it starts to look like Michigan cowers, and Burke has no choice but to do it himself. The February 27 road loss to Penn State was shocking, but in a way it made sense; this is not a "tough" team right now. Maybe it showed something this week by fighting back to win at Purdue.
Indiana's vulnerability has also resurfaced lately. The home loss to the Buckeyes was a puzzle, and though it's tempting to write it off as an anomaly, the Hoosiers haven't performed that well against top defenses all year. This will be a great test, because even on the road, it's a game they should win. Cody Zeller should run rampant in the paint with only Morgan to stop him, and Victor Oladipo should stifle Hardaway on defense and penetrate on offense. Jordan Hulls and Will Sheehey and Christian Watford should get open looks, which didn't happen against Ohio State. Aside from periods of awe that come when the offense is clicking, I've been cynical about Indiana's title chances. If they can't beat Michigan on the road, I'll be convinced that the Big Ten coaching brain trust finally cracked the code to beating the Hoosiers.
2. No. 17 Syracuse at no. 5 Georgetown, Saturday, Noon, ESPN
Here it is, in its rightful spot: The last Big East regular season game between historic rivals. And look, Jim Boeheim is retiring. Or it's just a stupid rumor. Or it's a rumor with a grain of truth that might sprout into a veritable wheat field of truth.
Anyway, this is obviously going to be a sad and momentous and emotional game, and we have a lot of great moments to look back on in the history of the rivalry. I grew up in Syracuse country, but I still think the best moment of the rivalry came in 1980, when Georgetown won by two in the final game at Syracuse's Manley Field House, and John Thompson Jr. said, "Manley Field House is officially closed." That's the kind of badass trash talk the game could use today.
The end of this rivalry deserves more words than I can give it right now, so it'll have to be enough to finish with three thoughts: This has been one of the greatest rivalries in American sports for 30 years, conference realignment is a real drag, and if there's any justice, the schools will meet for the Big East championship in Madison Square Garden one last time.
1. No. 3 Duke at North Carolina, Saturday, 9 p.m., ESPN
Sorry, Indiana/Michigan/Syracuse/Georgetown fans, but nothing ever goes above a Duke vs. North Carolina game. Ever.
The really noteworthy thing here is that Duke will be playing its first true road game with Ryan Kelly in the lineup. People love to point out that Duke is 15-0 with Kelly, but none of those wins have come in a hostile environment. And it doesn't get more hostile for Duke than the Dean Dome. (And yes, that includes the confines of College Park, Maryland.) Kelly's a senior, so it's not like he's new to this sort of thing, but it'll still be interesting to see if the team functions at the same high level it showed against Miami and Virginia Tech.
With the win over Maryland on Wednesday, the Tar Heels have now won six straight, and will be coming into Saturday's game playing their best basketball of the year. My expert analysis is that the game will hinge on — surprise, surprise — Ryan Kelly. As Carolina showed in Cameron, they have the perimeter guards in Dexter Strickland and Reggie Bullock to shut Seth Curry down. I could be wrong, but I think that's unavoidable; Curry is great when he can maneuver, but it's fairly predictable when the defense will be too much for him, as it was in both games against Miami with Trey McKinney Jones dogging all over the court. As for Mason Plumlee, I've resigned myself to the fact that you can only expect him to disappoint the team in a big game. That leaves Quinn Cook and Rasheed Sulaimon, young guys whose reactions to the environment will be unpredictable, and finally, yes, Kelly. He's the X factor. When the Blue Devils escaped the Tar Heels at home earlier this season, it was difficult for them to find open looks beyond the arc. Kelly changes that, in the sense that he's a "big man" who forces the defense to stretch out and defend him in 3-point range. That gives Duke four shooters, and if they can make the shots, it's easy to imagine UNC's defense being in tatters. But if Kelly misses, Duke's offense will become stagnant; fruitless post-ups to Plumlee, and Curry running to and fro like a madman but not finding any open looks.
On the other side of the ball, the formula for Carolina is not mysterious: hit 3's, and take advantage of the fact that Duke can't guard anyone on the perimeter. P.J. Hairston should have a big game, just as he did the first time (23 points), and that performance came on a night when he shot 1-for-7 from 3. If he actually makes those shots, it could get quite ugly; this is the kind of player Duke cannot handle.
This is a very hard game to predict, since there's no telling what Duke Version 3.0 will look like on the road, but I can't escape the conclusion that UNC is a hot team with the tools to exploit the Blue Devils' weakness — especially at home. I'm going with the Heels, 77-71.
Have a great weekend.
Filed Under: Baylor, Clemson, College Basketball, Duke, Georgetown, Indiana, Kansas, Kansas State, Louisville, Miami, Michigan, North Carolina, Notre Dame, Oklahoma State, Shane Ryan, Syracuse