We Went There: Taney's Little League World Series Adventure Hits a Nevada-Shaped Wall
Wednesday morning, I called my dad back in South Jersey and told him I was going to Williamsport, Pennsylvania, to see the now-legendary Taney Dragons in person.
"That's cool," he said. "Mo'ne Davis has been on the cover of the Inquirer something like six days in a row."
I'd followed and read about and tweeted about and written about Davis and the Dragons for the past two weeks. Like any Philly sports fan, I had been starved for good news. When I got to the site of the Little League World Series — a pastoral facility carved into a Pennsyltucky hillside — I found out what it looks like when a city with a notoriously irrational sports culture collectively grabs onto a point of light.
Philadelphians descended on this little strip of Appalachia by the tens of thousands. CSN Philly sent enough reporters and support staff to conquer Panama. Outside the stadium, a Taney Little League alum named Sam Siegel-Wallace handed out signs printed by the Daily News featuring the now-famous Mo'ne Davis cartoon.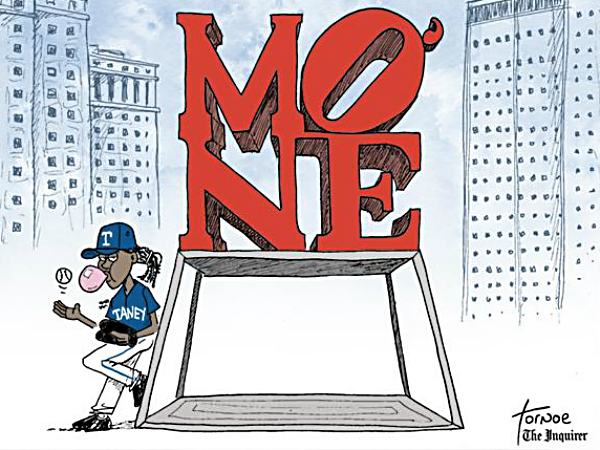 "It's crazy," Siegel-Wallace said. "In the city, this morning when we were packing up our car to go to the bus stop, there was this huge crane lifting up concrete slabs for this building project and the operator of the crane stopped it and said, 'Hey, are you going to Williamsport?' We said, 'Yeah,' and he said, 'Go Taney!'"
The team had inspired fans from across the entire city and, increasingly, the region.
"If you wear a Taney shirt, people stop you and ask you about the organization," said Tina Daugherty, whose husband coaches the Taney U-10 travel team. "We were in Jersey yesterday, at the shore. We were at a diner and a guy came over and was just asking: 'Who are the kids, what's the organization all about?'"
And why not? These are kids straight out of central casting for a Disney sports movie; they're charming, they're funny, they play exciting, aggressive, polished baseball, and they play it exceptionally well. There might not be an easier team to root for at any level in any sport.
MLB commissioner-elect Rob Manfred threw out the first pitch before the game between Taney and Mountain Ridge Little League of Las Vegas. In his press conference, the first six questions were either about Davis as a symbol for women's empowerment or Taney and Chicago's Jackie Robinson West Little League as a symbol for African Americans in sports.
The narrative we all wanted was there, and grown-ups were trying to write the ending before it was done. The upstart team from the big city would beat a preposterously good club from Nevada, made up of kids who look like they could've played for Iceland in D2. The upstarts would be led by a 13-year-old girl blessed with uncommon talent and savvy. Somehow a city starved for success would get a champion, and somehow, somewhere down the line, baseball would no longer be a game played predominantly by and for white men.
It would have been a nice story to tell.
Davis ran hot and cold in front of more than 34,000 fans, to say nothing of a national TV audience. She recorded six of her seven outs by strikeout, flummoxing the Nevada kids by quick-pitching them and climbing the ladder with her fastball.
http://giant.gfycat.com/EthicalAmusingArabianwildcat.gif
But in between those highlights, Mountain Ridge tagged her for three runs. For the first time in four appearances, Taney coach Alex Rice had to bring in someone to relieve Davis.
Taney played Mountain Ridge tougher than any team had up to that point, keeping it at 3-1 until the sixth inning, when Rice finally ran out of pitchers. The Dragons could easily have won if any break went their way. But their rallies came to a halt with untimely strikeouts, bad bounces, suspect strike calls, and a spectacular first-inning catch by Nevada right fielder Alex Barker.
When Rice came out for his postgame press conference alone, he faced a media swarm that dwarfed the postgame press conferences at the College World Series. He was unperturbed that allowing five runs in the sixth inning meant his team had failed to cover the spread. Because you can bet on Little League now.
It's hard not to come away from the experience feeling slightly gross, but the grown-ups can only ruin so much. Rice faced a phalanx of cameras and microphones — something he couldn't possibly have anticipated at the start of the summer. He came off not just like a coach in charge of a team, but an adult shielding children from the frenzy they had inspired.
Both coaches spoke proudly of what their players had accomplished just by getting this far.
"Obviously, there are some big hits that will imprint in their mind," said Nevada head coach Ashton Cave. "But for the most part, what it is, is sliding down that hill, interacting with people, meeting [people from] different nations, enjoying the funnel cake. That's what this is really all about."
Maybe Taney's not the revolutionary spark that will cure all of baseball's problems with race and gender. Maybe we're not going to get the perfect resolution to the most captivating Little League story in more than a decade. But whether those kids know it or not, we are rightly awed, rightly excited, and rightly inspired by what they've done.
And there's still the potential for a rematch.
Filed Under: Little League World Series, Mo'Ne Davis, Taney Dragons, Rob Manfred, Michael Baumann, Baseball