Spelling Bee Retro Blog!
I don't think there's a TV-watching soul in America who doesn't love the Scripps National Spelling Bee. It cuts across boundaries and appeals to the frightened child in all of us — that petrified little tyke who remembers the drama and heartbreak and occasional awkward triumph of life in the early days. Who wouldn't want to see that played out under the bright lights, at a safe but still excruciating remove? (Get off your high horse, people who care about the mental well being of fragile children!) It's one of the hardest events to watch, like a real-life Hunger Games, but it's damn near impossible to look away.
I couldn't have been more thrilled when I got the green light to write a retro blog of this year's bee. I watched the semifinals in the afternoon, when 50 spellers were whittled to a mere nine, studying the players, learning their tics, and trying to discern the broader patterns of the bee. Here are two important lessons for future generations:
1. Don't be funny. Seriously, don't ever be funny. It shows weakness, and spelling is a rigorous sport that will eat you alive. Time after time, we saw spellers go down after they tried to get cute. Also, it's kind of annoying.
There was Sumaita Mulk, who got the word quatuor from official pronouncer Dr. Jacques Bailly and immediately said "bless you." As though he'd sneezed. Did she get a few sympathy chuckles? Sure, but it was clear she was saving that one up, and the lack of focus led to a swift elimination. Then there was the kid who asked to buy a vowel. Obvious joke, kid! This is the big time! Get the hell off my stage!
2. Being normal is a liability. Not a deal-breaker, mind you, but it's not a great omen. There were a number of kids throughout the bee who you wouldn't immediately look at and think, spelling bee contestant, and those kids dropped like flies. There was Mark De Los Santos, the tall, athletic-looking dude from Arlington, Texas. Lot of spelling talent, but he got sidelined by himation. And Vismaya Kharkar, who was a little too put-together. She was probably the most popular speller, and she nearly made the finals. But when she missed pissaladiere at the end of the semis, the reason was clear: She was too well-adjusted for the upper echelons. You gotta be off-kilter to make it in this business, kid.
Before we start the retro blog, let's meet the nine finalists.

1. Nicholas Rushlow, 14, of Pickerington, Ohio: Nicholas has been here five times, and this is his last shot at glory. He's a charismatic kid, with a head of curly hair and a lucky yellow-and-black shirt he's worn for five straight years because it has the colors of a bumblebee. When he hit kanaima to make the finals, his parents celebrated like crazy in the audience.
2. Arvind Mahankali, 12, of Bayside Hills, New York: The heavy favorite, in my book. He's only 12, but this is his third year in a row as a finalist. He's very calm, very confident, though he has a slight tendency to crack a timid joke or two, and that really worries me. But right now, it feels like more of a devil-may-care attitude. He's the James Dean of the bee, and he was absolutely swaggering as he nailed phrontistery to punch his ticket to the finals. It was a no-doubter all the way, a real statement word.
3. Lena Greenberg, 14, of Philadelphia: I don't want to get anyone too excited, but she has the potential to reach crazy levels not seen since Rebecca Sealfon, a.k.a. euonym girl. But she's a lot more likable, and has a terrifying habit of getting the most panicked expression possible on her face when she hears a word. She survived and advanced with the word cholecystitis to make it here, but I'm very anxious. It's going to be absolutely devastating if she loses, believe me. Like, really bad. This is when spelling gets real.
4. Gifton Wright, 14, of Kingston, Jamaica. This dude is scrupulously polite, and pretty rigid. He has a definite intimidation factor. In the semis, we learned that his father is his hero because "he doesn't encourage mediocrity." Tell me that's not terrifying, guys. Gifton absolutely annihilated gleichschaltung to make the finals. This Jamaican is a serious fellow.
5. Snigdha Nandipati, 14, of San Diego: Huge Sherlock Holmes fan, and one of my favorite spellers early on. Like Sherlock, she's also a huge drug addict. (I lost my fact sheet, so I have to make some up.)
6. Frank Cahill, 14, of Parker, Colorado: Frank looks like a gregarious farmer who wants to sell you soy beans. I made the mistake of not taking him seriously at the beginning, but he came to play. When he spelled guilloche without breaking a sweat to make the finals, my eyes were opened.
7. Stuti Mishra, 14, of West Melbourne, Florida: Stuti hit capharnaum, which was ridiculously difficult because it sounded like there was an "e" in five different places. But she was cool as a cucumber. I have to be honest, I don't know what to make of Stuti quite yet. A total mystery.
8. Jordan Hoffman, 14, of Lee's Summit, Missouri: I'm pretty worried about Jordan. She got heiau to make the finals, but she spelled it in under 10 seconds and looked very much like she was guessing. Also, she's playing fast and loose with seeming like a normal teenager. A real maverick, but I'm afraid she won't last long.
9. Emma Ciereszynski, 14, of Dover, New Hampshire: If not for Lena, Emma would be the resident "eccentric" of the final. In the semis, she regularly gave the definition of a word before Bailly could even get it out, which is known as one of the most badass moves in all of spelling.
Those are the contenders, and it's almost 8 p.m. I haven't been this excited in exactly one year. Let's do this!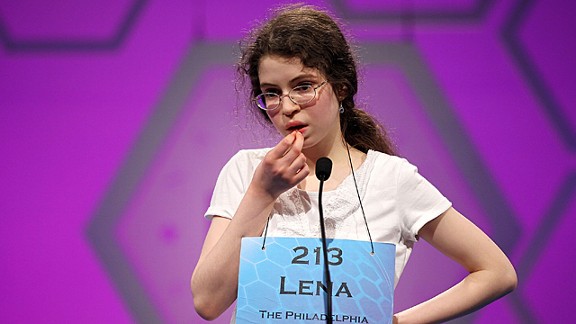 8 p.m.: We are live from just outside of Washington, D.C., and here come the championship finalists. Lena Goldberg is leading them as they stream out to great applause and fanfare. Everyone is looking so confident, waving to the audience and smiling. These are champions, folks. These are heroes. And if you ever mess with them, they will spell you into a bloody pulp. "You're all winners!" I scream at the television.
8:01 p.m.: Opening montage, narrated by Sukanya Roy, last year's winner. It's got a detective theme. Sukanya even wears a plaid deerstalker in one shot. Is this good mojo for Snigdha Nandipati, the Sherlock Holmes fan?
8:02 p.m.: Cymotrichous! That was Sukanya's winning word. They show the clip, and I've already got goose bumps. This is the best event on the planet, bar none. They should replace the Olympics with an extra spelling bee.
8:03 p.m.: More montage. Letters are falling from an animated sky around an animated Capitol building. Finally, we're inside the Maryland Ballroom at the Gaylord National Resort and Convention Center in National Harbor, Maryland. Sage Steele and Paul Loeffler are our announcers, along with some sideline reporting by Samantha Steele. (No relation to Sage.)
8:04 p.m.: Snigdha's up first! Jacques says hello. She looks very confident. Her word is psammon, an ecological community, and she knows right away that the Greek root means "sand." And holy hell, does she nail it. Nothing but a formality. This girl is on top of her game, and she does her signature "Dictionary Dance" to mock the other players. (Again, I'm forced to make up facts about Snigdha.)
8:06 p.m.: "Good evening, Dr. Bailly," says Frank Cahill, who's taking a daring fashion risk by wearing all brown. "He has a great personality," says Sage Steele. He's leaning intensely over the microphone, and gets dedans, which is a word for the collective spectators at a tennis match. Only tennis would have a fancy word for its fans, right?
8:07 p.m.: All the eliminated spellers from the semifinals have to sit across the way from the final nine, so near and yet so far from what they covet. Now it's time to formally meet Sage Steele and Paul Loeffler. Paul started doing bees at an early age and peaked when he tied for 13th place in 1990. He talks about the family aspect of the bee, but all I can see is deep, lingering regret from the unfulfilled dream. He calls Gifton the dark horse, says Arvind is the odds-on favorite and Nicholas is the sentimental favorite. Just as we suspected. Sage notes that Nicholas is as "confident as we have ever seen him." And that must be pretty confident, because Sage has been following him around for the past 18 months to prep for tonight.
8:09 p.m.: Samantha Steele does a special interview with Nicholas, who says he spent his summer reading 53 pages of the dictionary every day. "Reading ain't knowing," I whisper to myself, pretending I'm an old, gruff spelling expert.
8:10 p.m.: Stuti, the mystery girl, is up. She gets sahel, a savanna or steppe region. I can't tell if she's nervous or just buying time, but in the end it's a clean spell. Still, was that the first sign of indecision we've seen from her? Does it mean anything that she's wearing a men's suit with question marks all over it?
8:14: The spelling bee started with 278 hopefuls, all of whom took a computerized test Tuesday. They headed to the mic for the first time Wednesday, and ESPN tells us about 6-year-old Lori Anne Madison, the event's youngest competitor ever. Here's the video of her getting eliminated. Only watch it if you're a bad person.
8:15: Gifton means "God's gift" in Jamaican, but he shows a little uncertainty on harengiform, which means "having the shape of a herring." I once had an aunt who was shaped just like a herring.
For the first time, we get a dose of Gifton's crazy politeness. "Thank you, sir, language of origin, please, thank you, sir, part of speech, please, thank you, sir, can you use it in a sentence, please, thank you, sir." But suddenly, Gifton's panicking. The wall of composure is coming down, and the clock beeps. The means there are only 45 seconds left of the original two minutes. When the clock hits 30, the lights go red in the background and Bailly can no longer answer questions. Gifton doesn't start until the 20-second mark. He has just three letters at 10. I'm leaning forward, shouting, urging him on, and he FINISHES WITH TWO SECONDS LEFT. Sweet holy hell, Gifton. He's the cardiac kid.
8:18: This is Jordan's third time in the spelling bee but her first finals appearance. A cutaway feature lets us in on her life. She collects snow globes from around the world (her favorite is London), and despite the globes, I get the bad feeling that she's a little too normal. She's probably been to a school dance and stuff. Her word is canities, which is "grayness or whiteness of the hair." When she asks for it in a sentence, Bailly has a witty one prepared: "When asked about the cause of his canities, the speller pointed to his four years in the spelling bee."
It's become a tradition for Bailly to read a funny sentence, prepared ahead of time by a writer, and it led to the most hysterical moment of this or any spelling bee earlier in the day. After getting the word phlogistic, one speller looked up to Bailly and said, "Are you going to read me another amusing sentence?"
Bailly lost the color in his face and said, "No, I don't think this one is too amusing." Then he looked down and read: "Multiple sclerosis is a phlogistic illness of the nervous system." Yikes.
Jordan looks like she knows canities, but she spells it with an "o," and we have our first elimination of the night. But she's all smiles, happy to have made the finals, and the moment is smooth and easy. I give her an exit score of 10/10. Part of me wonders if she knew she was a little out of her league up there and is happy to be off.
8:20 p.m.: Emma is a bit of a comic. Also, she's one of those people who always pretends she doesn't know the word at first, all for the sake of drama, which I find infuriating. She's wearing a stylish jeweled headband, and she gets ridotto. "Let me guess," she says, "it's from the Italian." Have you learned nothing from the fate of our comic forebears, Emma? Her dad says a prayer with his eyes closed. She spells out "r-e-d-a-t-t-o," and another comedian bites the dust. "Thank you very much!" she yells, throwing up a heart symbol. You have to admire her spirit. Maybe she was too humor-oriented for her own good, but on the plus side, at least it gives her a tool to cope with losing. Exit score: 8/10.
8:22 p.m.: Here's what the winner takes home: $30,000, a $2,500 savings bond, and a trip. Seems a little paltry, America. How are we going to compete against Japanese spellers if we don't even encourage our kids?
8:25 p.m.: Arvind has got everything. He plays tennis, he has friends, and a video shows him having a blast in gym class. You might think he's too normal, but he's also studious and serious. You couldn't create a better champion if you had a selection of the world's best DNA. But as the old spelling adage goes, the game isn't played on hypothetical DNA; it's played inside the Maryland Ballroom at the Gaylord National Resort and Convention Center in National Harbor, Maryland.
8:26 p.m.: Jugendstil is Arvind's favorite word, because it's the one that eliminated him last year when he finished third. It means "art nouveau in Germany," or something. Think "Sprockets." Arvind does not forget the past. "When I win," he says, "I will scream so loud that a volcano will erupt somewhere on Earth." How can you not love this kid? And here he is, getting maieutic without a problem. I just pumped my fist. My girlfriend came in and gave me a weird look.
8:29 p.m.: When Nicholas comes up to the mic, my girlfriend says, "These guys are such geeks." 'HOW DARE YOU!' I want to scream. I'm fuming in my chair. Some people will never understand. Nicholas has no trouble, and proves again that he has the best parents when they leap from their seats to cheer.
8:31 p.m.: And here's Lena. I can't handle this, guys. It's too nerve-wracking. I'm scared about her losing. I'm scared for her psyche. And the secret horror is that I don't think Lena is on that rarefied championship level. Every time she gets a word, she looks devastated. I think she's been tremendously lucky so far. But this time, she knows a Greek root and she's safe. She skips away, and her mom takes her head out of her hands. Round 7 is over, and there are seven spellers left.
8:33 p.m.: "It's weird," my girlfriend says. "They make a competition of this, but these kids are not who you imagine to be champions." I'm this close to calling a cab for her. The magic of the speller is lost on her. The light has gone out of the world.
8:37 p.m.: ESPN runs a segment called "special talents." Samantha Steele talks about how the kids are really well-rounded, and my girlfriend says, "I doubt that." What's wrong with her? I don't even know her anymore.
The "special talents" include kids who can cross their eyes, name all 50 states in 30 seconds, make horrifying faces by inverting their eyelids, lick their elbows, put their feet behind their heads, and say the alphabet backwards. Hey, guys, we're trying to fight stereotypes here, not indulge them. Keep your eyelids on straight.
8:38 p.m.: "I can't figure out my special talent," says Samantha Steele. "You're hot," says my girlfriend. She sounds angry.
8:39 p.m.: Snigdha gets ajimez, a twin window derived from Arab architecture, and she's all smiles. The Sherlock fan doesn't even need deduction. She almost went full Sherlock on that word and turned it down because it wasn't hard enough.
8:40 p.m.: Crazy Frank is back. He likes Tim Tebow, says the infographic. He gets porwigle, a word with an English origin.
The lights go red as we sail under 30 seconds. Frank says the letter "g," and then he says it again. NOOOOOOO, FRANK! His eyes go misty when the bell rings. He's handling it OK, so I give him a 6/10 on the exit. Boy, will I miss him.
8:43 p.m.: This is a loaded question, but I have to ask it: Should we be allowing spellers from Jamaica and Canada into our national bee? I became irrationally angry this afternoon when the girl from Newfoundland came to the microphone. I'm less irate about Gifton, but still … is nothing sacred?
8:43 p.m.: Ol' Stuti. I don't really know you, Stuti. What are you up to? What's your secret? What's your game? She hits melopoeia without a problem, and evaporates into mist until the next round.
8:44 p.m.: Gifton gets a word with a phth- beginning. It happened — Bailly unleashed the ultimate deception. So hard. But he blazes through it! I haven't taken him seriously. Well, guess what? I no longer have a choice. This crazy son of a bitch just spelled me into a corner.
8:46 p.m.: After a Celtics-Heat promo, the girlfriend says: "Tomorrow night, we get back to real sports." I don't even know her anymore.
8:48 p.m.: Out of a break, Rushlow and Bailly perform a sketch about a guy ordering cappuccino. It's mildly funny, but Nicholas has gone over to the dark side. He's given himself to comedy. It's only a matter of time. You hate to see it … a kid so young …
8:50 p.m.: Arvind gets distelfink and asks for homonyms. This is unprecedented. This kid is doing things no speller has ever done before. Even Bailly doesn't know how to react. Arvind is a revolutionary, and he's almost burning too bright for the stage. He's like the '74 Dutch soccer team — his style is so glorious that it almost doesn't matter if he wins. We'll never forget the homonyms moment.
8:51 p.m.: Nicholas is back, and he looks a little uncertain on rouille, which feels like an easy word to me. Go back to your dictionary reading, kid! Close your eyes and let it clarify, like in The Legend of Bagger Vance. "Can I have the spelling?" he asks, using the oldest joke in the speller's repertoire. I just groaned audibly. Bailly politely laughs, but Nicholas presses. "Can I have the spelling please?" What the hell is he doing?! He's going comedian. It's all over. He hits rouille, but he's a dead man walking and everyone knows it. His father just shook his head and walked out of the building — he'd seen enough. Or he should have, anyway.
8:53 p.m.: I can read Lena like a book. She gets yttriferous and pretends not to know it, but she can't help smiling. She's got this. She's faking it all the way. Still, I get goose bumps when she finishes up. That infectious energy, and the psychological stakes of every word, is enough to fray my nerves. I think yttriferous is one of those words that looks ridiculous but is so crazy that every speller probably learns it right off the bat. It's so hard that it's easy. On the other hand, I have no idea what I'm talking about.
8:55 p.m.: Snigdha is whatever the opposite of scared is. Wait, I should know this, I'm a writer … unscared? Anyway, there's not an ounce of drama in this girl. She's hitting Latin roots left and right on the way to dispatching luteovirescent back to its horrible dictionary lair. She gives a little nod, and a pointed look for the camera. Just another day at the office.
8:57 p.m.: Stuti. What are you about, you sphinx? What's the answer to your riddle? What's the question? Dr. Bailly clears his throat. Chatoyant. A single streak of light in a jewel. A smile. She's not quite Snigdha, but maybe more terrifying for her serenity. Also, she likes chocolate.
9:02 p.m.: Politeness is part of Gifton's training. It's a spiritual and mental game, we learn. The constant "yes sirs" are standard among Jamaican spellers. I don't think I can read this guy. Very stoic. This goes beyond politeness — this is a lifestyle. He's a Samurai. But the time is ticking away on ericeticolous, and I'm wondering if we're at the end. Is there another buzzer-beater in his bag of tricks?
No. He reverses his reverse-LeBron. He botches it. He's dumbfounded at first when the bell rings, and his eyes tear up. But he composes himself as the crowd gives him a standing ovation. A 6/10 on the exit score. His dad gives him a hug, and we are down to five spellers.
9:06 p.m.: Arvind has a classic back-and-forth pronunciation battle with Bailly. Quattrocento is the word, and I actually got it, which means it's way too easy for Arvind. He takes his time, but in the end it's a formality. "Ever the showman," says Loeffler. Arvind is the bad boy of the Maryland Ballroom at the Gaylord National Resort and Convention Center in National Harbor, Maryland.
9:08 p.m.: Nicholas gets vetiver. I know this one, because along with being an aromatic grass, Vetiver is a great indie band. That's two in a row for me. Nicholas asks for the part of speech. It's a piece of grass, dude, what do you think it is? Unfortunately, Nicholas is not yet into the indie music scene, and he can't wrap his mind around "vetiver." He sold his soul to comedy, and now the comedian is gone. His fifth and final chance is over, and the hall is audibly devastated. Sage tries to cushion the blow by telling us how much he enjoyed his celebrity, and how he can't go anywhere without being asked his autograph. Nicholas keeps it intact, flashing a peace sign by the comfort couch. You're the best, Nicholas. You're an institution. We won't forget you. Exit score: 7/10.
9:10 p.m.: Lena. She knows geistlich all the way. It's a word that means "with deep feeling, soulfully" in German. I didn't realize they had that emotion in Germany, to be honest. Lena knows it so well that she rushes the spelling. It's the one mistake you have to avoid, especially in the excited moments. Anyone can go slow when it's tough, but it takes a pro to slow down on the verge of success.
She adds in an extra "e," and our wellspring of energy is gone. She realizes she blew a word she knew, and she's got a full-on deer-in-the-headlights look going. Then tears, and her hands in her face. Her parents rush up to comfort her, and she manages to avoid a full breakdown. Watching her, there's something legitimately sad at play, and I can't help tearing up. A 5/10 exit score. It's not as bad as I expected, but it's not great. Somewhere, euonym girl cackles. Her legacy is intact.
9:12 p.m.: We are down to three spellers. Stuti, Snigdha, Arvind. It's been clear for most of the day that these were the three top dogs. There are only 25 words left on the list. If they make it through without eliminating two of the players, that means we'll have co-champions for the first time in 25 years. I can't help but feel that it's destiny, in a way. But the words are about to get really, really horrible.
9:16 p.m.: Snigdha tries not to laugh at saccharolytic. It comes from Sanskrit, Pali, Greek, and Latin, but to beat her you need at least 12 origin languages. She knows the prefix and suffix roots, and it's a cakewalk.
9:18 p.m.: Stuti, you inscrutable devil! "She's fallen under the radar a little this year," says Loeffler, not realizing that it's how she lives her life. It's her big secret. Quiet and deadly. She has no trouble with another German word. Is it me, or is the German influence in this bee a little too pronounced?
9:19 p.m.: Arvind was third last year, and here he stands in the same position, facing down schwannoma. With 45 seconds left, he sees the time. He flashes a little grin. My stomach sinks. The red lights come on. "Are you sure I can't have bonus time?" he asks, mugging for the camera. COMEDIAN. HE WENT COMEDIAN. And he pays for it dearly! Arvind is out! Oh my. Third again. I know he'll be back, but that's an absolute killer. Still, the homonym play is fresh in my mind. This kid will transcend spelling by the time it's over. See you next year, Arvind.
9:22 p.m.: Snigdha vs. Stuti. Sherlock vs. Moriarty. Twenty-two words left. Could it go the distance?
9:25 p.m.: Snigdha has admittatur down cold. She's already writing on her hand as Bailly gives the definition. Hey, her favorite athlete is Rafa Nadal! Me too! She kills it and high-fives with Stuti. This isn't exactly Ali-Frazier in terms of animosity, though Snigdha does love to create boastful rhymes about herself (where the hell is this fact sheet?).
9:26 p.m.: Chionablepsia. Inflammation and photophobia. Fear of light. Evil? Where are Stuti's nerves? She was born without fear! When she gets it, she sticks her tongue out while smiling, perhaps the first sign of relief. Sage tells us that Stuti had to go 43 rounds to win her regional. It will take a truly horrible word to knock her out.
9:28 p.m.: Arrondissement for Snigdha. Too easy. Way too easy. So common. I shouldn't be able to spell any of these last 25 words, but I knew this one. You can't give it to a speller of her caliber, and I'd be pissed if I was Stuti. "This is a noun, right?" YEAH, SNIGDHA, YOU KNOW DAMN WELL IT'S A NOUN. "Is there anything I didn't ask you?" she follows up, barely keeping a straight face. Are you getting funny, Snigdha? Have you learned nothing? This is borderline comedy. Watch your step.
9:32 p.m.: The two look so lonely all by themselves. It's the last chance for both. We learn that Stuti has a "true appreciation for history" and is a big fan of Lincoln. "He was a wonderful leader, and also a good speller," she says. Likes to type words when she studies them. Her favorite word is "Dhyana" — her sister's name, and also the Sanskrit word for meditation. At this late hour, Stuti is finally coming out of her shell and winning us over. What a closing move!
9:34 p.m.: It's her word. Schwarmerei. Another German word, meaning excessive unbridled enthusiasm. Again, I ask: Do they actually have that emotion in Germany? She waits and waits, and at the final moment she MISSES THE A. Oh no. Oh no. Not like this. Not when you had just won us over with the Lincoln stuff, Stuti. You are a cruel bastard, spelling bee!
9:36 p.m.: Snigdha is moving her mouth, spelling out words they might call. She just needs one more for eternal glory. It's guetapens, and she's smiling. Is this French? Definition? She's trying to keep herself composed, but she knows it. The word means ambush, snare, trap, which is just what she's laid on the field. In the background, Stuti looking so mournful, like a betrayed heroine in a spy novel. Snigdha spits out the "s," and it's over. After a suitably awkward ending, the confetti comes raining down. We learn then that her name means "smooth like honey." Elementary, Snigdha. Elementary.
Filed Under: Shane Ryan