In Honor of the Backs-Dodgers Brawl, Here Are the Odds on a Heroes of 1991 Baseball Battle Royale
Stephen Dunn/Getty Images
Last night's brawl at Dodger Stadium featured Don Mattingly, Kirk Gibson, Alan Trammell, Turner Ward, Charles Nagy, Mark McGwire, and Matt Williams. Please read that list of names again and then go straight to the binder of baseball cards in your mother's attic to reacquaint yourself with 1991. Because we here at Grantland like to put fake odds on pretty much everything, we came up with the betting sheet for a 1991 baseball version of the Japanese film Battle Royale, in which a bunch of kids are left on an island with one weapon each, ranging from an assault weapon to a frying pan. Last man standing wins the grand prize: a date with Erika Eleniak.
Before we get to the action, let's all review Mattingly's takedown of Trammell. It was glorious.
Ruben Sierra
Odds: 1:1
Weapon: 25-pound bat
Would you bet against him?
Danny Tartabull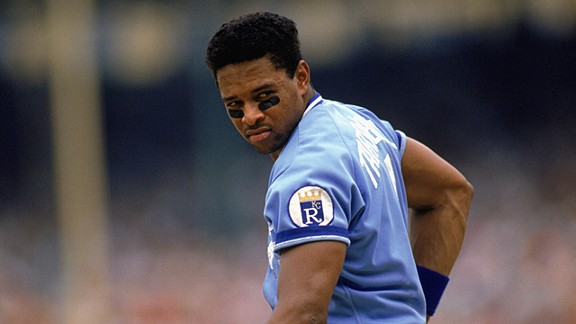 Odds: 2.5:1
Weapon: Disassembled tent poles
No real value here. Tartabull is rightfully one of the favorites, but given the size of the field, getting only 2.5:1 for your money just isn't worth it. Also, what is he going to do with a bunch of disassembled tent poles that wasn't already done in First Blood?
As a side note, I'd really like to know if the powder-blue uniforms the Royals wore during that period made them look tougher. Because if you think about Tartabull, George Brett, and Bo Jackson all in the powder blue, that's one tough group of dudes. But wouldn't they be tough anyway? What would happen if you put them in the early-'90s Jack McDowell White Sox uniforms?
Pete Harnisch
Odds: 3:1
Weapon: BFG from Doom
This ranking has nothing to do with Pete Harnisch, who clearly can't fight at all, and everything to do with his weapon draw.
Rickey Henderson
Odds: 4:1
Weapon: Paring knife
Floyd Mayweather put $6 million on Rickey. I put down $40.
Mark McGwire
Odds: 5:1
Weapon: Empty bottle of androsterone
McGwire has now been central in two brawls this year, which is both hilarious and sad. Earlier in the season, when Carlos Quentin charged Zack Greinke, McGwire was clearing out bodies like Wreck-It Ralph.
Jack Morris
Odds: 10:1
Weapon: Dictionary
It wouldn't be pretty, but Jack Morris would outlast everyone, probably by finding grubs in some hollow tree branch while everyone else was starving and killing one another over the bag of Doritos that Benito Santiago smuggled onto the island. He's a gamer. And a grinder. And a lifer.
Chris Sabo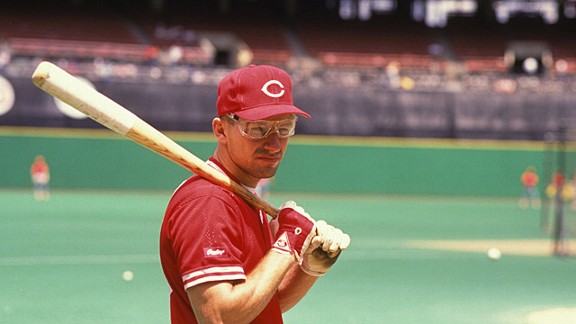 Odds: 40:1
Weapon: Garden rake
This is one man with glasses you wouldn't feel bad punching in the face. Can we take a moment now to appreciate and feel slightly repulsed by Chris Sabo's amazing branding job, which included a self-given nickname, "Spud," and those Rec Specs? Without the glasses, is he anything but the rich man's Todd Benzinger? And what rich man really wants a Todd Benzinger?
John Kruk
Odds: 50:1
Weapon: Negativity
Hold on, I just got an e-mail from ESPN HR …
Scott Erickson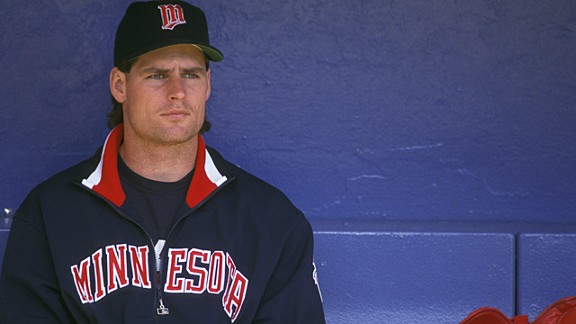 Odds: 80:1
Weapon: High-riding stirrups
Is there anyone outside of the Twin Cities who isn't going straight after Scott Erickson and his high socks in this Battle Royale scenario? I'd drive a boat to that island just to get in on that action because of the 30 Scott Erickson rookie cards I traded for in 1991 that are now worth exactly 30 cents.
Ryne Sandberg
Odds: 100:1
Weapon: Mini ice cream helmet
Ol' Glass Jaw Ryno goes down in the early going here at the hands of Felix Jose and his spear gun. Then he complains to God that Felix Jose was juicing and that guys like Ryno who "did it the right way" should be given special treatment. God says, "You're a dickhead, Ryne Sandberg."
Filed Under: Baseball, Fight Club, Los Angeles Dodgers, MLB