Fantasy Fantasy Football Week 14: The Playoffs Begin!
AP Photo/Seth Wenig
It's time again for the most important weekly feature on the Internet: Fantasy Fantasy Football. Throughout the NFL season, we'll be evaluating five fantasy football gurus as they tell us who to start and sit each week. Using a highly flawed method based loosely on mathematical principles, we'll attempt to reveal the one true football prophet. (Here's how it works: A pick counts in their favor if he ends up in the top half of the weekly scoring leaders. There are four categories — QBs, RBs, WRs, Defense/Special Teams — and points are awarded on a 5-1 scale in each.) The experts are:

1. Matthew Berry
2. Michael Fabiano
3. Mike Harmon*
4. Eric Mack*
5. Jamey Eisenberg
*As usual, we'll be taking the first five picks only from Mack to balance the numbers.
Weekly Results and Winners
Week 1 — (tie) Matthew Berry and Jamey Eisenberg
Week 2 — Eric Mack
Week 3 — Mike Harmon
Week 4 — Michael Fabiano
Week 5 — Eric Mack
Week 6 — Eric Mack
Week 7 — Eric Mack
Week 8 — Eric Mack
Week 9 — Michael Fabiano
Week 10 — Eric Mack
Week 11 — Matthew Berry
Week 12 – Matthew Berry
Week 13 – Michael Fabiano
Last week, in the most dramatic installment of Fantasy Fantasy Football ever, Michael Fabiano came roaring from behind to stun Eric Mack and win the regular season championship. It looked like Mack would run away with the title. But Fabiano made history — and made himself a legend — with the stirring comeback.
Final Standings:
1. Fabiano — 155
2. Mack — 151.5
3. Eisenberg — 128
4. Harmon — 124.5
5. Berry — 120.5
And now, in Week 14, it's time for: THE PLAYOFFS!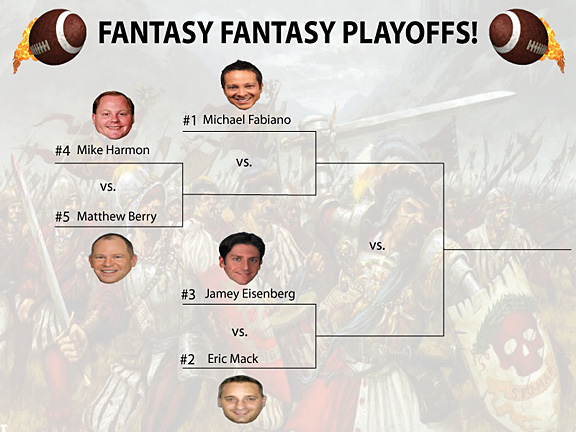 Here's the remaining schedule:
Week 14 — Play-in round. No. 5 Matthew Berry vs. No. 4 Mike Harmon
Week 15 — Semifinals. No. 1 Michael Fabiano vs. winner of the play-in game, and no. 3 Jamey Eisenberg vs. no. 2 Eric Mack.
Week 16 — Fantasy Fantasy Football Super Bowl. Winners of the two semifinal matches.
This week, Berry and Harmon fight for the right to face mighty Fabiano in the semifinals. Winner plays on, loser goes home. Let's get right to it!
No. 4 Mike Harmon vs. No. 5 Matthew Berry
It has begun.
Quarterbacks
2 points: Matthew Berry
Yes: Matthew Stafford, Cam Newton, Philip Rivers, Carson Palmer, Mark Sanchez = 4/5
No: Ben Roethlisberger, Andy Dalton, Matt Moore, Matt Hasselbeck = 3/4
Total: 7/9
1 point: Mike Harmon
Yes: Carson Palmer, Matt Moore, Tim Tebow, Matt Ryan, Joe Flacco = 2/5
No: Andy Dalton, Mark Sanchez, Kevin Kolb = 2/3
Total: 4/8
Interlude 1: Commentary
A huge start for Berry! You can tell he wanted to come out and make a big statement early on. You have to think his picks intimidated Mike Harmon. Berry takes a one-point lead after one. It's worth noting that no fantasy fantasy expert has ever lost a playoff match after winning the quarterback category.
Running Backs
2 points: Mike Harmon
Yes: Reggie Bush, Michael Bush, Willis McGahee, C.J. Spiller, Roy Helu = 3/5
No: Steven Jackson, Beanie Wells, LeGarrette Blount = 2/3
Total: 5/8
1 point: Matthew Berry
Yes: Rashard Mendenhall, Reggie Bush, DeMarco Murray, Mark Ingram = 1/4
No: Steven Jackson, Beanie Wells, Jonathan Stewart, DeAngelo Williams = 2/4
Total: 3/8
Interlude 2: We're Tied Up!
An absolutely crucial win for Harmon, who ties things up going into receivers. I could not be possibly be more nervous right now. In fact, I wasn't even this nervous that one time my house caught on fire.
Receivers
2 points: Matthew Berry
Yes: Dez Bryant, Percy Harvin, C.J. Spiller, Michael Crabtree, Plaxico Burress = 1/5
No: Mike Wallace, Dwayne Bowe, DeSean Jackson, Santonio Holmes = 4/4
Total: 5/9
1 point: Mike Harmon
Yes: Stevie Johnson, Anquan Boldin, Percy Harvin, Miles Austin, Michael Crabtree = 1/5
No: Dwayne Bowe, Larry Fitzgerald, Brandon Lloyd, Brandon Marshall = 3/4
Total: 4/9
Interlude 3: It's coming down to the wire!
Berry stuns Harmon with a great recovery. Neither man knew who would excel, but they both had their finger on the pulse of the failures. But Berry's finger was pulsing just a bit more, if you will. Harmon MUST have the defense in order to force a tiebreaker.
Defense/Special Teams
2 points: Mike Harmon
Yes: Seahawks, Lions, Broncos, Patriots = 4/4
No: Bengals, Giants, Falcons = 2/3
Total: 6/7
1 point: Matthew Berry
Yes: Seahawks, Broncos = 2/2
No: Bears, Lions = 0/2
Total: 2/4
Interlude 4: The Comeback!
With his back against the wall, Harmon absolutely nails the defenses, tying things up at 6-6 and forcing the first tiebreaker in Fantasy Fantasy history. What a tight match. Harmon went 19/32 in all categories, and Berry kept pace with 17/30. We know what that means:
Tiebreaker: Tight Ends
2 points: Mike Harmon
Yes: Dustin Keller, Brent Celek, Greg Olsen, Kellen Winslow, Ed Dickson = 1/5
No: Brandon Pettigrew, Owen Daniels, Aaron Hernandez = 0/3
Total: 1/8
1 point: Matthew Berry
Yes: Kellen Winslow, Dustin Keller, Jermaine Gresham = 0/3
No: Owen Daniels, Brandon Pettigrew = 0/2
Total: 0/5
The Result
Oh, it's unbelievable! In perhaps the worst performance of their respective lives, Mike Harmon sneaks by with a 1/8 showing in the tight end category after Matthew Berry couldn't even manage one correct answer. Only a desperation Greg Olsen pick saved Harmon's hide, but it was good enough, and now he's through to the next round!
Harmon 8, Berry 7, OT
Things kick into high gear next week with the semifinals. Harmon will need to step up his game to contend with Fabiano, and Mack will try to erase the disappointment of his regular-season collapse against Eisenberg.
Previously from Shane Ryan:
Anatomy of an Upset: Indiana Stuns Kentucky
Pick Your Heisman Candidate!
Fantasy Fantasy Football: The Experts' Week 13 Picks
---
Read more of The Triangle, Grantland's sports blog.
Contact us at triangle@grantland.com
Filed Under: Shane Ryan, Start Em Sit Em