College Football, Week 2: Overcorrections, Ahoy
Mike Ehrmann/Getty Images
Last week: Nobody was anybody, not even Alabama. This week: Several anybodies emerged, and a stunning, sudden trio of nobodies made their own craters.
Your Right Door Is Ajar
Have you ever heard a discussion about the Best Jobs In College Football, as though that were a readily quantifiable thing, that didn't include Florida, Texas, and USC right near the top? Have you ever seen Gleaming the Cube, which contains perhaps the greatest car chase involving a skateboard and a Pizza Hut truck ever committed to film, in which the car's automated alert system keeps chirping, "Your right door is ajar, your right door is ajar, your right door is ajar," after the car's door has been torn off? Hi there. We have just returned from Miami.
The thing about those single data blips we gained for each team last week? While they individually came out of nowhere, and landed in sometimes jarring places, they gave us anchor points. We had something to go on heading into Saturday. Maybe it was expecting the unexpected so readily in Week 1, and being so richly rewarded, that left us so spiritually unprepared for the waste-laying of Week 2.
• We Went There: Miami 21, no. 12 Florida 16. There's a line in our notes from the Gators game, from before the similarly doomed Longhorns or Trojans even kicked off, that reads, "ALLES IST KAZOOS." It makes little sense, but it's kind of perfect, don't you think? It's the most fitting possible descriptor for a game that took place in an orange-seated stadium, with all the home fans and visiting players wearing white, and Florida's entire band in the upper deck, and Miami's student section flailing to the songs of the summer and the sinister hiss of the fog machines.
Letting Saturday morning's thunderstorms convince us to sleep in and make a late start for the stadium was an obvious tactical error. These teams have played, and their fans have partied, in much swampier conditions. With two hours until kickoff, the asphalt expanses around Sun Life Stadium were already choked with golf-hatted bros in "SUCKS TO BE U" shirts, shiny haired coeds in "TOO SEXY TO BE A GATOR" tank tops, grown-ass women wearing ill-advised tutus in support of both teams, smug kids tailgating out of white stretch limousines, and a standing, staggering army of all ages, races, and genders sporting homages to Al Golden's omnipresent necktie.
What followed was a clearing of the skies and a thunderous rain of clown shoes. Victorious Miami converted one of 11 third-down chances and finished with 212 yards of offense. Running back Duke Johnson recorded 59 rushing yards and the U's final touchdown. Miami quarterback Stephen Morris completed fewer than half of his pass attempts. Counterpart Jeff Driskel completed several long passes for the Gators in the course of a career-high passing outing, which was upsetting in its own way.
Florida ranked seventh nationally in turnover margin last season, but is minus-4 so far in 2013 following Saturday's three-fumble, two-pick outing. Just two of Florida's turnovers resulted in Miami scores. Where the Gators are showing remarkable consistency: the commitment to penalty play. Florida has managed 10 penalties for 70 lost yards in each of its 2013 contests, which has the Gators on pace for 840 regular-season penalty yards to last year's 875, and 910 if we throw in a bowl.
But the W, however gawkily gotten, is Miami's, and the Canes have rocketed up from Others Receiving Votes purgatory to no. 15 in the latest AP Poll. With games against Savannah State and South Florida to close out September, Miami's stay in the Top 25 is all but assured, for a time.
And hey, 115 prospective players got to see a Miami home game with people at it. Talk about a win.
Before we return to those crater-making losses, we present a brief photo essay from the Sun Life scene.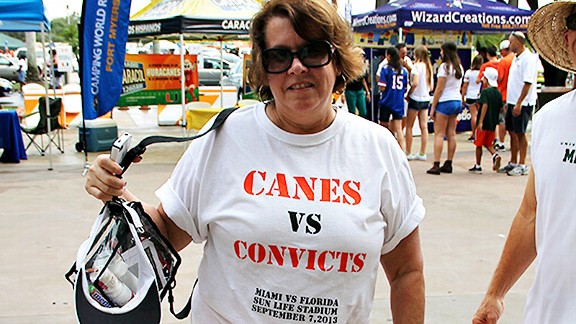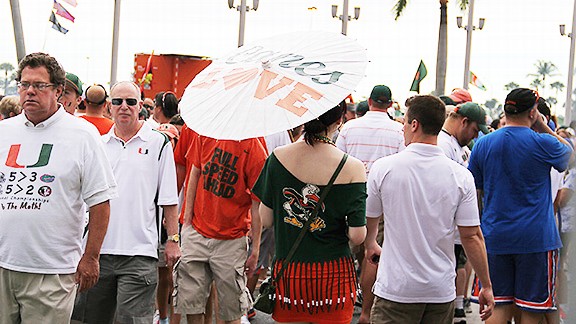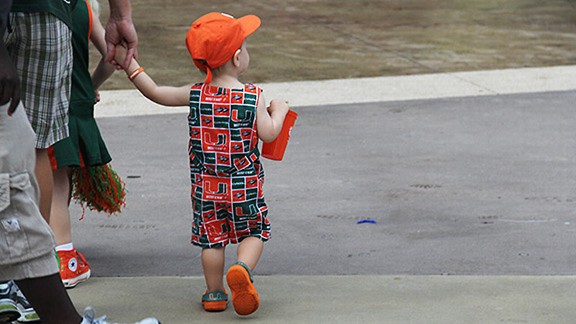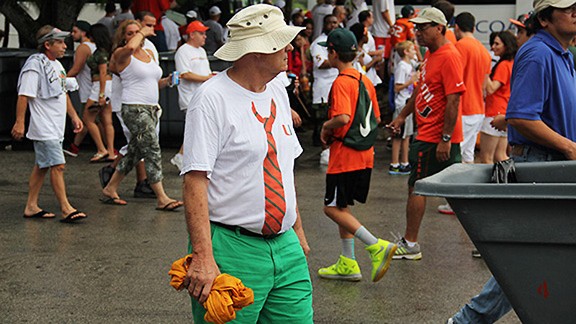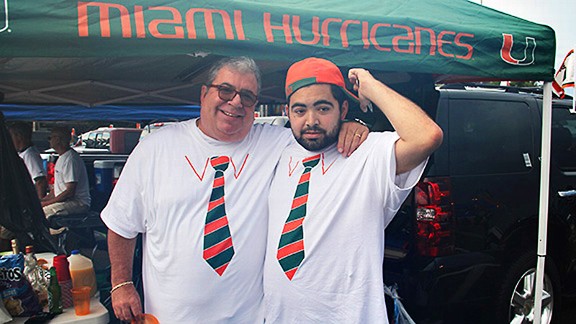 • BYU 40, no. 15 Texas 21. Since their valiant defeat in the 2009 BCS National Championship, the Texas Longhorns had amassed a decidedly un-Texasish 22-16 record heading into the 2013 season. This was supposed to be the year, though, that the Horns reestablished themselves. A conference in flux, no drama at the quarterback position, a no. 4 preseason ranking from Phil Steele — and a Saturday contest against a BYU team previously punked by UVA on opening weekend. What could possibly go wrong?
Try "everything even remotely associated with the Texas run defense," which set a dreadful program record in surrendering 550 rushing yards to a Cougars team that appears to have figured out the read-option offense almost literally overnight. Leading the charge for BYU: quarterback Taysom Hill, who ran for 259 yards on a mere 17 carries. As a team, the Cougs averaged 7.6 yards per carry. All of which brings us to this morbid contemplation: Was there a point Saturday night at which BYU coaches could've made a legitimate claim that going pass-heavy would've qualified as taking their feet off the gas?
Had they done so, Week 2 might have passed without the season's first major coaching casualty: Texas defensive coordinator Manny Diaz was reassigned Sunday and replaced with Greg Robinson. (When we say "casualty," do we mean Diaz or Texas's immediate future under Robinson? Do you really want to know?)
On a slightly more meta note, is anyone the least bit surprised that ESPN play-by-play nonpareil Joe Tessitore presided over this surrealist masterpiece? How terrifying is it that even the Tess Effect couldn't propel a Longhorn into the end zone?
• Washington State 10, no. 25 USC 7. Good morning! That is not a migraine snaking its way behind your temples! It is the Cougars-Trojans box score! Washington State beat a ranked (IT COUNTS, WHATEVER) USC team in Los Angeles, with a scoring haul that consisted of one 41-yard field goal and one 70-yard interception return. The Trojans managed 193 yards of offense to the Cougars' relatively robust 222. Five total turnovers were committed. Marqise Lee caught seven passes for 27 yards, and just typing that made real human tears glisten in the neon green slits where our eyes should be. We are going to lie down now. Thank you for your time.
• Alabama. Let it not go unsaid that Nick Saban's squad recorded zero yards of offense, forced zero turnovers, and sold zero tickets this weekend. Why do the Tide even take bye weeks? What is Alabama so afraid of?
Sport's Deadliest Square Dance
• No. 11 Georgia 41, no. 6 South Carolina 30. To those of you who tuned in to Cocks-Dawgs hoping for Athenian torture porn: condolences. Jadeveon Clowney was limited to three tackles and a sack in Athens on Saturday, reflecting Georgia's fine work figuring out where Clowney wasn't and having Aaron Murray dispatch the ball accordingly.
Justin Scott-Wesley on how open he was on his TD: "You could've thrown a grenade and the only person who would have died was me."

— Seth Emerson (@SethEmerson) September 8, 2013
The results: 41 points, 538 total yards, and a ridiculous 244.2 passer rating for Murray. SC pelted UGA's young defense with regularity in the first half, but was contained in the second, with its last real chance at a competitive finish snuffed out by running back Mike Davis's failure to convert a fourth-and-goal from the one midway through the fourth quarter. From there, the Bulldogs' punishing ground game took over, burning the last eight-plus minutes of game clock with a 13-play drive that left Steve Spurrier all but emitting sparks and smoke from his pores.
Georgia has split a nasty first pair of games and come out ahead in the all-important division-win category, but a word of warning: The last two years, the Bulldogs have used a relatively soft conference schedule to snag an SEC East title despite early season losses to Carolina. How hideously appropriate would it be if Mark Richt's merry band drops one to Les Miles's squad in three weeks and finds itself spending the rest of the season staring up at the Gamecocks (who avoid Alabama, LSU, and Texas A&M in cross-division play) in the standings? Are we staring down another lobster-pot season in the conference, in which the East devours itself, only to bounce off Alabama (or whomever) in December?
Figs: Not Great at Pass Defense, As It Happens
Some signs from the morning crowd in Ann Arbor. #Michigan pic.twitter.com/R1C72KTj7d

— Keri Potts (@MsPotts_ESPN) September 7, 2013
• No. 17 Michigan 41, no. 14 Notre Dame 30. The largest crowd in college football history (115,109 people) witnessed it. The sport's highest all-time program winning percentage was on the line. Michigan quarterback Devin Gardner wore no. 98 to honor the school's first Heisman Trophy winner, Tom Harmon. Whatever your feelings on the Big Ten in general or Notre Dame in particular, the stakes for this one were undeniably lofty.
And while what we got may not have been the instant classic that resulted the last time these two teams faced off in Ann Arbor, it was far from unmemorable. (Nor, it must be said, was it 2012's turnover jamboree.) Michigan rolled up 460 yards of offense, 376 of them from Gardner, 184 of those from a Gardner–to–Jeremy Gallon pass-and-catch combo that looks like it could end up being one of the nation's most entertaining by season's end. Gardner's one crushing miscue of the night was a horrendously ill-advised desperation throw from the back of his own end zone that fell like a leathery bridal bouquet into the hands of Notre Dame defensive end Stephon Tuitt for a zero-yard pick-six. Fortunately for the Wolverines, that score — with 12 minutes left in the game — marked the last time the Irish crossed the Michigan goal line. Quarterback Tommy Rees did lead Notre Dame down to the Michigan 6-yard line with 90 seconds left, only to lob an end zone pick of his own to ice the affair.
The Irish's season is hardly over. They'll have chances to convalesce with winnable games against Purdue and Michigan State the next two weeks, and the would-be storied midseason tilt with USC looks like a laugher at this point. But they also have to face no. 14 Oklahoma and a dangerous Arizona State squad in between. The Wolverines, meanwhile, don't play another ranked opponent until November, meaning they could be 8-0 and ranked in the top five by the time they hit a home stretch that pits them against likely ranked Nebraska, Northwestern, and Ohio State squads in the final four weeks of the season.
Profiles in Profiteroles: A Short List of Things We Would Rather Do Than Watch FIU Football on a Friday Night
1. Show up two hours early to buy tickets for a high school football game. And not just any high school football game: Booker T. Washington vs. Miami Central.
2. Find the game sold out and spend the next two hours strolling around outside the field hunting for anybody selling extra tickets.
3. Locate a hole in the outer ring of fencing surrounding Traz-Powell Stadium and shimmy through to catch a closer look.
4. Be met by a correctly suspicious woman in a golf cart before making it halfway to the inner ring of fencing.
5. Get politely but decisively escorted out of a high school football game.
Capriciously Dispensed Decorations
• Grape Job! We're sure you tried your best, but …

• Arkansas State, you're too familiar with Gus Malzahn not to know how badly you were about to need those yards.

• Regular Arkansas, your matte helmets continue to be terrible and every week you take the field without helmets that look like the most beautiful bass boats ever to be towed behind beautiful American trucks, you are hurting yourselves.

• Idaho, just get it together.

• Lane Kiffin (again), in case you were tired of folks bringing up how you didn't want Tajh Boyd, they're about to start reminding you how you didn't want Bryce Petty, either. Through one FBS and one FCS game each, the quarterbacks have thrown for 439 and 650 total yards, respectively.
• Worst trend. Whoever opened the quarterbacking hellmouth, kindly seal it shut again, because losing Braxton Miller, Munchie Legaux, and Casey Pachall, among others, to varying degrees of horrendous luck is more than enough ill fortune for one weekend.
• Unnervingly whimsical photo op of the week. America! For Americans!
A historic moment as Commissioner Mike Aresco flips the coin on the first conference football game in league history pic.twitter.com/Tr20Uy5NOK

— The American (@American_Conf) September 7, 2013
• Fat Guy Touchdown of the Week. Fresno Yosemite International Airport code: FAT. Fresno offensive lineman Austin Wentworth: Our Week 2 honoree for biggest, baddest play of the year.
Laff Riot
The story of Week 2, as told through the thumbs of a nation.
THE LEGEND RETURNS pic.twitter.com/DDingpMJPv

— Pod Katt (@valleyshook) September 7, 2013
Miami, you've got an amazing ass. All of you.

— edsbs (@edsbs) September 7, 2013
"A downfield pass? That wasn't in the scouting report." — Miami defensive coaches, probably.

— Andy Staples (@Andy_Staples) September 7, 2013
Boy, how bad do they miss Chip RT @Ivan_Maisel: Oregon has not scored yet. pic.twitter.com/cM46Pq6BtI

— Jason Kirk (@JasonKirkSBN) September 7, 2013
Miami's back seven just crashed a jet ski into a yacht. Figuratively. This time.

— Ramzy Nasrallah (@ramzy) September 7, 2013
New Vols offense? RT @38Godfrey: Annnnd another Pick-6. Doughty's pass lofts across the field. Cameron Sutton with the return. 14-3 Vols.

— SB Nation CFB (@SBNationCFB) September 7, 2013
Jeff Driskel can do it all. Throw deep. Run. And tackle. That last one is more important than it should be

— Brandon Larrabee (@TeamSpeedKills) September 7, 2013
The Canes offense is like Florida's with the restrictor plate removed and also without a wasting disease.

— edsbs (@edsbs) September 7, 2013
florida's ground game reminds me of the time i couldn't move my couch up the stairs to my apartment and tried to saw part of it off

— Jon Bois (@jon_bois) September 7, 2013
seems like steel pants would slow you down RT @WinTheDay: Carbon fiber helmet w/sunburst wings, white jersey w/silver wings, steel pants.

— Martin Rickman (@martinrickman) September 7, 2013
Dabo: "How about that ACC? Spunky little old league?" Then he makes "The U" sign as he walks out.

— Greg Wallace (@gc_wallace) September 7, 2013
too late. you looked at the bulldog puppies. you have accepted Mark Richt into your heart.

— Lana Berry (@Lana) September 7, 2013
'TIL WE FIND OUR PLAAAAAACE / ON THE PATH UNWIIIINDIIIIING "@JoshuaBBlack: Gus has a shacket on!!!"

— Holly Anderson (@HollyAnderson) September 7, 2013
art briles' next mixtape is going to call out everyone i hope you're ready

— Martin Rickman (@martinrickman) September 7, 2013
Michigan is playing Notre Dame and I am eating a Fish Filet in the parking lot of a strip club on Buford Hughway.

— Michael (@BravesAndBirds) September 8, 2013
Michigan has players named Fitzgerald Toussaint and Blake Countess. They're one DB named Rene Le Serge away from having a crew for a heist.

— Danger Guerrero (@DangerGuerrero) September 8, 2013
Alabama seems fond RT @BravesAndBirds: Is there a fan base that doesn't hate Notre Dame?

— Jason Kirk (@JasonKirkSBN) September 7, 2013
Texas: all hat, no tackle.

— Rachel Bachman (@Bachscore) September 8, 2013
don't tays me bro

— Holly Anderson (@HollyAnderson) September 8, 2013
BYU is on pace for almost 700 rushing yards against Texas. I'm not really sure what I should do with the remaining 75 characters any ideas?

— TomahawkNation.com (@TomahawkNation) September 8, 2013
I've made it to Washington State-USC. I have a tummy ache & I am already tired of both of these teams.

— Michael Felder (@InTheBleachers) September 8, 2013
If Fresno State doesn't get at least one #1 vote after running a hook/lateral TD for a 300-lb offensive tackle we've lost our moral compass.

— Ramzy Nasrallah (@ramzy) September 8, 2013
USC, Notre Dame, Florida and Texas all lost on the same day for the first time since Sept. 11, 1976.

— Paul Myerberg (@PaulMyerberg) September 8, 2013
BEDTIME, CHUCKLEFUCKS RT @JasonKirkSBN: GO TO SLEEP DAMMIT

— Jon Bois (@jon_bois) September 8, 2013
Filed Under: College Football, We Went there