NFL Run & Shootaround: Begin the Begin
Mel Evans/AP Photo
On any given Sunday (or Monday, or Thursday), your NFL Run & Shootaround crew will be gathered around multiple televisions, making inappropriate jokes and generally regressing to the mean. Catch up on all the NFL action right here.
May This Be the Age of Positivity (and Beneficial Late-Game Penalties)
Sean Fennessey: Geno. GENO. GENO. GE. NO.
Look, I didn't see this coming. When it comes to the New York Jets, I tend to err toward the melodramatic. I am impossible to watch games with. I sulk and moan and throw handcrafted pewter statuettes across the room. I am a monster baby, a tyrannical tool. There's a sick part of me that didn't want this to happen, the part that wanted to Tank for Teddy, to Drowney for Clowney. The part that wanted 3-13 and a cleaned house.

I feared this game so deeply, with such sincerity. At one point in the second quarter, erstwhile personal guru Darrelle Revis broke up a pass intended for Santonio Holmes in the same technically precise, unshowy way he had done dozens of times in green and white: perched inside with position on the receiver and his hands on the ball at the point of contact. At that moment, I saw what was gone. But it turns out there's so much still here. Notably the many 300-pound monsters lined up in the Jets front four, especially Mo Wilkerson, a yeti that moves like a cheetah, and rookie Sheldon Richardson, a mountain that moves like a mountain on wheels. Those large people played so well, crunching the Muscle Hamster into a flabby rodent. But what they'd done wasn't enough with 34 seconds left in a 17-15 game.
And yet, here we are, hailing King Geno, and I am excited. I am feeling good. May his reign be long and developmental and full of Italian American jokes. And not just because Lavonte David hoisted the hustling Jets' rookie quarterback even farther out of bounds with seven seconds remaining. Because Geno can sling it a little and maybe he won't be elite, but that doesn't mean he can't be interesting. And win a little too.
Terrelle Pryor Rises From the Ashes
Andrew Sharp: Six weeks ago I had no idea Terrelle Pryor was still in the NFL. Three weeks ago he went 1-for-5 for nine yards against the Saints. Sunday, he was doing this all afternoon.
And it was totally awesome.
It feels like Pryor has been cursed dating back to his final days at Ohio State. Stupid NCAA rules were enforced, Pryor left school in disgrace and entered the supplemental draft, and everything sort of unraveled over the course of 12 months, culminating with Pryor landing on the Raiders and (amazingly) getting suspended by Roger Goodell for breaking NCAA rules. However you want to look at all this, somewhere along the line the can't-miss QB out of high school totally and completely missed. When he chose JaMarcus Russell's number earlier this year the entire Internet laughed at once, because the association made way too much sense. Plus, he's on the Raiders, and nothing good happens to the Raiders.
But that's what made Sunday great. Anything positive that happens with the Oakland Raiders this year is way more than anyone expected. Pryor's playing with house money, basically. Sunday he was 19-of-29 for 217 yards with 1 TD and 2 INTs. He also ran for 112 yards and had a touchdown pass to Darren McFadden called back because McFadden had half a foot out of bounds. He may not actually be a "good" quarterback who changes anything for the Raiders, and he may never get there. But after this week, I'm pretty excited to see what happens next week. Did anyone think there were any circumstances under which we'd be saying that about Raiders games this year?
This Must Be the Place
Chris Ryan: Rob Ryan is home. A dude like this needed more shine than the slate-gray skies of Cleveland could provide. And he was always too much of a James Gang roadie searching for American truth to be able to work within the — at least on the surface — high and tight Cowboys organization. This dude needs to let his freak flag fly, and New Orleans has plenty of wind for him.
In Rob, you get the very worst of the Ryan clan, which is to say all talk and no walk. His father ran two of the best defenses of the '80s (Bears and Eagles), and his brother Rex was behind the 2000 Ravens, which might be the best unit I've seen in my life. Rob has nothing like that. Like the other men in his family, he's an excellent self-promoter (upon being let go by the Cowboys, Ryan told ESPNDallas.com's Tim MacMahon, "I inherited a team that was 31st in the league in defense and made them better. I [expletive] made them a hell of a lot better. I'll be out of work for like five minutes"), but unlike them he doesn't have a lot to base his claims on.
New Orleans looked really good on defense yesterday. Against their archrivals, the Falcons, the Saints gave up only one TD in the last three quarters of play, and, according to ESPN Stats & Info, sacked or put Matt Ryan under duress 12 times. Matty Ice certainly experienced a bit of duress on the final play of the game, when he was picked off by Malcolm Jenkins in the end zone.
Rob Ryan looked even better on the sideline for New Orleans. If there was ever a town that was as untucked and giving less of a fuck as Ryan, it was N.O. There he was, going gorillas after every tackle, or every call that went against him. He was a great foil for the cool-visor-dude stance of Sean Payton. And by sheer force of personality, he seems to have given the defense as much of an identity as the highly vaunted Saints offense.
After the game, defensive back Roman Harper said, "Sean [Payton] sent the defense out first [in player introductions], which would never happen in the past … It's just a whole different feel." Maybe New Orleans is where Rob Ryan finally walks the walk. Maybe he's home.
The Honey Badger Strikes Again
Sharp: Here's Tyrann Mathieu turning a Rams touchdown into a Cardinals fumble recovery.
Whether the Cardinals win or lose this year, let's just hope that every single week of this year's Shootaround features at least one ridiculous Tyrann Mathieu highlight.
September Song
Robert Mays: Before yesterday, the last time a player opened the season with 200 yards receiving was a decade ago. On September 7, 2003, a rookie wide receiver for the Cardinals hauled in 10 catches for 217 yards and two touchdowns, all as his team was routed by the Lions. That receiver was Anquan Boldin.
I can't think of another receiver for whom it would be more fitting to have his career days 10 years apart. Boldin, who had 13 catches for 208 yards yesterday, came into the league running a 4.7 40, and although he's lost some of what little speed he had, Boldin's game hasn't changed all that much since we met him the first time.
When the Ravens traded Boldin for a sixth-round pick this offseason, it was one of those moves that teammates openly question — Torrey Smith said it was like losing "somebody that you love as a brother" — but most chalk up to the realities of the business. Compensation is about future, and not past, performance. By trading Boldin — or cutting him, which Baltimore would've done if it couldn't find a suitor — the Ravens saved about $6 million. In the regular season, it had been a while since Boldin had been the player we'd known in Arizona. His yards-per-game season averages with Baltimore never beat his output in Arizona (not counting his second season in the league, when Boldin started just nine games).
It's difficult to separate the influence of a quarterback on a receiver and vice versa, but here's something we do know: For three regular seasons, Joe Flacco never finished higher than 15th in quarterback DVOA, and Boldin's production was pedestrian. In last year's playoffs, Boldin was superhuman, and Flacco played his way to $120 million. Part of that is Flacco, but as I look back at some of those plays in the Super Bowl, I sort of wonder how much.
Baltimore's iso-route, push-the-ball-downfield approach wouldn't have suited a 23-year-old Boldin, let alone the 33-year-old version. It's no surprise that Boldin's best season came in his first with Kurt Warner, whose 65.5 percent career completion percentage is nearly 2.5 percentage points higher than Flacco's best single-season mark. Boldin is a possession receiver if there ever was one — living in the voids and catching everything he can get his hands on. It's exactly what we saw yesterday, as he settled between the zones in the Green Bay defense and added a series of spectacular catches. He was just the sort of player Baltimore needed so desperately on Thursday night, the sort that can manufacture first downs when they're hardest to come by. When San Francisco needed a fourth-down conversion to close the game out, it didn't line up behind the biggest, best offensive line in football and grind out two yards. It threw the ball to Anquan Boldin.
Both of last year's conference champions lost their most reliable target before the season began, leaving them scrambling to find something, anything, among their crop of young receivers. The difference — along with the play of Colin Kaepernick — is that the 49ers now have Boldin, and the Ravens do not. In so many ways yesterday, Boldin was the player he's always been. When Clay Matthews leaped onto Kaepernick out of bounds, the two players fastest to their quarterback's defense were Joe Staley, a left tackle, and Boldin. This is the part of the program when we remind everyone that in 2008, Anquan Boldin broke his face and missed two games — two. It's a shame that in our current terminology, Boldin and DeSean Jackson play the same position. Boldin plays wide receiver like Larry Allen would've.
There's a good chance that what Boldin did yesterday far surpasses anything else he'll do in a 49ers uniform. Maybe he is done, and Sunday's middle finger to one Harbaugh in service of another required every last bit Boldin had. But I hope not.
Nonviolent Conflict Resolution
Ryan: For a second, this looked like it was going to go down like Billy Bear vs. the Predator on that log in Predator. Clay Matthews really likes to do the caveman Bob Fosse choreography out on the field, but he, just like everybody else, is really just another hermit crab crawling across the sand when it comes to facing off against a human being of Joe Staley's size. I know Clay got some shots in, but the linebacker is only still with us due to Staley's restraint. Seriously, look how he's got Clay gripped up. Sounds like they worked it out though:
#49ers Joe Staley on what he said to Clay Matthews: "Expletive. Expletive. Expletive. Thank you."

— Eric Branch (@Eric_Branch) September 9, 2013
The Cowboys and Existential Terror
Bryan Curtis: We live and die with our NFL teams. Blah blah blah. But lately, Cowboys fandom has made the old cliché into reality. To root for Dallas is to confront something that feels like week-to-week existential terror. Yesterday, a Cowboys fan named Elliot Imes tweeted, "I hate feeling excited and also like I'm going to die." And this was before the start of the Giants game.
Take one moment from the fourth quarter of Sunday Night Football. The Cowboys had frittered away five gift turnovers and most of a 17-point lead. Eli Manning and the Giants got the ball back down six with 2:41 to play. Existential panic kicked in. You might think, Well, it's a close game. You don't know which way it's going to go.
That's not it at all. Cowboys fans feel panic because we know which way it's going to go. It's as if a particularly trusty fortune-teller told you that you were going to be hit by a truck in exactly two minutes and 41 seconds. You would sit in the road and await your demise.
Existential gloom comes easy. Sometime last December, it became clear the Cowboys' season was going to come down to a Week 17 game in Washington, which the Cowboys would lose in some horrible if unclear way. (You might remember the result.) In 2011, it was a Week 17 game against the Giants that promised the same ending. (You might also remember that result.)
So it was Sunday night. Then Manning threw a pass and it … hit Da'Rel Scott in the hands and it … bounded into the arms of Brandon Carr, who ran it 49 yards for a game-sealing touchdown. For a second, it felt weird. It was as if fate had conspired on our behalf. But we Cowboys fans were not elated. We know what's coming. Mark Twain once said, "A man who lives fully is prepared to die at any time." A Cowboys fan is ready for Week 2, in Kansas City.
The Worst Rap Supergroup of All Time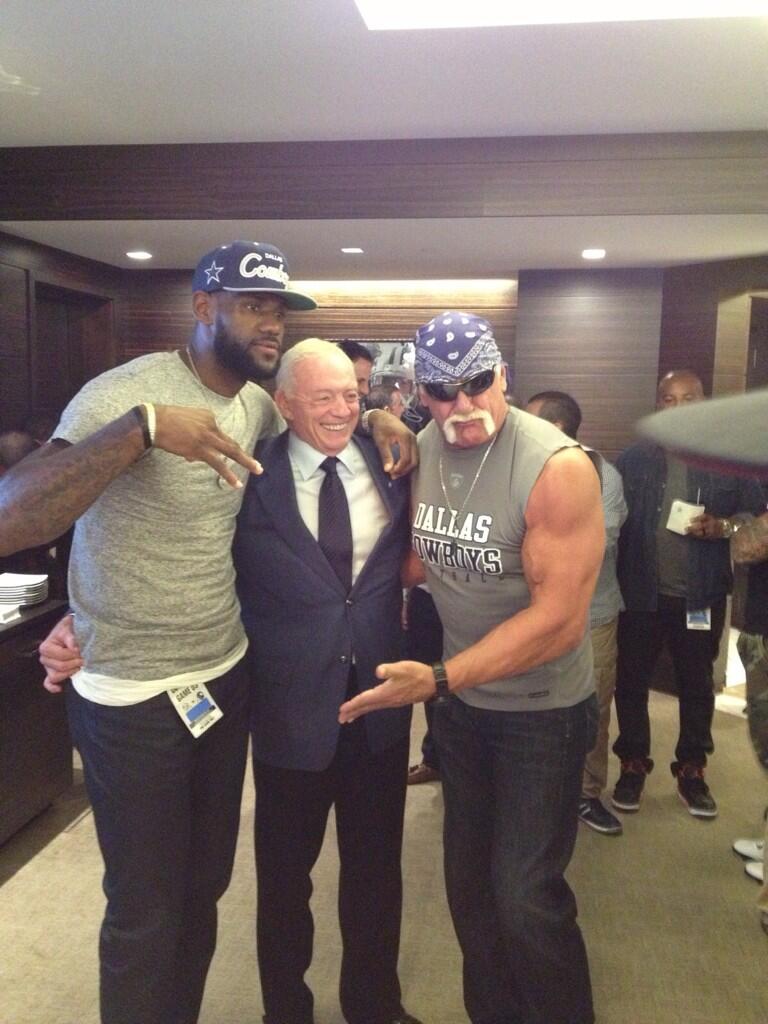 Sharp: WOOOOOOOOOO LET'S GO COWBOYS MY FAVORITE TEAM IS AWESOME.
(Thank you, @ClintStoerner.)
Hello, Old Friend
Katie Baker: "I … think I should probably get some ice," I said a little bit too calmly after Eli Manning threw his third interception. You could argue that he threw it too high, or you could argue that, like so many of the league-leading 25 INTs he threw in 2010, it had been unfairly tipped by an inferior teammate. I wasn't interested in arguing either side, really; I was just frustrated. So I brought my fist down hard, expecting benign comfy couch but connecting with the remote control instead.
As a welt rose and my pinky radiated and crackled, I thought about explaining to various concerned grown-ups at upcoming weddings that I was in a cast because I turned violently self-destructive during a football game. I feared that these people wouldn't necessarily grasp the nuance between a gentle soul like me unexpectedly tomahawk-chopping some electronics and, say, a roid-ragey asshole punching holes in his buddy's drywall after losing a prop bet on the coin toss. I feared that there was no nuance.
"The thing you have to understand," I imagined pleading at these mothers-of-brides or these kindly priests, "is that this was the Giants' sixth turnover of the night. Eli Manning threw two interceptions in the team's first three drives! David Wilson fumbled on the 10 in the other! I mean, speaking of David Wilson …"
I envisioned how, as my conversational partners would smile politely and edge away, I'd be forced to block their path with my one good hand so they could just hear me out. "David Wilson may have fumbled his way into our hearts last year, but that was not a sustainable strategy! The worst part is that I can't even get appropriately angry at the guy because I'm too busy feeling really sorry for him!" (That last line would get a sympathetic nod, at least.)
I realized my hand wasn't actually broken — just really bruised — before I had a chance to imaginarily hector anyone further (or get ice), but the whole episode was embarrassing nonetheless. That's why this week I'm going to study this game film on the appropriate reaction to upsetting football-related situations, as I get the sense I might be in for a number of them this season. Might as well try to learn from the best in the business, you know?
Filed Under: Andrew Sharp, Bryan Curtis, Chris Ryan, Eli Manning, Joe Flacco, Katie Baker, NFL, Robert Mays, Sean Fennessey