The Saddest Thing That Happened on The Real Housewives of Beverly Hills Last Night
Bravo
This is Taylor Armstrong. On August 15, 2011, her husband Russell, who had been physically abusing her for years and who was involved in myriad shady business dealings, hanged himself in the guest room of a friend's house.
But that was ages — and a whole 20-episode season — ago! Life goes on. Taylor is picking up the pieces one day at a time, first via a tell-all account of her husband's abuse and suicide, then by agreeing to do a third season of the reality-television show that many believed contributed to her family's tragic situation. In the Season 2 Reunion, fellow housewife Adrienne Maloof told host Andy Cohen that she had suggested Taylor join the show in the first place — when only a handful of friends knew about the abuse — to help shed some light on the problems with her marriage (and hopefully, to make enough money so that she could eventually leave her husband). Taylor said that the show had helped her realize things about herself that she never knew. Reality shows have become a super-exclusive form of therapy, or at least a modern-day version of those "What Kind of Girlfriend Are You?" Seventeen Magazine personality quizzes.
So she can't quit now. Not in the middle of all this personal growth. Or, alternately:
"I fought too hard for this ZIP code to go home now." — Taylor Armstrong
Taylor has invited her friends Kyle Richards and Adrienne Maloof, and their husbands Mauricio and Paul, over for dinner. She has gained 10 pounds — though she is, as her friends all assure her, still super-skinny. She has hired some caterers to bring in some "Spanish or Mexican food or whatever," ostensibly in honor of Mauricio, who is half-Jewish and half-Mexican. Kyle, the self-styled mental-health diagnostician for the rest of the housewives, believes this is a step in the right direction for Taylor.
Taylor has had her married friends over because she wants their husbands to come with her to Sacramento to participate in a domestic violence awareness event. This is Taylor's life mission, she says while pulling back her notoriously puffy lips into a taut, artificial smile and clearing her throat awkwardly. The room gets uncomfortably quiet. Even with the extra 10 pounds, Taylor looks like a child at the head of the table, dwarfed by her ornately carved dining chair.
But the dark reminder of what Taylor has seen in the last year is quickly swept away, because it turns out this is actually the funny kind of domestic violence awareness event! An event that will require Mauricio and Paul to walk around in women's shoes! The idea of men — non-homosexual men, mind you! — putting on women's footwear in public is almost too absurd to imagine.
An iPad is passed around with pictures from last year's event. Mauricio and Paul of course cannot refuse Taylor, because they'd look like dicks. Adrienne books the private jet so they can make it back in time for Kyle's 4-year-old daughter's birthday party (it's too late to reschedule the pony wrangler now).
Taylor throws back her head and releases a mighty laugh. It's important to remember to laugh once a day, she tells herself. Some days are harder than others, but not today. Today we talked about a funny domestic violence event involving non-gay men in women's shoes. One day at a time.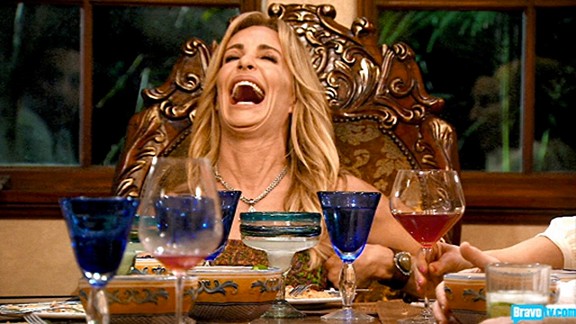 Filed Under: Adrienne Maloof, Bravo, Hill People, Reality TV, The Real Housewives of Beverly Hills