The Saddest Thing That Happened on The Real Housewives of Beverly Hills Last Night: Give Me a Ring Sometime
Bravo
It's a new year, full of new beginnings and possibilities, it's supposed to get into the 70s today in Southern California, and it's the first time in what seems like a rhinestoneless eternity that we've come together to discuss our dear Hometown Housewives of West Los Angeles County. So, what has everyone been up to over the holidays?
Lisa Vanderpump has a new reality show on Bravo called Vanderpump Rules, which debuted after a surreal, seamless segue at the end of last night's RHOBH. It is about her West Hollywood restaurant SUR, which stands for "Sexy Unique Restaurant," and which she claims is a restaurant where one would "take [one's] mistress." Which is a strange way to sell the place where Eddie Cibrian's mistress works and is shunned for her sexual indiscretions on a daily basis by her coworkers. Anyway, I'm in because I am emotionally contracted to support everything Lady 'Pump does, but I'd be lying if I didn't say it just feels like Saddle Ranch all over again.

Kyle Richards opened a boutique in Beverly Hills, awkwardly monikered "Kyle By Alene Too." Whatever, Kyle.
Kim Richards wished her Twitter followers a happy New Year, and this website found a way to write 200 words about it.
Adrienne Maloof is under a gag order to not talk about her slowly crumbling family life while her divorce from Paul Nassif is carried out, but she did find some time to tell E! News her thoughts on New Year's Eve fashion. ("If you want your little black dress to pop, add some fun metallic accessories, because nothing says festive like a little sparkle.")
Brandi Glanville has donated the wedding dress she wore for her ill-fated Cibrianic nuptials to a charity that will give it to a soon-to-be military wife, who is presumably also 5-foot-11 and a size 0.
Yes, it looks as though Brandi Glanville managed to do the least stupid thing over the break (to be fair, I didn't search Yolanda because I was afraid Google would fall asleep). But don't be so surprised; Brandi might have the least delusional perspective of any of the 'wives on what this show is and how it relates to her actual life. That said, I'm not actually here to talk about Brandi, but her donation makes a good segue to the main topic at hand.
See, Taylor Armstrong also gave away something from a previous marriage last night: her wedding ring. That, along with two Hermès bags, was the settlement amount for a lawsuit filed against Russell Armstrong by a former business partner and friend. As we know, Russell left Taylor with a heap of litigation and a negative bank account, which meant that she and the plaintiffs had to get creative when it came to settling the debt. This was apparently the most reasonable solution.
The fact that Taylor had two Hermès bags to give is a not-trivial detail of this situation, but the whole morbid idea of former friends taking the ring from your toxic marriage so they can pawn it off, paired with Taylor's dismayed sobbing on the phone, makes one take a step back and try to figure out why we are here on a Monday night, watching this happen on television.
Does Taylor Armstrong actually want to be on The Real Housewives of Beverly Hills anymore? There may not be a clear answer to that question; the interior life of a housewife can be a vast and murky place — just ask Henrik Ibsen. Even though I personally do not care for Taylor, I try to take a charitable view of her, and I would like to think that somewhere deep inside she knows that the only reason she's continuing to live out these horrors on national television is for the paycheck — to fill the enormous money-hole left behind by her insolvent dead husband, and hopefully not out of some confused need for attention. The whole situation is a big Mobius strip of regret, because as Adrienne Maloof has reported, part of the reason she originally tried to get Taylor to join the show was so that she could make some money and gain the financial independence she needed in order to leave Russell. That seems like sound enough logic, until you remember that being on a reality television show isn't a cure for anything. Did you catch that? BEING ON A REALITY TELEVISION SHOW ISN'T A CURE FOR ANYTHING. It's like alcohol: If you're psychologically balanced and in a good emotional place it can be fun to indulge, but if you're trying to use it to heal something you're only going to make the problem worse. "I've worked too hard for this ZIP code to go home now" is just Bravo for "Maybe if I dig this knife in a little deeper I'll stop bleeding." Taylor lets everyone see what a nightmare her life is because she has no other marketable skills that could pay off her debts in a reasonably timely manner. Where does the practicality end and the catharsis begin? It's possible that not even she knows.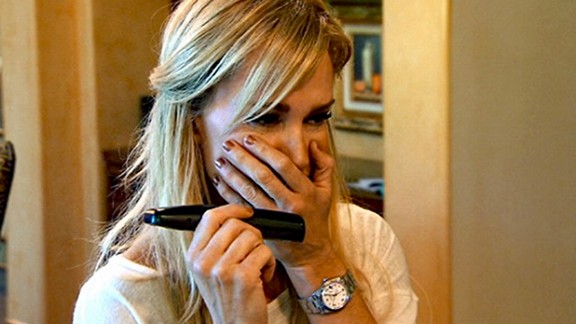 Filed Under: Adrienne Maloof, Brandi Glanville, Bravo, Hill People, Reality TV, The Real Housewives of Beverly Hills