Grantland Reality Fantasy League: One Rose to Rule Them All
ABC
"I want to be in love more than anything. Period. That is all there is to that." — AshLee
"I am sick of being single, I am sick of being alone. I am ready to fall in love." — Robyn
"I am a pretty strong person, and I can rationalize things pretty well to get to why I am single, and the only thing that comes to mind as to why I am single is because I have one arm." — Sarah
Desperate single women? Glittery quinceañera dresses? Vowels popping up in names where they don't belong? This can only mean one thing: the return of The Bachelor.
The Bachelor works like this: You sit on your couch for a few months, watch 25 people get dumped, two people who barely know each other get engaged, and you watch their relationship fall to pieces in the checkout line at the grocery store. It's a preposterous spectacle — a mess of bad dresses, awkward dancing, scripted kisses, broken hearts, and delusional women competing for the chance at an extremely public breakup. It's hard to pinpoint what's so enjoyable about it, but honestly, I think it's just the schadenfreude. There is comfort in knowing that no matter how lonely you are or how damaged your relationship is, at least you aren't looking for love on network television covered in rhinestones while dry-humping a door frame.
Yet.
As always, we drew up some stupid rules:
Telling Sean another girl in the house is "not what she seems": 10 points
Chasing down/finding Sean outside context of date or official one-on-one time: 15 points
Attempting to demonstrate talent outside of what show or group date requires of you (i.e., dancing, singing, cooking for Sean): 10 points
Gifting any kind of relationship memento/scrapbook: 20 points
Refusing fantasy suite invitation: -100 points
Revelation of ongoing relationship back home: 20 points
Revelation of ongoing same-sex relationship back home: 30 points
Getting philosophical in a helicopter: 10 points
One-on-one date without hookup: -20 points
One-on-one date without returning to show: -40 points
Physical contact with exotic animal: 10 points
Sexual contact with exotic animal: 1,000 points
Saying "I can see myself marrying" Sean: 10 points
Crying while holding alcohol: 2x multiplier
Giving Sean a pet name: 5 points
Inciting erection: 25 points
Hinting at procreation with Sean: 10 points
Cooking for Sean: 5 points
Telling Sean "I love you": 20 points (first instance only)
Winning final rose: 50 points
Winning a Nobel Prize: -100 points
And then we divvied up the desperate:
Jacoby: Tierra, Catherine, Amanda, Daniella, Robyn, and Taryn
Kang: Keriann, Diana, Lindsay, Ashley H., and Kelly
House: Kristy, Lesley, Kacie, and Katie
Lisanti: Jackie, Selma, Ashley P., and Lauren
Simmons: AshLee, Sarah, Brooke, and Paige
Connor: Desiree, Catherine, Lacey, and Leslie
Now let's get to know these young ladies …
Top Scorers
Ashley P. (The Bachelor, Lisanti), 21 points: The first thing that Ashley P. does when she meets Sean is offer bondage sex. The second thing that Ashley P. does is get slammered (11 points). And the third thing that Ashley P. does is slip into a perpetual zombie stripper sway. Let's break down Ashley's trident of seduction one prong at a time:
Phase 1, The Bondage Sex Offer: When we meet Ashley, we learn that she's a hair stylist who lives with her cat and is obsessed with Fifty Shades of Grey. The producers go so far as to make her get in bed with the book, talk about what she would do with Sean if she had the chance (10 points), and make sexy faces. The whole thing had a super-creepy vibe: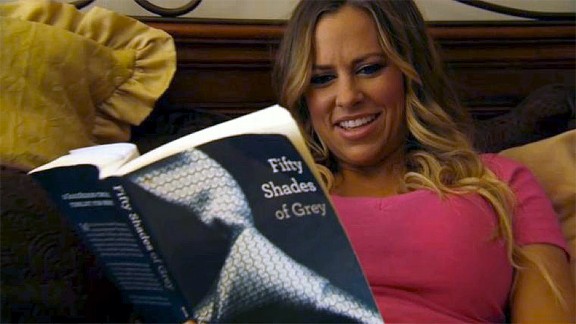 Sticking to the Fifty Shades theme, when she meets Sean FOR THE VERY FIRST TIME, she pulls a gray tie out of her dress and offers bondage sex. Now, an opener of, "Hey, my name is Ashley. Want to tie me up and do sex things with kitchen appliances and stuff?" is going to be reasonably successful in actual life. But in the context of this show, she'd have been smart to dial it back a bit. I mean, Sean is such a square, he asked for advice on how to kiss a girl earlier in the episode. No, really, he did.
Phase 2, The Getting Slammered Part: I really only included this phase so I could once again offer my theory on why so many women get kaslammered on the first night of this show.
On the surface, it really makes no sense. This is one of the worst environments to get Bukowski drunk. You're making a first impression on a guy whom you want to marry, you're surrounded by people who want nothing more than to see you make a fool of yourself, and you are, ya know, on national television. Why would anyone get drunk under those circumstances? My theory is simple: They don't want to get drunk; they just don't realize that not eating for three days to look better on TV has left their hooch defenses nonexistent.
Either that or they just have terrible judgment and aren't all that good at life. Most likely the latter.
Phase 3, The Perpetual Zombie Stripper Sway: This part was, well, weird. Once the hooch kicked in, Ashley just started dry-humping stuff. In one scene, she would be doing a body roll; in the next, a booty shake; and in the next, she was butt-grinding a door frame. These weren't isolated incidents either! After about the one-hour mark in the telecast, it was impossible to find Ashley P. not zombie-stripper swaying. Here she is dropping it: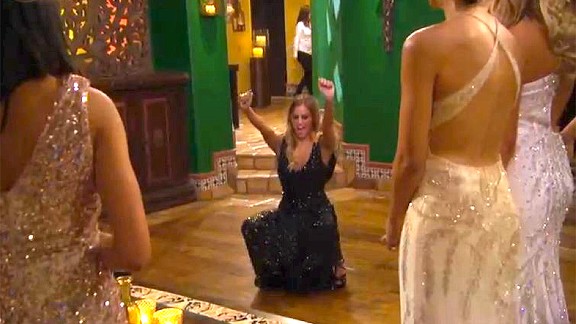 Some questions about this photo I don't have answers to:
1. Is that hard to do in heels?
2. Is that hard to do kaslammered?
3. Is that hard to do in heels and kaslammered?
4. What are the other women doing exactly?
5. Is Sean attracted to shiny objects like a shark? Why must every dress on this show have sparkles?
6. Where is the furniture in this room?
7. What would you call this room?
8. Who the hell is that chick in the background?
9. Oh, yeah, one more, why is she doing this? Just … why?
Unfortunately, we'll never know the answer to any of these queries, as she left roseless, headed home to Detroit. She did leave us with an exit interview in which she offered bondage sex to the audience, did some more stripper swaying, pulled her dress up over to her waist to display a tattoo on her backside, and then told her mother not to be mad at her, however. If they don't invite her back for Bachelor Pad, then they don't understand Bachelor Pad.
Salwa, Ashley, Cara (BUCKWILD, Various GRTFL teams), 20 points: The climax of BUCKWILD this week was a road trip to the sprawling metropolis of Morgantown, West Virginia. You see, Cara "got a call from one of the clubs that I used to promote for" that was throwing a hyperglow party. I've never attended a hyperglow party, but it appears to be a combination of rave, jazzercise, and that blacklight poster of the Cheshire Cat you had sophomore year.
To prepare for the event, the ladies were body-painted (20 points). Now, many would consider running around topless in a nightclub trashy or unsophisticated or crass, but those people would be wrong. The BUCKWILD crew's nudity was actually more liberated and European than anything else. I wouldn't exactly call it third-wave feminism, but they seemed utterly comfortable with their nudity in this episode and, as I learned from some Googling, in filthy corners of the Internet, as well. Ashley summed up the collective attitude of the group best when she announced, "I can hang around the club naked. My tits are hanging out. It has to be the best night of my life."
A lot can be learned from our new West Virginian friends, so I've decided to add another weekly bit to the column called "BUCKWILD Is Smarter Than You." It goes like this:
BUCKWILD Is Smarter Than You: Their society has evolved to the point where they have desexualized the female form.
Fine, so I'm still working out the kinks with this bit. Cut me some slack.
Kelly (The Bachelor, Jacoby), 15 points: When Ashley P. had her exit interview, she stripper-danced, bared a butt cheek, and offered bondage sex to the nation. She was all id. Kelly, on the other hand, was well aware of what her short stint on reality TV meant moving forward. You see, Kelly sang a song to Sean she wrote for him when they met, (10 points) and the final lyric was a rose request. That request was denied, and Kelly left us with this telling statement: "I think I am just more embarrassed than anything. Like, who wants to date the crazy girl that sings a song for Sean and got kicked off the first week of The Bachelor?"
Kelly brings up an interesting point: If these women are really looking for love, have they considered the value proposition The Bachelor is offering? All things being equal, there's about a 4 percent chance that they leave the show engaged. There's a 96 percent chance that they leave the show without getting engaged and live the rest of their lives with Bachelor stink all over them. If you met a woman, started dating her, started to develop strong feelings for her, and then learned that she was on The Bachelor, wouldn't you re-evaluate?
Kelly is on to something here. She's the first person who understands that not only is she not going to marry Sean, but Bachelor stink doesn't wash off easy.
Brandi (Real Housewives of Beverly Hills, Simmons), 10 points: Brandi started the episode crying curbside after O.J. Trial siren Faye Resnick hazed her at a dinner party (5 points). It was so traumatic for her that she described it thusly: "After Kyle's dinner party the other night with Faye — that chick with a dick — I feel like I needed retail therapy."
Are you allowed to say "chick with a dick" on TV? If so, why isn't this used more often?
Anyway, while shopping for clothes, Brandi had on a shirt that wasn't a shirt. Let me back up a bit. Brandi does this thing where no matter what she's wearing, she's revealing her breasts in some manner. Don't believe me? If you put her name into Google images, you have to scroll down to page 7 to find a shot of her with her sternum covered by fabric. I'm not knocking her — heck, the BUCKWILD girls already destigmatized the female chest earlier in this column — I'm just saying that it's a noteworthy trend that is escalating.
On this little shopping trip, however, Brandi took it a step further. She wore a shirt that made it necessary for her torso to be blurcled for the entire scene. I'm not familiar with what's hot in women's wear right now, but if this week in reality TV is any indication, nipples are going to huge in 2013. Cop this before it's too late.
Shain (BUCKWILD, Jacoby), 10 points: Shain and Justin played a game where you shoot (10 points) at a street sign and if you miss, you have to put your finger into one of those insect electric chair things. The game was called WEST VIRGINIA.
Taylor (Real Housewives of Beverly Hills, House), 10 points: Taylor had a psychic/healer/crackpot over her house for some sort of "cleansing." Now, to each his own. If you want to believe in this mumbo jumbo bullshit, go for it. But this chick wasn't even good at it. The first thing she did was take out a rock and exclaim, "This is a black rock, and you use it to … [holds it to her chest] — mmmmmm."
She couldn't even come up with a use for the stupid rock on the spot! If I'm paying you to perform some sort of procedure that's not even remotely backed by scientific thinking, you're going to have to think faster on your feet. (And would it kill you to dress it up a bit? I want my psychic bullshitters to dress with a little flair, not look like they just dropped the kids off at soccer practice.)
Lindsay (The Bachelor, Kang), 7 points: You know, not all of us can pull off a permanent zombie stripper sway or sing songs when we meet people. Some of us have to do a little more to stand out. Like Lindsay, who wore a wedding dress when she met Sean, got inslopsicated (7 points), and tried to unconsensually kiss him: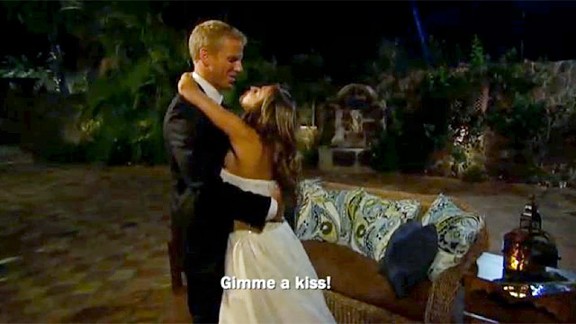 She would come to regret it: "I kinda wish I could do this over and maybe wear a normal dress and definitely not try to kiss him." On the other hand, Sean gave her a rose. Because anytime you can keep someone around who wears a wedding dress, gets slammered, and tries to force a kiss on you, you'd be a fool not to.
Personally, I would've kept Ashley P. just to see if she sways in her sleep.
AshLee the Organizer (The Bachelor, Simmons), 5 points: "My name is AshLee, and I am a professional organizer. I love to be organized. I'm obsessed. Everything in my life is organized besides my love life." They covered this quote with B-roll of some of the most obsessively organized closets I've ever seen. It wasn't like, "Oh, that's nice, I wish I had that in my house" organized, it was like "This is what the world will look like when the robots take over" organized. Her compulsive attention to detail and her crying over her troubled childhood (5 points) make her the runaway favorite to be this season's "There's a 10 percent chance she's a serial killer, but who cares? She's hot, so let's roll the dice."
I have no proof, but she's the leader in the clubhouse, and probably the reason Tierra ends up on a stretcher later this season: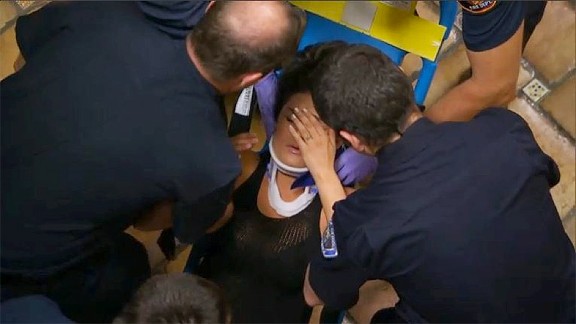 Ashley H. (The Bachelor, Kang), 5 points: Ashley H. left us with a teary exit speech: "It has been years since I have been in love, and as you can tell, I miss it. I want my life partner. I want my companion. I want somebody that I can share my world with, and it is not going to be Sean. The disappointment is there, but I try not to let it sink in, but it does. [Sobs.] It hurts, sorry." She then turned to a producer and asked, "Do you have 10 gallons of tomato sauce and a power washer? I have to get this Bachelor stink off of me."
I hope you have a wonderful weekend. I'm going to spend my time trying to find an appropriate time to call someone "chick with a dick." Wish me luck.
Filed Under: ABC, Bravo, Buckwild, Mtv, Real Housewives of Beverly Hills, Reality TV, Reality TV Fantasy League, The Bachelor, The Decline of American Civilization