Grantland Reality Fantasy League: Meet the Cringiest Bachelorette Contestants in History!
ABC
This week reality TV featured the clingiest woman in the history of dating, the silliest breakup in the history of Real World, and the cringiest Bachelorette suitors in the history of the franchise. But before we get to all that delicious nonsense, we have to officially jump The Bachelorette into the GRTFL gang. That means making up a bunch of moronic rules:
Moronic Rules
Calling Desiree a Pet Name: 5 points
Giving Desiree a Gift: 10 points
Mentioning Sean Lowe: 10 points
Claiming Another Bro Is "There for the Wrong Reasons": 10 points
Having Desiree Question Your Potential as a Parent: 20 points
Overtly Using Your Profession for an Advantage: 15 points (one time only)
Erection Possession: 25 points
Hinting at Procreation With Desiree: 10 points
Cooking for Desiree: 5 points
Initiating a Sexual Relationship with Chris Harrison: 25 points
Helicopter Make-Out: 20 points
Telling Desiree You Love Her: 20 points (first instance only)
Winning Final Rose: 50 points
Winning a Nobel Prize: -100 points
Stating "This Is Fucking Silly" and Walking Off the Show: All the Points

And divvying up the Handsome Bros:
Draft Results
Joe House: Diogo, Michael G., Jonathan, Bryden, Brian
Jay Kang: Chris, Micah, Nick R., Zack K.
Mark Lisanti: Brooks, Will, Mike R., Juan Pablo
Connor Schell: James, Kasey, Robert, Mikey T.
David Jacoby: Ben, Zak W., Nick M., Chris
Bill Simmons: Dan, Brad, Brandon, Drew, Larry
Now that you have that vital, life-changing information, let's have some fun.
Top Scorers
Mike R. and Juan Pablo (Bachelorette, Lisanti), 15 points: They say that a woman knows whether she is going to sleep with a man in the first 30 seconds. The only question I have about that theory is, What are they doing for the last 25 seconds?
I mention this not only because I had that especially hacky joke in the chamber, but also because the first episode of The Bachelorette is all about the 25 Handsome Bros making their first impressions on Desiree. Now, for those uninitiated into the Bachelor(ette) franchise, here's how the first episode works: The Bachelorette stands at a fountain outside the Bachelor Pad (R.I.P.) while a caravan of limousines deploys Handsome Bro after Handsome Bro. The Bros then all approach Desiree and unleash some sort of overproduced, super-rehearsed, extremely awkward, horribly gimmicky introduction in the hopes of making an impression that sets them apart. It all seems good on paper but, not unlike the NBA dunk contest, the one-upmanship has morphed into something that has lost all spontaneity and drama and turned everyone involved into Carrot Top prop comics.
The cringe is the worst part. After each Handsome Bro launches into his overproduced, rehearsed, awkward, gimmicky introduction, you can't help but be overtaken by those squirmy vibes you get when you see someone embarrassing themselves. This year's crop of Handsome Bros' gimmicky introductions were so elaborate and dumb that I had to break down each one. So without further ado, I now present the Completely Unnecessary, Painstakingly Detailed, and Super-Dumb Chronological Bachelorette Suitor-Introduction Breakdown:
1. Drew
Gimmick: Played up the whole "I can't believe this is happening" thing and claimed to be nervous.
Cringocity: Not very cringey; dude seemed genuinely dorky and nervous.
My Quick Take: He seems like a good guy. Too bad women don't like good guys.
2. Brooks
Gimmick: Only dude with long hair; played up the nervous thing even more than Drew did.
Cringocity: Medium cringey. He forgot to introduce himself and, you know, the whole function of the exercise is to introduce yourself. Then he did the clumsy, self-deprecating cover-up. It wasn't great.
My Quick Take: He looks like a minor league middle reliever who spends his time in the bullpen telling everyone about his two weeks on the Tigers. Bet his hair looks cool flopping around out of the back of a Mud Hens hat, though.
3. Brad
Gimmick: Brought a wishbone to tug on with Des.
Cringocity: Low. He actually pulled this off somehow.
My Quick Take: Methinks this will be the first of many props.
4. Bryden
Gimmick: "Sean made a mistake letting you go, Des."
Cringocity: Low. But I may just be saying that because I know this dude was in the Army and did a tour in Iraq.
My Quick Take: How did he not mention the Iraq deployment? If I spent a year or so fighting for America I would introduce myself all, "My name is Jacoby, I spent a year or so in Iraq fighting for your freedom." But that is just reason no. 578,908 why dudes in the Army are way better people than I am.
5. Michael G.
Gimmick: He went looking for the pennies that Desiree and Sean threw into the fountain when she was doing her prop comic introduction thing last season. He failed and then provided new pennies for them to throw.
Cringocity: On a cringe scale from 1 to 100, this is a solid 98. He was a slip and fall into the fountain from a perfect score.
My Quick Take: How do you not have a solid plan B in case you don't find the pennies?
6. Kasey
Gimmick: "So I work in social media and I looked you up a little bit, and I saw all these amazing hashtags about you. I have a few hashtags for you myself: hashtag the perfect bachelorette, hashtag marriage material, and hashtag let the journey begin."
Cringocity: Full disclosure, this dude was the whole reason I added cringocity as a metric. Every time he says the word "hashtag" you feel a torturous jolt of discomfort. It's not so much that you want to strangle him to make him stop as it is you want to strangle yourself to make life stop.
My Quick Take: If this guy is still saying "hashtag" before every sentence in Episode 3, I am moving to Zanzibar and never watching television again. Also, why don't we call "hashtags" "pounds"? It sounds SO much better.
7. Will
Gimmick: This dude decided to nickname Desiree "Athena" because, um, because?
Cringocity: Medium. The high-five entrance didn't help.
My Quick Take: Look, you don't need to go out there and bestow Des with a foolish mythological nickname to set yourself apart when you are the only black dude. The right play here is to own the horrible token-ish nature of the situation and make a smart joke about it.
8. Mikey T.
Gimmick: I am an older brother, so I totally understand your insane older brother from Sean's season. I get it, I deal with a psycho, too.
Cringocity: Medium.
My Quick Take: I respect any dude who continues to rock the "ee" sound at the end of his first name well into adulthood. Ricky Williams wouldn't be a football legend if his first name was Rick. Fact.
9. Jonathan
Gimmick: I am going to take you to the fantasy suite right now and sex you up Color Me Badd–style.
Cringocity: So high that I started to think he lost a bet or something.
My Quick Take: This guy is either putting this whole thing on for his boys back home, or he should be detained and jailed before he builds a cabin in Colorado out of dead prostitutes.
10. Zak W.
Gimmick: I am not wearing a shirt.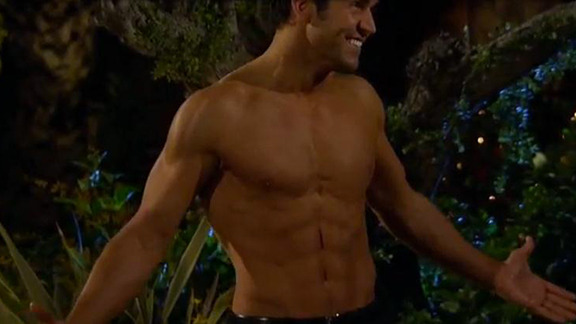 Cringocity: Oh god. Oh god. Oh god. Oh god. Oh god. Oh god. Oh god. Oh god.
My Quick Take: I feel like there is a whole section of the population that is four cultural years behind and still thinks the "Seaside Gorilla Juicehead in True Religion Jeans" look is something to aspire to.
11. James
Gimmick: "Loyalty means everything to me."
Cringocity: Pretty low. I feel like this didn't work out as well as he had thought it would in his head, but he had a shirt on and wasn't speaking in hashtags.
My Quick Take: He looks like the type of guy who is going to run his father's nine-figure company into the ground and ruin dozens of lives in the process.
12. Larry
Gimmick: I love to dance, let me show you a dance move. Oops, I just ripped your dress.
Cringocity: So, so, so high.
My Quick Take: I get that you've been practicing this move on your sisters and colleagues and stuff, but I expect better improvisational ability in a pinch from an ER doctor.
13. Nick R.
Gimmick: I'm a magician, watch me turn this napkin into a rose.
Cringocity: Surprisingly low. Desiree seemed genuinely into it.
My Quick Take: The rose was in his hand the whole time Des, jeez.
14. Zack K.
Gimmick: I am wearing Chuck Taylors with my tuxedo. I'm crazy like that.
Cringocity: Medium-high. It felt like he thought he was going to get more conversational mileage out of the Chucks and didn't know where to go after that.
My Quick Take: I am never wearing Chucks with a suit again. Yes, I have worn Chucks with a suit before. I am not proud. Let's move on.
15. Diogo
Gimmick: The guy is wearing a fucking suit of armor: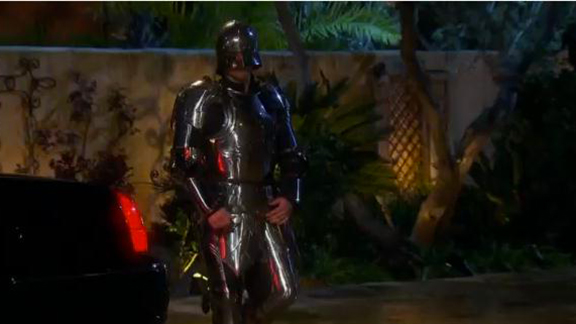 Cringocity: I can't believe I am even saying this: even higher than the hashtag guy.
My Quick Take: How does this happen? He didn't fly with a suit of armor. Did the producers just bring one and try to trick someone into wearing it? Did he wear it in the limo? What sizes do suits of armor come in? Who manufactures them?
16. Chris
Gimmick: He gets down on one knee all dramatically and then asks Des for her permission to … tie his shoe.
Cringocity: Low cringocity. He rehearsed this at least 400 times in his hotel room the night before.
My Quick Take: I like this guy. That is the first time I have ever said that about a contestant on The Bachelorette. I am sure I will want to drown him by the end of the next segment.
17. Mike R.
Gimmick: I am wearing my lab coat and calling myself McDreamy because I am a doctor: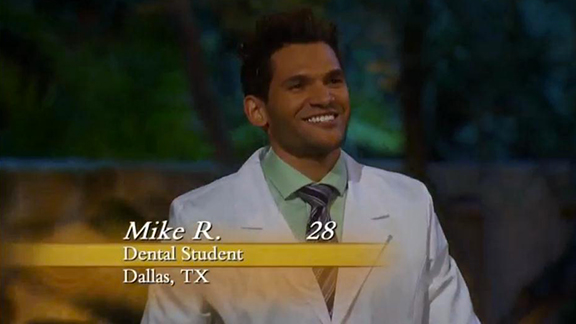 Cringocity: High, because …
My Quick Take: … THIS DUDE ISN'T A DOCTOR! He is a dental student. Dental. Student. Why is he wearing a lab coat? (15 points)
18. Robert
Gimmick: "I'm not much of a tie guy. Mind if I take this off?"
Cringocity: People who aren't cool trying to be cool is a particular brand of cringocity that makes you extra squeamish.
My Quick Take: This dude claims to have invented sign-spinning: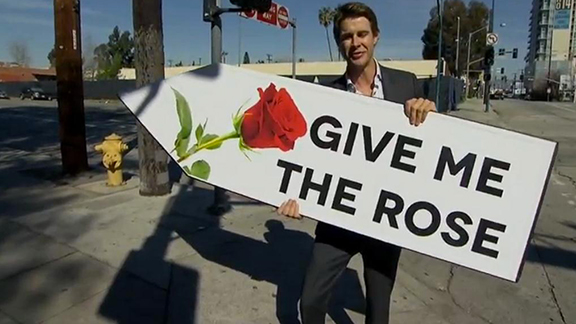 Something tells me he will never utter the words, "This is the mansion that stoned kids lackadaisically twirling signs at intersections built."
19. Juan Pablo
Gimmick: I am from Venezuela and I brought you chocolate.
Cringocity: High. Not his fault, though. This cringe was all on Des because …
My Quick Take: … DESIREE, WHO THE HELL CAN'T SAY JUAN PABLO? I refuse to believe that there are still people who hear "Juan Pablo" and act like it is High Valyrian. I couldn't tell which production move was more not-quite-but-almost-semi-racist: When they gave Juan Pablo a soccer ball to kick around later (15 points) or when they laid flamenco-ish music under his introduction.
20. Brandon
Gimmick: I am going to ride up on a motorcycle because I am a bad-ass.
Cringocity: Would have been high with the bike alone, but when you add the bandanna over the face it goes to "hashtag" levels of cringiness.
My Quick Take: Never trust a man in a pin-striped suit. Ever. Seriously.
21. Brian
Gimmick: I am dressed down because I wear suits every day in my normal life. (Hint, I am rich.)
Cringocity: Sneaky high. Obviously hinting that you are successful is completely different from the suit of armor, but equal in cringocity.
My Quick Take: At what point are dudes going to stop wearing True Religion jeans? Women stopped wearing that trash four years ago, but dudes are rocking them. Who do I have to talk to about this? Jay-Z? Andre Leon Talley? Grumpy Cat?
22. Micah
Gimmick: I made myself a suit that says "designed by this guy" on the back.
Cringocity: Medium. It would be high, but this guy is giving off a total "I am not interested in Des, I am only here to laugh about this at the bar with my buddies back home" vibe, which I really appreciate.
My Quick Take: Micah seems like the type of dude who practices beer pong shots alone in his basement to prep for the weekend. And there is nothing wrong with that.
23. Nick M.
Gimmick: I wanted to do something a little different, so I wrote you a poem. It goes a little something like this:
Des after watching you at the end of last season
I know you are here for the right reason
The way you showed such genuine emotion
Made my heart flutter like waves in the ocean
I am looking forward to this journey with you
I hope you are just as excited too
Cringocity: Do I even have to tell you?
My Quick Take: Neruda, Nick is not. The word "poem" is currently locked in a bitter slander lawsuit with Nick M.
24. Dan
Gimmick: Wait, no gimmick? What?
Cringocity: No cringe? Huh?
My Quick Take: I'm reeling right now. He walked up, complimented her, told her he was looking forward to talking to her later and then went inside. What kind of shit is that? Dan must be a plant or an alien or something.
25. Brad
Gimmick: Sent his adorable son out of the limo as a lead blocker of love.
Cringocity: Low. This is dirty pool, but all is fair in overproduced, manufactured love and war.
My Quick Take: I don't care if your kid is only 4 years old, you shouldn't be teaching him to explode a fist bump. The exploding fist pump is the True Religion jeans of handshakes.
This Carrot Toppy madness needs to end. If I were in charge (only a matter of time), I would have all the Handsome Bros already at the mansion awaiting Des's arrival. I would cut a little segment of them sizing each other up and when Des arrives I would just let them have at her like a pack of overdressed, nervous, hair-gelled piranhas. What could possibly go wrong?
Jessica (Real World, Kang), 20 points: This week on the Real World, Jessica received a long e-mail from this dude she is dating (5 points) explaining why they shouldn't see each other anymore: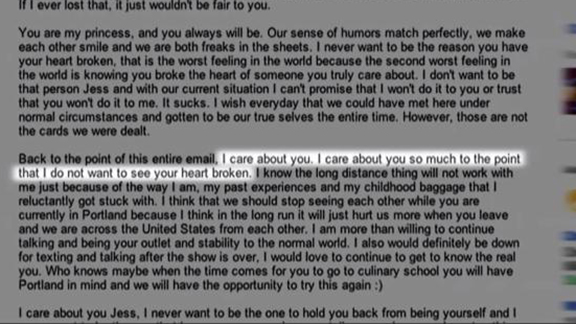 When Nia hears the news from a teary Jessica (5 points), she blurts, "What could have possibly happened? I just don't understand!" Well, good thing for Nia that this week's GRTFL top five is The Top Five Things That Jessica Did That Would Make Any Man Change His Phone Number, Move, And Have Complete Facial Reconstruction Surgery Just To Get The Woman They Are Dating Out Of Their Lives Forever, listed from "Well, that isn't so bad, we've all been there" to "If she were the last woman on earth it would be the end of the human species":
5. No sex: She decided that even though they both want to, they were going to wait to have sex. (Fine, that isn't that crazy and is often used as a strategy to KEEP men in your life.)

4. The key chain: She gave dude a big ol' key chain with a picture of the two of them on it. (OK, first off, dudes have pockets, not purses, and don't like big key chains. Second, you're fucking crazy.)

3. The pictures: Not only did she give him the key chain, she COVERED her room with a dozen or so pictures of the two of them and then gave him a gift set of the photos so he could do the same. (If you ever walked into a room of someone you were casually dating and saw that, wouldn't you go to the bathroom and climb out a window?)

2. The framed picture: She did this:

LOOK AT THE FRAME ON THE LEFT! IT SAYS "FAMILY INSPIRES US TO ACHIEVE GREATNESS!" It says the word "family" on it and has a picture of the two of them. Reminder, they just met at a bar, like, a month ago. (I honestly think if he murdered her immediately after seeing that framed picture he would be acquitted for self-defense.)

1. The phone call: Just sit back and enjoy these gems that she dropped in A SINGLE PHONE CONVERSATION with Tyler. They are like little desperation gift boxes filled with schadenfreude chocolates:

1. "I can't wait to see you. I just wish I could run and jump on you and give you a big old hug and kiss."
2. "I like you, Tyler, I talked to my mom about you, I even told my dad I was dating you."
3. "You make me happy, you make me glow."
4. "You are one of the most amazing people I have ever met."
5. "I will kiss your face right now."
6. "I will lick your face."
7. "I don't want to freak you out or anything but if you and I got serious, I wouldn't be opposed to moving to Portland."

I love the "I don't want to freak you out or anything" bit at the end. Jessica, what about all this makes you think that he would get freaked out?
After she was dropped via e-mail, Marlon helped Jessica with the healing process by taking her to church (-10 points) and then recording a terrible rap song with her (20 points). Marlon is the best.
Marlon (Real World, Connor), 70 points: Marlon had an intriguing story arc this week on the show. It went like this: Marlon talks to his dad about his faith and his sexual temptations. Marlon meets a woman at a bar (5 points). Marlon coituses said woman and they do the classic Real World "pull the sheet over us so the cameras can't see" move (20 points):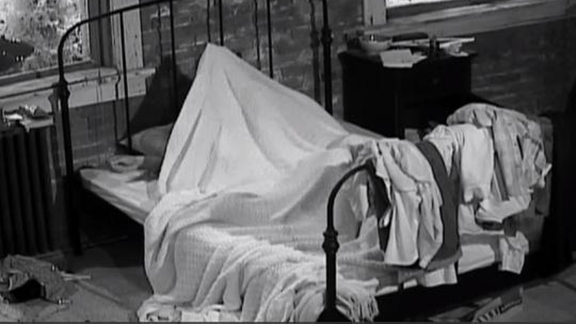 Then Marlon feels remorseful due to his faith (25 points), goes to church (-10 points), cries (20 points), and records a terrible rap song with Jessica (10 points).
Now, all of that sounds interesting, but none of it is as interesting as this one throwaway line this lady shouts into his ear over the sounds of the bar:
"I loved L.A. but I got arrested so I had to come, kinda, visit with my family for old times' sake."
This is easily the GRTFL questionable moment of the week:
What was she arrested for? Is she in the Bling Ring? She must be in the Bling Ring, right? Why isn't she in jail? Why did she have to come home? What is the whole "kinda" about? Are you here in Portland "visiting" or do you live here now? What the hell is the whole "for old times' sake" about? Are you 70 years old? Why are you wearing so much blush? Why did you lick Marlon's nose after he kissed you? Do you think he enjoyed that? Do you have a snot fetish? Why did I make this the questionable moment of the week when I only had, like, three real questions about it?
Johnny and Averey (Real World, Jacoby), 25 and 10 points: Johnny and his Way Too Hot For Him Girlfriend Averey got into a fight this week. It was a senseless nothing of a fight, but it was interesting. Interesting because as a viewer you could easily see both sides of the argument. (5 points) Allow me to explain:
The facts: Averey was talking and drinking with Danny, a "regular" at the Schmizza bar, for approximately 90 minutes while she waited for Johnny to get off work.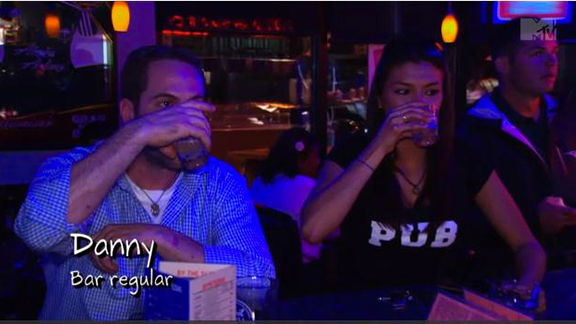 Johnny was upset with her for talking to him.
Why You Can See Johnny's Side: OK, you never want your girlfriend to be tied up in a one-on-one conversation with a dude at a bar that goes beyond small talk. EVERYONE Johnny knows in the city is watching this unfold, he is buying her shots, he is talking about what a shit hole the town Johnny is from is, he looks kind of creepy, AND YOU SHOULD KNOW BETTER THAN TO TALK TO THE GUY FOR 90 MINUTES. 90 MINUTES? Also, who is a regular at the Schmizza bar?
Why You Can See Averey's Side: First off, she was talking about Johnny, her relationship with Johnny, and moving in with Johnny. Second, if Johnny wasn't comfortable with it, he could have said something to her about it and that would have been it, but instead he just watched and sulked. Third, Johnny should trust her to handle herself appropriately in mixed company. I mean, she is a Hooters girl, she knows how to rebuff advances at bars. Fourth, what the hell else was she supposed to do? Tell the guy that she can't talk to him because her boyfriend will get mad? That is ridiculous. Fifth, and most important, SHE IS WAY TOO HOT FOR JOHNNY ANYWAY.
It wasn't 12 hours later that they stopped crying (20 and 5 points) and were back in bed together. This Averey and Johnny thing is really growing on me. I hope they go the distance like Judd and Pam.
What did you say? Who are Judd and Pam? Man, I'm old.
Jonathan (Bachelorette, House), 10 points: Jonathan was not wrong when he mentioned that he was more straightforward than Sean Lowe (10 points) and Des was pretty straightforward when she denied his offer to go to a makeshift fantasy suite. The best part were the exact words that Desiree used when she denied the fantasy suite: "I'm not that kind of girl. Not the first night, no."
Translation: I am not a prude, it is just that I want at least one date before we head to sexytown. Such is my coitus operandi.
Make sure to check back next Friday for another Reality TV podcast with Bachelorete recapper Juliet and the GRTFL column. The "next time on" for Real World featured Hurricane Nia dog-napping, punching Johnny, punching Averey, and getting punched by Averey. That is not the week to miss Grantland's extensive, multimedia weekly reality TV onslaught. Enjoy the weekend.
Filed Under: ABC, Bachelorette, Mtv, Real World, Reality TV, Reality TV Fantasy League, The Decline and Fall of American Civilization