Dead Man's Curve: The Scene at Paul Walker's Crash Site and the Way We Mourn Now
David Buchan/Getty Images
The Rye Canyon Business Park is about 40 minutes from downtown Los Angeles, in a cul-de-sac protected by the San Gabriel and Santa Susana mountain ranges, on land once home to a 377-acre Lockheed Corporation research campus. Lockheed put scale models of military aircraft like the F-117 stealth fighter through their paces here. In the late 1960s, as he began to shift focus from painting to installations, the artist Robert Irwin took a tour of the anechoic chamber in Building 46, an experience that stoked his fascination with site-conditional artworks and the perceptual effects of sensory deprivation.
Years later, Irwin would tell the writer Lawrence Wechsler that the most interesting thing about spending time in the chamber's total soundless darkness was how it felt to step back out into the world. "After I'd sat in there for six hours, for instance," Irwin said, "and then got up and walked back home down the same street I'd come in on, the trees were still trees, and the street was still a street, and the houses were still houses, but the world did not look the same. It was very, very noticeably altered."
In 1998, Lockheed sold the facility to the real-estate developer Legacy Partners and Goldman Sachs for $20 million. A few years later, billionaire Alfred Mann turned about half of it into the Mann Biomedical Park. The rest is mixed-use space, mostly squarish industrial-park buildings in white, tan, or adobe, seemingly clicked into position for Sims to live and work in. It's a place that looks like nowhere in particular, so it can pass for anywhere. TV shows like NCIS, CSI, and The Mentalist have all shot in and around the Rye Canyon property, as did 24, a program where the war on terror often seemed to rage exclusively in Southern California's blandest office developments — in 2007, Jack Bauer failed to stop terrorist mastermind Abu Fayed from destroying the nearby city of Valencia with a nuclear bomb.
Driving north on the four-lane Kelly Johnson Parkway — named in honor of Clarence "Kelly" Johnson, creator of Lockheed's top-secret Advanced Development Projects group, informally known as the Skunk Works — you pass Trinity Classical Academy, a private prep school, and Northpark Community Church, where "Worship is an Experience!" and then the entrance to the Mann facility, after which the hill grows steeper and the route begins to bend to the east. At the crest of the hill, where the parkway meets up with Constellation Road to form a mile-long loop, the road straightens out for a few hundred feet.
This stretch of road is Hercules Street, where Paul Walker died.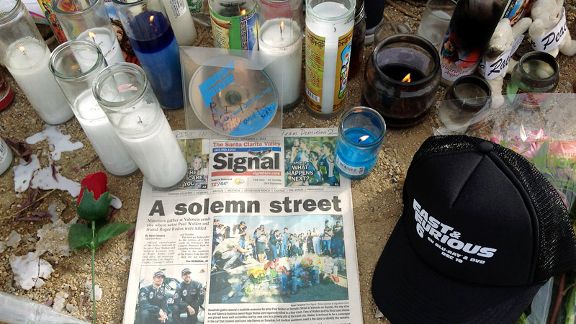 It's Monday afternoon. The two eastbound lanes of Hercules are blocked off by sawhorses, orange cones, and TV news vehicles — four vans from various local stations and two large satellite uplink trucks. The traffic on the other side of the street crawls along like a funeral cortege; nearly everyone driving by seems to be leaning out a car window taking a cell phone tracking shot. About a hundred people stand in a loose semicircle around the crash site, where there is now a large and growing shrine. Some of them are snapping pictures — hashtag #InstaMourning — and a few are crying. TV news reporters work the crowd, taping live remotes in English and Spanish, seeking out the weeping folks, offering them a smoothly professional approximation of concern in exchange for interviews that inevitably end in a Splenda-sweet "Sorry for your loss."
Walker co-owned Always Evolving, a car shop just around the corner on Constellation. On Saturday, a charity event took place there. It wrapped up around three o'clock, at which time Roger Rodas — Walker's friend and business partner, a wealth management adviser with years of race-car driving experience — decided to take his 2005 Porsche Carrera GT for a spin. As of yet, no eyewitnesses have come forward who saw what happened next, but people nearby heard the sound of an explosion around 3:30 p.m. and rushed to the scene, and what they saw told the story clearly enough. The Porsche had veered onto the shoulder of the road, toppling a lamppost and striking several trees; it was engulfed in flames.
The shrine covers most of the distance from where the lamppost once stood to the base of the tree that stopped the car. The first thing you notice about it, after the silence, is the smell of hundreds of scented Jesus candles burning. There are also hundreds of bouquets of flowers in supermarket plastic — roses, carnations, alstroemeria. And as many photos of Walker — laser-printed, clipped from magazines, pasted on construction paper. There are farewell messages to Walker and Rodas written on tagboard in bubbly teenage script, signs thanking Walker for his fund-raising efforts on behalf of Typhoon Haiyan survivors, and — leaning against the trunk of a broken tree — a large calligraphied rendering of "The Racer's Prayer."
There's also a mounted Fast Six poster — the one with just Walker, leaning against the passenger side of a blue and white 1970 Ford Escort, looking away from the camera — doctored so the movie's tagline now reads "All Roads Lead to Heaven." Every inch of blank space on the poster is covered with handwritten testimonials; so are the remaining white parts of the tree where the car burned.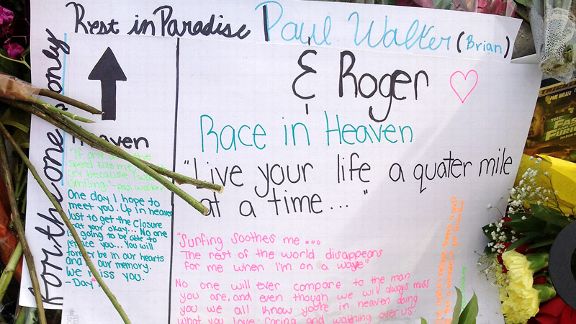 Beyond that, you name it — if it has anything even remotely to do with Walker or cars or generalized sadness, someone has brought it here, heavy-hearted, and laid it on the pile. Fast Six baseball caps. DVD cases from all six Fast/Furious movies, including the "Tricked Out Edition" of the first movie and what's clearly a bootleg copy of Fast Five. Rosaries and prayer cards. A slightly deflated "WE'LL MISS YOU" balloon with three golden retriever puppies on it, courtesy of the Turgeson family from Mission Viejo. Two stuffed bears wearing little sashes reading "RACE IN PEACE." Stuffed penguins. An empty bottle of Courvoisier, a full 40 of Olde English, and countless Coronas, some open and still fizzing. A grande Starbucks cup full of gravel, with "RIDE OR DIE" written on the side.
More than one sign features the quote "If one day the speed kills me, do not cry because I was smiling," attributed to Walker here and all over social media even though he doesn't seem to have ever actually said it. It's as if in death he's become both Paul Walker the handsome dead movie actor and Brian O'Conner from the Toretto crew. But more than anything, the pile of mementos feels personal, like a neighborhood memorial to some import-car daredevil whose luck ran out, rather than a rich blue-eyed movie actor Mormon-bred in Glendale. There's car-guy stuff everywhere you look: an L.A. Dodgers steering-wheel cover, still in the packaging, on which someone has written "Rest in Peace Brian O'Conner." Hot Wheels cars, some also still in their packaging, some with messages of condolence scribbled in Sharpie on their tiny hoods. A blue-green plastic bottle of Castrol and a box of Iridium spark plugs. A blue NOS nitrous tank and a can of grape-flavored NOS energy drink. A copy of the June 2003 issue of Import Racer magazine with Walker and Devon Aoki on the cover. A praying-hands air freshener dangling from a Subaru key chain.
Around 1:30, two girls approach — one dark-haired, in purple shorts and a white hoodie, one in a leather jacket and flip-flops, her bleach-blonde hair in a loose topknot. They're walking arm in arm, holding each other up, and clutching matching bouquets of supermarket flowers. The crowd parts, and the girls get a look at the whole scene — the candles, the mementos, the broken trees. The one in the white hoodie covers her mouth with a hand. The blonde girl's lip quivers. She melts into the dark-haired girl's arms and starts to cry.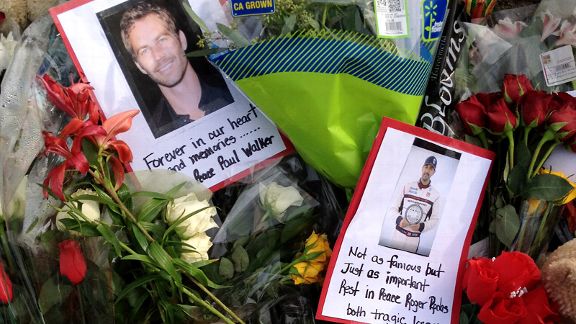 They stay like that for a minute. Then the blonde girl squats down on the balls of her feet, by the edge of the shrine. She sets down her flowers and starts to write something in the dirt, tracing big, curved letters with her index finger.
A tall man in a pressed shirt and tie moves in with a handheld camera, squats down, and begins filming her right profile. The microphone sticking out of the back pocket of his immaculate blue jeans says "CNN Latino." The girl looks up, realizes what he's doing, and shouts, "Get the fuck away — honestly!" in a voice thick with tears. CNN Latino gets the fuck away.
She picks up a short stick and goes back over what she's written in the dirt, scratching it deeper. A young Asian woman in a black Fast Six cap steps over her, carrying a pot of red poinsettias with a Lightning McQueen balloon tied to it. As she goes to set the pot down she kicks over a candle and wax spills in the dust. The blonde girl glares at her. She stands up. The word in the dirt is "ROGER."
I don't ask her who she is, or how she knew Roger. Watching other reporters swoop down on anyone who looks bereft enough for television is making me feel guilty enough. They make sad listening faces as their subjects talk, and watching them makes me not want to even pretend to be a reporter right this second. I make my way behind the shrine, to where a steep, scrubby hillside drops down to the parking lot of a cell phone accessory company. There's a big patch of black here, from the fire; two women and a couple men are working their way up and down the hill, bent over like the peasant women in Jean-François Millet's painting The Gleaners, digging in the scorched brush with their fingers. I realize they're looking for pieces of the car, possibly smearing some of Paul Walker's and Roger Rodas's atomized cremains around in the process, and this makes me not want to be a human.
I do talk to a white-haired man with small, even white teeth, who's been strolling around the site with a few inches of tape measure sticking out of one fist. None of the newspeople is paying any attention to him. He's an engineer who works in a building nearby. He came out here the first day and took pictures. The engineer's son is a "pro drifter," and he came out, too, and it was pretty clear to both of them what had happened. The whole story's written on the pavement, the engineer says. He asks me not to use his name, says it wouldn't be right for him to go on the record spouting off, that it might muddy the waters if there's ever an official investigation.
The engineer does accident investigations — deep-sea shipwrecks, air crashes. That's what this reminds him of, he says, an air crash. We walk up and down for almost 40 minutes and he shows me things about the site. Telltale signs. The boarded-up second-story window in the building behind the crash site, broken by a piece of the car — the starter, everybody's saying. This is how you know how fast they were going. For the starter to have broken a window 120 feet from where the car hit the pole, the engineer says, the car would have to have been traveling at 120 mph or more. Basic physics, the engineer says.
We walk down the hill, and he shows me the Carrera's tire marks on the pavement, tells me about the difference between a skid and a scuff. A skid is the kind of transfer of rubber that happens when a car is stopping; a scuff is what you get when a tire is locked and juddering sideways across the pavement. These are scuffs, the engineer says. From the scuffs, and the way the two tracks converge on the pavement, and a red-paint scrape-mark where the low front spoiler on the GT might have clipped the curb, it's pretty clear the car was in an "evasive slide" when it hit the pole. Like what you might do — and I say "might," as the engineer took pains to — were you a skilled driver trying to avoid hitting something while traveling at over 120 mph.
The engineer holds his cell phone out flat, turns it in the air, shows me how the mass of the car would have brought it around. He thinks the pole hit the driver's side first, then spun the car into the trees. Which means the notion that Walker died instantly — in the crash, not the fire — may be wishful thinking.
"Morbid shit," the engineer says, when I ask him if he has noticed the collectors on the hillside. Not to mention that this is still technically a crime scene. The engineer says he saw the police taking a few measurements that day, but he hasn't seen anybody take a picture of the paint scrape on the curb yet. The engineer thinks that, as a car guy, Walker would want people out here, figuring out what had happened.
"He understood the physics of cars, and I think he would expect car enthusiasts to come out here and analyze it. And learn from it. So it doesn't happen again. It certainly has changed the way the drift kids are thinkin' right now. They're all scared shitless. Young kids, they've got a drift club here in town. It's a wake-up call for them. They use this guy's lifestyle as a role model. So that's a big event for these car enthusiasts. Especially my son — he's pretty upset right now. You feel a kindred spirit, like you're connected to the guy. It's had a traumatic effect. I mean, look at this — were you here yesterday? There were like a thousand people here yesterday."
I drive back to L.A. around four. A few hours later, sheriff's deputies will temporarily clear the public from the area around the crash site, and friends and relatives of Walker and Rodas will gather for a private memorial under a white plastic tent paid for by Universal Studios. Vin Diesel will use the PA system on a deputy's squad car to thank the fans for "coming down here and showing that angel up in heaven how much you appreciate him." On Wednesday, preliminary autopsy results are released — Walker's death will be listed as resulting from both trauma and thermal injuries — and local authorities will warn fans to stop paying tribute to Walker by burning rubber while driving by the crash site.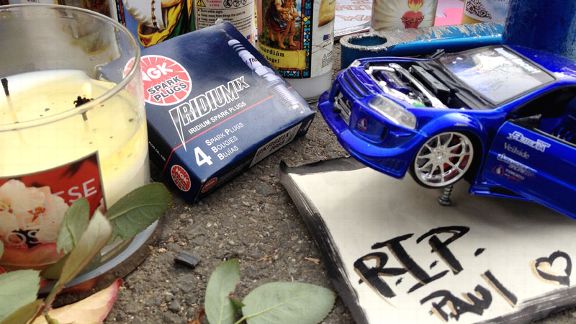 I walk away from my conversation with the engineer a complete believer in the Second Car Theory, which the police have already shot down. Trajectories, counternarratives. A death like this is a deep dark hole of why? we try to fill with how. Hypothesizing about cause is one way to put something like this into perspective. The assumption that God had some need for Paul Walker in heaven — as suggested by more than one sign left at the crash site — is another.
Then there's the further-out but no less faith-based notion that Walker was assassinated, possibly by a drone strike, here in what was once a cradle of military-industrial innovation, or that Walker and Rodas were about to blow the lid off a plot to dose Typhoon Haiyan survivors with "a prototype permanent birth control drug hidden in medicinal supplies and food aid," or that Family Guy predicted all this by killing off Brian the Dog, who shares a first name with Walker's Fast & Furious character.
This idea is comforting to somebody, too, confirms something they need to believe. The notion that everything is a false-flag operation constitutes a refusal of the idea that this is a disorderly universe where awful things happen for no reason. We all light our own candles at the crime scene, and it doesn't change the scene itself. The street is still a street, the trees are still trees.
Filed Under: In Memoriam, Vin Diesel, Obituary