Chip Kelly and the Eagles Are Here to Make Football Fun Again
Rob Carr/Getty Images
All day Monday, people were trying to prepare me for reality.
"You know they're going to lose right?"
"You know they're playing the Washington NFL team, not Washington State, right?"
"The Eagles might score 50, but the Redskins will score 52."
"RG3 is back."
"Riley Cooper is going to run across the middle and four Redskins players are going to hit him in the spleen at once and he's going to explode."
"P.S. One of those Redskins players will be Cary Williams wearing a Washington uniform over his Philly uniform and then he will tear off the Washington uniform and scream, 'Are you not entertained!?'"
"There's no way this Chip Kelly offense is going to look like the football version of the light cycle race from Tron. Stop thinking in terms of Tron. This isn't the 2010 Oregon Ducks and they aren't being led by 2004 Michael Vick. You need to be realistic."
I am an Eagles fan in 2013. I have no use for reality. Now lets go light cycle racing.
Last night the Eagles beat the Redskins on Monday Night Football, 33-27. They won the game with a slim margin of victory, but in terms of how hard I fell in love with this team, it was a landslide. Football games can be long and arduous, and to be sure, with an approximately four-hour running time, and a dragging final one and a half quarters, this game felt that way by the end. But during the first half, and the very beginning of the second, Chip Kelly and the Electric Kool-Aid Acid Team took us on a journey.
You can hate the Eagles as an institution. Hell, there have been plenty of times over the last two years when I've hated the Eagles. Andy Reid ran a rigid, West Coast offense with the imagination of an accountant — the kind of accountant who accidentally loses all your money investing in non-Google search engines and then says, "That's on me, I have to be better."
Let's be honest: Football is not really that fun. It's awesome, dudes get lit up and we feel it in our chest-caves, it's intense, it's communal, and it's the dominant narrative generator in the world of sports. I wouldn't call it fun, though. But after an offseason that called into question whether it's morally responsible to enjoy this sport, and after an opening Sunday of Carolina-Seahwaks, Gabbert, all of the Steelers getting hurt, Weeden, the Jets-Bucs Stupid Bowl, and the usual 10 seconds where you wonder whether someone just died on a football field after a hit, after all that, to see a team be so arrogantly creative, so wildly entertaining … that was something anyone could love. The Eagles deserved to be playing sports the same night as Rafa-Djokovic. Last night, the Eagles were fun.
Here are a few of my favorite things about the Philadelphia performance last night.
The Calm and the Storm
According to ESPN Stats & Info, the Eagles kasjfdalskyufpew8iuth1246&&%$%###!!!!!!!@!!#$#@$. Sorry, that was just the raw data. Here's some bullet points.
• The Eagles had 21 first downs in the first half. Washington ran 21 plays.
• The Eagles ran 53 plays in the first half, which is more than the Carolina Panthers ran in their entire game against the Seahwaks.
• The Eagles scored 26 points in the first half. They reached that total in a game once last season.
What did this actually feel like? It was weird because I was at once very calm and at the same time felt like I was strapped to the windshield of Chuck Yeager's X-1. When Ryan Kerrigan swatted down Michael Vick's first-drive pass, which was deemed a lateral and returned 75 yards by DeAngelo Hall, I had one very strange reaction.
Cool. We get the ball back.
Even after only a few plays, resulting in a turnover and a Washington touchdown, I still felt very relaxed. Because this was working. The Eagles seemed to feel the same way. Right before the second drive began, there was a shot of Kelly talking to LeSean McCoy and DeSean Jackson on the sideline. The three of them were smiling. Kelly said something that made the other two chuckle. I'm not a lip-reader but I am pretty sure it was "go light these guys on fire."
The next play from scrimmage was a 46-yard catch-and-run from Vick to Jackson. That was wonderful, but what put me over the edge was Jackson, getting up after sprinting up the field and being tackled, quickly trotting into position on the flank, looking over at the sideline and making a motion with his hand that said "Let's go again. And again. And again."
I started doing the same motion in my living room; Jon Gruden started just making yellow marks on the Telestrator like he was painting a de Kooning; Mike Tirico just kept talking and talking because there was always something happening to talk about; Bryce Brown got a carry and didn't fumble; London Fletcher started writing his memoirs. The Eagles had a couple of fireworks plays that didn't quite explode, and came up on a fourth-and-10 after rookie Zach Ertz dropped a pass. He definitely dropped it. Kelly definitely sent his kicker out for a field goal attempt. Then definitely challenged a play we all knew was called correctly on the field.
Chip Kelly iced his own kicker. It's a new era. This is the future.

— Spike Eskin (@SpikeEskin) September 9, 2013
YOLO. Field goal good, Eagles kick off, Redskins run a play, fumble, Eagles recover and it's back to Thunderdome. Eagles' play count: 19. Washington: one. Next snap: 25-yard touchdown pass, Vick to Jackson. Looks just like peak Brees-to-Colston. Terio dance.
Get the paddles. I'm dead. It's only 10-3.
Understand: Nobody knew what this was going to look like. Vick went on SportsCenter on Sunday night and talked about how fast the Eagles were going to play, but I would not rank that interview in the top 1,000 most convincing things I've ever seen.
Who could have predicted that the Eagles would look like such a bunch of all-go-no-stop-Ameican-poet-warriors? When was the last time you've been that surprised watching a pro football game!?
Play Calling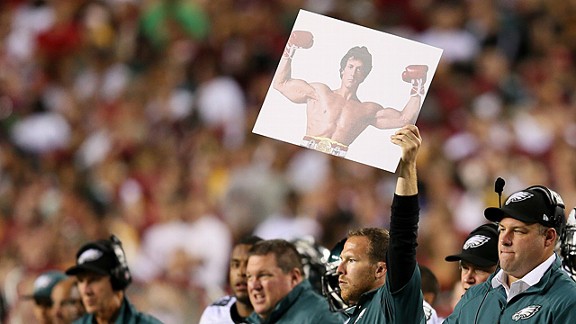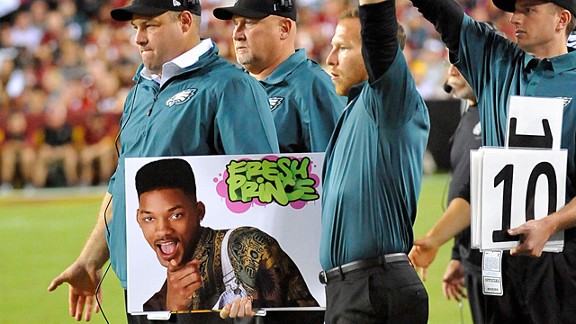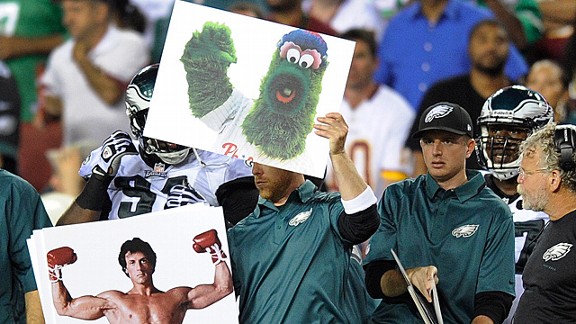 What in the actual hell? Pretty much this, all over again. If the first home game against the Chargers rolls around and they aren't throwing up pictures of Schoolly D., the melodica player from the Hooters, and Frank Rizzo, then I will light my non-working Philly driver's license on fire.
DeSean and LeSean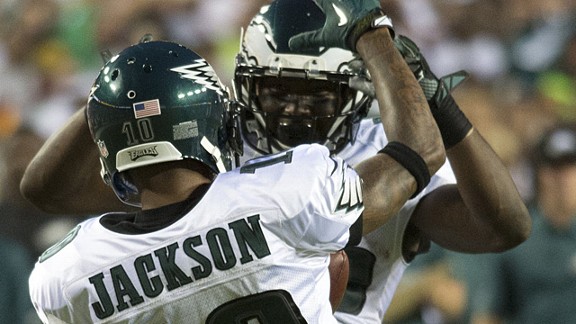 LeSean McCoy had 184 yards on 31 carries. DeSean Jackson had seven catches for 104 yards. I love these two so much I can't even really write about it.
The Defense
(GIF via The Big Lead)
Look, I love RG3 just as much as the next person who loves RG3 except for the two times a year when the team I cheer for plays against him. I don't think there is any football player more worried over. And for good reason: He is a unique, once-in-a-generation athlete with a seemingly delightful personality. So I apologize for the following bit of this post:
SUUUUPLLEXXXXXXXXXXXXXXXX.
Forgive me, it's been a really long time since the Eagles had a defense that could, just on a fundamental level, put their arms around offensive players and bring them to the ground and/or turf. Tackling, right? Tackling. They couldn't tackle one of those terrifying car wash balloon guys. Last night, they were drawing praise from the kind of experts you want to draw praise from:
Dem boys hittin!!!!!

— Brian Dawkins (@BrianDawkins) September 10, 2013
Mychal Kendricks was by far the revelation of the night for me. This guy had a battery in his back, ending the game with 10 tackles, a recovered fumble, and two quarterback hits. The Eagles went into a gassed, stoned prevent for much of the second half and RG3 got his sea legs enough to drag the Redskins back into the game. But it should not take away from the athletic, heavy-hitting performance of the defense.
Finally a Team to Cheer For
This is a picture of McCoy making a run at the end zone during the first drive of the game. You will notice he has a blocker. It's Michael Vick.
Your quarterback blocking downfield for your running back is only the kind of thing you get excited about after your team wins and your quarterback manages not to tear a labrum playing Batman out among the defensive backs. We won, Vick's fine ("I feel like I can play another four quarters," he said after the game). I'm not griping.
In fact, I'm not really interested in whether Vick should or shouldn't have made that play. I want to talk about the fact that he did it at all.
This was not a good preseason for the Eagles, in terms of chemistry. Riley Cooper, tons of injuries, Cary Williams vs. Riley Cooper, etc. There may have been a new boss, but there seemed to be the same toxic cloud surrounding the team. And that winds up impacting how much a fan can get into a group of players. You can't really like a team with players who don't like each other. What's the point?
The late Andy Reid era just felt bad all the time. Off-the-field tragedy, the "Dream Team" crap, Jason Babin, the debate about whether Vick deserved a second chance. Just stuff that sucks the fun out of cheering for a team. I was starting to worry I was in for another six months of anonymous sources, guys calling each other out, and a coach who keeps saying mindless platitudes to get through the week.
Then I saw this picture, taken at practice a few days ago, of Kelly chasing dudes with a yellow foam bat.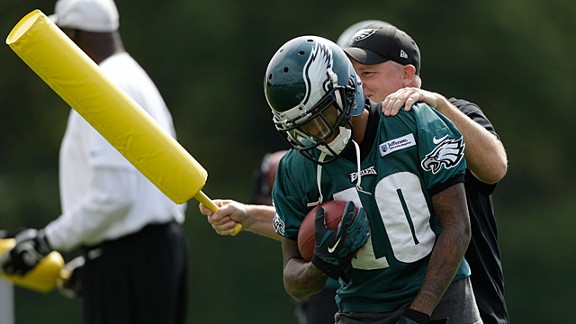 Then, last night, I saw the guys mobbing Kelly after Jackson's touchdown catch, knocking his visor off his head.
And I saw Williams playing his ass off and read this Baltimore Sun piece about him. I read Kelly's postgame quotes about Williams:
I talked to him specifically at halftime. I thought he was close — and I'm not a big prognosticator — but I said I think you're going to get [an interception]. He comes up that first drive and gets one for us, and we score off of it.
And I thought, no, you're not a prognosticator. YOU ARE GANDALF.
I watched the Eagles yelling at each other when the game started to slip away and celebrate when things went right. I watched in horror and awe as Vick tore ass down field to block for his running back. And it was clear, Riley or no Riley, I really like these guys. And they seem to like each other. All the rhetoric about future football, and how Kelly's offense is no-time-all-freedom aside, these guys looked like they enjoyed playing with each other last night. Maybe they'll go 8-8; but who cares. Plenty of teams win games; how many of those teams do you actually love?
Filed Under: NFL, Chris Ryan, Michael Vick, Philadelphia Eagles, Robert Griffin III, Washington Redskins, Chip Kelly