Thank You for Not Coaching: The Week in (Ahem) Curious Strategic Sideline Decisions
Donald Miralle/Getty Images
Welcome to your new Thank You for Not Coaching Day. After finishing off the Monday-morning columns each week with TYFNC, it became popular enough that I'm moving it to Tuesdays and giving it some space to stretch out. Hopefully, that will mean more opportunities for insight and some examination of coaching strategies that actually worked. Thank You for Coaching, even. Thanks to those of you who sent in TYFNC scenarios this week, which you can do by tweeting at me with the hashtag #TYFNC.
So, last night was pretty cool, huh? I'll have a lot more to say about the Chip Kelly experience tomorrow, but let's start with that Eagles game and one of the many ways that Kelly put his offense in a position to succeed.
Fourth- and Third-and-1
You have to squeeze the numbers into real life. For all the brilliant work that somebody like Brian Burke can do in building advanced win- and point-expectancy models and determining what the best course of action for a team is on fourth down, it's essential to have a head coach who can implement that on game day. Bad coaches use this as an excuse to blindly trust their gut. They panic or get overwhelmed in key moments of the game and make subpar strategic decisions that cost their teams dearly.
Not Chip Kelly. Kelly has a long history of going for it on fourth down and attempting two-point conversions from his time at Oregon, and when he faced a fourth-and-1 from the Washington 21-yard line on the first drive of the game, he knew he was going for it in advance. And that's how he gained a significant advantage.
When the Eagles faced that fourth-and-1, there was no confusion. Michael Vick didn't stare at Kelly for 15 seconds waiting for a play call. They didn't waste a timeout debating the percentages or trying to find the perfect play. The Eagles simply lined up immediately after their third-down snap and handed the ball to LeSean McCoy, who burst up the middle for four yards and a first down.
Knowing that you're going to go for it on fourth-and-1 in a given zone in advance has a number of advantages. As I just mentioned, you don't burn a timeout or struggle with the percentages while you're trying to manage every other part of an NFL game. You can open up your playbook on third down, since getting the first down doesn't become a necessity to continue the drive; it allows you to take a shot downfield or even run an intermediate passing play against a defense that isn't expecting either of those things. It also allows you to dictate the personnel on fourth down with your personnel set on third down; when Kelly had his team run up to the line and snap the ball on fourth down, the Redskins weren't able to bring in any of their goal-line personnel, which allowed McCoy to run against a tired, soft front.
Other teams didn't have quite as much success on fourth-and-1 this week, even if they made the right decisions to go for it. The Patriots lined up to attempt a conversion on fourth-and-goal from the 1-yard line down four points in the third quarter, a classic coaching scenario wherein it's clearly correct to attempt a conversion. Fourth-and-1 was likely to be a Tom Brady sneak, and before Sunday, he had converted 18 of the 19 fourth-and-1 sneaks he had attempted. The 20th was not to be; a bad snap turned the ball over to the Bills.
The Saints made a more curious decision. They, under the aegis of the returning Sean Payton, decided to go for it on fourth-and-1 against the Falcons in the first quarter from their own 47-yard line, only for the play to be blown up in the backfield for a loss. (Of course, Payton went for it in a similar location during overtime of the 2009 NFC Championship Game in a gutsy call that's been lost to time because it worked.) In that situation, Burke estimates the Saints should have gone for it if they had a 47 percent chance of succeeding. I don't know that handing the ball to Mark Ingram (he of the nine carries for 11 yards) was the best option, but the Saints can pick up a yard on command better than 47 percent of the time. It was the right decision, even if the play didn't work. New Orleans held Atlanta to a field goal on the ensuing possession, went down 10-0, and eventually came back for a six-point victory.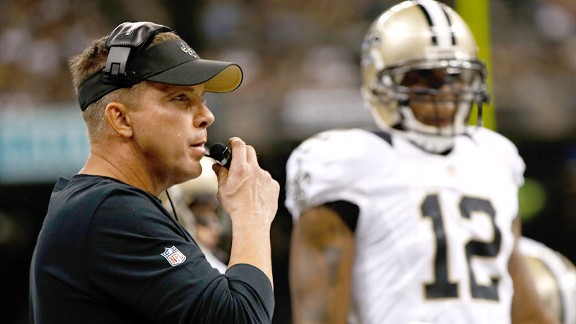 Holding on for Dear Life
That six-point victory didn't come without a scary ending, though — and it was one the Saints might have been able to avoid. With 3:16 left in the fourth quarter, the Saints faced a fourth-and-2 from the 4-yard line and decided to line up like they were going for it, likely in the hopes of drawing the Falcons offside. (The exact same move won them a game against the Bengals in 2010. Look at that smug look on Payton's face! I'd be smug there, too. Well, smugger than usual.) The Saints didn't draw Atlanta offside, called timeout, and then kicked a field goal to go up 23-17. Atlanta drove the length of the field but wasn't able to punch a touchdown in with four goal-to-go chances, giving New Orleans its narrow victory.
Was Payton's decision justified by how the outcome turned out? Yes and no. By going for it the Saints would have created an opportunity to either end the game on downs or by scoring a touchdown, with the downside of turning the ball over to the Falcons while leaving them needing merely a field goal to tie things up. A field goal ensures the Falcons need a touchdown to win the game, but it also changes the way Atlanta plays. In a situation where Atlanta needs only a field goal to tie, it's more likely to be conservative and play for that field goal, which gives New Orleans a chance to win the game with a field goal in regulation or in overtime, neither of which are a guarantee to occur by any means.
Given New Orleans's relative strengths and weaknesses, I think you can probably make a better case for going for it than you can for kicking the field goal and playing defense. The Saints defense was having a pretty solid day, but with three-plus minutes left and four downs to play with, it was always going to be tough for a tired pass rush to slow down the Falcons. As it turned out, Atlanta drove to the New Orleans 7-yard line relatively easily and took its four cracks at the end zone before coming up short.
So, in a way, Payton was right because he forced the Falcons to get a touchdown and they didn't score one. On the other hand, he also put his team in a situation where they went from favorites to underdogs; after Matt Ryan moved the ball to the 7-yard line, Atlanta had a 65 percent chance of winning with its four shots at the end zone. If Payton knew the Falcons would move the ball to the 7-yard line and have four plays to score the game-winning touchdown, would he have kicked the field goal? And what did he think the odds were that Atlanta would drive down the field on his defense and put itself in a situation to score? I don't think Payton's decision to kick was necessarily wrong, but I also don't believe the outcome proved him to be right, either. And while the Eagles and Patriots were almost surely correct to go for it on fourth down without consideration, the game situation forces Payton to think about this call on the spot as a multilevel problem stretching several possessions into the future. That's the hard stuff.
Take It Off the Board
The cousin of "Never take points off the board" is "Never take a stop off the board." Last year, TYFNC idol Jim Harbaugh did the former, passing up a made field goal against the Lions to score a touchdown a few plays later. This weekend, he was involved in the latter situation, when the Packers were presented with the possibility of trading a stop for penalty yardage.
That play came early in the second quarter of the San Francisco–Green Bay game, when the 49ers were stuffed on a third-and-1 carry on the Packers' 5 for no gain, only to be whistled for an illegal formation. Green Bay head coach Mike McCarthy accepted the penalty, and the Packers defense held on the ensuing third-and-6, but that was the play where Clay Matthews launched himself at Colin Kaepernick as he ran out of bounds. Offsetting personal foul penalties on Matthews and Joe Staley allowed the 49ers to (mistakenly) redo the down, at which point Kaepernick found Anquan Boldin for a touchdown.
I think McCarthy was right to accept the penalty. I would normally be loath to give a dominant offense like San Francisco's an extra play in the red zone, but consider the opposition: Harbaugh's the best coach in football, an incredibly aggressive tactician with a dominant offensive line. Chances are that he's going for it on fourth-and-1 even after the Frank Gore stuff on third down, and if I'm a Packers fan, that's a play I don't want to try to defend. Third-and-6 means it's likely that I'll be facing a field goal with one more stop, and I have four yards or so to give up before I'm facing a similar-or-worse situation. Against a more conservative coach with a weaker offensive line, it might make more sense to decline the penalty and dare them to go for it on fourth-and-1.
This came up in two other games, but those decisions were more obvious. In Pittsburgh, the Titans committed offensive pass interference on a third-and-4 Jake Locker pass from the Steelers' 30-yard line; that's a 47-yard field goal, which isn't exactly a lock in Heinz Field, but it's certainly preferable to a 57-yarder. Sure enough, on the next play, Locker threw an incompletion and the Titans were forced to punt on fourth-and-long from the Pittsburgh 40-yard line. Washington also accepted a penalty against Philadelphia that took away a third-and-5 stop, preventing the Eagles from kicking a 49-yard field goal in the process. The Eagles didn't complete a pass on the ensuing third-and-15, turning a field goal into a punt.
Untremendous Upside
In the TYFNC space, I talk a lot about making high-upside decisions, often with regard to challenges. That extends to the broader concept of coaching decisions, too: When you have the opportunity, you want to try to make low-risk, high-reward decisions as frequently as possible. There's one incredibly low-reward decision that coaches pull out once in a while that drives me crazy, and I've yet to hear a good explanation as to why they do it. Last night, Gary Kubiak was the head coach who called for the halftime draw.
Just before halftime, the Texans tried to drive the ball downfield to set up for a long field goal, only to be narrowly denied an Andre Johnson catch. With two seconds left and the ball on the Houston 42-yard line, they appeared to have two options that made sense: Hail Mary or kneeldown. Instead, Kubiak called for a draw to Arian Foster, who ran for five yards to end the half.
What on earth is that decision supposed to accomplish? Honestly, the best explanation I can think of involves keeping Foster happy by padding his rushing totals (not that I suspect Foster is particularly concerned about them). Foster's almost never going to run for a long touchdown on that play; there's been exactly one touchdown run of 20 yards or more by a running back in the final 15 seconds of the first half in the past 13 years, and that was only a 30-yarder from Clinton Portis. Do you know who he was playing? Kubiak's Houston Texans, of course. There's virtually no chance of the run ending in anything productive; for whatever possibility that the run will draw a face mask or a personal foul or something similar, there's an equally good shot of holding on the offense or drawing some roughing-the-passer penalty on a Hail Mary. It's a give-up play.
The downside might be just as notable. It was only Week 1 of the 2010 season when the Cowboys threw a checkdown to Tashard Choice on their own 36-yard line with four seconds left in the first half against the Redskins; DeAngelo Hall stripped Choice of the ball, recovered the fumble, and returned it for the only Redskins touchdown of the game. It served as the margin of victory in a 13-7 Redskins win. Foster came into last night's game banged up after missing time during the preseason; the draw play opens him up to an extra couple of hits that are totally unnecessary. And again, for what? Five meaningless yards? Just kneel and go into the locker room.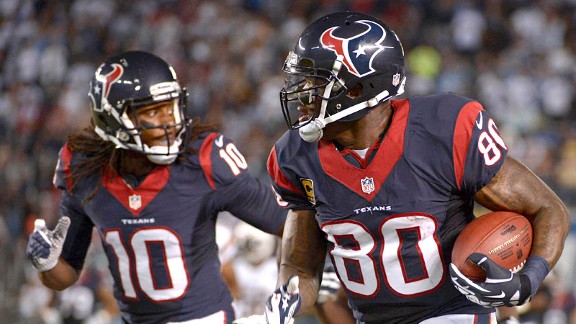 The Inside of Range
Kubiak did better work at the end of the game, when his Texans took over with the score knotted at 28-28 with 3:53 left and kicked the game-winning field goal without handing the ball back to the Chargers. That required some work and a bit of aggressiveness from Kubiak on offense. When the Texans advanced the ball to San Diego's 38-yard line, I started getting tweets from people who foresaw Houston running the ball three times before settling for a long field goal, a classic Jason Garrett trait in Dallas. It's the issue I raised in the preseason TYFNC primer, the question of not simply settling for any spot in your kicker's field goal range.
Instead of aiming for a 50-yarder, Kubiak was aggressive and actually threw the ball on second and third down, producing two benefits for his team. For one, the Texans picked up 14 yards on the two passes, turning a 55-yarder (if the Texans ran twice for no gain) into a much more feasible 42-yarder. That roughly improves their shot at hitting the field goal from somewhere near 55 percent (depending on the final yard line) to about 73 percent. The two throws were low-risk shots to Houston's best offensive player, Andre Johnson, who was also smart enough to stay inbounds on the second reception. That forced an endgame scenario that meant the Chargers would never touch the ball.
(As a quick aside, I got a lot of tweets after the game expressing shock that Chargers head coach Mike McCoy used his final timeout to ice Texans kicker Randy Bullock with five seconds left, when he could have instead used it to stop the clock with 25 seconds left in an attempt to get the ball back for his team. It wouldn't have mattered, though, because the kick took place on third down, not fourth. If McCoy uses the timeout with 25 seconds left, the Texans kneel or run the ball onto a particular hashmark on third down, take their final timeout with five seconds left, and kick the field goal from the same spot. In both scenarios, the Texans use their final timeout with five seconds left, get one shot at the kick, and leave no time on the clock for the Chargers to run an offensive play. There wasn't anything for McCoy to do in either scenario.)
Worst Calls of the Week
3. McCarthy mismanages clock and gets lucky: The Packers bumbled their way into success at the end of the first half in San Francisco. When Green Bay stopped San Francisco from picking up third-and-long and induced a missed field goal from Phil Dawson, the Packers drove downfield and scored so quickly that it altogether hid some atrocious clock mismanagement from McCarthy.
On a second-down play beginning with 2:33 left in the half, Kaepernick was sacked, setting up a third-and-18. The Packers had every reason to believe they would get the ball back with a chance to score, either after a made field goal or a missed one. They should have wanted to maximize the amount of time available to them, which they could have done by taking their timeouts before the two-minute warning. Instead, McCarthy waited until after the two-minute warning to use a timeout. If we assume that each play from scrimmage will take eight seconds and that the field goal and ensuing kickoff will take a combined eight seconds, here's how the timing works under the TYFNC method and the one McCarthy used:
By taking his timeout after the two-minute warning, McCarthy burns those 25 seconds on second down, ceding them to the 49ers. That's a gift. You'd probably rather have two timeouts at your time of choice than one timeout and the two-minute warning, but the difference isn't worth anywhere near 25 seconds. And in reality, McCarthy let even more time burn off the clock. After the 49ers checked down to Vernon Davis on third down after the two-minute warning, the whistle ending the play blew at about 1:52. The Packers called timeout at 1:37, costing them 15 more seconds.
It actually worked out about as well as you could imagine for the Packers: They drove down the field in just 76 seconds and scored a touchdown, leaving 16 seconds on the scoreboard for the 49ers to match them. I had some people theorize that McCarthy was trying to bleed clock; if McCarthy knew the Packers were going to score that quickly against the 49ers, they wouldn't have lost the game, I promise. They would much rather have had 2:12 to work with than 1:37. McCarthy's sloppiness could have cost them dearly.
2. The Rams challenge a spot on the 1-yard line and lose: It's true that challenges aren't quite as valuable as they used to be, thanks to the new rules that guarantee automatic reviews for every scoring play and turnover. With that being said, challenges are valuable; you get two of them a game, you lose a timeout if you miss on one, and once you miss, you're basically stuck saving your next one for a true game-changing moment.
I'm not normally a fan of low-reward challenges, even if they're virtually guaranteed to succeed. When an official marks a player who clearly plunged into the end zone as out on the 1-foot line, is it really worth using a valuable challenge? Probably not; a team with four cracks at the goal line from a yard out will score about 96 percent of the time if it doesn't turn it over. Just take it in from the 1-foot line and save the challenge for a more meaningful play.
Jeff Fisher took that to another level Sunday when he challenged a would-be touchdown catch by Brian Quick in the fourth quarter of a close game and lost. I'm less concerned about the challenge and more about risking a timeout in that situation. It would be one thing if the touchdown were clear as day, but Fisher was wrong and cost his team its first timeout. Then, of course, the Rams punched the ball in on first down from a foot out with a play-action pass to Jared Cook.
1. The Bills challenge for a fumble that was recovered by the Patriots … on offense: This is one of the weirdest challenges I've ever seen. On the second play from scrimmage, the Bills hit Stevan Ridley after a three-yard gain and knocked the ball loose for what sure looked like his first fumble of the day. Patriots lineman Dan Connolly fell on the fumble without as much as a scrum or a pile forming, arguably gaining a yard in the process. The officials, however, ruled Ridley down by contact regardless.
Doug Marrone, the rookie Bills head coach in the first series of his first NFL game with a challenge flag in his pocket, decided to throw his red flag onto the field. Why? It's a total mystery. To get the ball, the replay would have needed to show a clear fumble by Ridley (check) and a clear recovery by a Bills player (not remotely close to check). There was barely even a contested recovery, let alone a skirmish for the ball. Instead, with virtually no evidence pointing in his favor, Marrone burned one of his two challenges with 55 minutes of challengeable time left in the game. I'm a fan of high-reward challenges, but this was a challenge in search of Curly's Gold. Marrone had a pretty good game in his debut, nearly beating the Patriots as massive home underdogs, but he'll want to shore up his challenge strategy moving forward.
Filed Under: Atlanta Falcons, New England Patriots, New Orleans Saints, NFL, Philadelphia Eagles, Sean Payton, Tom Brady