1D Internet Fantasies: Liz Lemon, One Direction, and the Rise of the Manic Pixie Dream Guy
NBC

"I'm just the underdog who finally got the girl"
— One Direction
After seven years, several serious-ish boyfriends, and countless offscreen episodes of TGS, Liz Lemon is a married woman. Last week's 30 Rock saw Liz making it legal with handsome slacker boyfriend Criss Chros (James Marsden). Liz eschewed her original plan to elope in sweats at City Hall in favor of a more formal event, replete with Tony Bennett and a Princess Leia bridal gown. You'll have to forgive me for replicating the famous Lemon eye-roll when I learned that Liz had secret white-wedding fantasies concealed under all her anti-romance bluster. It was somewhat trying to watch Liz realize that her tireless hatred of the culturally enforced marriage-industrial complex was a defensive reaction to her true heart's deepest wish, which just happened to be a ceremony like the ones on Bravo's Wedding Bitches. I found myself rooting for witness Dennis Duffy (Dean Winters) to pound on some glass and break up the wedding, The Graduate–style.
While I have no objection to Liz locking down a tenderoni, I wasn't entirely sold on the way it played out. Liz's past love interests have been foiled by their clumsy touch with hook hands (Jon Hamm's Drew), sudden moves to Cleveland (Jason Sudeikis's Floyd), and overly-similar-to-Liz personality types (Matt Damon's Carol). Liz is fond of talking about dealbreakers, and so as soon as Criss was introduced I was waiting to find out what his dealbreaker would be. The twist is that Criss is basically perfect. His supposed flaws are that he is an unemployed slacker who likes Frisbee and wears turtlenecks, but in many ways he is an ideal house-husband and partner for the career-devoted Liz.
It would be one thing if Criss stood alone, but over on Parks and Recreation, Adam Scott's character Ben Wyatt is a good-hearted former teenage mayor whose distinguishing negative qualities are an uptight type-A streak and an obsession with mainstream nerd-culture blockbuster touchstones like Star Wars and The Lord of the Rings. He also seems to have a tendency toward depression (with an attendant Letters to Cleo shirt). Adam Scott's performance in Party Down had a slightly harder edge, and it's probably just a personal preference to see him more acerbic. To be fair, he makes a delightful Kermit-type sweetheart for Leslie Knope. But I find myself wondering if Ben Wyatt has any fatal flaws, things that might run the risk of making him less awesomely lovable.
---
I don't know why exactly I find Criss and Ben so unbelievable. It's not like either sitcom traffics in stark realism. (Like Liz Lemon would dump Jon Hamm just for some hook hands!) Scott and Marsden are both handsome and very likable in their roles, but there are times I find myself nostalgic for Liz's relationship with Dennis "Hey Dummy" Duffy and Leslie Knope's romance with Dave the policeman (played by Louis C.K.). I harbor a soft spot for Dennis the sleazy beeper king because he is by far the funniest of Liz's boyfriends, and in a lot of ways the most fleshed-out. He feels like a real person who would ask you for weird favors.
The real problem is that Ben and Criss are Manic Pixie Dream Boys, exhibiting many of the same characteristics as their female counterparts, minus the cute dresses. The Manic Pixie Dream Boy builds up the heroine's self-confidence, providing comfort, inspiration, and nurturing vibes without demanding anything in return. He patiently tamps down her stubbornness and temper while appreciating her quirks, helping her to become her best possible self. He's a nerd, but not an angry or vindictive one. He's handsome, but he has no idea that he is. His taste in media and hobbies might be immature and run toward the teenage, but it doesn't extend to his emotions or interfere with him getting shit done. He's a selfless, responsible Peter Pan.
30 Rock began with Liz Lemon fantasizing about marrying Astronaut Mike Dexter, and it is culminating with her union to Cyclops. Liz may have a low sex drive and be conflicted about her own looks, but she's always been interested in physical hypergamy. But what were the other options? For Liz to end up with Wesley Snipes (Michael Sheen), the British guy she'd be "settling" for? For her to get back together with Dennis or Floyd or Hamm hooks or agree to be James Franco's sex-pillow beard forever? Was the option of Liz ending up uncoupled ever on the table? Mary Richards started and ended The Mary Tyler Moore Show single, but maybe the idea that she could be emotionally fulfilled through her work family alone was another kind of fantasy.
Given the chance to create fictional husbands for Liz Lemon and Leslie Knope, it's interesting they come out similar to the dream girls that populate culture: attractive, agreeable, and pliable to the main character's will. It's possible that seeing these heroines as ambitious single women partnered and content supposedly forever sets off a Debbie Downerish part of my brain to go "IT'S A TRAP!" even if the trap is that there won't be dramatic tension left to resolve. Maybe I just feel that these fairy tale happy endings seem tacked on and overly simplistic, like Liz and Leslie suddenly solved the work-life balance issue at the buzzer. But if both shows refuse to tone down the wish-fulfillment aspect of their endgame romantic pairings, I completely understand why. It's payback for tolerating 900 eons of sitcoms about average-looking angry guys with hot-ass wives.
---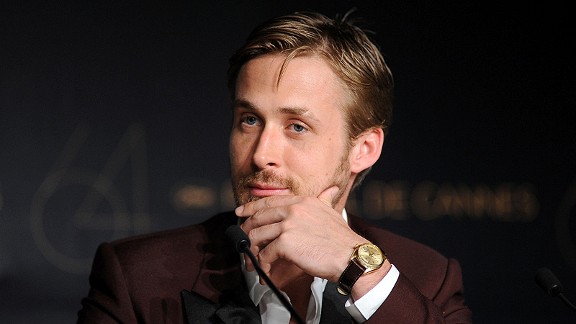 Since the Internet can so easily trim down a whole messy personality into some flattering photographs and a few jokes, it's easier than ever for strangers to view one another as Manic Pixie Dream objects. Manic Pixie Dream characters don't read as real people, but they are faithful representations of the narcissistic idealized projection that goes into a remote crush, when sexual inspiration is vividly just out of reach. Most people experience this phenomenon in childhood and eventually find out that their imagined idea of how their dreamy crush should be rarely lines up with the reality (the Cindy Sanders Catalano effect). But even without social media it's always possible to fill the gaps between known information and the unknown with plenty of optimistic embellishment.
Ultimate Manic Pixie Dream Boy Ryan Gosling has nestled himself onto the A-list as America's boyfriend, despite being Canadian. His image plays up that he is a sensitive guy in a cozy sweater who happens to be extremely handsome but would never use the power his looks have over women to exploit them. When he played a douchebag in Crazy, Stupid, Love the joke was that being a douchebag would be so totally against type for the snuggly blond. Gosling memes invoke him as a perfect boyfriend: attentive, expressive, loyal. A Manic Pixie Dream Boy is a pleasant, good-looking guy whose top priority is pleasing women. He himself is always cute but is decidedly not superficial about women. Any dark aspects are either absent from the public persona, or point to concealed sadness requiring empathy. Other popular MPDBs include Joseph Gordon-Levitt and Andrew Garfield.
Boy bands market a group of Manic Pixie Dream Boys together, each one representing a separate look and set of personal attributes. While I had vowed not to pay attention to current tween sensation One Direction until the inevitable wave of solo careers, I quickly lost my resolve and went through their entire catalogue. They are managed by Simon Cowell, who assembled them into a boy band from The X Factor. Several tracks on 1D's newest album, Take Me Home, are upbeat bubblegum from the very same Swedish songwriters who wrote Britney, Backstreet Boys, and 'N Sync's late-'90s hits. The album is an overproduced grab bag of Bay City Rollers–type glittery pop stompers and Coldplay-influenced strummy ballads about everlasting love.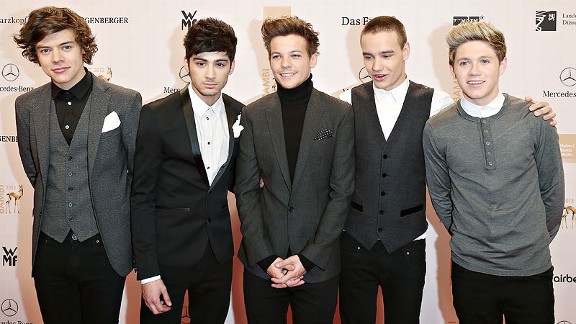 One Direction's first hit, "What Makes You Beautiful," and new single "Little Things" are both strangely undermining, implying that the most attractive thing in the beautiful girl they are singing it to is her low self-esteem. The lyrics for Ed Sheeran–penned "Little Things" are especially weird since they specifically list the things the girl hates about herself and then tell her that he loves her anyway: (1) "[t]he crinkles by your eyes when you smile"; (2) "[y]our stomach or your thighs"; (3) "the dimples in your back at the bottom of your spine"; (4) "The sound of your voice on tape"; (5) "how much you weigh"; (6) "you still have to squeeze into your jeans." It's meant to be sweet and accepting but comes off as creepy.
In their songs One Direction are valiant white knights, sensitive lovers wounded by carelessly hot girls, in need of tender loving care. Their image in music videos is "British," which is conveyed through natty autumnal dress, Beatles-style homosocial group high jinks (à la Richard Lester films), and rather impressive quiffs. Part of a boy band's image is the impression that they are the very best of friends, paving over the competing egos and hustling for solos and screen time that may go on backstage.
The 1D Internet fandom exploded yesterday when pictures were released of group member Harry Styles and noted avatar for young female desire Taylor Swift on a date in Central Park Zoo. The outing looked somewhat staged, Taylor and Harry both pretending to ignore the cameras as they look blissfully infatuated with one another, a baby, and a seal respectively. In an oatmeal-colored sweater with a fox on it, Taylor lived out her autumn-in–New York fantasies. It just so happens that One Direction are in New York to play David Letterman and cement their status as a hit in the States. Their album is currently third on the charts, underneath Taylor's Red. Swift and Styles are the perfect Manic Pixie Dream pairing. The supposedly candid shots look like panels from a romance manga.
Much like Leslie and Liz, Swift is attempting to balance her thriving career with the fragile ecosystem that is her personal life. Her songs yearn for a Manic Pixie Dream Boy who'll wear her scarf, carry her groceries, and eat her baked goods while devoting his full attention to her at all times. But she's seemingly also become more self-aware, enough to mention in interviews that she's not the constantly love-obsessed weirdo she can come across as in her music. Manic Pixies are archetypes of early teenage desire. They eventually get replaced by real human beings with their own bizarre attributes and charmingly messy actual personalities. After all, it's only natural to admire perfection in your fantasies, but it would be silly to expect it from real life.
Filed Under: 30 Rock, Adam Scott, Amy Poehler, NBC, One Direction, Parks and Recreation, Ryan Gosling, Taylor Swift, Tina Fey