Week 1 Takeaways: Nobody Is Anybody, Not Even Alabama
Kevin C. Cox/Getty Images
We didn't expect much out of college football's first weekend of games. We got so much more than we asked for, however, and so much more than we deserved. Today, we sift through the cornucopia and plot data points for the course ahead.
We Went There
First: Six thoughts from the Georgia Dome, including a necessary recipe detour.
1. "We have to create an identity as a team," Nick Saban begins, settling into his seat in the underground media chamber of the Georgia Dome. He could be echoing any other coach in a Week 1 postgame press conference: "I don't know that we did that in all phases of the game today."
He goes on from there, in an almost singsong recitation, checking off all the August football coachspeak boxes: There were good and bad things happening on the football field Saturday night; there were players who needed to improve and players who performed well. And then Saban starts talking about showing his Alabama team footage of Michael Jordan's final championship:
"The guy makes every play in the game. Makes a shot. Steals the ball. Makes the next shot to win the game. And what did he have to prove? That was his sixth championship. The [second] time they'd won three in a row. And this guy's playing at 35 years old like there's no tomorrow. And you know, it was interesting — for a guy that had nothing to prove? He was out there playing like he had everything to prove."
"So that's what our team needs to do."
2. If you're looking for a Jordan analogue on Alabama's Week 1 stat sheet, you're looking for Christion Jones. The junior receiver and return specialist scored on a 94-yard kick return, a 72-yard punt return, and a 38-yard reception, accounting for three of the Crimson Tide's five touchdowns in a curious 35-10 victory over Virginia Tech that saw the Hokies' defense hold the Tide to 206 yards and Alabama wreak relative scoreboard havoc with some topflight Beamerball. Safety Vinnie Sunseri added the Tide's third non-offensive touchdown with a 38-yard interception return. (Do you need any more excuse to interpret this as the Tide's own tribute to Crimson Typhoon?) AJ McCarron completed 10-of-23 passes with an interception and the aforementioned scoring pass to Jones, with running back T.J. Yeldon accounting for the remaining touchdown.
3. It's not the first marching band to do so, and it's not the first time we've heard these guys do it, but let's still unpack the psychological impact of hearing the Alabama Million Dollar Band play Les Misérables' "Look Down."
You're here until you die. …
Sweet Jesus doesn't care. …
You're standing in your grave.
Earlier this summer we linked the Crimson Tide to natural law, to gravity. Watching Virginia Tech get weathered away, we wondered just for a minute if maybe Alabama is erosion instead.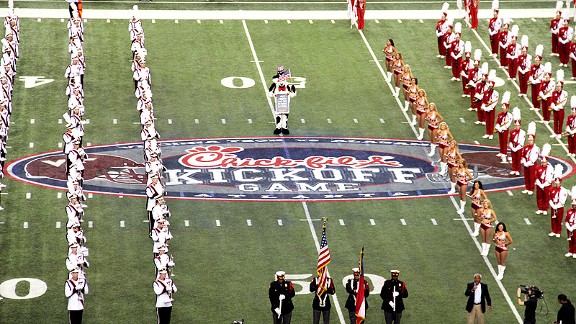 4. We need to talk about this one moment of pregame ain't-that-Americana, pictured above, which seemed meaningless and harmless while we were right in the middle of it, but mildly appalling come Sunday morning: that moment when everybody in the Georgia Dome rose to their feet, and we bolted up out of our seats as the combined bands raised their horns, thinking we were about to be late to the national anthem, only to realize it was "God Bless America" instead. And in the middle of the field stood a grown adult in a cow costume, solemnly waving a tiny flag in time to the music.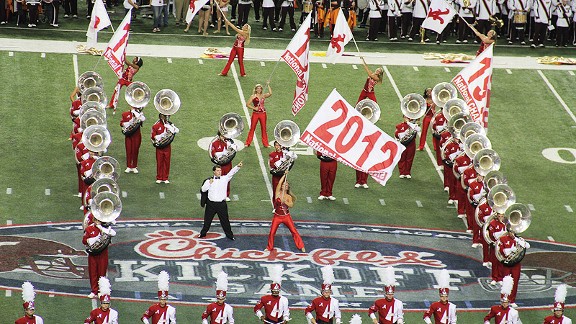 5. Infinitely more enjoyable was Alabama's halftime show, which featured the songs of James Bond and a burly tuxedo-clad bro strolling the field who looked as though he'd been plucked from a deer stand and placed in a Men's Wearhouse circular, and culminated in a blaring rendition of "Nobody Does It Better" as color guard members ran across the field hoisting flags emblazoned with the years of the Crimson Tide's national championship victories. Looking back 12 hours later, that seems perfectly natural.
6. Cash money tailgating idea: AJ Macarons. Mill almonds into a fine powder with a little lemon zest, and combine with superfine sugar, egg whites, and a pinch of salt. Fold in enough red food coloring to dye the dough a deep crimson. Pipe onto a parchment-covered cookie sheet and bake at 350 degrees until cookie surfaces are no longer sticky. Cool completely before attempting to remove cookies from sheet. Fill a clean pastry bag with black currant preserves or thinned chocolate ganache, and pipe onto half the cookies, topping with the remaining cookies. Refrigerate between layers of waxed paper or parchment and keep cool until time to serve.
Occupy Bowl Street
We don't even have a metaphor for this. A WHOLE BUNCH OF TEAMS LOST TO PAID CUPCAKES. This is so much sweeter than macarons. Sorry, AJ.
• North Dakota State (FCS no. 1) 24, Kansas State 21. The Bison, ranked no. 1 in the FCS preseason coaches' poll, didn't merely get lucky against the defending Big 12 champs. No, there was a terrible, logical order to the final sequence of events Friday night in the Little Apple. The Wildcats, up 21-17, punted with just more than nine minutes to play in the fourth quarter. As one does, right? Nah: The Bison proceeded to stage a nearly nine-minute scoring drive that chewed up the entire field and culminated in a one-yard touchdown run from quarterback Brock Jensen to put NDSU ahead 24-21. K-State quarterback Jake Waters's first ensuing pass from scrimmage was intercepted by Grant Olson with 28 ticks remaining.
Look. We've all had our fun at the expense of Kansas State's athletic department before — miss u, Ron Prince buyout carnival — but WHOSE IDEA WAS IT to keep a date with the FCS team that's won the FCS national title the past two seasons? Somebody got paid to make this happen, and bloggers never get to make fun of other people's livelihoods, so don't mind us as we marinate in this one for a little bit.
• Eastern Washington (FCS no. 3) 49, no. 25 Oregon State 46. The Beavers were downed on a missed 52-yard field goal attempt. The Eagles recorded 625 yards of total offense in Corvallis. We double-checked with our editor, and this was real life.
• Towson (FCS no. 12) 33, Connecticut 18. The Huskies' only comfort now may be that because they had to go first, on Thursday, their particular shame is now widely shared.
• Eastern Illinois (FCS no. 23) 40, San Diego State 19. We don't have a joke for this one, unless you count this:
Knock knock.
Who's there?
San Diego State.
San Diego State who?
San Diego State committed five turnovers against an FCS team!
• Northern Iowa (FCS no. 16) 28, Iowa State 20. Paul Rhoads is so not proud to be your football coach right now, Cyclones.
• McNeese State (NR) 53, South Florida 21. A short play in three parts:
Act I
Or $10,000 a point. RT @gregauman: .@indianarabbit USF football is paying McNeese $400,000 for this game.

— Tom Fornelli (@TomFornelli) September 1, 2013
Act II
How about this, McNeese State stomped USF 53-21. DC at McNeese = Lance Guidry, Willie Taggart's DC at WKU who he didn't bring. #Boom — FootballScoop Staff (@footballscoop) September 1, 2013
Act III
• EXCUSED, SORT OF. Georgia State and South Alabama, for their losses to Samford and Southern Utah, respectively, seeing as how they're new to the FBS ranks and all.
• SCARED. Kent State (17-10 over Liberty), West Virginia (24-17 over William & Mary), Illinois (42-34 over Southern Illinois), and Boston College (24-14 over FCS no. 9 Villanova and also this happened).
Some Actual Takeaways
A lot can happen when one tries to take in 75 football games over the span of a couple days. Sensationwise, it's a lot like running through an automated car wash without a car. And when your church is Death Valley, or the Horseshoe, or the Coliseum, Sunday is still your day of reflection. Here's what we're taking with us into Week 2.
Even though Corso is 0-5 picking a canine, the Coach is going with #Georgia for his @chevrolet #SaturdaySelections. pic.twitter.com/Pw79NQAy0E

— College GameDay (@CollegeGameDay) August 31, 2013
• Georgia and Clemson should both tread with caution. After a prime-time dog-and-catfight, these teams' trajectories will diverge for the moment. The Bulldogs will probably take a bigger rankings tumble than they deserve following a road loss to another top-10 outfit that turned on a bad field goal attempt, but that's fine. It was still August when it happened, and one-loss SEC teams are a privileged bunch.
But there ought to be dire concerns in Athens right about now, and not just regarding bulldog puppy conditioning. The Bulldogs' offensive line play was the most worrisome sight of the night, and that's not a unit the team wants needing come-to-Jesus meetings the week before Jadeveon Clowney rears his head in Athens. Then there's the grim reality that the Dawgs have to go into that next game, and every game after it, without leading receiver Malcolm Mitchell. (If there's a bright spot, personnelwise, it's that safety Josh Harvey-Clemons was suspended for the opener, but should return in time for South Carolina.)
Clemson's problem is fuzzier, but can best be described as "is Clemson." There are two currently ranked teams remaining on the Tigers' schedule — Florida State at the season's midpoint and South Carolina at its end — and neither concerns us right now. No, what's presently pricking our thumbs are the two stretches of should-be wins in between. "Look out for Maryland," Kirk Herbstreit said as the Saturday-night telecast wound down, and he's not wrong. Clemson's a ton of fun to watch right now, and the Tigers' offense has absolutely lived up to its preseason hype through four quarters, but Clemson it remains, so just — heads on a swivel is all we're saying.
• Johnny Fucking Football owes you nothing. Well, looky here: It's Johnny Football-Manziel playing actual football, actually:
And then, in rapid succession, this, this, and this happened, and we want to promise you right now, with complete and total sincerity despite using the majestic plural, that we are absolutely as sick of writing non-football Johnny Football sentences as y'all are of reading them, and that the only thing we're sicker of is having to hear who all's most offended by it in this news cycle.
It is our unwavering position that Johnny Manziel owes us nothing. He owes you nothing. He's a 20-year-old kid making everybody connected to him — including us — way too much money, and giving the viewing public too much of himself, to owe anybody anything further. Manziel has to answer for his behavior to his coaches and his teammates, and nobody else, and we don't get to decide what exactly he should answer for, either. That's on them. He gives us enough. If he wants to shit-talk his way through the rest of 2013, declare early for the draft, get snapped up by the Bills, and spurn them to go into pro wrestling, that's fine, and may end up being the healthiest outcome for all involved.
• The Tess Effect lives on. Sing to me, O Muse, of the end of Ole Miss–Vanderbilt:
• And it might be contagious day-to-day? Fresno thinks so:
• Baker Mayfield's first year will be one to watch. Texas Tech started a walk-on freshman quarterback, believed to be the first such starter at a BCS program, and he went 43-for-60 for 413 yards, four passing touchdowns, and a rushing touchdown. You know, Texas Tech stuff.
• You still never know what Les Miles will do next. In this case, we mean "field an offense that rolls up 448 yards on TCU." But never fear that the Bayou Bengals might completely abandon their identity:
• Never, ever sleep. Over the course of a 75-game weekend, the discerning sports consumer will find him/herself by turns uplifted, transformed, transported, and appalled, and it can all be rather exhausting, but that's no excuse to skip out on Cal and Northwestern trading turnovers at two in the morning. (NB: Just based on one night, in a losing effort against the ranked Wildcats, there's reason to hope Sonny Dykes's first Cal team might be a whole lot of fun a whole lot sooner than we imagined.)
Profiles in Profiteroles
Week 1 undercard antics.
• Vengeance is. Northern Illinois avenged its only 2012 regular-season loss with a last-minute, 30-27 victory on the road at Iowa. Jordan Lynch delivered a below-average outing, which for Jordan Lynch meant 275 passing yards, 56 rushing yards, and three total touchdowns. The Huskies have a bye week before heading to Idaho, giving them plenty of time to bid fond farewells to the Kibbie Dome scoreboard.
The Hawkeyes, it must be said, did not appear to lose the party:
Yeaaaaaaah pic.twitter.com/oXa6XYPeaX

— Land-Grant Holy Land (@Landgrant33) September 1, 2013
• ANOMALY. ANOMALY. ANOMALY. Coming out of Week 1, we've spilled a lot of words over all the single data points we've been able to plot, but where does the line go if the starting point is Tulsa being blown out by Bowling Green?
• Case Keenum Memorial Pinballin' Award. Bestowed in Week 1 upon the guy we might have to rename the award for when he leaves us, Utah State's Chuckie Keeton. The junior quarterback threw for 314 yards and rushed for 85 in the Aggies' four-point loss to Utah.
• Fresh football! Bawwww:
Your first #Charlotte49ers football front page. #niners #49ers pic.twitter.com/iWuaZTOBco

— RoMustGo (@RoMustGo) September 1, 2013
Participation Ribbons
Highly capricious awards distribution.
• A Thousand Points of Spite, no. 1. Awarded to Ohio State, for execution of two two-point conversions against the feared Buffalo Bulls.
Does Urban know that he can't bring all that meat back to the wagon

— Grimey (@loljocks_grimey) August 31, 2013
• Big Ten ReBERTh Trophy. Awarded to Indiana, for hanging 73 on Indiana State. (Feels good to be on the giving end of that box score, don't it, Hoosiers? Don't lie, now.)
• The Time-Turner. Most anticipated game of Week 2: Florida at Miami, which will match Duke Johnson (186 rushing yards versus Florida Atlantic) against a Gators ground defense that held Toledo to a miserably perfect 50 net rushing yards in Week 1.
Grape Job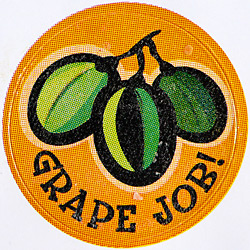 We're sure you tried your best …
• USC. But you let Hawaii's quarterback do this to you.
• Nebraska. But you let Wyoming get 35 first downs and 602 yards.
• Notre Dame. But honestly.
• Kentucky. But you can't say this when this is happening.
• Western Michigan. But this is an inauspicious beginning.
• Michigan State. But you needed two defensive touchdowns to beat Western Michigan in the Broncos' first game with a new head coach coming off a 4-8 season.
• Notre Dame again. But there's nothing in that beachy Bible story that reads, "And where you saw 12 sets of footprints, that was when me and a bunch of my chill angel friends were all carrying you backward five yards."
Laff Riot
The story of Week 1, as told through the thumbs of a nation.
In my mind, I'm currently running through a field in slow motion toward college football.

— Chris Burke (@ChrisBurke_SI) August 29, 2013
FOOTBALL HAS BROOOOKEEEEN, LIKE THE FIRST MOOOORNIIIING/ GAMECOCKS AND TAAAAR HEEEELS ON ESPNNNN

— Doug (@CaptainAnnoying) August 29, 2013
nobody has decided yet, please be patient RT @NCAAFootball: What team are you rooting for this #football season?

— Jon Bois (@jon_bois) August 29, 2013
I wish this day would provide an opportunity for some zing in my zang zang. Any idea on where to find such a thing, folks?

— Chris Driver (@Jerkwheatery) August 31, 2013
Ain't know atheists in Piggly Wiggly on Game Day, y'all.

— Rick Muscles (@RickMuscles) August 29, 2013
Favorite post on any southern/Texas cfb message board: "What kind of snake is this?"

— Bryan Curtis (@curtisbeast) August 31, 2013
@HollyAnderson @Andy_Staples Just overhead at the house – "is is wrong to dip the bratwurst in the ham gravy?"

— Chris Corradetti (@CO_Mountaineer) September 1, 2013
Shaqnado @HollyAnderson So last year Blake Bortles scored the first TD of the year, and #bortlesball was born. What're we calling this?

— Alessandro Miglio (@AlexMiglio) August 29, 2013
@HollyAnderson #ShawShaqRedemption

— Brody Logan (@BrodyLogan) August 29, 2013
@HollyAnderson #LoveShaq #KeepRolandRolandRoland

— Mark Powell (@MDP_Tweets) August 29, 2013
We've been in SC for like 20 minutes & haven't been hit by Jadeveon Clowney once. #overrated

— Shawn Krest (@KrestDukeTBA) August 29, 2013
This game could be the difference between Christmas in Nashville or New Years in Birmingham.

— Chip Patterson (@Chip_Patterson) August 30, 2013
that game was "Served By Applebee's" in case you were wondering why someone vomited on the field

— Lana Berry (@Lana) August 30, 2013
As expected, those fake football classes UNC set up for its football players is coming back to haunt them.

— Ramzy Nasrallah (@ramzy) August 29, 2013
@HollyAnderson Connor Shaw has so much room in the pocket that Weslye Saunders is trying to move in rent-free.

— Robert Husseman (@RHusseman) August 29, 2013
How will South Carolina replace Marcus Lattimore? With that really fast guy and that really mean guy, I bet

— Jason Kirk (@JasonKirkSBN) August 30, 2013
YOU CAN'T FAKE 7 IN THE BOX WHEN THE 7TH GUY WEIGHS A BUCK 80.

— Michael Felder (@InTheBleachers) August 29, 2013
South Carolina-North Carolina game has now been suspended longer than Johnny Manziel.

— George Schroeder (@GeorgeSchroeder) August 30, 2013
Don't stop at horse collar. Name every penalty after an animal/article of clothing. DOLPHIN CUMMERBUND ON THE OFFENSE.

— sir broosk (@celebrityhottub) August 30, 2013
OSPREY SKORT, ON THE DEFENSE. BOX TURTLE BROOCH, ON THE OFFENSE. THOSE PENALTIES OFFSET, REPLAY FIRST DOWN.

— sir broosk (@celebrityhottub) August 30, 2013
Proof June Jones and Hal Mumme changed game forever in last 20 years is this TTech/SMU game featured 88+ passes and was still totally boring

— Smart Football (@smartfootball) August 31, 2013
why does garrett gilbert move in the pocket like he's wearing skis

— Martin Rickman (@martinrickman) August 31, 2013
Shame on all of us for not using "HAWAII FIVE-3" while it was sitting there on the table.

— Jamie (@chuckycrater) August 30, 2013
Since Tech QB Baker Mayfield isn't on scholarship, he should definitely be able to sell his autograph. Right?

— Tim MacMahon (@espn_macmahon) August 31, 2013
This is what they call "The Michigan Difference," I believe. pic.twitter.com/ThDWoFoMlC

— Chantel Jennings (@ChantelJennings) August 30, 2013
Dear A&M fans, if you really wanna go all in you'll print out fake dollars & make it rain every time Johnny scores. I will love for it.

— Michael Felder (@InTheBleachers) September 1, 2013
crime RT @edsbs: What does that seven next to Florida's score mean

— SB Nation CFB (@SBNationCFB) August 31, 2013
Informed that Kirk Herbstreit picked Toledo, UF's Dominique Easley says, "I don't listen to him. He probably never played football."

— Jason Lieser (@PBPjasonlieser) August 31, 2013
not sure, but i believe the font on William & Mary's helmets is known as "Amy Grant album cover" pic.twitter.com/DtBiKqKyrw

— Jon Bois (@jon_bois) August 31, 2013
the owls aren't going away #stickyrice

— Martin Rickman (@martinrickman) August 31, 2013
Manziel is really good at football, a shit talker, and maybe made some money. Smile and enjoy entertainment, everyone.

— The Solid Verbal (@SolidVerbal) September 1, 2013
just a reminder, this awful thing is the William and Mary mascot #PantslessGriffin pic.twitter.com/qooGb69ylh

— Gheorghe The Blog (@gheorghetheblog) August 31, 2013
DAT ASS RT @slmandel: The Big 12 is bottom heavy this year.

— edsbs (@edsbs) August 31, 2013
According to ESPN, a quarterback who taunts the defense is selfish & can't lead his team to a championship. Ok then.. pic.twitter.com/cF2PhwX2if

— Christopher Keith (@Chris_Keith12) September 1, 2013
Only a quarterback named "Brock Jensen" could out-Klein Kansas State.

— Matt Hinton (@MattRHinton) August 31, 2013
Now we have Dr Pepper commercials *narrated* by Pitbull? That commercial looked like The Prince of Tides starring Pitbull.

— Smart Football (@smartfootball) August 31, 2013
Can we really consider Alabama a champion if it hasn't survived the gauntlet that is the FCS?

— Tom Fornelli (@TomFornelli) September 1, 2013
@edsbs I just sang that whole song to myself in a Panda Express to make sure you were actually right.

— Alexander Gould (@alexgould17) August 31, 2013
Alabama's scored in all three phases of the game. COACH SABAN, I'M CONCERNED WE RUN OUTTA PHASES

— Jason Kirk (@JasonKirkSBN) August 31, 2013
MARK RICHT PREFERS THE NKJV TO THE NIV

— The Gurgling Cod (@TheGurglingCod) August 31, 2013
Kickstarter to get Dave Christensen to call Bo Pelini "Mr. Howdy Fucking Doody"

— Brett (@BLeez17) September 1, 2013
My cat was like "meow" and I was like "Yeah you're right Tiff, I think John Chavis needs to dial somethin' up here."

— Peter Berkes (@runthedive) September 1, 2013
Northwestern has an excellent theatre school, and they showed it here tonight. MARY ZIMMERMAN'S "OW, MY LEG," currently in previews.

— Tom McGrath (@TCMcG) September 1, 2013
LES MILES EXPLANATION ALERT.

— Matt Hinton (@MattRHinton) September 1, 2013
Few things more magical than an enormous lineman moving his ass down the field on an interception return. Run to glory, hoss.

— Peter Berkes (@runthedive) September 1, 2013
Nick Saban hasn't won a national title in over seven months. #HotSeat

— Tom Fornelli (@TomFornelli) September 1, 2013
Final Meditation
Remember: No team is as good or as bad as they look on the first weekend. Real team doesn't show up until October.

— Paul Myerberg (@PaulMyerberg) September 1, 2013
Filed Under: College Football, Nick Saban, Twitter, We Went there