Premier League Pass & Move: United's Lack of Chances, and Arsenal's Wing Commanders
Alex Livesey/Getty Images
A look at this past weekend's Premier League action, with a focus on the two huge matches from Sunday.
Manchester United's Lack of Punch
Goodman: The handy thing about early goals is that they clarify a team's intentions. Not scoring a goal in a cagey 0-0 draw at home against Chelsea is one thing; not scoring on the road against Liverpool after conceding a goal in the fourth minute is a different matter. In the first instance, at least part of United's inability to score was attributable to a choice to play conservatively, but after conceding a goal in the fourth minute against Liverpool, that reason doesn't hold. Plainly and simply, United had to score, and they couldn't.
For two games in a row now Robin Van Persie has seemed entirely isolated in United's attack. On Sunday he took only three shots. Of those three, one was from a bad angle with his weaker right foot, one was from a full 25 yards out, and the third — his only really strong goal-scoring chance — was from a set piece. United might have the best pure finisher on the planet (and they certainly have the best one in the Premier League), but despite pressing for a goal for the vast majority of the game, they were unable to create any good chances for him from open play. That's not a good sign. And it's not like RvP was acting as a decoy to create space for the rest of the team. United had a grand total of 11 attempts, and only seven from open play. Even worse, of those seven, only two were in the penalty area, the right-footed shot from van Persie and a Danny Welbeck attempt that was blocked immediately by a closely defending Glen Johnson.
Of course, no game is one-sided, and Liverpool deserves a lot of credit for restricting United's opportunities. Preventing teams from taking good shots has actually been one of Liverpool's greatest strengths during Brendan Rodgers's time in charge. During the 2012-13 season, Liverpool actually conceded the fewest chances from good locations, according to research by Colin Trainor.
After Sunday, Liverpool have played three Premier League games in a row during which they have gone up 1-0 through Daniel Sturridge and then withstood a barrage for the remainder of the game to see out the victory (according to Infostrada Sports, it's the first time one player has scored the sole goal in three straight 1-0 victories to start a season in the history of the top flight of English football). While Liverpool's attack has garnered a lot of attention during the summer (mostly the endless will-they-or-won't-they saga of Luis Suarez), it's quietly a revitalized defense that's led them to the top of the Premier League table after three games.
The problem for United is that they actually looked worse than Liverpool's previous two opponents, Stoke and Aston Villa. Both of those two sides took more shots from inside the penalty area and created more good looks from prime areas than United. Liverpool's new keeper, Simon Mignolet, had to stand on his head against Villa and save a late penalty against Stoke, but he was more or less untroubled by United. It's still ridiculously early to be sounding alarm bells, but at the same time, given manager David Moyes's history with an Everton team that consistently struggled to score, I wouldn't be entirely confident these problems will right themselves either.
In the Engine Room
Chris Ryan: The role of defensive midfielder is one we've talked about in this column before; in Week 1, we celebrated the play of Chelsea's Ramires, whose daring forward runs and athletic covering made Chelsea's attack come alive against Hull. This past weekend, we saw similarly solid play from two additional more-than-a-Makelele midfielders: Liverpool's dependable Lucas, and Arsenal's returned prodgigal son, Mathieu Flamini.
Flamini returned to Arsenal last week in much the same way he left: on a free transfer. He had left the Gunners several years ago for the greener pastures of Milan, only to return after a few, injury-plagued seasons. On Sunday, it was like he never left. The signing, which was largely appreciated if snickered at by transfer watchers as an example of Arsene Wenger's lack of imagination when it came to personnel, looked like a stroke of genius when the final whistle blew. This was a guy who completely understood the stakes of the match he was playing in. As soon as he came on for Jack Wilshere (who was felled by a virus, the same illness that limited Bacary Sagna), Arsenal looked way more rabid in the middle of the park, equalling the highly touted physical prowess of Tottenham's new-look midfield. In 53 minutes of playing time, Flamini put up a defensive stat line of two tackles, one interception, and one shot block. He was [pours glass of scotch, pulls out revolver, thinks of England] like a new signing.
Lucas was equally up for it in the Liverpool–Manchester United match. United had nobody in the center of the park that could match Lucas's intensity and bloodhound-like determination for winning the ball back. The Brazilian had four tackles, four clearances, and six interceptions, and almost split Patrice Evra in half during a particularly hairy second-half interchange.
If anything, Lucas has been too good this season. After a terrible knee injury in 2011 and an injury-plagued 2012, Lucas looks like he's back to his best form. Brendan Rodgers has certainly noticed; Lucas has played every minute of every Premier League match so far, and Liverpool have yet to concede and won all three matches. For as important as Sturridge's goals, Coutinho's invention, and Mignolet's heroics have been, Liverpool lives and dies on the midfield play of Lucas.
How Arsenal Attacks Now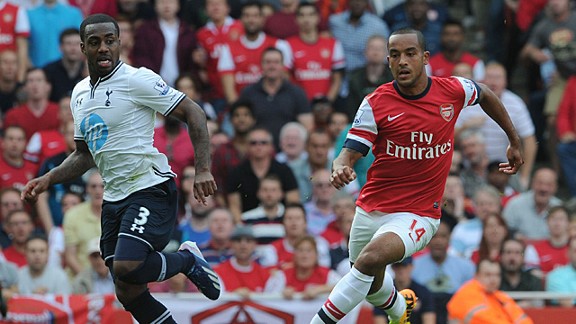 Goodman: For all the Arsenal-in-crisis story lines, it's a wonder how monotonously consistent they are. While the team's modus operandi has changed slightly from the glory days of eight years, three months, and 11 days ago, the fact is Arsenal always have more or less the same offensive game plan, and more often than not, it works.
It used to be that Arsenal's possession was focused very deeply in enemy territory. Watching them was somewhat similar to watching modern-day Barcelona in the way they slowly, inexorably tightened the noose around opposing defensive lines. Then the focus was on breaking through the middle of the defensive line using short quick passing, and lots and lots of positional interchanging. The current iteration of the team still focuses on possession, but with a slightly different intent. They keep the ball a little deeper on the field, and suck defenses to them. Then the ball gets played wide, usually to Theo Walcott breaking down the right flank, before the winger who's in space either plays a cross from an extremely dangerous area, or shoots himself. Here's the goal against Tottenham.
And here's the now-injured Alex Oxlade-Chamberlain playing the same role on the opposite side against Aston Villa in the opener.
And finally, here's the second of three goals against Fulham. In this one Walcott opts to shoot, and while Fulham's keeper makes the save, the rebound drops right to Lukas Podolski for an easy(ish) finish (at the 1:05 mark).
You can find a ton more from the last couple of seasons if you look for them.
It's been an astute evolution from Wenger. The mass exodus of talented central players from Arsenal over the last few years has been well covered. The evolution of Arsenal's style has reflected that. Walcott is the one who didn't go, and he has become the linchpin of the attack. He led the team in goals last year with 14, despite taking less shots (87) than either Santi Cazorla (115) or Olivier Giroud (107), courtesy of ESPN Stats & Info. Walcott also tied with Cazorla for the team lead in assists with 10, despite creating only 38 chances to Cazorla's 94. Podolski, who played on the left wing, was even more efficient with 11 goals on only 54 shots, and nine assists from 30 chances. The whole point of Arsenal's attack is to get the wingers into a position where they either get high-quality shots, or make one more pass to lay it on a plate for a striker. And it works, over and over and over again.
Filed Under: Arsenal, Chris Ryan, English Premier League, Liverpool, Manchester United, Premier League