The Shape of the Premier League to Come
Alex Livesey/Getty Images
A survey of the players, managers, ideas, tactical developments, and themes to watch out for in the 2013-14 Premier League season.
Something Special
Chris Ryan: The above video is of William Gallas scoring a game-winning goal for Chelsea, against Tottenham, back in 2006. Chelsea won the league that season, finishing eight points clear of Manchester United. Spurs keeper Paul Robinson likely spent three months in a room, by himself, with a roast beef platter and a copy of The Queen Is Dead after this goal, but it's not the goal that Gallas scored that interests me, it's who he celebrated it with.
Ever since he skulked out of Stamford Bridge in 2007 by mutual consent, Jose Mourinho has found both success and controversy. He won the Champions League with Inter, but left flipping the bird at an Italian media that scrutinized his tactical decisions. He won La Liga in Madrid, and made Iker Cassilas cry. Now he's back in West London.
It is hard to remember just how comprehensively Chelsea dominated English football in the middle part of the '00s. Not just on the field, where they won five major trophies during his three and a half seasons, but off. Mourinho posed legitimate competition to Alex Ferguson in the larger-than-life manager sweepstakes, the press hung on his every word, and his teams played like T-1000s.
After that '06 match, Gallas said, of his then manager, "Some people like him, some people don't but he's a good manager and we're all behind him … We want to win everything for him, we want to win the Premiership and the FA and hopefully next season we'll win everything." Chelsea have had some pretty good managers since Mourinho (Guus Hiddink, Carlo Ancelotti, Andre Villas-Boas), and even the ones that weren't thought to be up to snuff were pretty damn successful (Avram Grant was a penalty kick away from a Champions League trophy, Robert di Matteo actually won it). But those managers, to me, have always felt like stewards, watching over a kingdom while the rightful ruler was abroad. With so much managerial flux in the Premier League this season, it could be the return of this once and likely future king that could determine where the bragging rights of English football rest. Thank god. It was getting kind of boring without him.
Strength in the Midfield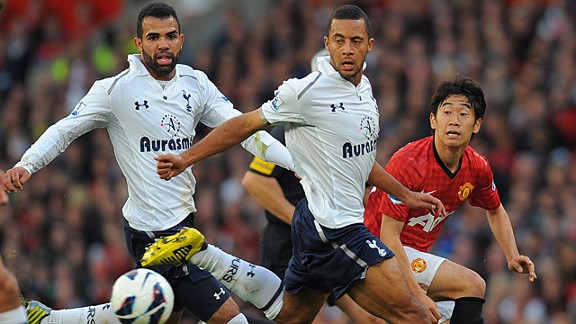 Mike Goodman: There was a time when an ideal central midfield pairing was a pairing of strength and finesse. This summer, however, teams up and down the Premier League are doubling down on strength and leaving finesse to the wings. Instead of looking to complement Yaya Touré, Manchester City decided to amplify him, adding the athletic box-to-box midfielder Fernandinho. Tottenham, who already have Sandro and Moussa Dembele, bought Fernandinho's national team partner Paulinho to bolster their physical presence in the center of the field. Further down the table, Southampton brought in Victor Wanyama from Celtic to pair with last year's breakout defensive midfield star Morgan Schneiderlin.
The moves reflect a shift in the way lots of teams build their midfield. Whether that's reflective of a trend in the Premier League as a whole, or limited to the specific tactical preferences of a handful of managers, there are now a handful of teams built around strong midfielders with the ability to muscle through people, a trend somewhat absent from the Premier League in recent seasons.
Arsenal and Manchester United, as currently constituted, have more traditional midfields, with skilled passers Michael Carrick and Mikel Arteta surrounded by more energetic mobile runners. That means that two of the Premier League's biggest rivalries — Spurs and Arsenal, and Manchester United and Manchester City — will also be battles of contrasting styles.
The Spanish Armada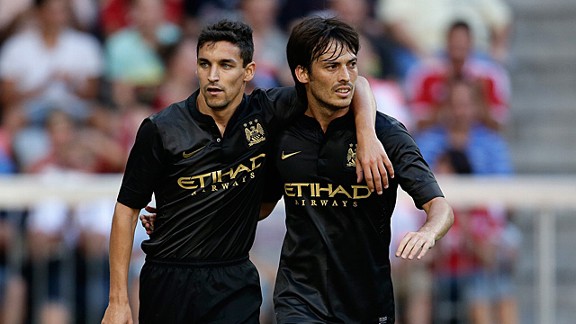 Welcome to the age of the Spanish Premier League.
That's 55 current Premier League players who have done time in Spain's La Liga. For the last five years or so, the world has been seduced by the quality of football coming from Spain. The national team are the reigning European and World champions, Barcelona and Real Madrid are, in many ways, the gold standard for the game, and in the last decade, clubs outside of La Liga's terrible twosome (Villareal, Valencia, Sevilla, Atlético Madrid, Athletic Bilbao) have regularly produced some of the best players and best football in Europe.
Now, obviously, Carlos Cuellar plays a different game than Sergio Aguero, who in turn is not Santi Cazorla. But the huge presence of La Liga players shows just how thirsty Premier League clubs are for the technical proficiency, and entertaining football, we associate with the Spanish top flight.
Even the Premier League managers have Spanish roots: Mourinho returns to Chelsea from Real; Manchester City's Manuel Pellegrini managed both Villareal and Real Madrid; Southampton's Mauricio Pochettino managed Espanyol; Merseyside features one manager from Spain (Roberto Martinez) and another who is an avowed disciple of the Barcelona way (Brendan Rodgers); Tottenham's Andre Villas-Boas was rumored to be up for the Barcelona job; Mark Hughes once played for the Blaugrana; and I'm sure David Moyes has gotten into a fight in Mallorca at some point in his life.
What does this all mean? Well, you'd think that we'd see more teams playing the ball through the midfield rather than trying to bypass it, that keeping possession would matter to more teams. But that probably paints Spanish football with too broad of a stroke.
The result I'm most hoping for is that some of the newcomers — Jesus Navas, or a kid like Gerard Deulofeu — will adapt more quickly to the Premier League game. Or perhaps they will simply change our idea of what that game looks like.
UPDATE: Reader Thomas Jenkins had this thoughtful response to the whole La Liga invasion in the comments:
The Spanish Armada – What does all this mean? It means that English teams see value in buying from Spain right now. Outside of the big two, there's barely a Spanish club that hasn't lost their best player this year; that's because, unlike in The Prem, there's no fair distribution of tv money in Spain and a huge number of clubs there are in serious financial difficulty. Which is why a player like Michu, who had a huge breakout season in Spain before last year's Prem explosion, ended up moving abroad (for £2 million!): Spanish sides simply could not afford him. Which is why a player like José Campaña, one of the jewels of Sevilla's cantera and captain of one of Spain's highly successful international youth teams, was allowed to leave for the Prem's humblest club, Crystal Palace, at a cost of only $2 million. Last summer Barca spent more money on reshaping their second division side – their b-team – than any La Liga club other than Madrid spent on their first-team squad proper. That's incredible. And a sign that the Spanish league is dying. Yes, many English clubs are signing Spanish players because their technical ability fits the sort of attacking, passing football that their specific manager wants his team to play (Rodgers: Aspas & Luis Alberto; Wenger: Cazorla; Holloway: Campaña; Laudrup: every Spanish player he's signed), but do not underestimate the importance of the reasonable price tags that came attached to these players. It's telling that the only club who've consistently been willing to pay a premium to bring in players from Spain – City – is the one club in The Prem least concerned by Financial Fair Play rules. And it is no coincidence that they are the one Prem club who've signed some of the few current Spanish internationals who aren't really tiki-taka, possession-based footballers (Javi Garcia; Negredo; Navas), but rather are marked for either their power or pace. The vast majority of Prem clubs, even a well-off club like Arsenal, have circled the Spanish league like vultures, going through the carcass of a once great league to get at technical talent which is available at below market value.
Wide-Open Relegation Battle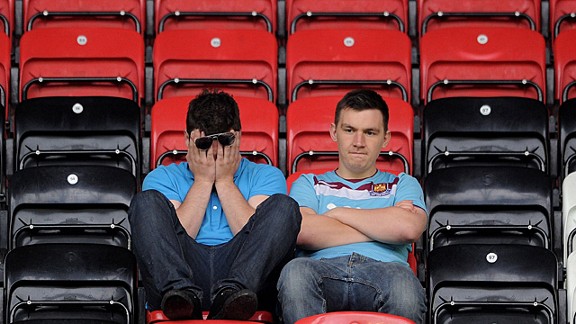 Goodman: The last time all three newly promoted teams were relegated was back in the "stone ages" of 1997-98. It's a safe bet that at least one team that played in the Premier League last season won't survive this year. Which team is anybody's guess. Eighth-place West Brom only finished 13 points clear of the relegation zone last season and 12 points out of seventh place. In other words, the only teams who should feel completely comfortable about their continued stay in the Premier League are Manchester United, Manchester City, Chelsea, Arsenal, Tottenham, Everton, and Liverpool.
That leaves 10 teams at risk of relegation. Some have vastly overhauled their squads. Norwich and Sunderland added eight and 11 new players, respectively. Others have changed managers, with Stoke axing Tony Pulis, and Southampton and Sunderland making switches at the end of the previous season. But the majority of teams — from top-half clubs like West Brom, Swansea, and West Ham to bottom halfers like Fulham, Newcastle, and Aston Villa — have opted to stay the course, not making major changes and instead counting on improved injury records, developing young players, or the addition of a big-name signing or two to help them progress. They may come to regret that in the spring.
Is Staying Out of Europe a Shortcut Up the Table?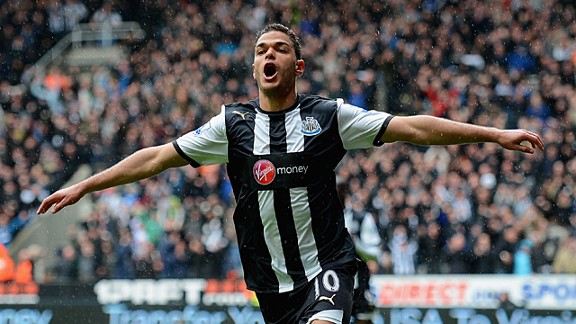 Ryan: I don't know what "rebuilding" a European football club looks like. There are no draft picks, there's no salary cap, and underachieving clubs have very little shot at acquiring star players unless they hike up weekly player wages, grease the wheels with agents, and pay huge transfer fees. If your club doesn't have a sugar daddy, it needs the money and prestige of the Champions League. The more seasons you spend outside the Champions League, the less attractive you are to highly talented players. And that's when you start to feel gravity's pull.
This is a long way of saying we should keep an eye on Liverpool this season. 2013-14 will mark the firstsecond time since 1991 that the Reds will not compete in Europe. You could call this a nadir, proof of how far Liverpool have fallen since winning the Champions League in 2005 and appearing in the final in 2007. But what if, just maybe, this absence of European competition is a back door, a shortcut, back up the table? What if the reduction of games played, the lack of trips to far-off Eastern European locales, allows manager Brendan Rodgers to keep his team focused on the task at hand: getting back into the Champions League?
And it's not just 'Pool to watch out for. Will Newcastle recapture their 2011-12, fifth-place form with no Europa League to worry about? And, on the flip side, will Swansea's Cinderella story end because they had to drag ass to Belgrade to play Partizan in the middle of winter? Maybe staying out of Europe for a year is the fastest way back into Europe.
Awkward Fits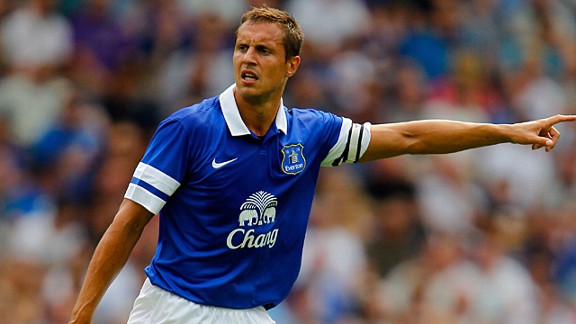 Goodman: A handful of new additions to Premier League squads might find the transition bumpy. Tottenham's new striker Roberto Soldado's best skill is getting shot opportunities from central locations close to goal. He's joining the team that took the second-lowest percentage of its shots in the box last year (46.5 percent), ahead of only relegated QPR. Maybe that's because they desperately needed somebody like Soldado, or maybe he'll have a hard time settling in.
At Everton, the arrival of manager Roberto Martinez means new responsibilities for many players. His insistence on ball retention and playing from the back will ask a lot of Everton stalwart Phil Jagielka, who is a top-notch traditional defender but not particularly accomplished on the ball. And Marouane Fellaini, who evolved into a goal-scoring threat as an unconventional no. 10 last season, will have to adjust to life back as a midfielder whose primary responsibilities are defending strongly and passing responsibly.
Both Swansea and Fulham brought in shoot-first-ask-questions-later attacking players in Wilfred Bony and Adel Taarabt (although Bony is a much more accomplished player), and both will have to learn to fit into styles that heavily rely on existing goal scorers Michu and Dimitar Berbatov to be the teams' goal-scoring engine. And Norwich and Sunderland both face the task of integrating rafts of new players into a cohesive unit, a task that doomed QPR to relegation last season. Sometimes awkward fits get rounded into place, and sometimes they never make the transition, and often the difference between the two defines a team's season.
Crossed Out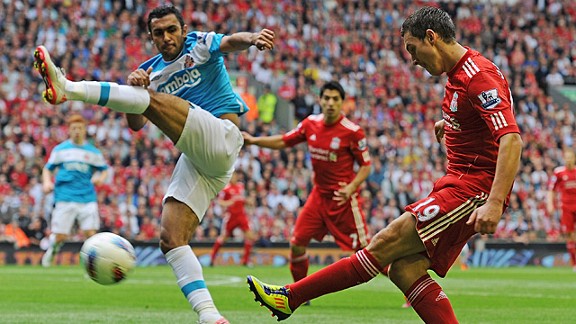 Goodman: Last year, good teams didn't cross the ball a lot. Across the Premier League, teams crossed the ball an average of once every two minutes they had possession. Eight of the top 10 teams crossed at a slower rate than that, with only Everton, who finished sixth, and West Ham, who were 10th, crossing more frequently (West Ham were in fact a giant exception, crossing the ball at the second-fastest rate in the league). Despite all of the managerial turnover, expect the trend to continue this year. It's not that crossing isn't important as part of a balanced attack, but rather that crosses, especially contested crosses into crowded areas, are too inefficient to be the cornerstone on which an attack is built.
The best attacking teams in the Premier League use ball movement to create good goal-scoring chances. Sometimes that means they create prime crossing opportunities, where an attacker is actually open and the ball can be crossed to him, often to his feet. Bad attacking teams see crosses as the end result. The purpose is to get the ball to a crossing area and then launch it into the box and hope for the best. That's part of the reason Stoke, Sunderland, and Norwich were so bad last year. Those teams will need to change the way they play if they want to stay in the league.
EL PITBULLLLLLLLLLLLLLL!
Ryan: Gary Medel has come to the Premier League to kick ass and chew bubble gum, and GARY MEDEL DOESN'T EVEN KNOW WHAT BUBBLE GUM IS. I have not been this excited by the arrival of a player in this league for years. The Chilean midfielder Tasmanian devil Medel makes Javier Mascherano look like the Earl of Grantham. This summer he moved from Sevilla to Cardiff City. His €9.3 million transfer fee was the record signing for the newly promoted South Wales club. Is Medel looking to repay the investment with a long stay in Cardiff? "I want to get to try to reach a larger team." Airhorn!
Check out that video above. He tries to start a fight with Xavi and he climbs the fence at La Bombonera … and that's just the first 10 seconds. To paraphrase Repo Man, an ordinary football player spends his life avoiding tense situations. Gary Medel spends his life getting into tense situations. I cannot wait for Swansea's visit to Cardiff on November 3. Let's just hope Gary Medel hasn't been sent to an outer space penal colony for kicking Robin van Persie into the English Channel by then.
Filed Under: Arsenal, Chelsea, Chris Ryan, Liverpool, Manchester City, Premier League