The Often-Underappreciated Adrian Beltre
Thearon W. Henderson/Getty Images
He's never won an MVP. He made the All-Star team exactly zero times in his first 12 seasons. He's played on just three playoff teams, bowing out in the first round two of those three times. He's never been the best player in the league.
Yet here we are in Adrian Beltre's 16th season, and three things are clear: He's one of the 10 best players in the American League, he's having his second-best season ever, and he's a deserving Hall of Famer.
To understand and appreciate Beltre's true value, it's instructive to stroll through the various stages of his career, to put the numbers into context, and to see how he became the best player on a perennial playoff contender at an age when most players would be well into their decline phase. We also need to go beyond what he's done with the bat, because he's one of the greatest glovemen ever to play the game, at any position.
THE DODGERS YEARS, 1998-2004
The very first act of Beltre's professional career became a huge source of controversy. In 1994, Dodgers scouts Ralph Avila and Pablo Peguero noticed Beltre at the team's facility in Santo Domingo. Though rail-thin at 130 pounds, he roped line drives and showed off a rocket arm, impressing the Dodgers enough for Avila to sign him for $23,000. A few years later, Beltre's agent Scott Boras discovered that the Dodgers had inked Beltre when he was just 15 years old, making him underage at the time and marking the deal as violating the rules for signing foreign amateurs. Boras quickly lobbied to have Beltre declared a free agent. It made a ton of sense for the player and agent: MLB had declared other underage signees to be free agents in the past and Beltre had become one of the top prospects in baseball by this point, setting a potentially huge windfall if the league forced the Dodgers to cut him loose. Bud Selig opted not to reward Beltre by turning him loose, instead suspending the Dodgers scouting operations in the Dominican Republic for a year.
Just four years after signing, Beltre made his major league debut. His age at the time? Just 19 years and 78 days. That made him the youngest player to break into the big leagues since Alex Rodriguez got his start in 1994, just shy of his 19th birthday; no player since Beltre has debuted at a younger age. Years of data tell us that players who crack the big leagues and then hold their own at early ages are more likely to become stars down the road. After a 77-game stint that first season, Beltre did indeed hold his own in Year 2. In 152 games, he cracked 15 homers and swiped 18 bases, posting a line of .275/.352/.428. The Dodgers also got their first extended look at Beltre's defense in the Show. He was a revelation, ranging to his right and making long, tough throws right on target, diving to his left to spear would-be base hits, and unveiling his signature move, the charge on slow rollers, followed by the barehand pickup and whip-throw to get even the speediest runners. Other third basemen could make that play, too, but no one did it better than Beltre.
In his third season, Beltre cranked his offense up another notch, hitting for more power, striking out less, maintaining the solid near-10 percent walk rate he'd shown the year before, and delivering numbers that were 16 percent better than league average. Then, suddenly, his performance tanked. Beltre had his appendix removed in January 2001, a procedure that shouldn't have been a problem … only it was a huge problem, as complications from the surgical wound knocked him onto the disabled list. Beltre missed 36 games that year and played poorly, hitting just .265/.310/.411 and not looking his Gold Glove–caliber self at third either. An injury you could at least understand. But what happened over the next two years remains a mystery to this day. Though Beltre cracked 44 homers over the 2002 and 2003 seasons, his batting eye tanked, with his walk rate plunging to about 6 percent. That drop-off in walks, combined with weaker results on balls in play, fueled on-base percentages of .303 and .290 in those two years. Beltre's defense returned to top form during that time as he recovered from the ill effects of his injury. But he also made far too many outs to be regarded as anything close to an elite player, his 465 outs made in 2002 ranking fifth in the National League.
Then, with no warning, Beltre started annihilating every baseball in his path. In 2004, his seventh year (and sixth full season) in the majors, Beltre hit .334, posted a .388 on-base percentage, slugged .629, and walloped 48 homers, 32 doubles, and 200 hits, all career highs. He made more contact and swung at fewer pitches out of the strike zone than ever before. Combined with his all-world defense, Beltre graded out as a 10-win player. Only one human being was a better baseball player than Beltre that year … and given what Barry Bonds did that season, it wasn't clear that was actually human.
Skeptics wondered how Beltre went from being Tony Batista with less power and a (way, way, way, way) better glove to an unstoppable hitting machine and MVP candidate. Given the way sentiment soon shifted against Bonds and certain other players from that era, it might've been easy to cast aspersions on Beltre's seemingly out-of-nowhere performance and how he got there. Instead, a less nefarious but still somewhat insulting narrative emerged: Beltre had finally started showing his true talent and wrecking the league because he was in a contract year, about to explore the lucrative waters of free agency. It's easy to figure what critics were inferring by that theory. With megamillions at stake, Beltre had finally gotten more serious about his craft, tried harder, and obliterated the league as a result.
There were multiple problems with this theory. First, Beltre turned 25 at the start of the 2004 season, and many players peak in their mid-to-late 20s; having played more than 800 games in the major leagues by then, Beltre had acquired more experience than virtually any other player his age, another factor which may have contributed to his success. Second, baseball players are not bell curves — some players can and do have hot starts to their career, hit a rough patch for a year or two or three, and only then see their numbers spike as they near their peak. Third, baseball players become eligible for free agency after six full seasons in the big leagues. Given that most players break in around their early 20s, that means the final year before free agency will often come in their late-20s, when players are often at the height of their powers and thus most likely to put up big numbers. Finally, baseball players, like most other athletes, do tend to fare better when exerting more effort. But skill still plays a much bigger role relative to effort in baseball than it does in say, football or basketball. If a baseball player doesn't hustle to first base on a ground ball, that usually won't impact a game at all, whereas if a basketball player doesn't hustle back on defense or an offensive lineman becomes a human turnstile when blocking a rushing D-lineman, the results can be disastrous for their team. A study by former Baseball Prospectus author Dayn Perry in the book Baseball Between the Numbers found that even after adjusting for age, players do, as a whole, still have a very slight uptick in performance in their final season before free agency. Acknowledging that small effect, there's still no way in hell a sane person could brush off Beltre turning into Bonds Jr. as solely a product of trying harder for the sake of a payday.
THE MARINERS YEARS (2005-2009)
That narrative persisted anyway. In fact, with each passing season on his next team, it got worse.
Coming off that massive '04 season, Beltre signed a five-year, $64 million deal to play for the Mariners. His numbers tanked immediately, plummeting from that ludicrous .334/.388/.629 performance to just .255/.303/.413 in Seattle in '05; Beltre's offensive numbers were 61 percent better than league average in his final year with the Dodgers, but 10 percent worse than average in his first year with the M's. Beltre did fare better over the next three years of his deal, hitting a combined 76 home runs in that time. Still, he continued to make too many outs for someone of his stature (.328, .319, and .327 OBPs from 2006 through 2008), with his power numbers more or less falling in line with what he'd done in Los Angeles before '04, and nothing more.
If Beltre was an opportunist who could summon the mighty Contract Year wizard to grant him +50 mashing points for his next pre–free agency battle, he had a lousy way of showing it in 2009. In an injury-plagued season, he put up his worst numbers since his rookie year, hitting just .265/.304/.379, with a measly eight home runs. August 13 of that year was the coup de groin, as a hard ground ball skipped off the infield dirt and whacked Beltre in a most uncomfortable place. Given that Beltre was one of the few major league infielders who refused to wear a cup, this was even more uncomfortable, so bad that he was placed on the DL after suffering bleeding from one of his testicles. Credit Ken Griffey Jr. for having the public address operator play the waltz from The Nutcracker as Beltre's walkup music in his first game back from the DL. Seems all that brain and nerve tonic filled his oversize head with some brilliant, albeit cruel ideas.
Beltre's 2004 may have been a puzzler, but his next five years (especially '09) seemed impossible to decipher. What happened to the unstoppable force we'd seen that one magical year in L.A. Was Beltre now done at age 30?
Though injuries and other variables surely played a role in Beltre's punier numbers with the Mariners, the biggest factor of all might've been the one inflicted by his home park. Dodger Stadium and Safeco Field both have reputations as pitcher-friendly ballparks, something the numbers back up quite convincingly. But while Dodger Stadium suppresses run-scoring in general, it usually doesn't play as a terrible park for home runs, or home run hitters. Safeco on the other hand was a nightmare for power hitters — especially right-handed power hitters — during Beltre's years in Seattle. The park played at 390 feet to left-center field until this season. Combine the moon shots it would take to crank the ball that deep with a lack of hot, dry air that makes baseballs fly in other cities and you get an environment that seemed custom-engineered to stomp on Beltre's right-handed power swing.
Of course these are easy claims for an impartial observer to make. As Beltre hit the open market for the second time in his career, no team was ready to see the eight homers he hit in 2009, wave it all off as nothing but Safeco's wrath, and hand him a $100 million contract.
THE RED SOX YEAR (2010)
Even if no one was willing to break the bank for Beltre coming off such a painful year, Theo Epstein was exactly the kind of general manager who'd recognize the immense value of Beltre's defense and give him a one-year deal for $10 million guaranteed. If Beltre's bat had truly vanished forever, the Red Sox could still benefit from having an elite third baseman to help the team's run prevention, especially at such a low price. And if Beltre could stay healthy, maybe taking aim at the Green Monster 81 times could help resurrect his once powerful swing.
That's what happened, sort of. Beltre had a huge year, putting up the second-best batting average (.321), OBP (.365), slugging average (.553), and home-run total (28) of his career, while missing just eight games. Only thing was, Beltre actually hit better on the road than at Fenway Park that year. Maybe having a hitter-friendly home base boosted his confidence and stuck with him all year long. Maybe this was what was bound to happen if Beltre could just stay on the field all year. Maybe it was just one of those inexplicable Beltre things, coming in a year when no one trusted him enough to give him the big bucks.
Or maybe Beltre really was Mr. Contract Year, except he only felt up to trying two out of every three times … well, unless you count those times when Beltre was on one-year deals during his arbitration seasons, and finally realize that Beltre being a greedmonger who only plays well in contract years is a myth.
THE RANGERS YEARS (2011-2013)
That 2010 season now looks like the new normal, and Beltre's been coming through every year as if it's a contract year. Though he missed 38 games due to more injury troubles during his first year in Texas, Beltre still slugged 32 homers, hit .296/.331/.561, again played very good defense (even in his 14th season), and helped propel the Rangers to the World Series. Last year, he stayed healthy enough to play in 156 games, hit .321/.359/.561 with 36 bombs, and bagged his second-highest MVP showing, finishing third in AL balloting. This year's been his best offensive effort yet in Texas, and second-best behind only '04; Beltre's hitting .324/.379/.531 and has a chance to tie his career high in games played (159).
What's Beltre doing that's helped propel him to his second-best offensive season ever, in his 16th year no less? We asked ESPN Stats & Info to help investigate.
Is Beltre being more (or less) aggressive this year?
This is a player with a violent swing, someone known to chase balls in the dirt, even hammer tape-measure homers from one knee. Beltre's approach has changed a bit this year from that threshold. He's swinging at the first pitch 23.2 percent of the time in 2013, down just slightly from last year. His overall swing percentage and swing percentage on pitches out of the zone are both down compared with 2012, but not so much that we're looking at an entirely different hitter or anything. You could argue that Beltre's becoming a bit more selective. But he's also simply doing a better job of making contact, with a career-low swing-and-miss rate of 6.7 percent.
Any other factors we can point to that might explain his big year?
What's really happening is that while leaguewide offensive numbers have dipped in the past few years, Beltre's output has remained extremely consistent (even if the way he's putting up numbers has changed a bit, with this season marking a spike in his on-base percentage and a slight drop in his power). Other than whiffing more rarely than ever, nothing else we're seeing this year appears to be markedly different than what he's done int the past. For instance …
• This year he's crushing lefties (1.014 OPS), last year he didn't (.737), but two years ago he did (1.075).
• Even while chasing less often this year, what he chases, he still hits.
Most Hits on Pitches Out of Strike Zone (Last Two Seasons)
Pablo Sandoval: 95
Miguel Cabrera: 92
Adrian Beltre: 92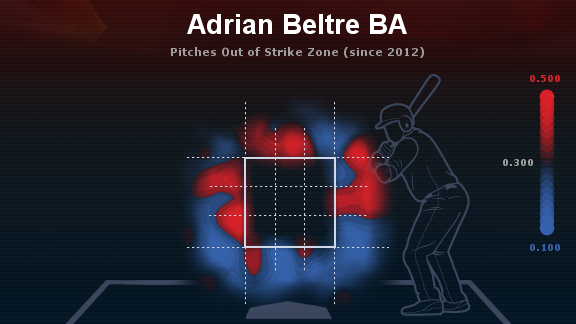 Still possessing lightning-quick hands at age 34, Beltre excels at hammering pitches inside. He's .346 (ninth-best in MLB) and slugging .618 (13th-best) on pitches on the inner half of the plate, or off the inside corner.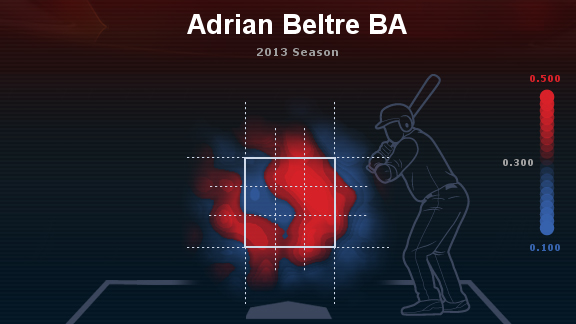 Beltre has been, and remains a very good hitter. But if you start counting the number of 25-to-30-homer seasons racked up by major league hitters between 1998 and 2013, you'll lose two months off your life.
Really, there are two things that make Beltre, Beltre: He hates being touched on the head more than anyone who's ever lived, and he's one of the greatest defensive third basemen of all time.
Using Defensive Runs Saved, a stat created by John Dewan's Fielding Bible and Baseball Info Solutions that measures the numbers of plays made by a fielder above or below the average fielder and translates those results to run values, Beltre certainly rates as an elite defensive third baseman. From 2009 to 2012 in particular, he finished first, second, third, or fourth each year (among the 35 players who played the most innings at third base). But a longer-term look reveals something else: Beltre might be the best defensive player of his generation, period.
Most Defensive Runs Saved Since 2003
Adrian Beltre: 168
Chase Utley: 145
Albert Pujols: 131
Mark Ellis: 122
Aside from spitting out numbers, Baseball Info Solutions also does a great job of illustrating data in visual form. So we set BIS to the task of showing us exactly how good Beltre's defense has been.
BIS compared Beltre in 2011-2012 to the league average and to the range-challenged Danny Valencia (who played some third base with the O's before Manny Machado took over — Machado's brilliance is a topic for a future post marveling at third-base defense, really). Beltre's 26 Defensive Runs Saved in those two seasons ranked second only to Brett Lawrie's 34, while Valencia ranked among the league's worst. (Beltre also won the Fielding Bible Award both seasons.)
When analyzing infield defense, BIS looks at two main variables: the angle along which the batted ball traveled (down the third-base line, in the SS/3B hole, etc.) and the ball's average speed when traveling through the infield (in mph). For this example, BIS looked specifically at a cross section of ground balls that traveled at a speed of 40 to 65 mph through the infield. The company categorizes the angle of batted balls in one-degree-wide increments, which they refer to as "vectors." For reference, Vector 225 corresponds to the third-base line, and Vector 180 corresponds to straightaway center field. For this example, BIS grouped each set of two vectors together to simplify the visual.
Here then are the conversion rates for Beltre, the league, and Valencia on ground balls hit in each direction for the 2011 and 2012 seasons.
Vector 224 includes the balls right down the line, and Vector 204 is well into the SS/3B hole. Beltre excels in both directions. The images to follow illustrate Beltre's vast superiority.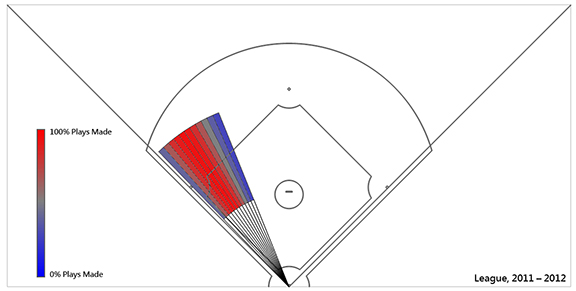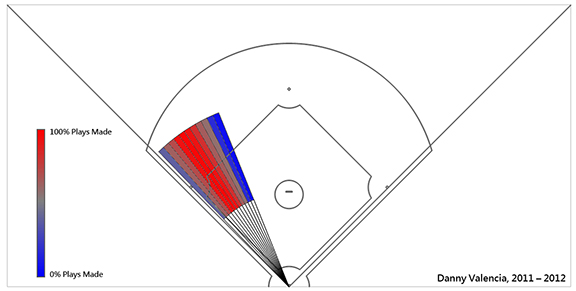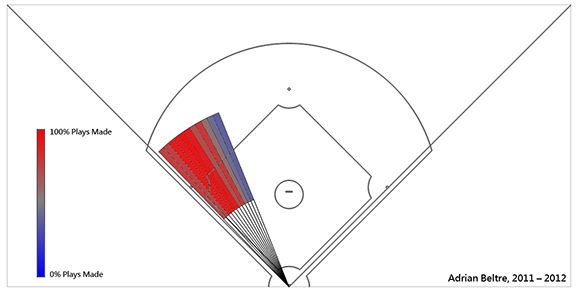 Going by Defensive Runs Saved, Beltre has actually fallen to minus-2 this season; after 16 years in the big leagues, Father Time may have finally started eating into Beltre's extraordinary defensive skill. All things in perspective, though. Those insane red streaks in the image above that show Beltre's defensive excellence in 2011 and 2012? Use any advanced stat you like, and you'll see that Beltre was a far better defender in 2002, 2003, and 2004 with the Dodgers. If BIS had the data to visually express those Dodgers years on a defensive grid, Beltre's results would look like May Day in Moscow.
HALL OF FAME
By traditional, brainless measures, Beltre's Hall of Fame case would seem challenging. He's hit 374 home runs, fewer than Norm Cash, Matt Williams, Harold Baines, and other players with no chance of ever making it in. His career batting average of .282 isn't particularly noteworthy for someone with Hall aspirations, nor are his 1,298 RBIs — 112th all time, and behind the likes of Mickey Vernon, Ruben Sierra, and Gary Gaetti. Throw in Beltre having played during much of the PED era, and his raw offensive numbers don't stand out compared with his peers.
But if Hall voters want to properly evaluate Beltre's candidacy, they'll recognize that he's a third baseman, and should thus be compared not only to his contemporaries, but also to others who played the same position, given the much tougher defensive demands placed on a third baseman compared to, say, a first baseman or left fielder. SI.com's Jay Jaffe developed a stat called JAWS, which measures both a player's career value (by Wins Above Replacement) and his peak value (based on the seven best years of his career). If you believe that players induced into the Hall should at worst match existing inductee standards — and preferably exceed them — then we can use the Wins Above Replacement and JAWS scores of those already in the Hall to help guide voting decisions.
Twelve third basemen rate as above the average Hall of Famer line for Wins Above Replacement and JAWS. Of the top nine, seven are already in the Hall of Fame: Mike Schmidt, Eddie Mathews, Wade Boggs, George Brett, Ron Santo, Brooks Robinson, and Paul Molitor. Ranking fifth on the list is Chipper Jones, a mortal lock for induction, almost certainly on the first ballot. Ranking eighth, just above Molitor and just below Robinson, is Beltre. And he's still going strong.
At the risk of violating the sportswriter's code for cross-racial comparisons, the best comp for Beltre really is Brooks Robinson. Neither Beltre nor anyone else has ever reached or even approached Brooksie's level of defensive mastery. But Beltre is about as close as we've seen since, a better hitter than Robinson who's also a vacuum cleaner with unreal reflexes and instincts, someone whose value can't be fully appreciated if you just tally up his home runs and give him a generic check mark for good defense.
So sure, Adrian Beltre never quite got to call himself the absolute best at any one skill or any one time. But he's come awfully close, and he's still dominating, nearly two decades after leveraging 130 pounds of quick-twitch talent into a career in baseball. If there's any justice in the game, he'll get more chances to tip his cap, both on a big October stage, and in Cooperstown. Then we'll have him right where we want him.
Filed Under: MLB