The Outsiders: Understanding Tottenham Hotspur's Daring Rebuilding Project
Michael Reagan/Getty Images
Soccer is a world of haves and have-nots. The richest teams in the world, by and large, are also the most successful. For the Real Madrids, Manchester Citys, and Chelseas, the summer transfer window has become a time for almost ritualistic restocking of talent, whether the team needs it or not. For the rest of the world, talented players are living on borrowed time. There are only so many years before the big boys with deep pockets come calling.
Champions League football is perhaps the clearest demarcation between haves and have-nots in the world of European soccer. The most idealistic among us might say it's because players want the opportunity to test themselves in the best club competition in the world. From a slightly more cynical perspective, it's worth noting that Champions League football comes with a significant financial reward for the clubs that qualify, generally allowing them to pay higher salaries. Either way, life for a team with a superstar and without Champions League football (and sometimes, as Arsenal fans well know, even with it) frequently takes on the feel of Damocles at the dinner table. It's only a matter of time.
For Tottenham Hotspur, that sword fell twice in the last two years when Real Madrid came calling, first for Luka Modric during the summer of 2012 and then with the proverbial godfather offer for Gareth Bale this year. Spurs chairman, and negotiating hard-ass extraordinaire, Daniel Levy may have literally earned his weight in transfer fees, holding-up Los Blancos for more than $50 million for Modric, and then a world-record transfer fee topping $130 million for Bale. Nevertheless, the arrival of the money trucks at Spurs marked the end of an era.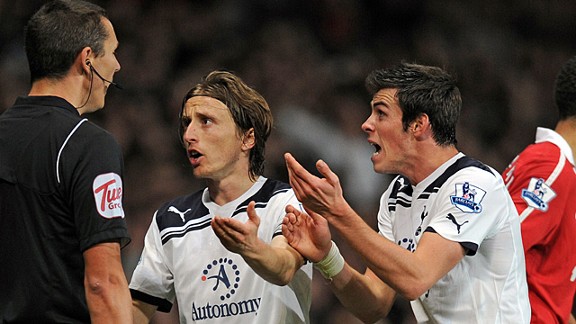 For four years, beginning with a surprise Champions League qualification in 2009-10, Spurs were knocking on the door of Europe's elite. The development of Modric and, later, Bale allowed them to capitalize on the moment after perennial contender Liverpool disintegrated (they dropped from second to seventh, and in a note about haves and have-nots, Liverpool have yet to return after dropping out of the top four) and before Manchester City became the petro dollar–fueled mainstay at the top of the table they would become.
Spurs surrounded the two young stars with older, Premier League–savvy players, bringing in talented if unpredictable bargains like Rafael van der Vaart and Emmanuel Adebayor, and experienced veterans like Scott Parker, William Gallas, and Brad Friedel. Manager Harry Redknapp basically saw his job as rolling the ball out and getting out of the way. And it came agonizingly close to being enough. But alternating between fourth- and fifth-place finishes, with only one shot in the Champions League (thanks to Chelsea's improbable Champions League triumph during a season in which they came in sixth in the league), ultimately left them on the outside looking in too often.
The scope of the reconstruction of Spurs is rather unprecedented. Teams outside of the Champions League simply do not end up with close to $200 million to spend, and if they do it's because they're owned by interests to whom $200 million is a rounding error (and if Spurs had a benefactor of an owner like that, it's reasonable to assume that Modric and Bale would have been too busy diving into swimming pools of money to get poached by Madrid). That desire to spend responsibly combined with the lack of Champions League football meant that Spurs wouldn't be in the running to add new superstars. Instead the North London club would have to work creatively to fill in the massive gaps left by the departure of two stars.
Rather than try to overpay for established stars, Spurs have moved in the complete opposite direction. With the money they got from Bale and Modric, Tottenham have brought in 15 new faces over the last two years — seven this transfer window and eight the year before.
After bringing in eight new faces last year, Spurs first hired Franco Baldini to be their technical director (basically a GM) from Roma. Given how much money they got from Bale it will come as no surprise that this year's haul was somewhat more expensive than last year's, with Spurs breaking their own transfer fee record three separate times. Still, though, their two big-ticket purchases — Erik Lamela, an Argentine winger from Roma (just like Baldini; see what they did there), and Roberto Soldado, the Spanish striker from Valencia — weren't even among the 10 most-expensive transfers of the summer. It's also worth noting that with the exception of two players who went to AS Monaco, every other more expensive player transferred went to a club currently competing in the Champions League.
Of the 15 new Tottenham players, only three were older than 25 when they arrived: Soldado, Adebayor (who was already on the team, having first been loaned to Spurs), and Clint Dempsey (who has since been sold to Seattle). That's 12 players 25 and younger with Soldado as the sole true outlier at the grand old age of 28.
Spurs went shopping all over Europe and South America, bringing in those playing in Spain, Italy, Germany, the Netherlands, and Brazil. They even went to Romania for defender Vlad Chiriches. It's a two-part gamble for Spurs — a bet that they can integrate many moving parts at the same time, and that young players who showed talent in other, sometimes lesser, leagues will translate those skills into success in the Premier League.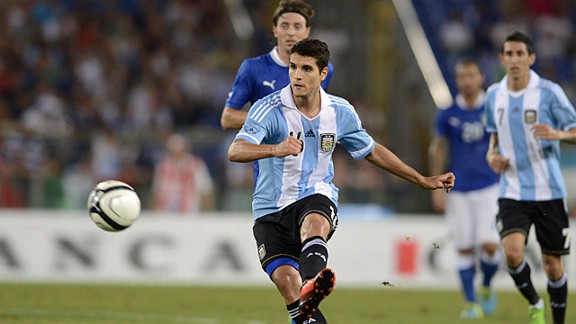 Lamela, at 21, is probably the player with the highest expectations. He has the misfortune of being superficially similar to the newly departed Bale in that he's heavily left-footed, spent his last two years at Roma playing as a right-sided attacker who cut in-field onto his stronger foot. But while Bale became a long-distance goal specialist, Lamela excels at getting into positions close to goal to finish off attacks. Last season, Bale's 21 Premier League goals came from an average distance of 19.6 yards away, while Lamela's 15 in Serie A came from 11.4 yards out (stats courtesy of ESPN Stats & Info). Lamela also tried and completed more dribbles, succeeding in 99-of-254 take-ons while Bale had only 59-of-154. Basically, Bale spent last year rocketing lasers by defenders from distance, while Lamela spent it dribbling around them and scoring from close range.
In addition to Lamela and Soldado, Spurs bolstered their attack with the 24-year-old Belgian winger Nacer Chadli. They've also given a look at their young, homegrown talent, Andros Townsend.
Gylfi Sigurdsson is a relative Spurs veteran at this point, having made 35 appearances for the club. He'll certainly be in the mix, not only on the left wing but also centrally behind the striker, where he'll compete with Lewis Holtby as well as the most intriguing prospect among all of Spurs' purchases: Christian Eriksen.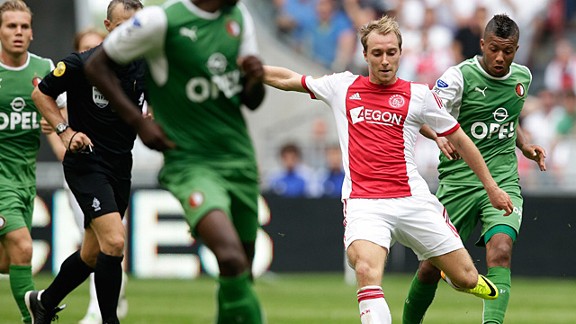 The 21-year-old Eriksen first came to international attention during the 2010 World Cup, and went on to become Ajax's primary playmaker. Although teams from bigger leagues have looked into acquiring him before, he's remained at Ajax long enough that he has the feel of a college athlete who perhaps should have declared for the draft a year earlier. Although his production has been stellar, scouts have had time to pick apart his game, and at least according to knower of all things soccer Gabriele Marcotti, they have questions about his athleticism and ability to continue to produce at the next level. For the $18.5 million that Spurs spent, it's possible they picked up a real steal.
The best-guess lineup for Spurs is something like this:
It's a testament to Spurs depth that Sigurdsson, Holtby, and Townsend don't make the starting XI. At striker, Adebayor is still on the squad, and Jermain Defoe's name hasn't even come up despite being in the mix for England's national team. Newly acquired tank Etienne Capoue and Mousa Dembele provide depth in midfield, with Dembele also offering the option of starting in the attacking midfield spot to provide a more comprehensively defensive midfield.
Defense is perhaps where Spurs are thinnest, with cover provided by Younes Kaboul (who was injured all of last year) and the untested Chiriches in central defense, and Kyle Naughton deputizing in both fullback roles.
This setup is a far cry from the one Redknapp managed two seasons ago. But while Redknapp might have been the perfect fit for facilitating stars and veterans, he was let go in favor of Andre Villas-Boas in part because of the young Portuguese manager's commitment to developing talent. During his aborted half-year stay at Chelsea, Villas-Boas spoke frequently of the three-year plan that Chelsea owner Roman Abramovich hired him to implement. Abramovich ran out of patience for the plan half a season in, but a belief in and adherence to developing long-term goals is a crucial element to Spurs. After just over a year in charge, Villas-Boas had the rare opportunity to help completely remake his roster. It's indicative of how much he valued having that control at the club that he apparently turned down an approach from Paris Saint-Germain to remain at White Hart Lane.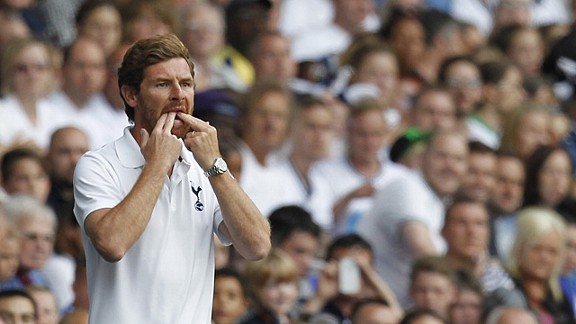 Looking back at Villas-Boas's history, it's not hard to see what he envisions from this squad. Before Chelsea, he coached a supremely talented F.C. Porto team to one of the most dominant single seasons in European football history. The team went undefeated in Portugal's Primeira Liga and won the Europa League without breaking too much of a sweat. They played a 4-3-3 system with a front line consisting of the left-footed Hulk on the right wing, goal-scoring extraordinaire Radamel Falcao in the center, and a mix of Silvestre Varela and James Rodriguez on the right side. You can see Villas-Boas trying to re-create that Porto attack with Lamela, Soldado, and Chadli: a young, dynamic goal-scoring left wing, a poacher in the middle, and a more traditional winger on the right.
The midfield will look slightly different than that Porto side, if not in composition than at least in execution. While Porto started with a three-man midfield that consisted of a single holding player at the base of a triangle, Villas-Boas emphasized movement and interchangeability as part of a commitment to transitioning quickly into attack. This was an idea he abandoned at Chelsea, saying, "You lose a little bit of balance in the Premier League if you play that way. Transitions here are much more direct, making the importance of the no. 6 to stay in position most decisive." Additionally, the creative hub of Porto was Joao Moutinho (who Spurs almost acquired on transfer deadline day in the summer of 2012), who is much more of a deep-lying playmaker than anybody on Spurs' current roster. Tottenham's creativity will have to come from higher up the field where Eriksen or Sigurdsson are more comfortable operating.
Defensively, Spurs have already adapted to the high line that was Villas-Boas's staple at Porto. Danny Rose and Kyle Walker both have sprinter speed on the wings, and Jan Vertonghen is about as mobile as a central defender comes. Chiriches is also rumored to be a speedy, ball-playing defender (though, really, how much professional Romanian football are any of us non-scouts watching?), which is why Villas-Boas preferred him to the more traditional, but still very talented young English defender Steven Caulker, who was sold to Cardiff City.
All told, this Spurs team has the tools to play a very similar brand of soccer to the one that first brought Villas-Boas to prominence: a high defensive line, combined with two or three strong mobile midfielders to close down the middle of the field and win the ball in position to transition quickly into attack; a forward and wingers who receive the ball quickly and (in a departure from his Porto days) combine with an attacking midfielder to create chances. It's an attack built on relentlessness more than creativity, a philosophy that says if you sustain the pressure long enough your opponent is bound to crack eventually, and when they do, a skilled combination of attackers will play an important pass, finish a lightning-quick move, and before you know it the ball's in the back of the net.
If all these moves work out, Spurs will have created a young, versatile team that is very much in the running for a Champions League qualification spot this season, and even bigger things down the line. By bringing in so many young assets they've also ensured that they can, in turn, sell players if they so choose.
The hope, of course, is that they won't have to do that, and that by the time Lamela and Eriksen turn 25, they'll have become the next pair of Spurs stars. Rather than being forced to sell them, Spurs hope to have other strong, young talents playing around them, forming the core group of a championship-contending side. That's the best-case scenario. The worst-case scenario is that these players were available for a reason and that Spurs, with cash in hand, became blinded by their potential and ignored the reality of how difficult it is to integrate new parts into a system.
Tottenham Hotspur are now one of the most intriguing projects in European football. They are a team that invested an incredibly large sum of money without bringing in an established star. They chose to go all-in on international youth and potential. If it works it will be enough to give hope to every have-not forced to sell its prized possession. It could be enough to force even the richest teams to rethink the way they approach spending their cash. If it doesn't work, Spurs will have wasted perhaps the best opportunity any non–Champions League team has ever had to shape the course of its future. Either way, it's going to be fascinating to watch.
Filed Under: Chelsea, English Premier League, Manchester City, Premier League, Real Madrid, Soccer