The MLB Weekend Top 10: The Universe's Biggest Rivalry
Barry Chin/The Boston Globe via Getty Images
It's time to count down the 10 best matchups, players, and forced narratives of the weekend!
10. Hot Bat of the Week: Carlos Gomez (MIL-PHI)
.333/.367/.852 is his line over the past seven games, and Philly pitching hasn't exactly been inspiring this season. I still would not watch any of these games unless someone had me at gunpoint, and even then I'd try to negotiate up to Mariners-Twins.
9. Contender or Pretender? (DET-BAL)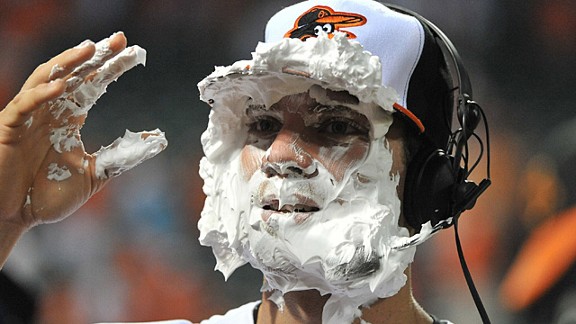 What you have to love about the Orioles is that they're the top run-producing offense in baseball. What you have to hate about them is that they play in the AL East, their bullpen is 15th in ERA across the league, and their starters are even worse at 24th. That doesn't seem like a formula for success when you face the Yankees, Red Sox, and Blue Jays 57 times in a season, does it? Games like these, against division leaders, start to become very important for Baltimore; if they're going to stay in sight of the wild card, everything matters. Keep an eye out this week for Chris Davis, who has four home runs in the last week and only missed the "hot bat of the week" cut because I needed something from a different series.
8. The Lurkers (TBR-CLE)
At 29-24, both teams trail the traditional powerhouses (Tigers, Yankees, Red Sox) in their respective divisions, and both are just off the wild-card pace. But like all good lurkers, they hope to surprise you when you least expect it. Which, in baseball, means August and September. And which, in real life, probably means when you open your car door at night in an otherwise empty parking lot. You might have been thinking "in the bushes outside your door when you come home late on a Friday," but that's actually become super-cliché in the lurker business.
7. Is Matt Moore Pitching? Matt Moore Is Pitching! (Friday, TBR-CLE)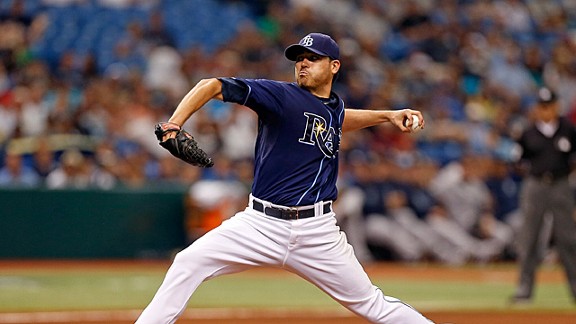 Moore held the Yankees to one run in six innings in his last start, which wound up being the only game the Rays have lost with Moore on the hill. But he managed to lower his ERA to 2.21 anyway, and his record, at 8-0, is still pristine. Moore seems to make this list every week, and rest assured that he will continue to do so unless his relatively high FIP does indeed suggest a looming regression.
6. Is Matt Harvey pitching? Matt Harvey Is Pitching! (Sunday, NYM-MIA)
It's been a good year for Matts. Matt Romney won the Republican presidential nomination, Matt Men is one of the best shows on television, and Matt Harvey is lighting it up in Queens for the New York Matts. Sure, some of those things aren't actually called Matt, and one of them didn't even happen in 2013, but I've been at a spelling bee all day watching genius pre-teens slaughter the dictionary and nail words I've never heard of, and I've decided my only chance to avoid an inferiority complex is to render spelling meaningless. Anyway, if you want to enjoy Matt Harvey while also laughing at the Mets, look at his game log and notice that despite what can only be called extended dominance, he is somehow only 5-0. The eight innings of one-run ball against the Yankees last week was a classic Met gaffe, but the best is still the nine-inning shutout where he didn't get a win.
5. Central Cooking (CIN-PIT)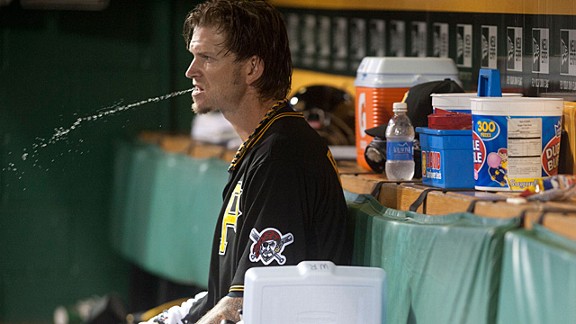 FanGraphs recently published its first "It's time to take the Pirates seriously" article of the year. And while it was well-written and well-researched and completely logical, its very appearance on the Internet is, of course, a sign that the Pirates are about to collapse. I don't like to make specific predictions, but I'm pretty sure the nosedive will start with A.J. Burnett riding a motorcycle through the wall of a hospital clinic at 2 a.m. But they do have the second-best record in Major League Baseball, so this weekend's series with the Reds should be a delight. A close second in the "pitching matchup of the week" category is Johnny Cueto vs. Wandy Rodriguez on Friday.
4. The Fall Classicalists (SFG-STL)
The Giants and Cardinals own the last three World Series titles and met in last year's NLCS. But at the moment, it looks like a case of divergent fates; the Cardinals are red-hot and own the best record in baseball, while the Giants aren't getting the same production from their top three starters that resulted in the 2010 and 2012 titles. In fact, it's the Cardinals staff that has been lights-out, and it stands to get even better if it ever gets Jake Westbrook back. St. Louis's bullpen ERA isn't great, but the excellent combination of Trevor Rosenthal and Edward Mujica has been more than enough. If the offense stays consistent, this is a team with a real chance to win 100 games.
3. Pitching Matchup of the Week: Stephen Strasburg vs. Julio Teheran (Friday, WAS-ATL)
The odd year continues for Strasburg, whose 2.49 ERA looks a lot better than his drastically lowered strikeouts per nine innings rate of 8.83. That's down from 11.13 last year, and it's a little puzzling because his velocity hasn't changed much. It's just that his fastball and curve are less valuable than they were in 2012. Still, 8.83 isn't exactly a low strikeout rate, and this could change for the better with a few strong starts. Maybe it's evidence that he's transforming from a pitcher that can get people out rather than one that can just strike them out. His walks are down, and he's lasted through eight innings in two of his last three starts, something he didn't manage even once in 2012. So let's call it a good thing, and let's enjoy his duel against Teheran, who has had an extremely effective month for the Braves.
2. Searching for the Old Magic (WAS-ATL)
Strasburg may be fine, but the Nationals seem to have lost that special magic that made them so compelling last season. With a record just inches above .500 and the NL Central holding a death grip on the wild-card spots, they need to gain ground on the Braves in the NL East. The quickest way is by winning the head-to-head battles, and with Strasburg and Gio Gonzalez throwing this weekend, it feels like a good time to make a statement. Nothing is must-win in May and June, but if a Braves mental block is developing, now's the time to shatter it.
1. The Greatest Rivalry in Any Sport in Any Universe (BOS-NYY)
I don't know any other universes, and I don't need to; they won't have a rivalry as good as Yankees-Red Sox. Sorry, alien life-forms who have developed sports in weird, possibly parallel worlds, but this is as big as it gets. I mean, come on: The AL East lead is at stake! Nothing matters more. And frankly, I'm in favor of attacking any universe who tries to claim otherwise.
Filed Under: MLB