The MLB Weekend Top 10: Into the Wild-Card Wilderness
Ronald Martinez/Getty Images
It's the last weekend of the regular season, which means it's also the last MLB Weekend Top 10. That would be sad, in its way, if I weren't just drowning in Coca-Cola right now. I don't have any emotions except alert, and so I can't write a proper eulogy for the Top 10 until this tremendous wave of energy has crested and fizzled, at which point it will be too late. However, I can damn well make a list that correctly counts down from 10 to one. It's my main ability, and I'd like to exercise it now as we search for whatever bits of drama remain in an underwhelming playoff race.
10. The Last Champagne Party (CHC-STL)
Do you think the Cardinals waited to clinch the division until the last series on purpose, just so they could celebrate in front of the Cubs and really rub it in? I, for one, hope so. I also hope they invite Steve Bartman to the game and let him throw out the first pitch.

9. Hot Bat of the Week: Neil Walker (PIT-CIN)
Four home runs in his last seven games! A .360/.448/.880 line! Why not?! Pirates fever!
8. The AL RBI Crown! (Miguel Cabrera vs. Chris Davis)
We're knotted at 137 apiece with three games left! Hurray for drama involving stats that are super dependent on one's team and have therefore lost their luster in the age of statistical enlightenment! (By the way, did you know that Paul Goldschmidt is going to win both the HR and RBI titles in the National League? I bet you did not!)
7. Miguel Cabrera should win AL MVP, right?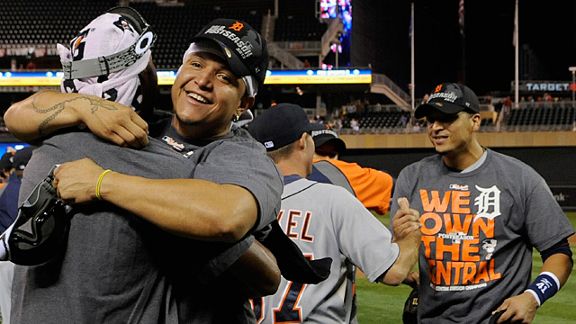 Sorry to go back to the Miguel Well, but I'm super confused about the arguments as to why Mike Trout should win the MVP. I'll probably come across as an ignorant dinosaur, in which case someone can viciously lay into me in the comments section, but here's what I'm seeing: Miguel is better than Trout in almost every offensive category. He trails him significantly only in stolen bases (33-3), and though there's a negligible deficit in runs (108-103) and walk percentage (15 percent to 14 percent), those are offset by Miguel's lower strikeout rate and his total base advantage (349-324, despite playing eight fewer games). Meanwhile, Miguel leads the league in average, OBP, slugging, OPS (well, yeah), wOBA, and is tied for the RBI lead. So while Trout is awesome, there's no dispute that Cabrera is the best offensive threat in the league.
So if we're saying Trout should win the MVP, we're basing it on defense, right? And that gets to the old question of defense's actual value. Trout is considered a slightly below-average defensive center fielder by UZR and ARM and RngR this season (at least compared to his competition), so that's not really what's giving him the edge; the numbers, for whatever they're worth, judge that he's making outs at only a slightly higher rate than we could expect of a replacement player. Instead, his lead in WAR is largely down to Cabrera's awful defensive numbers. Miggy's UZR is a dismal -13.3, which kills his WAR, but wait … who gives a shit about his range? He's playing THIRD BASE. Again, is he really missing that many outs that other third basemen make? Unless opponents are reaching on bunts at an astronomical rate, isn't third base mostly a reactive position? How do you even get a number like -13.3 at third? Among AL third basemen with more than 140 games played at third, he's made the second-fewest errors. What are these other third basemen doing that makes his UZR so poor? Are they fielding grounders at second base?
Seriously, somebody needs to explain this, because the Trout-over-Cabrera argument baffles me.
6. So I guess Paul Goldschmidt wins the NL MVP, right? Maybe?
I mean, the guy leads the league in home runs, RBIs, slugging, OPS, wOBA, and weighted runs created. Or does the relative closeness of the race mean that the voters might throw us for a loop and pick Clayton Kershaw, with his sub-2.00 ERA and league-leading 224 strikeouts? He's got one more start on Friday against the Rockies, and if he throws a complete-game shutout or something close to it, could that sway enough hearts and minds? Or will it be Andrew McCutchen, half on merit and half because the Pirates are the feel-good playoff story of the year? This is the most dramatic race remaining, and I have no idea what to expect.
5. Pitching Matchup of the Week: Bartolo vs. The King (OAK-SEA)
I love Bartolo Colon. I love that he's the ultimate Moneyball player, and that I have no idea how or why he's succeeding. I mean, the guy throws fastballs about 85 percent of the time, and only about half of them barely break the 90 mph threshold. He hardly bothers with off-speed pitches anymore, which is bizarre because he's 40 years old and has no velocity left. And yet, there he is, with his 17 wins and 2.64 ERA, and his hilariously low 5.32 K/9 rate. And he's going to finish with almost 200 IP! I don't care if this guy goes to bed with 15 HGH syringes sticking out of his arm; he's still the best.
I also love Felix Hernandez. And I love the fact that his ERA is 2.99, which gives his final game of the season some arbitrary statistical importance. And I wish he didn't play for Seattle, because that's incredibly unfair for someone with so much talent.
4. THE INSANE, DRAMATIC BATTLE FOR HOME FIELD IN THE NL PLAYOFFS!! (CHC-STL, PHI-ATL)
That was entirely sarcastic, because the MLB playoffs are totally random and the Braves are going to lose to Cincinnati in the wild-card round while the Dodgers beat up the Cardinals. Speaking of this, kinda, there's still an off chance that the Pirates could sweep the Reds, and the Braves and Cardinals each get swept to create a situation where two teams are tied atop the NL Central (meaning one has to be a wild card), and the Braves have the same record as both, meaning the Central team that isn't the wild card could have home-field advantage throughout the playoffs. I'm not even going to attempt to figure out what happens in that scenario, by the way, but if anyone in the comments is feeling froggy, have a go.
3. THE INSANE, DRAMATIC BATTLE FOR HOME FIELD IN THE NL WILD-CARD GAME!!!! (PIT-CIN)
More sarcasm, but I guess there is an advantage to be won here. You can read the in-depth scenarios here, but the short version is that the Pirates have a one-game lead on the Reds in the wild-card race, but if the teams finish in a tie, the Reds get home field in the wild-card game due to a superior head-to-head record.
The even shorter version is that the team that wins two of three this weekend gets to host the wild-card game. But really, does it even matter? The most important element here will be setting up their aces to pitch on Tuesday (wild-card day!). Pittsburgh will likely pitch Liriano, even though he's been terrible this month, or they could choose to skip Gerrit Cole's Sunday spot and throw him in the do-or-die game. For Cincinnati, it looks like Mat Latos is the man, with Mike Leake and even Homer Bailey (Friday's starter) available for long-relief duty in case of a disaster.
The real stakes here, though, are whether Pittsburgh's fans will get to see their team host a playoff game. It's been 21 years since the Pirates made the playoffs, and the end of that drought deserves a celebration. If the season ends with a road loss in an elimination game at Cincinnati, is that really very different from missing the playoffs?
2. The Last Race (TBR-TOR, CLE-MIN, LAA-TEX)
We've got three teams competing for two spots, and all of them are hot. The Indians have won seven straight (though they tried really hard to lose last night), ditto the Rays, and the Rangers have taken four straight after Thursday's walk-off homer by Jurickson Profar. Nobody is giving an inch, and all three are playing relatively weak teams. Tampa is the closest to clinching, with a game in hand over Cleveland and two over the Rangers. But I think we're all rooting for the three-way tie, right? If that happens, all hell breaks loose and things get complicated. I'm just going to give up and use Wikipedia's language here:
Based on a group head-to-head record, teams A, B and C will be created. Team B will travel to team A. The winner wins wild card one. The loser will go to team C. The winner of that game wins wild card two. After those two games, wild card teams one and two will play each other in the wild card round; this could be an "A/B rematch."
The question is, who will be Teams A, B, and C? Cleveland has the best record of the bunch in head-to-head games at 7-5, so they'd host Tampa (7-6), with the winner getting the first wild card. The loser would then travel to Texas the next day, and the winner there would get the second berth. Meanwhile, the Red Sox will be licking their chops at the prospect of facing the decimated team that emerges from that bloodbath. And Texas might lick its chops, too, knowing it'll probably throw Yu Darvish against the other team's no. 2. So much chops-licking!
1. The Last 42 (NYY-HOU)
My Coca-Cola buzz just wore off, which means it's time for tears. And now we come to the perfect subject; this is the end for Mariano. He might play center field against Houston, and he'll definitely pitch, but after Sunday we'll never see him on the mound again. It seems like he's been in pinstripes for my entire life as a fan, and it's going to be so, so strange and so, so sad without him. Before I get too emotional, I'll just leave you with this video of his last moments in Yankee Stadium, which says it better than I ever could.
Filed Under: MLB, Oakland A's, Pittsburgh Pirates, Shane Ryan, Texas Rangers, Yu Darvish