The Junk Food Pleasure of the Home Run Derby
Elsa/Getty Images
I watched last night's Home Run Derby while chowing down on a fast-food bacon cheeseburger. And you're damn right I got the large drink and fries. I didn't retrieve it in my V8 pickup truck, nor did I chase that cocktail of unsaturated fat and high fructose corn syrup with a watery American light lager, but I wish I had.
The Home Run Derby is a contrived, kind of pointless, made-for-TV event. It doesn't feature the best, or even the most entertaining, home run hitters. It's not even really a competition. There is nothing clever or subtle about it. It's precisely the kind of thoughtless, brazen rain dance to excess and shallow simplemindedness that people like me tend to hate. To the forward-thinking fans, the Home Run Derby is an easy target for derision. I try not to fall too far into that easy contrarian trap, so I turned on the Derby aiming to enjoy it from a distance.
That lasted until a 483-foot home run off the bat of Prince Fielder that took about four minutes to land in the bleachers.
In 2008, Josh Hamilton had his famous 28-homer first round at Yankee Stadium and Rick Reilly famously uttered, "It's a lousy night to be an atheist." Last night was an even worse night to be a cynic.
Why? Because it's fun to watch Bryce Harper and Robinson Cano hitting off their fathers, while Harper's brother looks on with his outstanding facial hair.
Speaking of hair, it's kind of fun to watch David Wright let his down, even if his controversial handpicked teammate wound up eliminating him from the Derby. It's absolutely fun to watch Chris Davis come very close to missing a ball entirely and still muscle it out to the opposite field. And if Yoenis Cespedes putting three balls in the third deck doesn't make your hair stand on end, you might not be alive anymore.
After three hours of montages and teammates bringing over towels and Gatorade like a cut man in brightly colored pajamas, it ended when two second-year outfielders with otherworldly upper-body strength and the self-control of a berserker faced off for the title. Cespedes won it authoritatively, pounding a 455-foot bomb to dead center to pass Harper with five outs to spare. So ended this Kid Rock concert of a sporting event.
So go ahead, mock the Pitbull performance.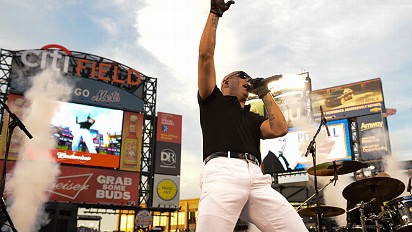 Mock the gaudy uniforms and the maudlin commentary and the thick, risible, inappropriate air of forced importance. Mock Harper's father for his unfortunate inability to grow age-appropriate facial hair. Mock Harper's brother for his unfortunate inability to grow facial hair appropriate for any human being of any age. Mock Michael Cuddyer for showing up where he doesn't belong. Not only is it easy, but you know what? The Home Run Derby is stupid and pointless and not really aimed at the discerning, educated, involved fan. It's junk food.
And who gives a crap? It's awesome. And I want to keep consuming it until I get sick.
Filed Under: Bryce Harper, MLB