#HotSportsTakes: Johnny Manziel Needs to Grow Up or Get Lost
Scott Halleran/Getty Images
Every now and then, we will attempt to write the worst sports column on earth. Today: Let's talk about Johnny Manziel and what it takes to be great.
BIRMINGHAM — Grow up, Johnny Football.
Grow up now, or get lost.
This isn't a game, son.
Sure, I hear the rest of you guys: He probably has a thousand folks in his ear these days, telling him what he needs to do and how he needs to change. But I wonder if they're all sugarcoating it. I wonder if anyone's ever sat him down and just played it straight, kept it simple. Johnny Manziel is riding high right now, but he's headed for a fork in the road. On one side, there's fame and fortune and winning and leading.
On the other side? A dirt road that leads straight to nowhere.
Grow up, Johnny Football.
If Johnny won't do it for himself, he should do it for college football. The Heisman Trophy is more important than some undersize quarterback from Texas. The Heisman Trophy is one of the few awards in sports where character still counts. It's not good enough to be great on the field when you're the Heisman winner, you have to set an example for everyone. Kind of like playing quarterback. But Johnny Football's been struggling lately, and sooner or later he's not going to be able to scramble out of trouble.
You know what might be the toughest read option of Johnny's life?
Choosing the hard right over the easy wrong.
In case you didn't hear, over the weekend Johnny got himself in a little bit of trouble at the Manning Passing Academy. He was invited to the camp as a counselor, there to teach the future Heisman hopefuls in attendance. But then there were reports that Johnny was out late partying, missed meetings, and showed up late to practices, and he was eventually asked to leave camp a day early. Counselor? It looks like this kid's still got a lot to learn.
The Manning family has been adamant that Johnny did nothing wrong, which isn't all that surprising. The Mannings aren't going to air out a quarterback's dirty laundry like that. They're above all this. Peyton's been saying the right things since birth, and he got it from his old man. Meanwhile, Johnny's father spoke out after the news went public and told us that Johnny wasn't out partying all night long; he was just "dehydrated." All right then.
So maybe Johnny Manziel wasn't out partying all night, after all. Does it matter?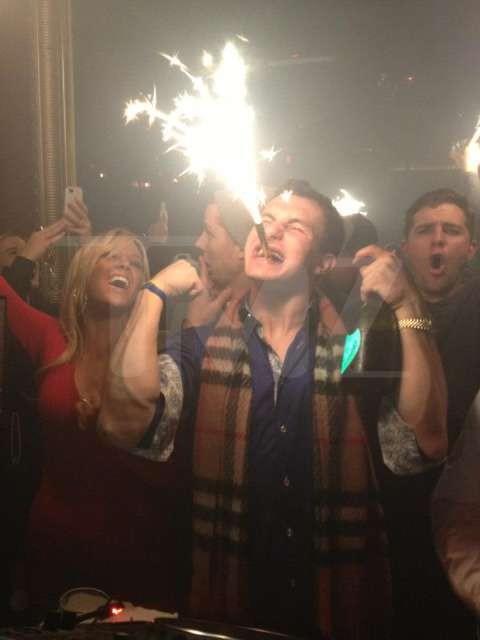 Where there's smoke, there's a QB under fire. He did it to himself. Look at that picture from earlier this year, look at the web articles that have been making the rounds on message boards for the past few months.
If it looks like a duck and quacks like a duck … It's sure not a leader.
It's concerning, to say the least.
I'm not saying Johnny Manziel is going to be Aaron Hernandez one day, but he's been on a slippery slope the past few months, and it hasn't stopped so far.
Texas A&M won't punish him, because how could they? Johnny put the Aggies on the map for the first time in decades. Coach Kevin Sumlin isn't worried about character, he's worried about recruiting. That's a fact. The NCAA won't punish Manziel, either, because today's media freaks out any time the NCAA has the gall to enforce the rulebook. And this is how tradition gets trampled.
Johnny Goofball gets to go out and party like a madman, tweets to rap stars, and our Heisman winner shows up in the headlines every day to remind us that we've entered a new era. It's sad, isn't it? The Heisman Trophy used to mean something. Even over the past few decades. With college football mired in scandal after scandal, with players taking handouts and ditching class, the Heisman winner gave America one true amateur we could all admire. A winner, a leader, and an example that convinced the rest of us to keep working, because sometimes the good guys win.
That was then.
Now we have Johnny Manziel, the sequel to Cam Newton.
Johnny Manziel was "very upset" leaving Manning Academy & has apologized to Texas A&M staff for his behavior this weekend (via @schadjoe).

— SportsCenter (@SportsCenter) July 15, 2013
Sorry Johnny, but you already lost me as a fan.
There's still a chance for him to change and learn what leadership is all about, sure. But time is running out on this two-minute drill. Say a few Hail Marys, folks.
If not for him, then for the people who love college football, and the people out there who still believe in the Heisman Trophy. Because like it or not, Johnny Football's not going anywhere. As Ivan Maisel wrote for ESPN.com this week, "By one measure — sheer numbers — Texas A&M quarterback Johnny Manziel steps onto the podium Wednesday morning at SEC Media Days as the biggest celebrity college football has ever seen. Ever."
But then: "If he fails to lead the Aggies back to the top 10, will anyone care where he spends his Friday nights?"
Just like that, we're back where we started. The ol' fork in the road.
Those are the stakes, and if he doesn't know it already, then maybe it's our job to try to smack some truth into him. Johnny Goofball can either be great or get lost.
If he chooses the first option, it takes more than flashy plays and flashing smiles for fans. It takes showing up to meetings on time, going to the practices, learning from teachers like the Mannings. Maybe you skip the crazy bar and spend some time partying with your playbook. Because that is what it takes. Growing up is what happens when you stop doing what's fun all the time, and start doing what's right. Growing up is what happens when you become a man.
And boy oh boy, I sure am worried about Johnny Football.
Have you heard the news?
Oh no, Aggie fans!
The Heisman winner was dehydrated!
I don't know, folks.
I'm no doctor, but I'd prescribe some tough love.
Filed Under: Andrew Sharp, College Football, Texas A&M