Premier League Top Five: Pleased to Michu
Richard Heathcote/Getty Images
1. Law of the Jungle
It can all feel a bit dirty sometimes; all the transfers and transfer rumors and players going on strike and managers bemoaning that behavior (when they aren't, themselves, tapping up players from other teams). It's very easy to look at European football simply in terms of predators and prey, and when you do that it's very easy to just want to say "screw it" and reach for the Knob Creek. But sometimes the most amazing thing about nature, and bear with me here because I graduated from the University of the Streets with a master's in zoology, is watching the prey adapt to the world around it and learn to survive. Take, for instance, the case of the Swans.

Swansea were one of the success stories of last season. Really one of the better stories in recent memory. Rescued from financial ruin, molded into a solid, aesthetically pleasing side by Roberto Martinez (now manager of Wigan), Swansea made some noise in the Championship and then, managed by Brendan Rodgers, gained entry into the Premier League via the playoffs.
2011-12 will be a year, in the words of Andre 3000, that Swansea fans won't forget. They played some of the most attractive football in the competition, finished 11th and beat Arsenal, Manchester City, and Liverpool along the way. Then, with summer, came the vultures.
Brendan Rodgers was lured away by Liverpool, eventually taking midfielder (and Team GB Olympic standout) Joe Allen along with him. Before the season started, star winger Scott Sinclair started making noises about wanting to move on to a bigger club (and it looks like he's going to get his way), and everything had the familiar scent of a fun, young, exciting team getting picked apart by bigger sides.
Apparently Michael Laudrup doesn't give a you-know-what about vultures. The Real Madrid legend and new Swansea boss used his La Liga connections (he has managed Mallorca and Getafe) and brought in midfielder Michu and defender Chico this summer.
Against a well-funded Queens Park Rangers side, Swansea's new Spanish imports were impressive, adding one thing the Swans lacked last season (some physical presence) while still working within the possession-passing game developed by Martinez and Rodgers. Compared to last season's midfield munchkins — Allen, Leon Britton, Nathan Dyer — Michu looks like an Expendable (he's only 6-foot-1 but towers over Britton and Dyer, who are just over 10 feet tall stacked on top of one another).
Michu was a revelation. Playing in the center of a midfield three, he patrolled the park like a John Deere with a NASCAR engine. His two goals (part of Swansea's five-goal haul) were a great return for such a performance and his second was my favorite goal of the weekend.
You can say this for Swansea: They seemed to have developed some serious survival instincts.
2. Debutantes' Ball
In general, it was a good weekend for players making their Premier League … premieres. Or even just debuts on new teams. There's often an assumed period of time that players need to get used to new leagues or new clubs. "Bedding in" they call it ("they" being English newspapers). Mladen Petric likes his bed just fine, thank you. He scored two for Fulham, where he's reunited with his old Hamburg manager, Martin Jol. I know Clint Dempsey might be agitating for a move out of Craven Cottage, but no doubt that performance prompted an honorary spinning of "Still Tippin'" in whatever, no doubt awesome, West London pad Dempsey calls home (for now).
Other players breaking into the charts with the new sound? Eden Hazard looked great playing behind Fernando Torres for Chelsea, putting this one on a plate for Branislav Ivanovic …
He got kicked a lot, but seemed to just get on with it. Speaking of Chelsea, people have been calling Romelu Lukaku a young Drogba for a few seasons now. Coming off the bench for West Brom, making his debut for the Baggies (against Liverpool), he actually looked the part.
Other fine debuts were had by Santi Cazorla (Arsenal) and, hey, what do you know, Joe Allen (Liverpool).
3. Saw It, Loved, Bought the T-shirt
City and Southampton played out a very fun 3-2 match (won by the champions). Almost as fun as the score line were the celebration T-shirts rocked by Carlos Tevez …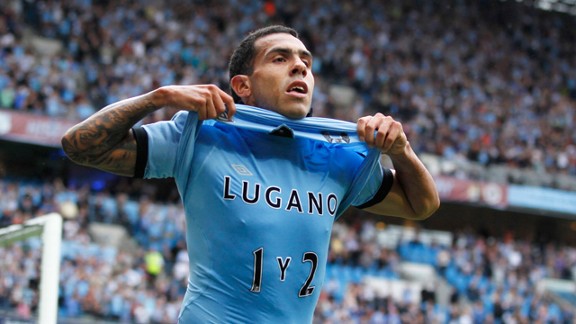 And Samir Nasri …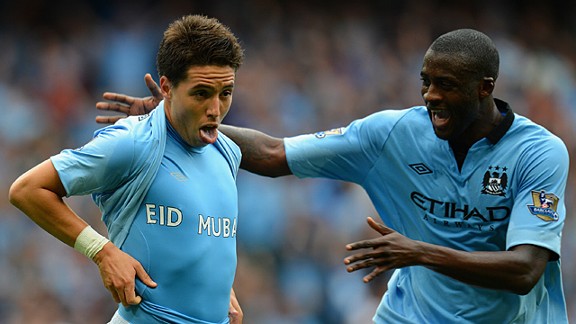 Nasri's shirt was displayed in honor of the end of Ramadan, while Tevez … not sure, maybe he just has Diego Lugano on his Ligue 1 fantasy team? (I'm kidding. Tevez was apparently shouting out his old Buenos Aries apartment block.) Too bad Joe Hart didn't get a chance to score.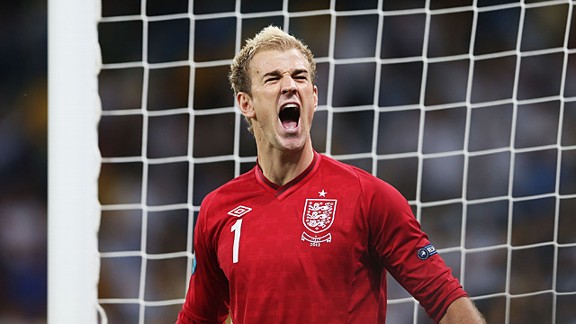 I would have liked to have seen a shirt that just said, "GINGER NUTS" on it.
4. Darren Dein the Destroyer
Deep within this excellent post on the excellent Arsenal blog Gunnerblog, about Alex Song's departure from the North London club, is the fact that Song is the last of Darren Dein's clients to be sold by Arsene Wenger. Who is Darren Dein? He's an agent and player adviser. So it's not shocking that he's involved in players being transferred. What's shocking is that Dein's father was David Dein, a legendary Arsenal executive and Wenger's one-time right-hand man. Together they built Arsenal into one of the finest franchises in Europe. But due to a struggle over the ownership of the club between Stan Kroenke (the club's largest shareholder) and Alisher Usmanov (a Russian billionaire and the club's second largest shareholder), Dein has been, more or less, exiled from the club, leaving in 2007. His son, Darren, has played a part in the exits of Cesc Fabregas, Samir Nasri, Gael Clichy, Robin van Persie, and now Song. It's all a bit cloak-and-dagger and murky as to what the motivations are, or what the truth is, but it sure reads like Dein is avenging his father's exile. Fascinating stuff.
5. Happy Trails
I think this tweet, from the very funny Arsenal podcast The Tuesday Club, probably sums up most Gunners fans feelings upon seeing Van Persie lose in his first match as a Manchester United player to Everton, 1-0:
Good. Fuck him and fuck them. Always liked Goodison Park.

— The Tuesday Club (@yellowbootson) August 20, 2012
It's amazing what you find out about yourself when you are absolutely furious that your star player and captain decided to "listen to the little boy" inside of him and sign for your one-time archrivals. Always liked Goodison!
Filed Under: Arsenal, Chris Ryan, Liverpool, Manchester City, Manchester United, Premier League, Soccer