Premier League Pass & Move: Wales Watching
Andrew Yates/AFP/Getty Images
With only one shocking result and a course correction from Arsenal, we present an abbreviated Pass & Move this week, covering Manchester City's loss to Cardiff and Arsenal's Aaron Ramsey.
Shocking Blue
Mike L. Goodman: Cardiff absolutely deserved their remarkable 3-2 home win against Manchester City on Sunday. They were also extremely lucky to get it. In the space of eight minutes, Cardiff took two crosses that directly resulted in two goals. Let's contextualize just how rare that is. Since the beginning of the 2010-11 Premier League season there have been 12,907 corners, 5,487 of them were completed, and only 158 of them were assists. In other words, considering a 42.5 percent completion rate and a whopping 1.2 percent assisted, scoring goals directly from corner kicks is really, really hard to do (stats courtesy of ESPN Stats & Info).
That doesn't take anything away from the inch-perfect deliveries of Peter Whittingham and Don Cowie to pick out Frazier Campbell, and doesn't minimize Campbell's perfectly timed run on his first goal, or his strong leap on his second. Nor does it excuse Joe Hart's horrifically missed swipe at the first cross in his own 6-yard box, or Pablo Zabaleta's inability to track Campbell on the second. Rather, it recognizes that even if you do everything right, like Cardiff did, you're still a pretty big long shot to score a goal, and even if you do everything wrong, most of the time the fates let you get away with it.

In between Cardiff's unlikely late goals, Manchester City saw the other side of the luck coin. They took three corners, one short one and two traditional ones into the penalty area. Two times Javi Garcia managed to lose his marker, and two times he managed to get a free header on goal. Both of them floated harmlessly into Cardiff keeper David Marshall's arms. City got good movement, and good deliveries, but just didn't close the deal the way Cardiff did.
Now obviously there's oversimplification here, and Cardiff's chances were almost certainly better than City's since they came from an average of 3.7 yards out, which is as close to point-blank as it gets (although, again, on the first of those two goals Joe Hart should have had an easy punch, so we're really crediting Cardiff for that mistake), while Garcia took his headers from an average of 11 yards away. Those attempts actually mirrored the entire game, where City allowed Cardiff to shoot from an average of 15.3 yards, the second-closest distance of any team over the weekend. (City themselves, incidentally, were third best at 17 yards away.)
But the point is that scoring goals, especially from corners, usually means a team did everything right and got lucky. That's why while Cardiff's win is very well-deserved, Manchester City shouldn't be hitting the panic button quite yet. Clearly the team needs to be concerned over Hart's form, which has been quietly poor since last season, and their defensive lapses were notable, even when accounting for the fact that the pair starting on Sunday where Joleon Lescott (the team's third-best center back) and Javi Garcia (not even a center back at all). But, on the other side of the ball City gave themselves more opportunities to get lucky than Cardiff did, outshooting their opponents 16-to-9 and getting 12 shots in the box as opposed to Cardiff's six. That said, Cardiff did get more shots on target than City, six to five, perhaps because they had only one shot blocked while blocking four of City's efforts.
City will certainly need to play better over the course of the season if they want to win the title. That's not why they lost this weekend though. Cardiff got lucky. And they deserve a tremendous amount of credit for it.
The Engineer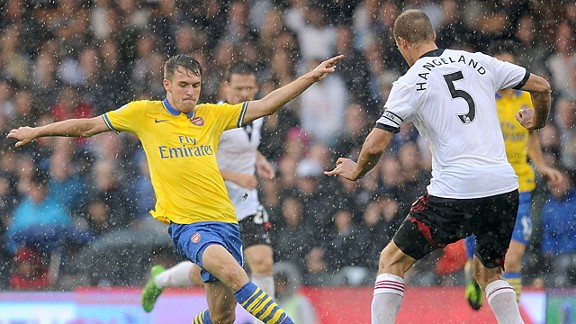 Chris Ryan: No, this is not going to be a post-within-a-post comparing Aaron Ramsey to that mythological space god from Prometheus. Not even on Grantland … Among the many celebrating Cardiff's win over City on Sunday was one of its most celebrated sons, Arsenal midfielder Aaron Ramsey.
Brilliant result for Cardiff, won't be quiet there tonight!

— Aaron Ramsey (@aaronramsey) August 25, 2013
Ramsey was coming off one of his more notable weeks in an Arsenal shirt; he scored in Turkey in a win over Fenerbahce in the first leg of Arsenal's Champions League qualification match, then powered the Gunners to a 3-1 victory at Craven Cottage against Fulham.
And I do mean "powered," so maybe it's better to call Ramsey the engine, not the engineer. Often when you think of a team's central midfield, you think of roles, regardless of the formation (4-3-3 or 4-2-3-1). There's a defensive midfielder, a deep-lying playmaker, and a creative, attacking no. 10 at the tip of the trident. Probably the platonic ideal of this setup would be the Javier Mascherano–Xabi Alonso–Steven Gerrard Liverpool midfield under Rafa Benitez. I mention that trio not because they were so good, which they were, but because their roles were so clearly defined.
Where Aaron Ramsey is going, he doesn't need a role. Now fully recovered, some three years on from one of the most horrific sports injuries I've ever seen (Google it if you must) Ramsey has started off this season playing like the Aaron Ramsey of whom Arsenal fans always dreamed. Over the past two seasons, I've seen critiques of Ramsey's game that he slowed down Arsenal's ball circulation and too often looked for a Hollywood pass, or inch-perfect lob, when a simple square pass or layoff was the right move. He seems to, for the most part, have answered those critics, and learned to be boring when boring is what's called for.
You often hear words like "industrious" or "industry" or "full of running" when pundits describe midfielders (usually British ones) who run around like chattering teeth hooked up to a car battery. Ramsey combines Typical British Industry with a positional awareness that makes any nagging like of defined role a moot point. He doesn't just run around. He runs around with a destination in mind. You don't need a role if you can fill them all.
Aaron Ramsey vs. Fulham – Positional heat map: pic.twitter.com/I5aNFwXbGh

— Llew Davies (@LlewAFC) August 24, 2013
Against Fulham, it wasn't uncommon to see Ramsey drop deep and pick up the ball from Bacary Sagna, who was filling in at center back. Then all of a sudden, after a dozen graceful gallops, he'd be involved in the midfield buildup play, moving the ball among Rosicky and Cazorla (of Ramsey's 73 completed passes against Fulham, 35 percent were to his two midfield partners).
The best part of Ramsey's game — the part that reminds me of Gerrard, actually — is when he makes himself a late-arriving goal threat. If you look at that little green, blue, and red blotch at the upper right of the penalty area, that is Aaron Ramsey arriving like a freight train onto loose balls or cutback passes. He let off a cannon shot that wound up being an assist to Olivier Giroud for Arsenal's first, and he was often cannonballing into the box, causing havoc for Fulham's overrun defense.
Here's the part where I say that when he was receiving the ball in his own half, Ramsey was being pursued by Adel Taraabt and Dimitar Berbatov. The two Fulham forwards no doubt commiserated over a Gauloises after the match and talked about having language inserted into their contracts mandating they never be asked to "chase the opposition" ever again. Being hounded by Taraabt and Berba is going to make anyone look like a gazelle, but it doesn't take away from Ramsey's performance.
For years, we've been hearing about a young, British superstar midfielder who was going to lead Arsenal back to its Highbury-era glory. Jack Wilshere was on the bench this weekend, but maybe that superstar midfielder was still on the pitch.
Filed Under: Chris Ryan, English Premier League, Manchester City, Premier League