Rock and Jock Q&A: Band of Horses' Ben Bridwell on the Upcoming University of Georgia Football Season
Mike Ehrmann/Getty Images
I'd estimate something like 85 percent of my memories formed while living in Athens, Georgia, from 2003 to 2006 are unreliable at best. Nonetheless, I can say with a good amount of certainty that the kickoff of UGA's football season annually coincided with a heroic run of Drive-By Truckers shows at the 40 Watt or Georgia Theatre during that time. The sets would last about three hours, tepid beer was chugged before it could turn lukewarm, and maybe 65 percent of the crowd was still ambulatory by the time they played "Decoration Day."
It's a story that tells you what you already know: Athens is an American utopia if you require both a vibrant local music scene and an equally obsessive college football fan base. And yet, the major players in those two worlds don't overlap as much as you'd think. While many Bulldog fans likely played "Everybody Hurts" on a continuous loop after UGA's national title hopes suffered an agonizing death at the 5-yard line in the Georgia Dome, Michael Stipe probably didn't endorse it.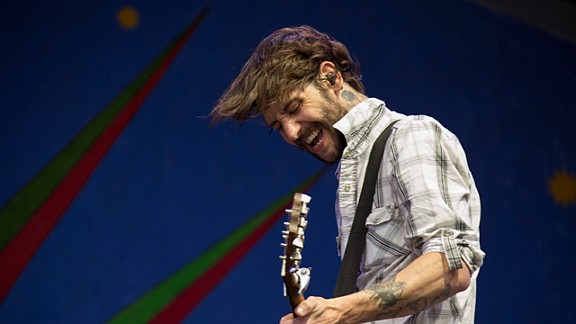 So it's not surprising that I had to look outside of the Classic City to discuss UGA's latest kinda-sorta outside shot at being a national title contender. I will say this, though: When thinking about who's repping Bulldog Nation the hardest, Band of Horses frontman Ben Bridwell's name came to mind immediately. Bridwell has "been watching Georgia football games … for as long as I can remember, before I even knew what the game really meant. I was happy to be with my family eating cheese dip." Now, I anticipate the mild protestations you may have. Wait, they're not only not from Athens, in fact … aren't they from South Carolina?
Well, let's put his credentials in more tangible terms: Bridwell is hitting the road this fall on a solo tour and he specifically routed it so his show at the 40 Watt in Athens falls on the weekend of the UGA-Auburn game. I spoke to Bridwell about the Bulldogs upcoming season, over e-mail.
You've almost certainly reimagined the last play of the SEC Championship at least a dozen times in your head. Are you convinced that Georgia was the better team than Alabama that day, and if so, would they have beaten Notre Dame?
Honestly, I haven't played it over much in my mind. However, the scenario that actually put us in the position to play Alabama in the SECCG set my world on fire. A couple of teams were losing, which helped our cause (namely, USC and Florida … LOL), and UGA seemed to get better as the season progressed. I am not convinced that Georgia was better than Alabama that day. Both teams fought to the death. The game was an example of two incredibly disciplined, determined, and talented squads doing a lot of things right. Shit happens. Somebody had to win.
Do you feel like that's as close as Mark Richt will get UGA to a national championship? Do you think he lacks the killer instinct that Les Miles, Nick Saban, and Steve Spurrier seem to have?
I feel just the opposite. Anyone can win and that's what makes being a sports fan so great and so terrible at the same time. Especially as SEC fans, we understand that a single bad game, or any team in the conference catching fire can destroy all of our dreams. No coach is bullet proof, even though Satan [Editor's note: I assume this hilarious typo is not a typo] has been on another great run.
Aaron Murray is heading into his senior year and it feels like he's been here for a decade. How do you think he stacks up against the recent Bulldog greats, such as David Greene, D.J. Shockley, and Matt Stafford?
I'd say he stacks up well, especially when you look at his dominating stats and the fact that none of the others won a national championship. Aaron has a chance to eclipse them all in his final season.
UGA's offense looks incredibly dangerous between Murray and the stable of running backs. Do you feel that Murray's experience could actually be detrimental, in that [offensive coordinator] Mike Bobo could be more likely to gear the offense toward the passing game than the running game, which is longer on talent than experience?
In my opinion, there are no negatives to having a multidimensional offense. That should be a nightmare for opposing defensive coordinators. On paper it looks like a perfect recipe for a record-setting offensive beatdown.
Between Keith Marshall and Todd Gurley, who do you think is the alpha dog in the Georgia backfield?
They're both very good with different styles. It's another example of this team seeming to be very versatile. As much as I'd hate to slight Keith Marshall, Todd Gurley is my favorite Georgia football player. He's a rare talent.
Do you feel that UGA's recruiting has kept up with Alabama, Florida, and LSU?
Sure. The ratings assigned to these recruits are based on their output in high school. The rankings don't mean diddly if the kid can't fit into and thrive in the collegiate system later. A tougher question is, have we done enough with the recruits to bring out the best of their abilities? Yes, as is evidenced by the Vikings' current field goal wizard, and Georgia alum, Blair Walsh.
[Defensive coordinator] Todd Grantham's defense has been inconsistent throughout his tenure. While the offense is explosive, the defense loses a lot of NFL-caliber talent. Are you concerned about how the defense stacks up this season?
Yes and no. We lost some absolute studs and that always hurts. Losing [defensive line coach] Rodney Garner was big too. We have a ton of crazy talent coming in though, and I'm excited to see what [new coach] Chris Wilson can do with this young defensive line. So far it seems like our entire defense has a wealth of players that can play different positions. Again, that versatility may be the strongest asset to our championship hopes.
South Carolina has had Georgia's number over the past couple of seasons. Do you think Spurrier just has some kind of voodoo over the Bulldogs or do you think the Gamecocks have just had superior talent (i.e., Marcus Lattimore) over the past few seasons?
I have a buddy that is convinced Spurrier gives us a little something extra, due to his losing record vs. Georgia during his playing days as quarterback of Florida. He certainly seems to give us his best effort. Even before this current streak of wins, it seemed like most of the games with the Cocks were total battles with close final scores.
Which early-season game is more of a concern: Clemson or South Carolina?
USC. If we lose to Clemson but beat the Cocks then we are on our way to getting better every game and closer to winning our division, winning the SEC Championship, and being in the picture for a national title.
Georgia has won the last two Cocktail Parties. Do you envision that continuing? And how much has Richt's recent success against the Gators helped him in terms of keeping his job? Is it the most important game on the UGA schedule any given year?
I appreciate all that Will Muschamp is doing over at Florida. Beating the Gators is one of the most satisfying feelings a Georgia Bulldog fan can experience, and a crucial element to making it to the SECCG. Gotta watch out for Tennessee and Auburn too. I love beating Auburn because I hate them and they're dirty cheaters and they suck and …
There's a realistic possibility that UGA starts out the season 0-2, as they begin against Clemson and South Carolina. Will that be enough to put Richt's job in jeopardy, even with another strong finish?
I don't believe so. I'd hope the higher-ups at the university are smarter than that.
On the flip side, if UGA loses to Clemson and beats South Carolina, the rest of the schedule is favorable. They avoid Alabama and Texas A&M, while getting LSU at home. Is it SEC Championship or bust this season?
Absolutely! I'm still pissed about the last game that LSU played in Athens. I pray we don't give the officials a chance to screw this one up. No matter how well we start, there's no comfort in looking at the later games on the schedule. Hell, even Kentucky can give us trouble. It's a damn minefield out there.
What are your realistic expectations for the Bulldogs?
UNDEFEATED NATIONAL CHAMPIONS.
Filed Under: College Football, Ben Bridwell, Grantland Q&A