Premier League Pass & Move: Take the Mesut Ozil Challenge
David Price/Arsenal FC via Getty Images
A review of the weekend's Premier League action.
Ball Don't Lie
Chris Ryan: If I were playing with Mesut Ozil, I'd be worried. The new Arsenal midfielder, who joined the Gunners from Real Madrid for a club-record £44 million transfer fee, made his debut on Saturday against Sunderland, despite being a little under the weather. Ozil played like Ozil, which is to say you wouldn't notice him out there for about six or seven minutes and then …


His first significant involvement in the match led to an Olivier Giroud goal.
Always nice to start your Arsenal career by causing fans to think they just saw the reincarnation of Dennis Bergkamp go dancing across the field.
So why would I be worried if I were playing with him? Aside from the fact that he doesn't seem to know how to celebrate goals with Mathieu Flamini, of course?
Because Mesut Ozil is so good that he reveals exactly what your level is. I love Theo Walcott, have always thought his "football brain" was underrated, and think he's one of the most exciting players to watch. I hope he scores 30 goals this season. But Arsene Wenger may need to read him the Sergeant Apone riot act. He could have had a hat trick, easily, against Sunderland. It seemed like every few minutes, he would be sprung loose by a seeing-eye through ball from Ozil, leaving him to contemplate life's mysteries and the contours of Sunderland's goalkeeper's face. If Ozil is going to be Bergkamp, Walcott is going to need to start playing a little more like Thierry Henry. I don't know if plain old Theo is going to be enough anymore.
Squad Rotation Blues
Mike L. Goodman: This weekend marked the beginning of "damned if you do, damned if you don't" season for some Premier League managers. With Champions League kicking off on Tuesday, Manchester United, Manchester City, Chelsea, and Arsenal all face the question of how aggressively to rotate their squads. Rotate and lose and the manager gets criticized for not playing his best players; don't rotate and lose and the manager takes heat for running tired legs out on the field and not using his full roster. Good times for Moyes, Pellegrini, and Mourinho. Arsene Wenger gets a pass for now since in order to consider rotating players you need more than 11 who are held together by the magic of duct tape, twine, and Ozil through balls (see above).
Moyes elected to give Danny Welbeck, Tom Cleverley, and Phil Jones their first days off of the season for United. Despite playing host to lowly Crystal Palace, Robin van Persie, Michael Carrick, and Wayne Rooney all played heavy minutes, with only van Persie being given 11 minutes off at the end of the game. A subpar performance on Tuesday, when they host a quietly competent Bayern Leverkusen, opens Moyes up for the "damned if you don't" criticism. Until then, though, United have managed to keep their season on track.
Pellegrini, on the other hand, is already hearing the "damned if you do" after rotating his side heavily before traveling to Stoke. Pellegrini, whose front six had remained constant throughout the opening three games, made wholesale changes with Alvaro Negredo, James Milner, Samir Nasri, Stevan Jovetic, and Jack Rodwell coming into the side. City, unsurprisingly, looked like a bunch of guys who hadn't played together before. Maybe he didn't want to repeat the mistakes of his predecessor, Roberto Mancini, who was axed for Champions League failures. It's hard to blame him for sacrificing an away result to a slowly-getting-better Stoke team and starting the A team (possibly minus an injured Silva) on the road against Czech alphabet soup side Viktoria Plzen.
Jose Mourinho at Chelsea seems more or less impervious to criticism of any variety. And while he has already heavily rotated his attacking players (it's actually probably something more than rotation when you consider Samuel Eto'o is Chelsea's fourth striker in four matches), Saturday was the first game of the year when he shifted his defensive spine. Frank Lampard and Gary Cahill were on the bench, with Jon Obi Mikel and David Luiz in their place. Lampard's absence especially highlighted what may be an ongoing problem for Chelsea. Without him there was simply no midfield creativity to speak of.
Four games into the season and the demands of the Champions League are already weighing on Premier League decisions. Effective squad rotation is a thankless job for a manager. He's managing injuries and minute loads and developmental considerations, and the fans are only interested in the results. Damned if you do, damned if you don't.
Just Like We Drew It Up
Ryan: Tottenham's first goal from open play this year was like something Andre Villas-Boas put together on the Minority Report red ball machine. That's two, field-switching passes (first to Danny Rose on the left wing, and then Rose–to–Roberto Soldado in the penalty area), a layoff, a perfectly weighted one-touch pass from Christian Eriksen, and a perfect finish from Gylfi Sigurdsson. From deep midfield to the back of the net, that took about eight seconds, with five different players getting a touch. Andre Villas-Boas as soccer's Chip Kelly? Discuss!
Anatomy of an Everton Goal
Goodman: It's not fair to blame Chelsea's away loss to Everton purely on the lack of Frank Lampard. Everton deserve a lot of credit for a very strong performance. Their goal was a fantastic example of the kind of interchanging attack that new manager Roberto Martinez wants to institute for his team. When Ross Barkley initiates the move at the top of his box you can see him surrounded by four other Everton players. From left to right they are Seamus Coleman, Everton's right fullback, who is the player farthest up the field; Leon Osman, a defensive midfielder; Kevin Mirallas, who's got all the way across the field from his left midfield position; and Steven Naismith, who, despite being the right midfielder, has moved into the central forward slot. Just offscreen, to the right, is Everton's actual striker, Nikica Jelavic.
The entire play is made possible by Ross Barkley. The young, English midfielder is terrifying teams with his long-range shooting. But he is equally accomplished at drawing and absorbing contact from defenders. Here he shrugs off Andre Schurrle. For a split second both Ramires and Luiz get sucked into ball watching, drawing them both out of position. As Ramires steps to Barkley, he loses track of Osman, and Barkley, to his credit, plays a simple pass to Osman in space. Now Chelsea are scrambling. Ashley Cole, who originally had responsibility for Coleman, rotates toward Osman. But because Coleman has remained forward, instead of drifting out wide to provide an outlet, John Terry (who had been watching Naismith) is forced to rotate to the front post to cover Everton's defender, with Branislav Ivanovic pinching in from the right to pick up Naismith, leaving Jelavic unmarked at the back post. When the cross finds him, Ivanovic tries to recover to Naismith, but is much too late (at the :05 mark) and Naismith is left completely unguarded from point-blank range.
Mistakes were made by Chelsea. But a lot of those mistakes are probably because positionally, for at least a moment, Everton ended up with a three-man front line consisting of a right back, right midfielder, and central forward, and that's the beauty of Martinez's system when it works. Defenders have to make decisions in split seconds, and the presence of players in unlikely positions (in this case, especially Coleman at the near post) makes those decisions extra challenging. Here as a unit Chelsea failed. Of course, despite all that, it still took a very good cross from Osman and an exceptionally alert combination of movement from Naismith and a headed pass from Jelavic to come to fruition. That's a testament to just how hard it is to score a goal.
Now is the Winter Autumn of our Discontent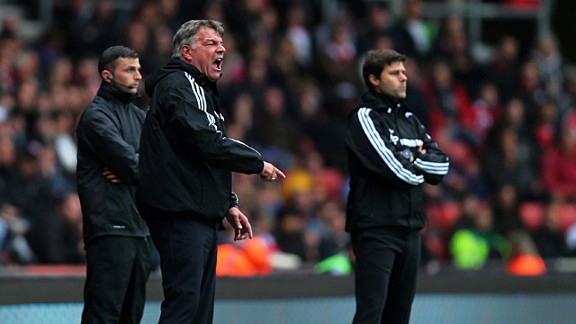 Ryan: And it begins. Well, it never really ends, does it, when it comes to managers moaning about decisions? For a variety of reasons, Crystal Palace's Ian Holloway and West Ham's Sam Allardyce are my least-favorite managers in the Premier League, but the chief reason why I wish these guys would just go manage a post office somewhere is that after every match, both sound like a bunch of old folks complaining about the early-bird service at a West Palm Beach Denny's. Unless these guys win (which is pretty rare), you can count on them coming out and itemizing the crimes done against their teams; it's never the fact that they don't have enough talent, or they aren't inventive-enough tactical minds. It's always because some guy named Andre or Mark didn't see something, or didn't give a card, or if he did give a card, it was the wrong color.
"I can't affect what the referees do — that is not my job. But I have to point out that was a really poor decision — that is my responsibility."
That's Allardyce moaning about Southampton's Morgan Schneiderlin not being sent off during the weekend. Apparently pointing out Joey O'Brien's tackle on Adam Lallana is not his responsibility either. Holloway, who is already serving a two-match ban for his referee critiques, subtweeted Greg Louganis Ashley Young after Palace's loss to Manchester United, saying, "I don't talk about other people's players … If you want to meet me down the pub later on I will tell you exactly what I think."
Drinking room-temperature beer while Ian Holloway talks about referees and diving. Where do I sign up?
Filed Under: Arsenal, Chelsea, Chris Ryan, Manchester City, Manchester United, Premier League, Soccer