Premier League Pass and Move: Merseyside Midfielders on the Rise
Andrew Powell/Liverpool FC via Getty Images
A review of the weekend's Premier League action.
Coutinho: You Should Be Very Afraid
Mike Goodman: Philippe Coutinho is downright terrifying. That's really all there is to it. Technically he starts on the left side of Liverpool's three-man attacking front line, but in reality that left-sided position is somewhere between a vague suggestion and a dirty, dirty lie. In reality, Coutinho is as close to a classic attacking "no. 10" playmaker as the Premier League has. When Liverpool are in possession he comes off the left side and takes up positions all over the field to receive passes and turn and create for the attackers ahead of him. There's close to zero positional bias in where he receives the ball. He's all over the field.
From those positions he created six chances, more than anybody else in the Premier League this weekend except for Eden Hazard of Chelsea, who also had six. He was also the only player in the Premier League to complete more than one through ball, ripping apart Stoke's defense both times he tried it. Part of what makes Coutinho so fun to watch is the degree of difficulty of what he's attempting, which is why his 80 percent completion rate isn't troublesome. Of his nine incomplete passes, seven happened where they are least dangerous to his team. It's also why the chances he creates are so valuable. Five of the six chances he created were from open play, and four of them were passes that players received inside the penalty area, meaning that the shots they took were high-quality shots. Coutinho doesn't just pass the rock, he finds guys who are wide open at the rim.
The worrying thing for Liverpool is that despite the dynamite performance from Coutinho, an only slightly less impressive debut from Iago Aspas, and a goal from Daniel Sturridge, the team still came within a penalty save of coming away with only a draw. The Reds have had a problem converting shots over the past two seasons, and opening the season by taking 25 shots, with 17 of them from inside the penalty area, and walking away with only one goal is a troubling continuation of a trend. It's tempting to attribute those results to Stoke's Asmir Begovic absolutely standing on his head to deny Liverpool. The man did make 10 saves, including a whopping eight on shots from inside his penalty area. But at some point, and probably some point soon, Liverpool need to improve their finishing to make strides forward in the league.
Rear and Future Windows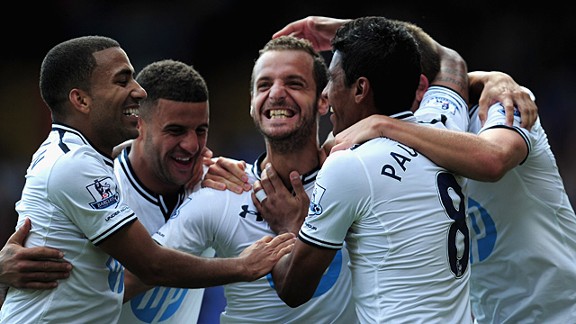 Chris Ryan: Before this weekend's match against Swansea, new Manchester United manager David Moyes said, "It might take me 18 months to two years to get things changed around." He might have the luxury of fielding a title-winning team, but Moyes wants four or five transfer windows to get rid of players he doesn't want and bring in those he does. He likely hopes that judgment on his time at United is suspended until the players he is selecting are the ones he has brought to the club in the first place.
Oddly enough, I was reminded of the Moyes quote, not while United brushed aside Swansea, but rather when checking out Tottenham and Liverpool. Andre Villas-Boas and Brendan Rodgers have both had three transfer windows to put their respective stamps on their squads. And this weekend, you could see the results.
Neither team lined up with their best player (Gareth Bale and Luis Suarez), and there won't be commemorative DVDs made about either side's 1-0 wins this weekend. But both clubs played lineups that seemed to finally be playing in the way their managers want them to.
This was a Spurs team with no Friedel, Assou-Ekotto, Livermore, Gallas, Jenas, Kane, Van der Vaart, and, yes, Bale. And the Liveprool that took the field against Stoke was free of names like Downing, Borini, Reina, Carragher, Skertel, Cole, Carroll, Adam, and Shelvey. Some have moved on, some were on the bench, some are in limbo.
The result of these roster overhauls? Tottenham looked much more imposing in midfield. Paulinho, partnered with Moussa Dembele, had four tackles and three interceptions in his first Premier League match. All over the field, you just saw dudes who looked like Harvesters; even their new winger, Nacer Chadli, looked like he could win all the bar fights. This team plays fast, gets up the field quickly, and epitomizes the "vertical style" (read that great Michael Cox link) that AVB espouses.
Liverpool, for their part, looked just like the short-passing, possession-addicted pinball wizards that Brendan Rodgers has been craving. This was exemplified in the interplay between Philippe Coutinho and Iago Aspas. It's also worth noting that keeper Simon Mingolet was the hero on Saturday, saving a potential game-tying penalty, and made Rodgers's controversial decision to let club legend Pepe Reina go look like a sound one.
Liverpool and Spurs may still be a transfer window or two (and definitely a star player or two) away from seriously challenging Chelsea, City, and United, but after this weekend, you can see just how much better a manager's plans work out when he has the right players to enact them.
Get Arteta
Goodman: The biggest issue facing Arsenal right now might not be its injury-ravaged defense or comical transfer-window dealings, but rather the absence of Mikel Arteta. Over the last two seasons, Arsenal have come to rely on Arteta to be the engineer for the intricate midfield passing that their attack is based on. Without him, the machine breaks down.
As the deepest playmaker for Arsenal, Arteta's responsibilities are both to provide the pass that initiates attacks and provide an outlet for players to return the ball to when moves become stymied by the defense. Without him, Jack Wilshere and Aaron Ramsey were forced to pick up some of that slack. The ball stagnated between Ramsey and Wilshere in the middle of the field. Arsenal as a whole attempted 523 passes and completed 456 of them, but of those, 23 went from Wilshere to Ramsey and 21 went from Ramsey to Wilshere, the two highest pass combinations of the game. More than 10 percent of the passes Arsenal played were just the midfielders pinging the ball back and forth to each other. And as you can see from the chalkboard, the passes weren't even particularly imaginative.
For comparison's sake, here's what Arsenal looked like in February, when they hosted Villa last season.
In that matchup, Wilshere occupied the more advanced role that Rosicky played this past Saturday, and Abou Diaby started in the third midfield role. Arsenal played slightly more passes that day, completing 535 out of 599, but the most frequent pass combinations were Wilshere to Santi Cazorla at 18, and 17 apiece for Arteta-to-Wilshere and Abou Diaby–to–Wilshere. The top three passing combinations made up less than 10 percent of total passes, and the top two were only 6.5 percent. Not only that, but the ways in which they combined were much more varied when Wilshere had the positional freedom to move around the field. Arsenal, in February, were more free-flowing and varied in their attack, instead of the frequently stagnant group from the weekend.
After one game, all of this comes with a raft of caveats of course. First and foremost, Arsenal played a full 25 minutes down a man. That certainly contributed to both the decreased passing frequency and conservative positioning of the midfield. Although, aside from their early goal, Arsenal probably looked most threatening when Koscielny got sent off and when they conceded Villa's third goal. Secondly, Cazorla didn't come on until after halftime. When he plays on the left wing, as he did both Saturday and last season, he drifts inside, creating another midfield passing option and further overwhelming defenses in the center of the field. Add to that three Arsenal players forced off due to injury, a contentious penalty, and an even more questionable red card, and obviously it's impossible to pin this loss solely, if at all, on midfield control. It sure didn't help, though. And if Arteta misses an extended period of time, the problem isn't going to go away.
The Ramires Role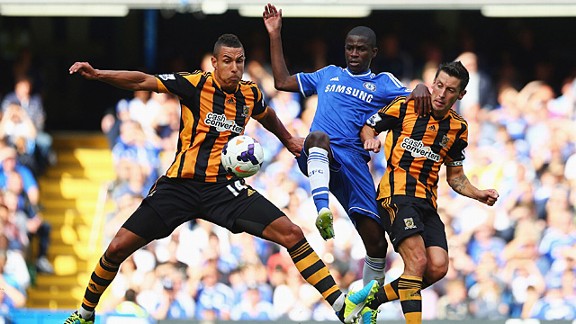 Ryan: This is me watching Chelsea's first half on Sunday against Hull:
Chips, layoffs, through balls, back-heels, position swapping, Torres playing a deep-lying false nine, and the first real glimpse of DE BRUYYYYYYNE.
But the most impressive Chelsea performance came from the Brazilian central defensive midfielder Ramires.
The role of Chelsea defensive mid under Mourinho has been occupied by two of the best to ever do it: Claude Makelele and Michael Essien. The latter is back on the bench for Chelsea, following Mourinho from Real Madrid, but I doubt even Essien would argue that he could have done a better job than Ramires did on Sunday. I don't know if anyone really could have.
Ramires had four tackles, five effective clearances, and one foul against Hull (stats via WhoScored.com). He also had a 92 percent pass success rate, and had the most passes of anyone on the team. In defense, Ramires was on patrol. On second viewing of the first half, you can see him just shuffling, jogging, and positioning himself — always in the right place, always at the right time, always under control. The thing he brings to the table that Makelele and Essien did not is his ability to get forward, often rushing into the penalty box.
He might not be as good as Makelele and Essien were in their primes, but for what this Chelsea team needs, he might be perfect.
RAWWWWWWWSE
Ryan: I know this is going to sound silly, but if you're David Moyes, and you're looking to rebuild the Manchester United midfield, are you sure Fellani is the Everton midfielder you should be coveting? Ross Barkey played out of his mind and older than his age on Saturday. His four shot attempts on Saturday against Norwich were attempted from an average of 29.5 yards away, WHICH IS WORTH MENTIONING BECAUSE MOST OF THEM BROKE THE SOUND BARRIER, and he completed 51 of 54 passes (numbers via ESPN Stats & Info). He's 19, he gets injured, and he has a tendency to go flying all over the park, sometimes falling out of position; but if his performance against Norwich is any indication of what kind of player he is and what kind of season he's going to have, he is definitely going to become appointment television.
The Well-Deserved Death of the Long Throw
Goodman: Sometimes in life it's the little things. Above is a chalkboard of all the throw-ins Stoke took during their match against Liverpool. Not a single solitary one was a long throw into the penalty area. Thank you, Mark Hughes. It says a lot about where a team is when Hughes actually makes them more watchable, and none of them are particularly positive. But at least nobody was subjected to watching Stoke take 10 minutes to dry absolutely every speck of water off the ball before launching a lobbed throw into the penalty box as Ryan Shawcross and Robert Huth kicked as many shins as humanly possible before the ball game down.
Filed Under: Arsenal, Chris Ryan, English Premier League, Liverpool, Premier League, Soccer