OKCoach: Dating Profiles for the College Football Coaching Carousel
Jamie Squire/Getty Images
If you believe December to be a month defined by its commercialist ideals — and really, there's no other way — the dominant message is that your previous 11 months can be judged by the state of your relationship. And viewed through the lens of a moderately priced piece of Zales jewelry, there essentially are two kinds of people: those who joyously indulge in holiday parties and modest gift-giving, and those who anticipate a lonely Christmas where they get taken to task by their elders who simply want to know what the hell is wrong with them and why they keep messing things up. Some people are sipping eggnog by a fireplace, others are chasing Captain Morgan with a McFlurry by the warmth of a space heater.
Not surprisingly, college football is every bit as beholden to relationship envy as our culture wants us to be during Black Friday. The mind-set is that no one should have to spend December without a BBVA Compass Bowl bid to look forward to at the very least. And if you don't get what you want, the social mores are no longer in place to preach patience over acquisitive thinking. Simply put, the idea that you're going to subject yourself to the whims of an emotionally unavailable and likely abusive white dude as long as he puts on a good face in public and keeps food on the table is as antiquated as a houndstooth hat.
The good news is that the coaches themselves are finally willing to enter the 21st century and embrace the joys of casual flings, multiple partners, and discreet hookups — in other words, the exact things online dating was meant to foster. Of course, whether it's JDate, OKCupid, or Christian Mingle, some people are, as the kids say, "thirstier" than others. OKCoach is only in beta testing right now, but our inside sources [cough — Jeff Long — cough] were able to grant us a one-week pass. Unfortunately, until we upgrade to the paid subscription, we can't see the premium content that includes the "swingers" profiles. But our connection says it's worth it if only to see "PsychoLeSU" and "TurfIsBluer."
Bobby Petrino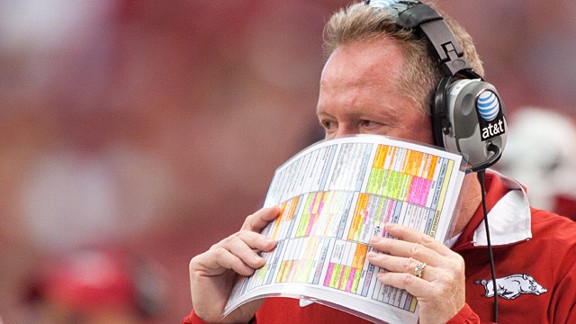 Username: PapaJohnsWasARollingStone
My Self Summary: If it feels good, do it! That's my motto. Motorcycles, flights after midnight, naughty texts, doesn't matter. I think the kids call it "YOLO," but rap's never been my thing.

What I'm Good At: Some people tell me I have the mind of a 20-year-old, and I agree that I'm really young at heart! People discover their inner child when they're with me.
My Last Relationship: You mean one that involved a contract? LOL. I guess I just know how to pick the crazies. Even though I thought the last relationship ended really badly, I get all sorts of messages from their friends saying I should call them!
I Spend a Lot of Time Thinking About: Where I'm going to be exactly one year from now.
Looking For: Someone with a sense of adventure that knows how to keep a secret. Because believe me, you'll want to brag to all of your friends about the things we get into.
You Should Message Me If: You're done with all the losers you find on this site and want the best two years of your life. No regrets.
Mark Mangino
Username: DaddyFatSacks
My Self-Summary: You know the saying "good things come in small packages"? That's a hoax perpetuated by the makers of fun-size Snickers. You want "large and in charge," you see me.
What I'm Good At: Confidence is contagious, and with me, it's a communicable disease. I'm like the freakin' Outbreak monkey of confidence. You might think you're all conservative and small-time, but spend some time with me, and you'll find yourself capable of things you never even imagined.
My Last Relationship: It was intense. But when you're used to staying home for Christmas and all of a sudden you're taking expensive vacations to Florida, you develop a taste for certain things. They get on their Janet Jackson "what have you done for me lately?" jag and start calling people with all sorts of crazy rumors about how you treated them, even though you were just trying to show them love. But you should see the chump my ex is with right now.
I Spend a Lot of Time Thinking About: Is Rick Ross really the sort of image us overweight lovers need in hip-hop? Heavy D, Biggie, Big Pun … those were role models. Except for the whole "dying at an early age" thing.
Looking For: A Midwesterner that's modest on the outside, but untamed as the wild prairie.
You Should Message Me If: You're hungry for the good life and the buffet circuit that comes with it.
Philip Fulmer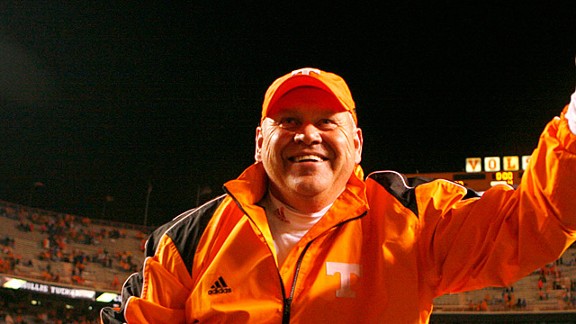 Username: KnoxVegas16
My Self-Summary: I never really thought I'd be on here, TBH. I bet a lot of people say that! But I got out of a really long-term relationship fairly recently and I'm just trying to figure out where I stand in this big ol' world. But I'm a free man now, looking for a good, honest relationship.
What I'm Good At: To forgive is divine. Is that how the saying goes? If so, I consider myself a minor god; get too drunk, mess up my car, whatever. I can overlook your flaws if you can mine. My forgiving nature is something of a local legend.
My Last Relationship: I guess after you've been together with someone for that long, you grow apart. You don't notice the little things like you used to. All you can really do is hold on to the memories. Sometimes I still think they miss me. I know it sounds strange, but I keep their clothes around just to remind me of how I can learn from it. Or maybe they'll call back, you never know!
I Spend a Lot of Time Thinking About: My own flaws. I could've done more to show them I really cared. I think people really like it when you tell them you can't live without them. Would that make you happy? If I told you I couldn't live without you?
Looking For: Look, I know you're here. You should really think it through. We can make it work this time, I promise.
You Should Message Me If: If you at least have the decency to say a proper good-bye and not leave me out in the cold, you heartless pricks.
Ron Prince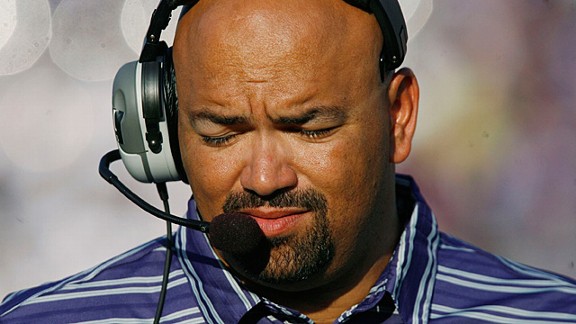 Username: CampfireKansas
My Self-Summary: A lot of people you find here are caught up in getting fancy degrees and eating fancy dinners and working in fancy offices with things like air conditioning and high-speed Internet. Give me some junior college textbooks on eBay, an Old Country Buffet, and a CompuServe dial-up and I'll make you feel like royalty.
What I'm Good At: Every day is a new chance to find out!
I Spend a Lot of Time Thinking About: Who's got time for that?!
My Last Relationship: I got involved at a really, really young age and it was a learning experience to be dumped for the first time. We had a good run, I guess, but in the end, they wanted to get back together with their old flame. I heard they're gonna be together forever, but sometimes you gotta drive the Porsche before you can go back to the Astrovan.
Looking For: A second chance at a first impression.
You Should Message Me If: Please!
Ron Zook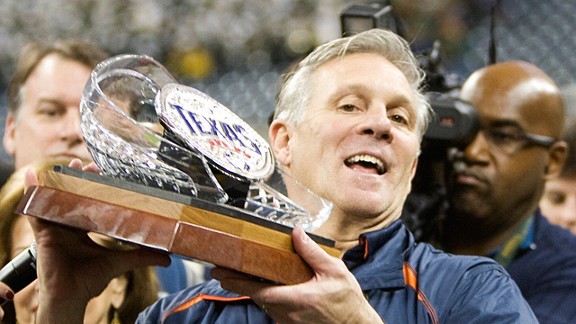 Username: ZookOnesPt.II
My Self-Summary: You know that guy you see on the street and think, Man, how'd he end up with them? What can I say, I guess I'm just a guy who likes to be out of my league.
What I'm Good At: Surprises! A week won't go by where you don't think, Man, where'd he find that? I may not look like much, but I know how to talk to people.
My Last Relationship: You know that Seinfeld episode where they talk about who's got "the hand" in a relationship? I think we both thought we had the hand and now we're both empty-handed. LOLZ.
I Spend a Lot of Time Thinking About: My exes always tell me how happy they are and how much they want to thank me for all I've done for them after the fact. I think that's awfully sweet of them!
Looking For: Some fun in the sun. As it turns out, sweater weather doesn't agree with this guy!
You Should Message Me If: You're at a point where you're asking, "Can I really do better?" and can only get to "Maybe."
Jim Tressel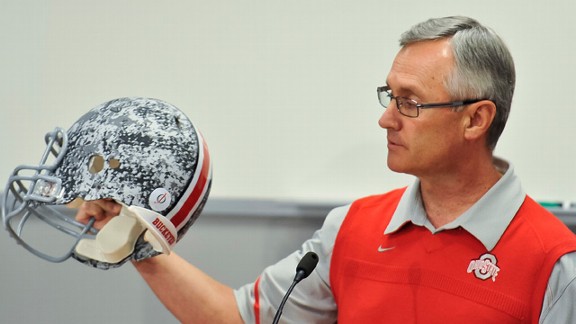 Username: SeeMyVest
My Self-Summary: Sweater vest on the field but a freak in the streets.
What I'm Good At: Keeping conservative values in a time of moral chaos. My friends tell me running for governor of Ohio would be a piece of cake compared to what I've done in the past.
My Last Relationship: We keep pretty close, but I promise we're just friends.
I Spend a Lot of Time Thinking About: What line of scripture I'd ever get as a tattoo. Not that I'd ever do that … there's just so many, how could I choose just one! ;)
Looking For: Someone who truly understands the meaning of "forgive and forget." Unless you've never heard that phrase before; that's cool, too.
You Should Message Me If: You think Ohio is the beautiful, beating heart of America, not the armpit or … ugh … rectum.
Filed Under: College Football