MLB Weekend Top 10: Texas Exceptionalism Forever
Ronald Martinez
And we are BACK, with your all-purpose* guide to the weekend in MLB action.
*Single-purpose, really. It's super limited in function. You can only read it.
10. no. 2 UNC vs. no. 3 Virginia (Friday, 8 p.m. and Saturday, 2 p.m., ESPN3)
Whoa! Super controversial start! Who is this guy? He must think way outside the box to be including a college baseball game in a post specifically dedicated to MLB. What a challenging artistic choice! I imagine people will have split reactions, but it'll definitely get them talking!
OK, this is here because college baseball gets zero attention, and this is a great series. UNC is 46-7 and UVA is 44-8. Both teams have gaudy statistics; the lowest batting average among UNC's top nine hitters is .278, while the Cavs aren't far behind. But the real attraction here is Carolina's pitching staff, which boasts a 2.50 ERA. Benton Moss and Hobbs Johnson are the starters for the weekend, and we could see both in the bigs someday soon. Anyway, if you're ever going to watch a college baseball game before the College World Series, this is a good start. And I swear, the fact that I'll be at one or both games has nothing to do with why I included it here. (Lies.)

9. Matt Harvey! (Friday, NYM-CHC)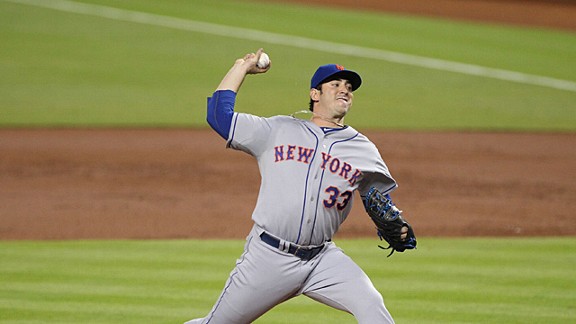 There's not much left to say about Mets rookie Matt Harvey. He is baseball's most exciting pitcher. The only drama left is not whether he'll pitch well — he's had eight starts this season, and all eight have been at least good — but whether the Mets will lose anyway, as they've done in two of his last three starts. Even if they don't lose, there's always the chance they could cost him a win, like when Harvey threw nine shutout innings (allowing one hit) against the White Sox. So forget the Cubs; this is Matt Harvey against the Mets.
8. Hey, Guess Which Team Isn't Collapsing This Season? (NYY-TOR)
Back in March, we heard an awful lot of talk about the so-called "problems" with the New York Yankees, and why the world's most successful franchise was about to lose its prestige and enter a period of collapse. Well, guess what, gang? Some teams just have winning in their blood. When you put on those pinstripes, there's a special transformation that takes place; you stop being a normal human baseball player, and you become a host for a tradition that's been passed forward from legend to legend during a century of dominance. You become infused with the Yankee mystique, and you become more than what you were. That's the aura, gang. And all this "oh, boo-hoo, the Yankees are going to fail" is just sour grapes from a bunch of JEALOUS LOSERS. Look at the standings — 25-16, tops in the AL East. Those are numbers even the so-called "statheads" can't deny. That's Yankee Baseball, and you better get used to it.
(Note: This paragraph was written specifically to make people angry. Anyway, watch CC Sabathia vs. R.A. Dickey on Sunday in a battle of men with initials.)
7. Hot Bat of the Week: Joe Mauer (BOS-MIN)
Mauer is batting .462 with a .556 OBP in his last 13 games, and it'll be fun to watch him face Clay Buchholz (6-0, 1.69 ERA) on Friday. My wife thinks Mauer is attractive. I think he's boring. Where do you fall on this important topic?
6. The NL East Is Really Bad (Everyone)
I'd like to be the first to point out that the winner of this division could be under .500, which I'm pretty sure has never happened before. And almost certainly won't this year, either. But man, this is a weak division. The Braves have been in a tailspin for more than a month, losing 17 of their past 27 games, and yet are still in first place. The Nationals are looking like a watered-down version of last year's NL darlings, and that whole Stephen Strasburg decision seems more and more misguided every day. Then you have the Phillies, a franchise that put everything it had into a three-year window and is now paying the price (sort of like the Yankees, but without the redemptive mystique, you know?).
And then you have the Mets.
And then you have the Marlins.
God.
5. Cap the Rockies (SFG-COL)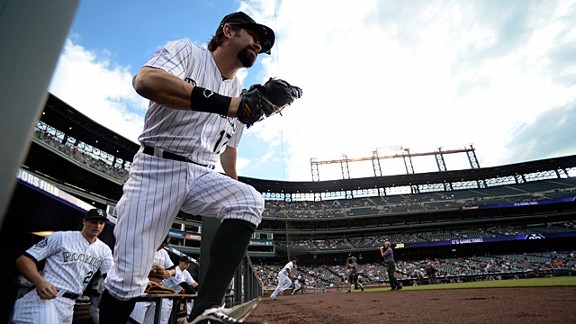 After a super spunky-fun beginning to the year, the Rockies are back to being the Rockies, having lost seven of their last 10 and barely holding on to an o'er-.500 winning percentage. (In this case, "o'er" is the opposite of "sub" because I can't think of another word and am too proud to change the sentence structure.) For the Giants, it is, as ever, about the pitching. Barry Zito and Tim Lincecum are having competent years, which is a sort of pleasant surprise, while Madison Bumgarner is living up to his rep as a borderline ace. Matt Cain and Ryan Vogelsong, who were so critical in last year's run, struggled mightily over the first month, but Cain is finally starting to look like himself. Not so for Vogelsong, the stud of the 2012 postseason; dude is getting shelled, and his ERA is north of 8.00. But the Giants keep winning, and you get the feeling this series (Bumgarner pitches Friday) could be the end of the good times for Colorado.
4. Almost Pitching Matchup of the Week: Matt Moore vs. Chris Tillman (Sunday, TBR-BAL)
Tillman has allowed six runs in his last 27 innings, striking out 19 along the way and lowering his ERA to 3.40. And Moore? Moore is 7-0 with a 2.44 ERA, and has two of the coolest pitches in baseball — the second-most active two-seamer in the league, which darts away from righties and cuts in on lefties, and a slow, slurvy slider that doesn't drop.
3. Pitching Matchup of the Week: King Felix vs. Justin Masterson (Sunday, SEA-CLE)
Masterson uses his slider better than any other pitcher, and it's been the key to a successful 2013 campaign. And Felix? He's the same ol' Felix, with a 1.53 ERA, a devastating changeup and sinker, and six pitches (if you count the cutter he uses on occasion) that can all be considered elite. He's the greatest pitcher of our generation, you should watch his games, and I recommend you read this New York Times feature that came out Monday.
2. The Tampa Tempest, the Baltimore Banshee (TBR-BAL)
It's happening again — the AL East is starting to get very crowded at the top, and you get the sense that it may take the entire season to see any real separation between the top four.
After a rough start, the Rays are back above .500 and shooting up the standings, while Baltimore is showing that last season was no fluke. Along with the aforementioned Moore-Tillman duel, keep an eye on B'More's Manny Machado, who has been absurdly hot the past two weeks.
1. Tigers-Rangers!
Texas exceptionalism is the main reason you should root against the Rangers, and all other sports teams from the Lone Star State (but especially the Cowboys). Nobody thinks they're quite as special as people from Texas. Based on my experience of America, this would be my Exceptionalism Top Five:
5. New York City
4. Boston
3. Alaska, probably
2. Portland
1. Texas
So, the Tigers lead the Central and the Rangers lead the West. We unfortunately miss Thursday's sweet Verlander-Darvish duel in the weekend top 10, but this will be a nice potential playoff preview anyway. With Verlander having his usual stellar season, and Anibal Sanchez and Doug Fister in the midst of what might be career years, the Tigers are suddenly looking San Francisco Giants–esque at the top of the rotation. Assuming good health, you can already tell they'll be a nightmare draw in the playoffs.
Filed Under: Baseball, CC Sabathia, Detroit Tigers, Justin Verlander, MLB, New York Mets, New York Yankees, San Francisco Giants, Shane Ryan, Texas Rangers, Toronto Blue Jays