Harper Being Harper, and More Snap Judgments From Opening Day(s)
AP Photo
The 2014 MLB season is only a day and change old. To borrow a phrase from James Earl Jones's greatest career role as Admiral James Greer: "The data support no conclusions as yet." Still, some teams have played some games, which means that after an offseason full of prognosticating, we finally have something concrete to discuss. As such, let's talk about some highlights and instructive moments from the season's first day(s).
1. Even great bullpens aren't perfect. Dodgers starter Hyun-Jin Ryu held the Padres to three hits and no runs through seven innings with one hand tied behind his back on Sunday night, then handed over his lead to one of baseball's best bullpens — at which point Brian Wilson came in and immediately allowed three runs without retiring a batter. It felt like reading the last chapter of a Graham Greene novel. Then, on Monday, Kansas City's James Shields handed a two-run lead and two base runners to Aaron Crow in the bottom of the seventh. Crow let both runners score, first on a wild pitch and then on a triple. Two innings later, Greg Holland, who might be the best relief pitcher not named Craig Kimbrel, gave up a game-winning single to Detroit's Alex Gonzalez, who's a major league hitter only in the academic sense. Finally, Jim Johnson, Oakland's new $10 million closer, entered a 0-0 game against Cleveland and staged a GG Allin tribute act.
All three bullpens should be strengths for their respective teams this season, and every bullpen throws up an occasional stinker, but it's rough when that stinker comes in the opening week.
2. We're not finished talking about Bryce Harper's injury concerns. In the second inning of Washington's game against the Mets, Harper broke up a double play by head-butting Eric Young Jr. in the leg. This kind of play has resulted in serious injury in the past — just ask Justin Morneau — but despite lying on his back for several minutes, Harper stayed in the game. Maybe Harper really is fine, but considering how persistent and unpredictable concussions can be, maybe Nats manager Matt Williams should have removed Harper from Game 1 to make sure the injury-prone star would be OK for the next 161.
3. OMG, old guys! Some of the best players of the mid-2000s had big Opening Days. Grady Sizemore homered for the first time since 2011, while that crazy barn burner between Texas and Philadelphia featured big days for two aging players: Jimmy Rollins, who blasted a second-inning grand slam for his 200th career home run, and Chase Utley, who went 3-for-6 with a double.
4. We got our share of drama. Three afternoon games went to extra innings, including Cubs-Pirates, which was scoreless until Neil Walker hit a walk-off home run in the 10th, which he punctuated with a positively Methodist bat flip. Not only dramatic, but also adorable. The games that ended in nine brought plenty of drama, too: Late in the afternoon, Baltimore white-knuckled a 2-1 win over the defending champs, while the Cardinals edged the Reds in a 1-0 pitchers' duel. On the West Coast, the A's and Indians went into the ninth inning scoreless, while the Giants staged a dramatic comeback against the Diamondbacks. The first full day of baseball can sometimes make you feel like you drank an entire gallon of orange juice in one sitting, but this day sure was dramatic.
5. There'll be no rest for the weary. Jose Reyes didn't even last an inning before tweaking his hamstring, and the Blue Jays didn't waste any time putting him on the 15-day DL. Nats catcher Wilson Ramos, whose hard luck has literally included being kidnapped and held for ransom, injured his hand. Early reports indicated Ramos had broken the hand, while later reports said X-rays came back negative; he's set to see a hand specialist. Continued suffering can occur without injury, of course: In the same game, those poor Mets led most of the way before coughing up four runs in the 10th inning to snatch defeat from the jaws of victory. The Twins, for all their great prospects and all their offseason spending, still lost a game that wasn't as close as its 5-3 final score. If anyone needs a hug, I'm here.
6. We have crucial hair updates to report. Andrew Cashner took the mound Sunday looking like a cross between Billy Ray Cyrus and Europop superstar Dima Bilan. Harper, meanwhile, has eschewed his trademark pompadour for a coiffure that looks like it was influenced by Wham!-era George Michael. Ron Washington is still bald. Mike Trout still has that buzz cut that, in concert with his huge neck, makes his head look like a toe. But his smile makes him adorable anyway.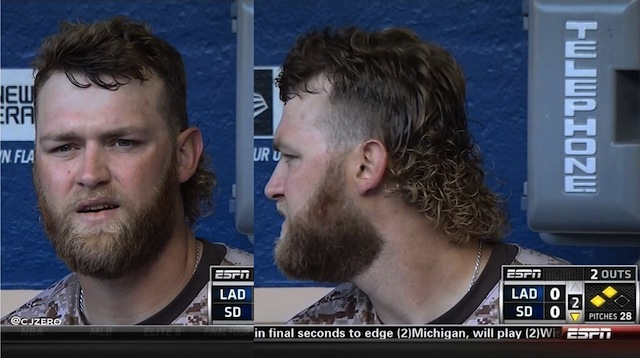 (Via @cjzero)
7. Let's kill the win. Opening Day is supposed to be the best day of the entire season for pitching matchups. So naturally, Cliff Lee allowed eight runs in the Phillies' season opener and earned a win, while Johnny Cueto allowed only four baserunners against eight strikeouts in seven innings against St. Louis, but took the loss. It's one result for each guy, but let's vow to remember this when win-loss records wind up determining the Cy Young winners later this year.
8. Fredi Gonzalez might need a hand. Listen, I'm not a major league manager. But the Braves got shut out yesterday, and while I'm not saying it's because Gonzalez batted B.J. Upton second and Dan Uggla sixth, maybe next time don't put two guys who couldn't hit .200 last year so high in the lineup.
9. Mike Trout is still Mike Trout. You think he's feeling the pressure after signing his new contract? Well, he took the third pitch of the season over the left-field fence. And it didn't seem like any great effort, even considering that Trout is of the genus of thick, stubby players who make everything look like it takes a great effort. He hit a home run off Felix Hernandez, it seemed, because it amused him at the moment.
10. Old faces are doing well in new places. It's good to see some old favorites making themselves useful. Nyjer Morgan drove in the winning run for Cleveland, while John Axford, who has unfortunately regrown his regrettable facial hair, earned the save for the Tribe. We also saw free-agent signees Nelson Cruz and Marlon Byrd hit significant home runs for their new teams, while Jose Abreu, who admittedly isn't an old face, doubled and scored in his first major league at-bat. The free-agent market has certainly been good to some teams so far.
Filed Under: MLB, Opening Day, Mike Trout, Bryce Harper, Bullpens, Grady Sizemore, Jim Johnson, Jimmy Rollins, Jose Reyes, Andrew Cashner, Fredi Gonzalez, Greg Holland, Michael Baumann