Just a Little Patience: Jackie Bradley Jr., Aaron Hicks, and the Unreasonable Expectations Put on MLB Prospects
Jim Davis/The Boston Globe via Getty Images
In June 2010, I suggested for the first time that the Phillies should draft South Carolina center fielder Jackie Bradley when he became eligible in 2011. He was rated as a top-15 talent going into the season, coming off a season in which he was named MVP of the College World Series, but after suffering a wrist injury that wiped out much of his junior season, Bradley looked like he might actually fall to the Phillies at No. 39.
And he did, much to my astonishment, but the Phillies passed, choosing instead to pick high school outfielder Larry Greene. The Red Sox took Bradley with the next pick. Being the hyperbolic, evangelical Gamecock baseball homer that I am, I began a two-year-long crusade to make sure everyone knew what a mistake the Phillies had made, building Bradley up into a Homeric hero. Greene, by the way, did exactly what I did at his age: moved out of his parents' house and put on a ton of weight. Which is more of a problem when you, you know, play sports for a living.

So when it looked like Bradley would make the Red Sox club out of spring training while Greene was buried in the low minors, sweating himself into respectability like Tim Riggins trying to practice through a hangover, I started getting two kinds of messages.
The first kind was from people who were telling me how right I was, which is always nice. The second was a series of links to articles from members of the Boston media in response to the clinic Bradley put on at the plate this preseason.
These pieces described Bradley in terms quite similar to the blindly biased, purposely saccharine, and obviously overstated prose I'd used for years to describe a player whose exploits as an amateur had brought me great happiness and in whose development as a professional I'd laid down a large emotional stake.
And so it came to pass that a player 18 months removed from being drafted, with only 271 plate appearances above Class A, was installed not only as Boston's Opening Day left fielder, but as scion to a legacy that includes Ted Williams, Carl Yastrzemski, and Manny Ramirez.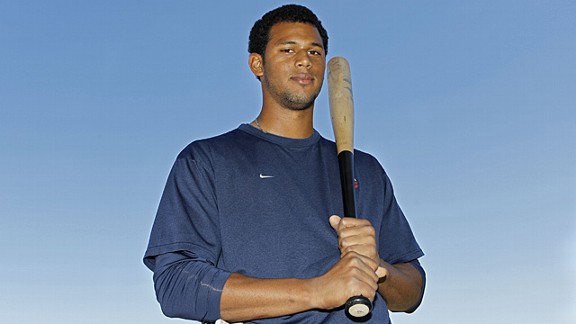 Shocking as it is to find the Boston media overeacting wildly to something, Bradley's is not a unique case in baseball. The same thing is going on in Minnesota, where another young outfielder, Aaron Hicks, was rushed to the majors after a great spring. While Bradley has since been sent down to Triple-A, Hicks has literally been setting records for offensive futility, starting his career going 2-for-48 with 20 strikeouts, though he was spared the fanfare of Bradley's flameout by playing in the relative anonymity of the Upper Midwest.
Hicks is still in Minnesota, for god only knows what reasons, and as of Monday morning, he's brought his slugging percentage up (UP!) to .132.
Last week, Baseball Prospectus prospect shaman Jason Parks went on a bit of a tirade on the Fringe Average podcast, calling the fanfare surrounding Nationals third baseman Anthony Rendon "irresponsible." Rendon, the sixth overall pick in the same draft that sent Bradley to the Red Sox and Greene to Burger King, is an immensely talented hitter who would have gone higher if he didn't have the ankles of whoever guarded Allen Iverson from 1998 to 2002.
It's mystifying that we still build up unreasonable expectations for prospects and are shocked when those expectations aren't met immediately upon a call-up. Rendon, Hicks, and Bradley are all good players, and if you forced me to bet, I'd say we see at least one, maybe two of them on an All-Star team sometime in the next 10 years. But even good prospects struggle to adjust to the majors and take time to achieve their full potential.
And it's not like even a cursory appreciation for baseball throughout its history wouldn't have revealed this. As a Phillies fan, my guard is permanently up after having been toyed with by Domonic Brown (who was, in turn, toyed with by a Phillies front office that takes a more European approach to evaluating maturity, believing that a player's prospect status extends into his 30s).
Back in spring training, Bradley flirted with a .500 batting average and Hicks hit three homers in one game. A month later, with both Bradley and Hicks posting major league hitting stats that would make a pitcher shake his head in self-disgust, not a whole lot has changed. This offseason, Keith Law ranked Bradley the no. 40 prospect in baseball and Hicks as no. 49, calling both outstanding defensive center fielders, and lauding Hicks's speed and Bradley's plate discipline.
Six weeks later, that's still a pretty accurate description, because you'd have to be monumentally stupid to change your long-term opinion of a 23-year-old player after a two-week slump the first time he faces major league pitching. No matter how many times he strikes out, and no matter how many New England sports columnists start breathing heavily when he pokes a double into the gap in a spring training game.
Sports is one of the few remaining arenas in which it's still socially acceptable to make guesses and call them predictions. Every spring, Florida is besieged by men in unfortunately patterned shirts flinging speculation at their readers with the forethought you'd expect if you re-read the previous clause and changed "men in shirts" to "chimpanzees," "speculation" to "feces," and "readers" to "cage."
Which sucks, because predictions are fun as all get-out, particularly if they're off-the-wall and ill-considered.
Predictions only get "irresponsible" when you don't take into account that the future isn't a binary proposition — there are a range of possibilities, each with a different percentage likelihood that it could happen. That's why any prospect-covering writer who's worth a crap takes a long look at a player, both quantitatively and qualitatively, talks to others who have done the same and assigns a ceiling, a floor, and relative probabilities of reaching either or, more likely, some point in between.
(By the by, when Nate Silver started writing about electoral politics this way, everyone thought he was either a genius or a witch when he was really just applying the rules of social-science research to a media landscape that had previously been withering on the cross of false equivalency.)
So the next time a good young outfielder plays over his head for a couple weeks' worth of exhibition games, we should acknowledge the competition, that almost literally anything can happen in one month of baseball, and that Jackie Bradley, while being an immensely talented and immensely intelligent baseball player, is never going to put up the power totals of Williams, Yastrzemski, or Ramirez unless he gets his hands on the Iron Man suit.
Predicting the unlikely is great. Getting excited about an up-and-coming player is even better. It's what makes baseball so fun to watch. But if you drop Hall of Fame comps on every top-100 minor leaguer who has a few good weeks' worth of exhibition games, you're only setting yourself up for disappointment.
And you'd think we'd know better by now.
Filed Under: Boston Red Sox, Minnesota Twins, MLB