The Greater Fool Betting Tips: From Green Bay to Marseille
"The greater fool is … a patsy. For the rest of us to profit, we need a greater fool, someone who will buy long and sell short. Most people spend their lives trying not to be the greater fool; we toss in the hot potato, we dive for his seat when the music stops. The greater fool is someone with the perfect blend of self-delusion and ego to think that he can succeed where others have failed. This whole country was made by greater fools."
— Sloan Sabbith, The Newsroom
Hey! She's talking about me! While I'm pretty sure that I didn't help to build America, I certainly exhibit the other qualities outlined by Aaron Sorkin's all-seeing econ-o-vixen. Or at least I think I do; if I'm truly such a great fool, my judgment can't be trusted, on account of all that ego and self-delusion. Maybe I'm not the fool after all? It's so confusing. Meta-cognitive awareness really is a minefield.
Now, the greater-fool theory applies to all economic markets, but my personal foolishness is localized to betting. I fare better than most with the bookmaker, but it's also true to say that I don't always choose my bets wisely. I've yet to find a betting market where I didn't fancy myself to have some form of edge over the mob, and this means I am prone to gamble on everything from reality television shows to sumo wrestling, with wildly varying levels of success. Over the years, this overweening confidence in my own abilities has led me to take on the markets in the NFL and NBA. I believe I have a solid understanding of both these sports, but that's probably just the perfect blend of ego and self-delusion talking.

Note that I don't bet on baseball; I may (or may not) be deluded, but I'm not crazy. I've made several attempts to find value in the MLB lines, and they've always ended in costly failure. It doesn't help that I live in London, in a time zone that makes following a sport like baseball tricky. (I suspect I'd have more luck picking MLB winners if I ever managed to stay awake long enough to see what winning looks like.) But when it comes to picking bets in the more exciting sports, I fancy myself to be a useful tipster, and to put that theory to the test, I'm going to offer up some choice tips, which you should feel free to ignore — or take the opposite advice. I'm British, after all, and quite possibly a fool to boot.
I've broken down these tips into two categories: tediously cautious bankers, and lovely, juicy long shots.
COWARDLY, SNIVELING GRINDER BETS
Saints -2.5 @ +110 (vs. Panthers)
I'm a Browns fan. This was a lifestyle choice I made during the 1980s, and it's one that I will stick with for the rest of my life, but every season I have cause to wonder what life might have been like had I chosen to support a more successful team. That said, I'm sure Brandon Weeden will come good this year, obviously. I have nothing but confidence in Brandon Weeden. Still, just to be on the safe side, I've decided to support a second team that might still be in playoff contention after Halloween, and that team is New Orleans. This hasn't started well, admittedly, but I picked them for a reason, and I still fancy the Saints to bounce back strong from their tough start, just like they did last year. Only problem is, this is a dull, safe, obvious pick; hardly foolish at all. Let's try something a tiny bit more risky …
Cleveland +7 @ +110 (vs. Bengals)
Like I say, I'm a Browns fan, Brandon Weeden will come good this year, nothing but confidence, etc., etc. On the other hand, Cincinnati is not the place for a struggling Cleveland quarterback to try and build confidence, and the most likely eventuality here is that Weeden's going to be looking around for more flags to hide under. However, the question is not whether Cincinnati can contain the Weedenator,* but whether they can capitalize at the other end. The Bengals offense looked toothless against the Ravens, and I don't see them getting much more change out of the Browns defense. The over/under is set at 38.5, which seems reasonable and doesn't leave a lot of room for a blowout, and this matchup usually runs very close; what's more, the underdog has beaten the spread in nine of their last 10 meetings. I'm sorely tempted to pick the straight win at +275, but I know Cleveland well enough to avoid that mistake. They'll most likely hold a small lead for most of the game, then self-destruct in a comical fashion in the final five minutes.
[*At the time of writing, "Weedenator" returned just 3,120 Google hits. You heard it here first.]
BRAVE, FEARLESS, MANLY BETS, DRIPPING WITH VALUE
Bears to win @ +230 (vs. Packers)
This isn't that brave, to be honest; it's just good business. Last Sunday, Alex Smith punched so many holes in the Packers' paper-thin pass defense that you could have filed it in a ring binder. It's now Jay Cutler's turn to try to hit the gaps, and it's not hard to see the Bears scoring heavily on Thursday night. Of course, the Packers have a fearsome offense, too, and it's likely to be a high-scoring game, but these odds reflect last season's standings, not last week's play, and there's definitely value to be had in taking the Bears straight up.
However, if I really am the greater fool, I'm not going to be satisfied messing around with +230 bets. There's real value to be had out there, but none that I can see in the NFL this week. Those looking for a truly juicy proposition need to switch sports, and indeed, continents. To France!
Marseille to win the French Ligue 1 +900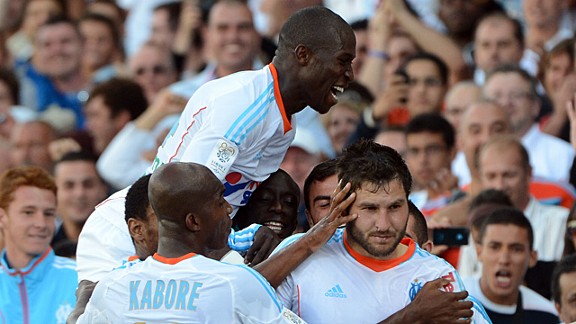 Have you heard about the reboot of Brewster's Millions? This time, it's set in France, and the Qatari Investment Authority is playing the role of Richard Pryor. The Qataris decide that the quickest and easiest way to dispose of their fortunes is to purchase a soccer club of middling ability (Paris Saint-Germain), pay extraordinary sums to snickering rivals for players, and dismiss the coach whenever it looks like they might win a trophy. They sank $132 million into the club last season, and ended up losing the title to Montpellier (that club's total spend in the 2011-12 season: $2.5 million). The Qataris were clearly delighted by the success of their strategy, and invested a further $193 million in avoiding silverware this summer.
The betting markets haven't caught on to the fact that this is all just a timely satire on our consumerist society, and as a result PSG are trading at an absurdly short -200 for the league title, despite an appalling start to the season, which has seen them take just six league points from an available 12. Meanwhile, you can get +900 on Marseille winning Ligue 1, which is certainly generous considering their perfect 4-0-0 start to the season and six-point lead over Le Brewsters FC. Of course, this is a long-term proposition; if you'd prefer some short-term action, then there's always …
Toulouse to beat Paris Saint Germain this Friday @ +1000
Toulouse are a strong side, undefeated in four matches (2-2-0), and more than capable of winning in Paris on Friday, especially as PSG's glittering array of international stars will have only recently returned from international duty, and will have one eye on a vital Champions League match against Dynamo Kiev on Tuesday. +1000 on Toulouse winning on Friday night will be one of this season's best opportunities to bet against France's most overrated team.
Dermot Hunt (@dermoth) is a poker player and sports bettor who lives in North London.
Filed Under: British Betting Advice, Cleveland Browns, Gambling, NFL