A (Possibly Invaluable) Guide to Winning the 2013-14 Fantasy Premier League
Carl Court/AFP/Getty Images
As you may already have noticed, this Saturday will see the long-awaited return of the English Premier League, and with it comes the return of its fantasy cousin, operated by the Premier League itself. It's free, it's straightforward, and best of all, there are prizes! Sparkly, glittery prizes, including glamorous, all-expenses-paid trips to England (and/or Wales) to watch Premier League matches!
Absolutely sod all use to me, then. While I'd definitely like an all-expenses paid holiday, I'd rather it was somewhere with better weather than my home city of London. I can't help feeling that the competition's sponsors (whom I shall not name, thus sticking it to THE MAN) are trying to grift us U.K. residents, and feel it is my duty to ensure that all of these prizes are won by people who live very, very, far away. So, if you live less than three hours' flight from the U.K., I'd be grateful if you could stop reading now. Thanks.
Now, let's get the rest of you started, shall we? Clicking this link will magically transport you to the Fantasy Premier League website. You must pick two goalkeepers, five defenders, five midfielders, and three forwards with a budget of £100 million to spend on your 15-man squad. These players will accrue points during the season based on an arcane scoring system that I shall not trouble you with here; you can see the full explanation on the FPL site in the "Rules" submenu of the Help section … if you can find it. The Help sections of the website have seemingly been designed by the (English) creator of Where's Wally? (Wally is also English, and does not answer to the name Waldo, which may be how you lost him in the first place). Remember: CTRL+F is your friend.
Happily, the rules don't matter. What matters is maximizing LSPPP — Last Season's Points Per Pound — and that's where I can help. A successful squad needs to be filled, first and foremost, with dependable, high-scoring players who don't cost the earth. With that achieved, you can start looking at more expensive talent. To get you started, here's a breakdown of the best/cheapest-performing players of last season for each position:
Goalkeepers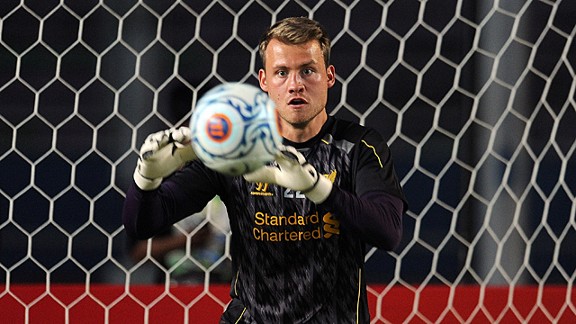 Mark Schwarzer (Chelsea, £5 million, 27 LSPPP) scored 135 points for Fulham last season, giving him the best LSPPP score of any player in the league, but his signing fee is low because he's since transferred to Chelsea, and is highly unlikely to get game time ahead of Petr Cech (especially if his preseason form is anything to go by). Instead, employ the services of Simon Mignolet (Liverpool, £5.5 million, 25.45 LSPPP), whose 140-point tally last season was accrued behind Sunderland's shaky defense. As a backup, take one of either Asmir Begovic (Stoke City, £5.5 million, 26.18 LSPPP) or Jussi Jaaskelainen (West Ham, £5.5 million, 26.18 LSPPP), who are the joint second-best value players in the league, surefire starters, and dependable replacements whenever Liverpool is going up against a top club. Besides, you have to draft the guy named Jussi.
Defenders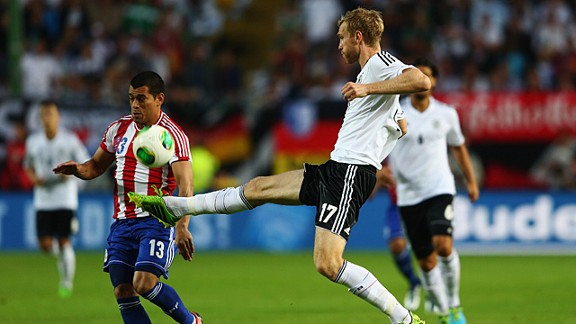 Per Mertesacker (Arsenal, £5.5 million, 24.55 LSPPP) is the best, most undervalued name on the board. His 135 points last season dwarf those of any other Arsenal player, and there's no reason to think he won't repeat the performance this term. The same cannot be said of Sebastien Bassong (Norwich, £5 million, 24.2 LSPPP), who was sensational for the Canaries last season, but will be reliant on his team to match his performances for a second year if he's to maintain that fantasy scoring rate. On the other hand, he's unbelievably cheap. More dependable — and expensive — picks include Glen Johnson (Liverpool, £6 million, 23.67 LSPPP), Leighton Baines (Everton, £7.5 million 23.6 LSPPP), and Patrice Evra (Man United, £6.5 million, 23.38 LSPPP), three players who can be relied upon to score attacking points as well as rack up defensive ones. Baines was a monster last season, adding five goals and seven assists to Everton's 11 clean sheets, while Evra wasn't far behind (four goals and six assists). The worry here is that Man United will sign Baines to replace the (slightly) aging Evra, but the latest noises from Old Trafford suggest that David Moyes has been dissuaded from that clearly insane act of profligacy, so there should be no harm in having them both on your squad.
Midfielders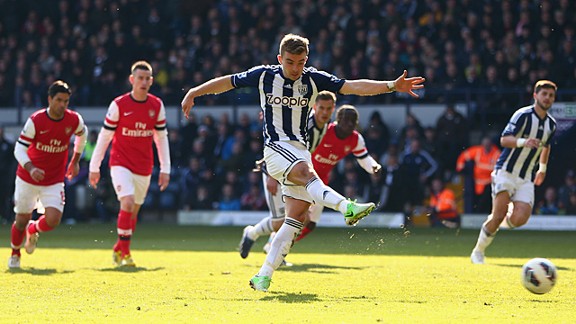 At the top of the LSPPP rankings for this season is the unfortunately named Robert Snodgrass (Norwich, £6.5 million 23.38 LSPPP), who is quickly gaining a reputation as one of the Premier League's best free-kick takers, but gets less recognition for his creativity. If he can repeat last season's six goals and nine assists, he'll be a tremendous purchase. The same can be said for Wayne Routledge (Swansea, £5.5 million, 22.91 LSPPP), James Morrison (WBA, £6 million, 22.17 LSPPP), and Jonathan Walters (Stoke City, £6.5 million, 21.69 LSPPP), all hitting their prime and playing for relatively unsung clubs. Finally, there's Mr. Dependability himself, Kevin Nolan (West Ham, £7 million, 21.29 LSPPP), who'll bag you 10 goals a season without breaking sweat, but looks a shade on the expensive side.
Forwards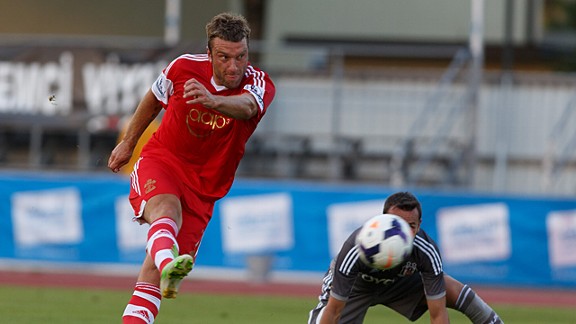 Top of the pile? Ricky Lambert (Southampton, £7.5 million, 24.93 LSPPP). The Saints' hitman slotted home 15 goals last season, and added eight assists as well, bagging him third place on the strikers' scoring table with 187 points. Yes, Robin van Persie scored 262 points, but RvP costs nearly twice what you'll pay for Lambert. Dimitar Berbatov (Fulham, £7.5 million, 21.73 LSPPP), who looks certain to get plenty of playing time this season, is a solid pick. I have more worries about the third player on the list, Peter Crouch (Stoke City, £6 million, 21.33 LSPPP). He may be moving to another club in the near future, but for the moment he's one of only three strikers on Stoke's books, and managed to rack up an impressive score last season (despite missing a large portion of it through injury), and most of all, he's cheap, so we'll take a risk and keep him in the provisional squad.
OK. We've now assembled a 15-man squad of high-scoring, low-cost players. It's a great base for your team, but this parsimonious, almost Redknappesque approach to the transfer market has left us with £6 million left over. Now, you could use this money to bring in Robin van Persie, or Luis Suarez, or Real Madrid's Gareth Bale. However, I would recommend a different course of action: sign three Chelsea players.
You see, the real key to success in Fantasy Soccerball is exploiting the peculiarities of the fixture list. In several weeks of the season, some teams will play twice, and some won't play at all, so filling your squad with players from the right teams will massively increase your scoring potential. In Gameweek 1, those teams are Chelsea and Aston Villa. You may wish to also add some Villa players to your roster to really exploit this factor, but bear in mind that Villa's Super Duper Gameweek involves away games at both Chelsea and Arsenal, and is not likely to end well for them. It should also be noted that Chelsea travel to Manchester United in Gameweek 2, and do not play at all in Gameweek 3, so you'll want to transfer your Chelsea signings out of the squad as soon as possible, but for Gameweek 1 you'll want three of them in there, working overtime for you.
Which Chelsea players to pick, and who should they replace? Well, Cech is an affordable and excellent choice, so grab him instead of Jaaskelainen/Begovic. Cech has the added benefit of being the only Chelsea player who's all but guaranteed to start; the other two Chelsea picks certainly won't have that advantage. However, Branislav Ivanovic (£6.5 million, 22 LSPPP) is a reasonably safe defensive pick; his positional flexibility means he's the most likely defender to start both games, either at center back or right back, and he's also very reasonably priced. Ivanovic should take Bassong's place in the squad, as Norwich open with a tricky tie at home to Everton.
Finally, you'll want a Chelsea player as the one you designate as your fantasy squad's captain. This player receives double points. Ideally, this will be an attacking player, but it's impossible to predict which of Chelsea's three official strikers will start on Saturday against Hull; my best guess is Romelu Lukaku, but there are no guarantees. However, Eden Hazard (£9.5 million, 20 LSPPP) is almost certain to start, and although he's considered a midfielder by the FPL website, he'll surely be playing as a wide attacker in Jose Mourinho's preferred 4-3-3 formation. However, if you choose to swap out Kevin Nolan from the midfield, the budget will stretch to include Juan Mata (£10.5 million, 20.19 LSPPP), but I am less confident that he will start both matches this week; Mourinho has been resting him in preseason, and he's just returned from midweek international duty in Ecuador. I'll be sticking with Hazard.
---
Or, alternatively, you can disregard all of the above and pick your own side of godforsaken journeymen cloggers, or even fill your squads with hitherto untested foreign imports and/or Crystal Palace players. To help you decide, you can see the spreadsheet containing all the LSPPP stats by clicking this link.
---
The Recommended Grantland XV
GK: Cech (CHE, £6.5 million), Mignolet (LIV, £5.5 million)
DF: Mertesacker (ARS £5.5 million), Ivanovic (CHE, £6.5 million), Evra (MUN, £6.5 million), Baines (EVE, £7.5 million), Johnson (LIV, £6 million)
MF: Snodgrass (NOR, £6.5 million), Hazard (CHE, £9.5 million), Morrison (WBA, £6 million), Walters (STK, £6.5 million), Routledge (SWA, £5.5 million)
FWD: Lambert (SOU, £7.5 million), Berbatov (FUL, £7.5 million), Crouch (STK, £6 million).
Filed Under: English Premier League, Fantasy, Premier League, Soccer