The Two Goslings: A Movie Star Divided
Radius-TWC/Warner Bros
"Wanna fight?" That is one of the just 15 or so lines of dialogue Ryan Gosling utters in the new film Only God Forgives. It's delivered limply, like he hardly means it, to an enemy. Across the 89-minute running time, Gosling shuffles and sulks through his performance as Julian, a dazed Muay Thai gym owner and drug kingpin in Bangkok. In the movie, he seeks vengeance for his brother's murder, he tangles with Vithaya Pansringarm's self-styled samurai cop, and he absorbs withering emasculation from his mother, played by Kristin Scott Thomas with velociraptor zeal by way of Real Housewives of Boston iciness. But he rarely speaks. This is Ryan Gosling.
"Who's the toma-tah?" That is one of the 150 or so lines of dialogue Ryan Gosling utters in the recent film Gangster Squad. It's delivered coolly, indicating that he really means to learn the identity of the redhead he's eyeing in a smoky nightclub. Across the nearly two-hour running time, Gosling smirks and chatters and shoots his way through post-WWII Los Angeles. He romances Emma Stone, battles Sean Penn's Mickey Cohen, and saves the day. He speaks a lot, and often in the voice of a cartoon cat. This is Ryan Gosling.

If this seems unimpressive — Gosling is, after all, an actor — then I won't try to convince you otherwise. But what's notable is that Gosling is trying, in fits and starts, to pursue an unusual kind of movie stardom. Which isn't the same thing as acting, per se. And in these two roles, as with all of his roles (and often his personal life), there's an interesting tension at work: Ryan Gosling is two performers existing in one body.
---
Only God Forgives is his second collaboration with the director Nicolas Winding Refn. The creative romance between Refn and Gosling reached skull-stomping heights in their first movie together, 2011's Drive, which also found the Canadian-born actor saying little and exercising excessive force. Forgives's Julian is like Drive's Driver, if he were somehow less interested in conversation and more consumed by Mommy issues. Julian is a scared man with little relationship to what's happening beyond himself; at one point he visits a Thai burlesque club and becomes entranced by a dancer and the pathway up past her thighs, until another patron interrupts his dream state. In the staggering scene, he snaps on the interrupter, smashing a cocktail glass into his face before dragging him down a corridor by his bicuspids. Refn is obsessed with how violence manifests. The blood, the sword, the fists, the bending arc of a punch. The way he talks about his movies sounds as if he's making them simply to demonstrate how he would inflict his own pain upon the world. Gosling is his vessel. Only God Forgives was written in the aftermath of a difficult, traumatic pregnancy for him and his wife. He described himself at the time as a man angry with God. Julian isn't necessarily angry — but Gosling struggles with that as an actor; too pretty, too clean. Here's a scene in which Julian and a prostitute posing as his girlfriend are verbally eviscerated by mom for nearly four minutes. Gosling isn't furious or resentful; he's quiet and pathetic. Impotent. Helpless against this Jocasta. Refn and Gosling's dance together is a strange one. Forgives is Refn's first film after Drive, and it is both more tense and more plodding than its predecessor; people are going to hate this movie, and unlike Driver, they will not quake in the shadow of Julian's cool. Because he isn't. Though, of course, he is violent.
I was highly influenced by violence. When I was a kid I saw Rambo First Blood and the next day I took knives to school and threw them at everybody.
These are the things that make Gosling extraordinary. Reflective, weird moments like this led me to an embarrassing thing like this two years ago. But for all of the lunging oddness, Gosling also wants something like fame. That explains the tomcat detective in Gangster Squad and his suave player in 2011's Crazy Stupid Love and his slimy campaign manager in The Ides of March. All three of these roles are commercial and about communication; they're about talking in that made-up Brooklyn newsboy accent and scoring the girl while winking at another across the room. Gosling wants both careers, which is a desire few American movie actors are able to negotiate these days. You are either an art-film standby or a commercial lunk. Ezra Miller or Chris Hemsworth. But Gosling wants to burst the binary. In 2011, he co-conceived a cover shoot for Esquire that featured two of him, literally. It is the only recorded moment in which the two Ryan Goslings were seen together.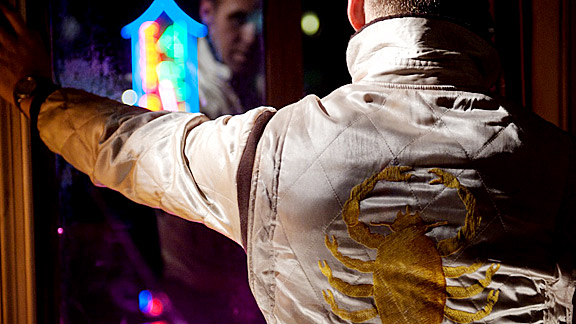 This divide has been years in the making. Gosling began his career as a puckish member of the Mickey Mouse Club, crooning alongside Justin Timberlake and smirking his way straight into your sister's heart. Through the '90s, he starred in syndicated episodic TV like Breaker High; he was the titular Young Hercules and a guest star on Are You Afraid of the Dark. He was always a cut kid, but he had to climb Hollywood's food chain of respectability. His first major feature came in Disney's high school football drama Remember the Titans where he starred as dreamy-creepy Alan Bosley. A year later, he stunned audiences at the Sundance Film Festival in The Believer, the story of a self-loathing Jewish neo-Nazi. He toggled back to Hollywood in 2002 for the slippery Sandra Bullock thriller Murder by Numbers. (Gosling and Bullock, who was 16 years his senior, began dating shortly thereafter.) He followed that with the title character in the small, overripe melodrama The United States of Leland. It goes on like this for the next five years, alternating quiet character studies and flashy, talky charm machines. The Notebook is rightly cited as a transformative role for his career, though it would be seven years before he made another movie that could be called a hit. The two roles he took on in 2007, a smarmy lawyer in the legal thriller Fracture opposite a teeth-baring Anthony Hopkins, and the obtuse man-boy in Lars and the Real Girl, mark a breaking point. In the first decade of his adult career, no one was going to see Gosling's movies. The momentum of The Notebook and all that hoist-kissing was squandered by choices that obscured what makes him commercial: wry smile, floppy hair, still earnestness. He was brilliantly closed off as a drug-addicted schoolteacher in 2006's Half Nelson, but no one saw that either. He made movies like Stay and Fracture to keep some skin in the movie-star game, but no one gave a shit. Turns out Ryan Gosling had to become more aware of himself for any of it to work.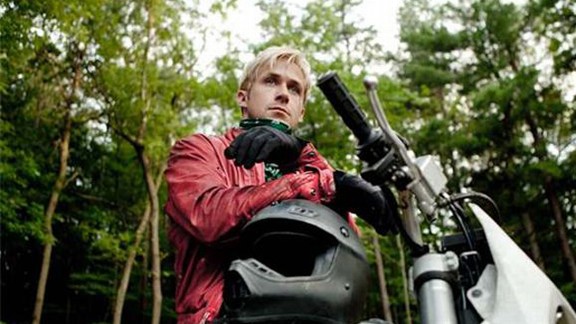 In 2010, after three years away from movies, he returned with Blue Valentine, the first of two collaborations (so far) with director Derek Cianfrance — another filmmaker who uses Gosling as a handsomer avatar. It might be his best performance, all gnarled desire, cunning seduction, hilarious male-pattern baldness, and a ukelele serenade. During the story of broken love, he transforms, from a soaring bald eagle to a cawing vulture in the span of a failed marriage. In quick succession, he began ratcheting up the deft combination of for them and for me parts of the past few years. But unlike the '70s filmmakers who were forced to adopt this formula, the art gigs were sometimes just as effective as the paycheck jobs. Drive, stylish and unerringly cool if a little empty, was a peak and also profitable. It solidified him in a way a movie like Fracture never could. In the last three years, Gosling has appeared in six movies; three that could be called commercial (if "smart") and three that could not. His second movie with Cianfrance, this year's ambitious The Place Beyond the Pines, features a nearly parodic Gosling role — a cowboy who has traded his horse for a speed bike and Monument Valley for Schenectady, New York. (In April, Amos Barshad identified all of the ticks and tricks Gosling uses to ugly up and this film's tear-drop tattoo may be the pinnacle.) Pines is two-thirds of a great movie, all bloated Sidney Lumet themes of crime and family and responsibility. It could have been called Cops and Robbers and Fathers and Sons. Gosling doesn't talk much in that one, either. You don't have to when you can drive a motorcycle around a cage.
His reentry in 2010 feels as though it has something to do with self-awareness. Though a clever performer, Gosling had never had much of a reputation for his intellect. Sometime around the turn of the decade, it seemed as though someone began to explain Gosling to himself. Feminist Ryan Gosling and Hey Girl became actualized. Suddenly, he was in on the joke. The meme was sentient. For years, Gosling was a self-serious ac-tor who would only glance at the prospect of Hollywood. (He hasn't made a romance like The Notebook since, and you haven't seen him in anything produced by Marvel.) But after Blue Valentine, something changed. Crazy Stupid Love isn't a great movie, but it's hugely important for Gosling. In the same way he seems to acknowledge and amplify his mute loner myth in Pines, he's taking the piss out of his Lothario good looks in Crazy Stupid Love. Every Ryan Gosling role is a meta-commentary on being Ryan Gosling. A tortured artist and a swaggering movie star. A box office chess piece and an auteur's mound of clay. A well-dressed red carpet walker and a peace-keeping citizen. Ryan Gosling is both men. Call it the duality of bro.
Filed Under: Drive, Gangster Squad, Movies, Nicolas Winding Refn, Only God Forgives, Ryan Gosling, The Place Beyond The Pines