'SNL' 40th Season Premiere: Pratt's First Time, a Revamped 'Weekend Update,' and a Killer New-Guy Debut
Dana Edelson/NBC
On Friday, a day before SNL's 40th anniversary premiere, James Franco's documentary Saturday Night hit Hulu Plus. Originally conceived as an NYU film school assignment — a seven-minute observational short on Bill Hader — and shot during the week of the 2008 John Malkovich episode, it eventually ballooned into a proper, feature-length making-of doc. Franco's spoken of it since, and it's had one-off screenings, but it'd never before seen the public light of day. And, look: Whatever your issues with Franco in general, and with the dark and jumpy footage of this project specifically, it's hard not to appreciate him on this at least a little bit. The industrious young man used his celebrity privilege not for evil, but for good: to give us access to something we'd never seen before.
"But we are already fully aware of every last detail of the SNL process, right on down to scheduling minutiae," some might say. "There's been like a billion books and magazine articles on all this stuff. Is more behind-the-scenes coverage of SNL really what you need in your life?" Need? No. Want? Yes, absolutely! Like, yeah, we knew the writers all get in Lorne Michaels's office and meet the host and pitch sketches at the top of the week. But had you ever actually seen 'em do it? They all crowd around and sit on the floor?! That's so crazy! And listen to Will Forte explaining how the sketches that do the best in pitch form aren't usually the ones that go the distance; if a writer's really sold on the idea, Forte theorizes, they're not giving away the punch line that early. That makes so much sense!
For those SNL unbelievers, it surely feels like just more overkill. And to them, I humbly suggest there was a moment in the 40th season premiere that went some way toward justifying all of that overkill.
Toward the end of "Weekend Update," Pete Davidson, the latest addition to the cast, and the youngest — he's the first SNL'er born in the '90s — showed up. Fellow new guy Michael Che set him up, with a news story about a teen in trouble "for photographing himself in a sexual position with a statue of Jesus." And, mirthfully, off Davidson went, delivering a few rambling minutes of concentrated confetti-toss joy.
The material (presumably culled from his stand-up stuff? Maybe even used in his audition?) was great: "One of your friends'll be like, 'Hey, man, would you go down on a guy for a million dollars?' And then we would all lie and be like, 'No.'" But it was his particular facial expression — calibrated perfectly somewhere between aw shucks and holy shit I'm crushing this — that really did it. There's a moment there, about a minute and a half in, when he stops for a laugh break, and smirks, and soaks it in, and it's like he's maybe actually thinking, Here it is, right here, the exact moment where my life changes forever. It's probably too early to print up the Clinton/Davidson '16 bumper stickers? But the potential was so definitively flashed, and it was thrilling. And no other show on TV can give you that moment.
How was the rest of the episode? Eh, you know, pretty good? So-so-ish? I mean, come on. It's SNL!
Peter Quill
Presumably, a Chris Pratt backlash1 will come eventually, because that's just how these things work. But for now, at least, he's still charming as all get-out. I always like it when the hosts seem a bit nervous and genuinely out of their minds about being on SNL, and Pratt gave us some of that quite organically. (See Joseph Gordon-Levitt for the more, uh, extreme end of this particular approach to the monologue.) Pratt's nod to his lady, Anna Faris, was adorable, the little flubs during his song were endearing, and my gosh was that a well-cut suit.
[protected-iframe id="4b406b8c914c5cfdd63dc24a39926a78-60203239-16586585″ info="http://player.theplatform.com/p/NnzsPC/widget/select/nnVDVTFpH4e_?carouselID=148621″ width="650″ height="366″ frameborder="0″ allowfullscreen=""]
Much like fellow handsome goofball Jon Hamm before him, Pratt felt like a natural for the hosting gig, the type of dude SNL might just have to keep having back. And there was a lot to work with. Guardians of the Galaxy led to a nice little Marvel spoof, probably the best, and certainly most replayable, bit of the night.
https://www.youtube.com/watch?v=0c-bFzkO9O4
Throughout, Pratt did yeoman's work, whether popping up as an NFL player announcing his crime ("American Taliban!") or a video-game lothario letting Vanessa Bayer get all up in his disgusting chest wound. The "He-Man and Lion-O come to life" sketch had its charms: Taran Killam getting really into crotch-tapping was great; unintentionally, his having a fake six-pack next to Pratt's still-real one was pretty funny, too. The "shy singles at the bar" sketch was a clever nod to our Summer of Ass, but it was the one time Pratt couldn't quite hang. (To be fair, Aidy Bryant was quite nicely locked in there.) Our host was arguably underused overall, but surely he'll return?
"Weekend Update"
It's generally the most reliable portion of the program, but this weekend's "Update" felt like it was going on forever. New coanchor Che had his stumbles, but they weren't so bad. Question, though: Should we be concerned about Colin Jost? He's gotten the Lorne vote of confidence to return to the desk, and seems no more comfortable for it (especially compared with my boy Davidson). To be fair, it's still pretty new for the dude, plus now he's got a new partner to feel out, too. And by the end, with the direct-to-the-prez stuff ("You might not get an airport like Reagan, but it's got to be pretty cool to know that one day parents may tell their children not to go north of Barack Obama Boulevard"), the two did build up a nice little back-and-forth. And so this continues to be a wait-and-see situation.
Bad Boys
With a pretaped bit, my other boy Kyle Mooney and his writing partner Beck Bennett delivered one hell of an oddity: a sitcom parody delivered in the flattest of flat affects. Like, "everyone bash their heads into this concrete wall for a half-hour before we tape" flat. I liked it, but I was mostly just impressed they managed to get that on air. I don't know about its mass appeal, but it was truly, almost unsettlingly strange, and that's great to see. You know what they say about weird Kyle Mooney and Beck Bennett sitcom parodies: Only 3,000 people saw them, but all 3,000 of them went on to make weird sitcom parodies of their own.
Ariana and Darrell
Ariana Grande was perhaps a bit boring, which is no great crime. I'll mostly remember her for bringing out The Weeknd. It might be easy to forget now, but there was about a month in the summer of 2011 when the dude — before the game got real and face was revealed — was without a doubt the coolest person in music. Now he's circling Ariana while making intermittent eye contact. Life comes at you fast?
By the way, this was Darrell Hammond's first show as announcer. Is it a bit of a bummer that after a record 14 years on the show, Hammond can't think of a single thing better to do than to hang around Studio 8H, not doing anything that can in any way be considered comedy? Um, who's to say! Meanwhile, once again — RIP to da gawd Don Pardo.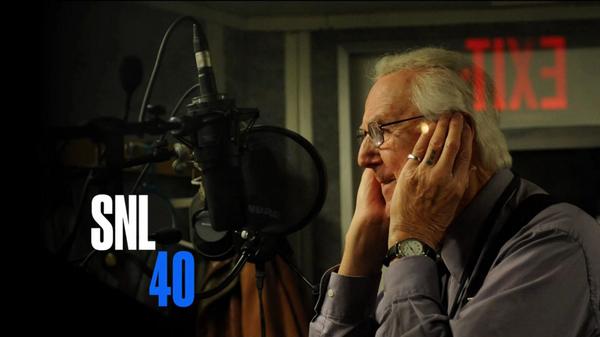 All right, everybody. Pop some Cialis Turnt and enjoy your week.
[protected-iframe id="d07c48418cd8f5ac675ecda2df6b6ea3-60203239-16586585″ info="https://screen.yahoo.com/cialis-turnt-073937858.html?format=embed" width="640″ height="360″ frameborder="0″ scrolling="no"]
Filed Under: TV, SNL, Saturday Night Live, chris pratt, Pete Davidson, michael che, colin jost, weekend update, Ariana Grande