Paul Walker: 1973-2013
AP Photo/Joel Ryan
On Saturday, the actor Paul Walker — best known for playing cop turned adrenaline-junkie outlaw Brian O'Conner in 2001's The Fast and the Furious and four of the five demented/delightful sequels that film spawned — was killed in a car wreck in Santa Clarita, California.
The idea of the guy from the car-crash movies dying in a car crash seemed specious enough that a counter-rumor about Walker being the victim of yet another holiday-weekend celebrity-death hoax briefly gained traction. It wasn't true. According to the Los Angeles Times, Walker died around 3:30 p.m. on Saturday, when the red Porsche Carrera GT he was riding in collided with a tree and a light pole and burst into flames. The driver of the car, Walker's friend and financial adviser Roger Rodas, also died at the scene.
"Waiting for non-TMZ confirmation" has become the first stage of the Internet-age grieving process. Unless the death in question is a pre-sanctified cultural hero like Lou Reed, "Need Another Seven Astronauts"–style displays of knee-jerk irreverence are often the second. But after sources close to Walker confirmed his death, the response (at least in my social-media universe) was strikingly solemn. "I've hardly ever heard this stadium this quiet," a radio announcer says in 1999's Varsity Blues, after Walker's character — golden-boy quarterback Lance Harbor — suffers a knee injury that ends up costing him his full ride to Florida State. That's how Saturday felt — silence in the stadium, so little snark you could hear a pin drop.
Part of it was that Walker always seemed, on and offscreen, like a decent, unwarped human. He'd show up to interviews wearing shirts from Kmart and somehow manage to read that fact into the record without coming off like a reverse-douche. When he died, he'd just left a car show he'd organized through his charity foundation, Reach Out Worldwide, to benefit survivors of Typhoon Haiyan. Even leaving all that out, you'd have to be a troll or a ghoul not to feel for the 15-year-old daughter Walker left behind, and (on a somewhat less profound level) for director James Wan and the rest of the cast and crew of Fast 7, who have the unenviable task of retooling what was already a rush-job sequel to work around an absent lead without dishonoring his memory. The Fast franchise has many virtues, but delivering believably somber emotional moments isn't one of them. When it came time to integrate the sudden death of Cory Monteith into an episode, Glee could let power ballads do the heavy lifting; Wan and his collaborators don't exactly have that option.
Inevitably, though, Walker's death will also change our relationship with his non-posthumous filmography. There were only two kinds of Paul Walker movies — bad ones, and great bad ones — and we'll never be able to enjoy either in quite the same way again. I mean nothing trollish by that statement; some actors are lucky enough to do their best work in great films and some aren't. Walker wasn't; minus Brokeback Mountain and The Dark Knight, neither was Heath Ledger. But Walker did leave us some premium cheese, and I'll miss the days when his back catalogue was a source of uncomplicated afternoon-cable pleasure.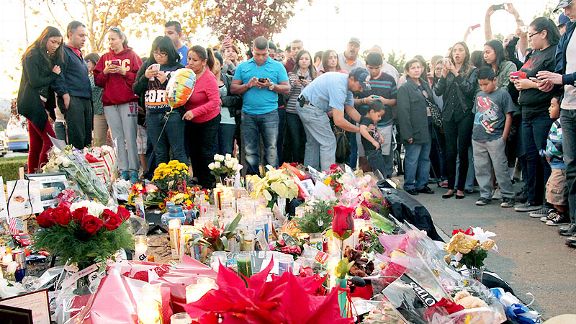 He was born in Glendale, California, in 1973, and grew up in the community of Sunland-Tujunga, in the foothills of the San Gabriel mountains. His father was a sewer-system technician and speed-shooting champion, and his mother was a former model, which is possibly the most apt imaginable genetic legacy for an actor who'd someday ply his trade in the gray area between leading man and Everyman. Walker got his start in a Pampers commercial at age 2, then racked up an estimable string of TV credits as a child actor — a Charles in Charge, a Who's the Boss, the odd game-show appearance, and a two-episode stint on Highway to Heaven as a kid with Down's syndrome who competes in the Special Olympics with an angelic assist from Michael Landon. (Josh Brolin played his older brother; they'd work together again years later in the diving-heist film Into the Blue, still the greatest core-workout showcase in all of 21st-century cinema.)
He surfed and studied marine biology in college, and part of him wanted to be Jacques Cousteau. Many Shark Weeks later, he'd help scientists trap and tag great whites on NatGeo reality shows and wax rhapsodic about the mysteries of the deep sea in junket interviews. In the short term, though, it was show business that won out. By the time he was in his early twenties, he'd started playing teenagers on the big screen. In Gary Ross's 1998 meta-fantasy Pleasantville, Reese Witherspoon plays a sexually active present-day high schooler who gets magically transported to the uptight small-town universe of a black-and-white TV show from the '50s. The town's reality begins to unravel when she sleeps with the captain of the basketball team, who is introduced in Ross's script as follows:
Jennifer turns to see a strapping blonde seventeen year old driving by in his convertible. He is extremely handsome with Jack Armstrong features and a Letterman's sweater. Despite her crisis, Jennifer's jaw drops open as he slows to a crawl. Skip Martin flashes a huge Pepsodent smile. The guy is a "dreamboat".
That passage might as well have been an incantation, written to summon a Paul Walker type out of the nearest surf break. And as the late-'90s teen-movie boom continued, more visible parts beckoned, although the elevation of misfits and square pegs in those films meant that the blond, blue-eyed Walker was often cast as somebody rich or dickish or both, a rival or a plot device or eye candy, always more Iceman than Maverick. He's the smirking bro who bets against Freddie Prinze Jr. successfully making over arty Rachael Leigh Cook in She's All That, a privileged secret-society pawn in The Skulls, QB1 for the West Canaan Coyotes in Varsity Blues, and — for about a minute, in an uncredited, nonspeaking role — Claire Danes's high school boyfriend in Brokedown Palace.
He'd work steadily from then on, in everything from Wayne Kramer's Running Scared — an excellently nasty 2006 crime drama whose Paul Walker–fakes-his-own-death ending will make it a tough rewatch from here on out — to Chazz Palmintieri's 2004 Christmas movie Noel, said to be the first movie ever distributed on disposable DVDs. Again, not trolling: The discs sold for $4.99 a pop, but turned black and unreadable 48 hours after they were first exposed to oxygen. Walker plays a cop who's engaged to Penélope Cruz; apparently he's pretty good in it.
But it was The Fast and the Furious — released in 2001, based on neither the Vibe magazine article that allegedly inspired it nor the '50s Roger Corman B-picture whose title it appropriated — that made Walker a leading man, even as it constrained his options as an actor. As O'Conner, sent undercover to take down a ring of car thieves, Walker played the Johnny Utah to Vin Diesel's Bodhi. The movie became a surprise hit, but it was Diesel who became the bigger star; he immediately struck out on his own, leaving Walker to take Miami with Tyrese Gibson in 2003's 2Fast 2Furious, the only Fast movie worse than the first one.
Walker skipped 2006's The Fast and the Furious: Tokyo Drift, but returned for the fourth, fifth, and sixth films in the series, each of which outgrossed its predecessor. Although O'Conner — forever thinking he's out, forever pulled back in to once again stomp accelerators with the most famous Van-clad foot since Spicoli's — was still nominally the protagonist of the last three films, Fast Five and Six are really ensemble pieces, with screen time and cool one-liners distributed evenly to a large — and largely nonwhite — cast. There was a time when the hero of an action movie was usually the guy who looked like Paul Walker, rather than like Diesel, Dwayne Johnson, or Sung Kang; over the course of the six Fast movies, you can basically watch that page of film history turning. It's the main non-car-chase-related reason these movies are important; they're the first mainstream action franchise with a cast as diverse as its intended audience. I'm sure this has more than a little bit to do with the ever-increasing importance of international box office, but to me the story of Brian O'Conner's marginalization in the Fastverse says as much about what Americans look for in a movie star now. If he'd been born 10 years earlier, Walker might have been Tom Cruise.
Maybe it's too big a leap to suggest that Walker's death represents some larger symbolic dimming of the day for a certain kind of leading man — blue-eyed, surfy, fast-car-loving, born of the Newman/McQueen DNA line. So instead, let's say Walker managed to occupy a space of diminished expectations with aplomb and even grace. He punched his weight. He'd started making serious-actor moves toward the end of his life — like coproducing the December 2013 release Hours, in which he plays a father struggling to keep his infant daughter alive on a ventilator during Hurricane Katrina — but wasn't too good to endorse Davidoff Cool Water, a cologne that smells like a teenage boy who drives a cab. I wouldn't be totally surprised to learn that Walker actually wore Cool Water; if he wasn't that kind of guy, he always managed to come off that way. I know this — and much of what precedes it — will sound like faint praise, but I don't mean it to be. Not every actor needs to be a Brando or a Franco, just like not every film needs to be an ax for the frozen sea inside us. The movies also need dudes, and with Walker gone they've lost a good one.
Filed Under: In Memoriam, Obituary