Oscars After-Party: Shocks! Surprises! Conspiracies! Amazing Hair!
JOE KLAMAR/AFP/Getty Images

Oscar Meteorology
There's always an element of fatalism with making Oscar predictions. You actually hope you're wrong. You want to be right because people conflate educated awards-guessing with expertise. But when you have to sit and watch more than 190 minutes of the Academy Awards, you really don't want a predicted outcome. You want to be wrong about who the majority of 6,000 or so people will say was the best supporting actor of 2013. You want to go in with a little conventional wisdom and know that Tommy Lee Jones will win so that when Octavia Spencer opens her envelope and says Christoph Waltz's name, you can stare at the television and just say, "Wow."
Waltz was a surprise in a season of surprises. This was the year voters decided to pee into millions of Oscar pools. It was the year that everything started to seem refreshingly upside down: no Tarantino or Paul Thomas Anderson or Kathryn Bigelow or Wes Anderson up for Best Director, but Benh Zeitlin?
For the moment, we're in an era when the wisdom is getting a little less conventional, when the rules are bent if not broken. And it's good not to have the appearance of lockstep or groupthink. The Best Picture really doesn't have to be made by the Best Director. Independent movies by, say, rigorous Austrian auteurs and recent Wesleyan grads who've never made a movie before are legitimately part of the conversation. The Academy's membership might still be overwhelmingly older, white, and male, but since the picture field's expanded to up to 10 films, not all the nominees are — Precious, An Education, Zeitlin's Beasts of the Southern Wild. If they skew old, they do so with a wrinkle — Up was animated; Amour was made by that Austrian (Michael Haneke) and is about a couple of Parisians. Up in the Air, Beasts, and Argo were made, relatively speaking, by kids.
The expanded Best Picture category seems to have liberated the membership to vote multilaterally rather than hegemonically. A few years ago, Lincoln might have converted most of its dozen nominations into wins. Sweeps happen less often than it seems. Last night, Lincoln won two: for Daniel Day-Lewis's lead performance and Rick Carter and Jim Erickson's production design. It was considered a front-runner before the nominations were even announced, but its important subject matter — courtesy of a highly regarded writer and a superstar director — might have seemed too destined: The period film about the passage of the 13th Amendment (the one that makes black Americans equal to whites)? Of course that'll win all the Oscars. How could it not?
I don't believe the foregone conclusion is a thing of the past. Day-Lewis's win was, as they say, a lock. But most people would have said they were only slightly less certain about Spielberg. He lost. To Ang Lee. Who directed the bejesus out of Life of Pi. The difference between Ang's approach to Sense and Sensibility, The Ice Storm, and Brokeback Mountain and his work here is the visual difference between folk and death metal. Lee works with a rigorous conflation of art and accessibility. He can be cold but he's never freezing. With Life of Pi, he's thawed some. It's hard to argue that Spielberg was robbed. But in the scheme of things, how secure can he be about his peers? An industry that would be somewhat worse off without him seems to take pleasure in putting its greatest accolade to passive-aggressive ends, to both honor and humiliate him — sometimes in the same evening.
Still, a lot of people in the movie industry felt that the robbery had already been perpetrated upon Ben Affleck, whose commercial talents have been overshadowed by two months of wagons circling around him. How over Lincoln and in love with Argo was the Academy? It voted one of the least interesting things about Argo (Chris Terrio's adapted script) over one of the most thrilling things about Lincoln (Tony Kushner's).
This isn't unprecedented. In 2001, Ridley Scott's Gladiator won Best Picture, but Scott lost the directing Oscar to Steven Soderbergh for Traffic. What happened with Lincoln this year was a little different. It felt not like the splitting of differences, but the changing of an industry's priorities. Historical politics took a backseat to Hollywood politics. As predicting those changes goes, it's showbiz meteorology. Sometimes you call for sunshine but are happy to see it rain.
— Wesley Morris
The Fix Was In
There always has to be a conspiracy theorist in the room. That conspiracy theorist is me.
Leaving aside the profound weirdness of having the First Lady read the Best Picture winner whilst hovering over Seth MacFarlane's Botoxed face like a benevolent but disappointed god — was there any doubt at that moment that Argo had won? No matter what the thugs at PricewaterhouseCoopers might tell you, the White House had to have known the outcome before she opened the envelope.
Or, more specifically, it had to have known that at least two movies were NOT written on that piece of paper.
Think about it: If you were running press for the FLOTUS, would you have even, for a tiny second, risked the weirdness of opening that envelope and reading the words Django Unchained? Or, worse, Zero Dark Thirty? The former would have provoked 90,000 terrible think pieces about race and slavery and a lot of very awkward questions. The latter would have made Andrew Sullivan's head explode. (If you thought the torture debate was all-consuming before the Oscars … egads.) No. Even if the White House didn't know it was going to be Argo, it DID need to know it wouldn't make things uncomfortable for the White House.
Well, more uncomfortable than being seen with Seth MacFarlane on national TV, anyway. He saw your boobs.
— Dan Fierman
I Wrote Out a Few Thoughts But Decided to Trash Them Because Ultimately All That Really Matters to Me Is This Picture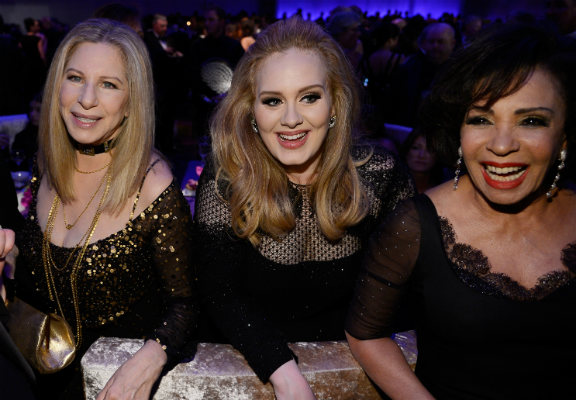 — Molly Lambert
On Wanting It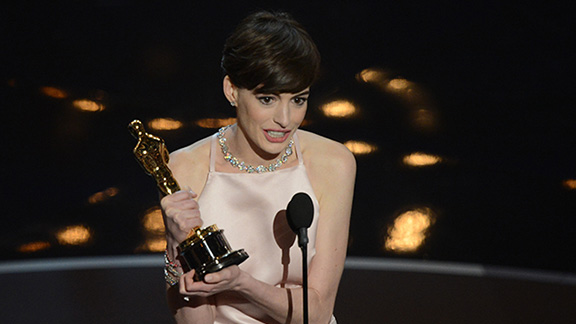 One of the most persistent narratives of the awards season was that Anne Hathaway, the presumptive Best Supporting Actress winner from the moment director Tom Hooper handed her a burlap sack and told her not to return until it was full of chestnut hair, loose teeth, and crushing sadness, wanted it too much. That every moment between the release of the Les Misérables trailer that first showcased her seemingly Oscar-inevitable performance and Sunday night's ceremony was coldly calculated, down to every awkward syllable she uttered from the world's various podiums over the past two months, to maximize her chances of walking away from the Dolby Theatre with a statue. That acceptance-speech coaches were hired, influencers schmoozed, campaigns executed. That if she'd been asked, she would have gladly showed up at a moment's notice with a boom box, some Wahl clippers, and a pair of pliers to dream a dream in each Academy voter's home.
But they all wanted it. Jennifer Lawrence wanted it and got it. Jessica Chastain and Sally Field wanted it and did not. Daniel Day-Lewis, the only lock more mortal than Hathaway, wanted it for a third time, even though he projected the casual charm of a guy who'd be just as happy cobbling up some clogs in his Irish castle. In the front row, Jack Nicholson was the personification of seething want (though he probably wanted to be locked in the green room with Naomi Watts, Emmanuelle Riva, and a mountain of cocaine) and behind him, a thousand-member-strong chorus of want barely restrained their collective goldlust.
Anne Hathaway wanted it.
She got it.
And she deserved it.
— Mark Lisanti
Contempt
That too-long-by-about-three-halves Captain Kirk bit hinged on the idea that Seth MacFarlane cared about how he'd be remembered as an Oscar host, which meant it was the evening's best joke. Dude made Ted, dude makes hundreds of millions of dollars making Family Guy and was probably the richest person to host the Oscars since Johnny Carson; dude is long, long past the point where the opinions expressed by Entertainment Weekly (or in morning-after roundups like this one) will cost him a millisecond of editing-room-tanning-bed shut-eye. (Also he hates women, so that was 51 percent of the Oscar-opinion-having population factored out right there.) Really, honestly, and truly not giving a shit is life's cheat code; MacFarlane radiated confidence because he knew, probably from the moment he took the gig, that he wouldn't be invited back. Ricky Gervais's I'm–a–naughty–Golden Globe–host routine is the obvious comparison, but you always knew Gervais was negging Hollywood because he wanted its respect. MacFarlane was in this to offend, and therefore the only truly offensive thing about his performance was its cynicism. Writing an actual joke about Harvey Weinstein engaging in European sex tourism would have shown contempt for Harvey Weinstein; pretending to be reading the words "Harvey Weinstein joke to come" off the teleprompter showed contempt for the audience, for joke-writing, for anyone dumb enough to try hard at hosting the Oscars or at anything, for anyone who was not Seth MacFarlane. Hair-plugs joke to come.
— Alex Pappademas
The Bumpkin and the Rose: Being Jessica Chastain in a Jennifer Lawrence World
I'm not seeking equivalence in movie stars. Don't be like me. Be better than me. Or, at least, weirder. Don't be relatable. Don't talk about farting and wearing pajamas. Don't eat potato chips in a Dior gown. In other words, don't be a bumpkin.
I'm not lifestyle-shaming Oscar winner Jennifer Lawrence. She can do anything she wants whenever she wants. She's a beautiful, charismatic person. Her career is made. I'm just having a hard time accepting that doing the things mentioned above and advertising them is somehow more interesting or useful than not. It's easier than it looks, talking and talking and talking about foolish things. Once you've decided to ignore your publicist's pleading about avoiding fart material during interviews, there's no reason to turn back. Now it's become Jennifer Lawrence's thing. Sure, she's dopey, but she seems real. Authentic. A person you can talk to. Share a beer with. We elected a president on these grounds once upon a time.
It is not unknown in the Grantland office that I have strong feelings for Jessica Chastain — she's a gifted performer, steely, luminous, and a bit impenetrable. But she's chilly and distant and a little too interested in discussing her craft. Who hangs out with Chastain? What would you do? Those chiseled, severe features; that chin dimple; that hair aflame. She's not your friend, she's a freak. This doesn't matter. Zero Dark Thirty is one of the two or three best films of 2012, and it doesn't work without her. So when I say that I think Lawrence is an embarrassing nightmare who should be banned from speaking in public and Chastain ought to be celebrated for not farting on everyone all the time, you'll understand that I'm having fun. But not too much. Another example: These two women have worn dozens of dresses as they endured the awards-season gauntlet. Some gorgeous, others dreadful. Last night, the end of the run, Chastain wore an elegant bronze Armani dress. Radiant but not ostentatious. Lawrence wore a wedding dress made of ruffled curtains draped over a giant teacup.
When Jean Dujardin announced Lawrence's name, a few coworkers razzed me, and I dropped my head into my hands. I couldn't watch. As I raised my head, Lawrence went down.
To have your suspicions confirmed so viscerally is a strange thing.
— Sean Fennessey
And the Award for Most Jack Nicholson Entrance Goes to …
Counterpoint: J-Law
She dressed like the Princess from Super Mario, introduced Adele, won Best Actress, fell up the stairs, and then gave a great speech.
All of these things increasingly convinced me that she'll be around for a long time.
But her dealing with the post-Oscars press proved that she is a 22-year-old human first and actress second, a hierarchy of priorities I couldn't be happier with:
On the media room: "This isn't like an auction, right … You guys are going to take it. It's worth more than that."
On mental illness: "But when you have to take medication for your mind, it's such a stigma behind it."
On the day of: "The process today was so stressful, I felt like Steve Martin in Father of the Bride, watching my whole house be torn apart."
On her mental state: "I'm sorry, I took a shot. I'm sorry. Jesus."
On the fall: "WAS THAT ON PURPOSE? ABSOLUTELY."
More on the fall: "What do you mean what happened? Look at my dress."
On the stairs: "They wax the stairs."
MORE ON THE FALL: "What went through my mind when I fell down? A bad word. That I can't say. That starts with F."
On being asked if she's worried about peaking: "Well, now I am."
Oh, and she flipped someone off.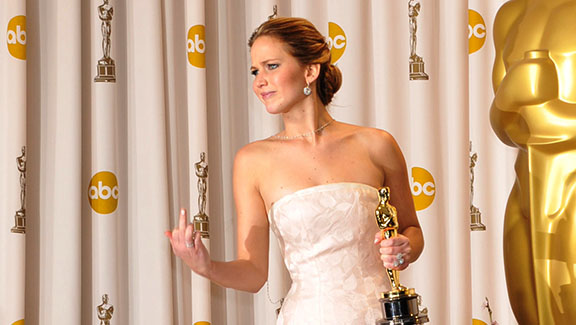 I've never been more smitten.
— Rembert Browne
Quentin Tarantino Will Present His New Oscar Now, With a Disheveled Flourish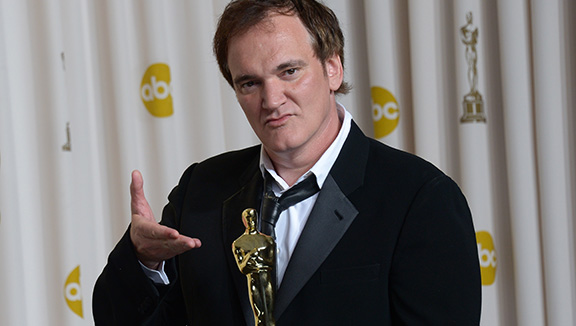 The Unexpected Magnificent Golden Tresses of Four Below-the-Line Oscar Winners, Ranked by Lustrousness
1. Achievement in Cinematography winner Claudio Miranda, Life of Pi

2. Achievement in Sound Editing winner (tie) Per Hallberg, Skyfall


With honorable mention to partner and cowinner Karen Baker Landers (left).
3. Achievement in Sound Editing winner (tie) Paul N.J. Ottosson, Zero Dark Thirty

4. Achievement in Music Written for Motion Pictures winner Adele Adkins, Skyfall

Honorable Mention


"In Memoriam" winner Barbra Streisand.
— Lisanti
Or Maybe They Are Wizards
I know that everyone was probably pretty distracted by Jennifer Lawrence's stairs tumble, The Onion calling a 9-year-old a slang term for a mean, bitchy, fire-spitting vagina, and Argo and feminism and all of the things mentioned above and below this post. That's exactly what the blond wizard triplets wanted. Two of them pretend to be sound editors, and one asks you to believe he's a cinematographer, but I'm not drinking that peroxide-laced Kool-Aid, my fine flaxen brothers. No sir. Do you think it's a coincidence that the Academy Awards fell on the night of the waxing gibbous? Do you think it's HAPPENSTANCE that two of the most powerful below-the-line Merlins in the business tied for an Oscar? No. No. NO. Everyone in Hollywood is in on this. I say this as an insider. It's the biggest cover-up in the history of cinema. It's the basis for the Bjelland Brothers "satire." It's time for the world to open up its big, dumb eyes and blink in the blinding light of the sun of truth.
— Tess Lynch
J-Hud Breaks the Diva Scale

This was the exact moment when J-Hud broke the Diva Scale. I have no idea how to categorize what happened last night or where it places J-Hud on the all-time ranks, but right now she's like Bonds on steroids. None of the numbers make sense anymore and we just need to take some time to figure out what has happened between the Whitney tribute at the Grammys and last night's old-school, squat-and-gloriously-shit-out-the-big-notes performance.
WHERE YOU AT, JENNIFER HOLLIDAY?!?!?
— Jay Caspian Kang
Michael Haneke Lends Some Perspective

"Tonight I shall place this trinket atop my mantel, and I will sit and look at it for a while. But one day I will be nothing but a pile of dust and bone in a comfortable chair, watched over by an unblinking, tarnished gilded sentinel. Thank you."
— Lisanti
Chicago on Their Minds

Last night's "it's alive!" moments: William Shatner (though that was never in doubt), Bond singer Shirley Bassey, and … Chicago. As the opening bars of "All That Jazz" filled the auditorium, we were taken back to a simpler time — 2003 — when Renée Zellweger was a headliner, when simply being Richard Gere was enough to get by, when Chicago was Best Picture.
For me, Chicago is a lot like Dances With Wolves and Driving Miss Daisy. All I remember is a single, inchoate image. Dances is Kevin Costner's bare ass and Daisy is Dan Aykroyd's ghastly Southern accent and Chicago is two women kicking in front of bright lights. Catherine Zeta-Jones got last night's revival started by standing atop a piano. The Daily Mail was worried about her makeup, but here the standout accessory was a black wig. Zeta-Jones vamped quite well and sang as flawlessly as she did on the cast album — which meant we were probably listening to the cast album. It reminded you that Chicago was as unnatural a product as Cheez Whiz.
Later, Zeta-Jones, Gere, Zellweger, and Queen Latifah gathered round the microphone to give out some awards. Gere was mumbling. Zellweger's face was an eggshell. Only Queen Latifah seemed to realize that this wasn't exactly a Seinfeld reunion — that these time travelers from 2003 were going to have to work. It made you realize how fleeting the whole Best Picture thing is. If we'd reassembled the casts of some other 2003 nominees (The Hours, Gangs of New York, The Pianist), how many people could even identify the films? Chicago isn't particularly an Oscar travesty. It was about as entertaining and slickly produced as anything that came out in 2002. But it has become a Mister Cellophane among Best Pictures: You never know it's there …
… unless you're force-fed an Oscar tribute. So why Chicago, why last night? Well, it was the 10th anniversary, and the telecast was devoted to movie music. And: The producers of the Oscars were Craig Zadan and Neil Meron, who by extreme coincidence were executive producers on Chicago. Consider Chicago's resurrection, then, an existential declaration. Hey, remember us? We won!
— Bryan Curtis
Musicals' Biggest Night
I'll be honest — I'm not a huge awards-show person. I'm not really into the (often) well-rehearsed and planned acceptance speeches, and I hate the filler material that comes between announcing the winners. I feel awkward when actors and actresses try to say something funny, fail, then laugh at themselves while the rest of the audience joins in halfheartedly. I roll my eyes during the pre-show red-carpet interviews and, well, basically, I'm an Oscars hater.
But there was one part of last night's show that had me beaming — the musicals performance. No, it wasn't the Les Mis cast that did me in (though I was and always will be impressed by Samantha Barks's singing), and it wasn't Jennifer Hudson's "And I Am Telling You I'm Not Going" (though I adore Dreamgirls). It was the appearance of Catherine Zeta-Jones and that familiar "Come on, babe, why don't we paint the town?" I'm a huge, huge, huge sucker for musicals, and Chicago is one of my on-screen absolute favorites. I remember watching the movie in 2003, though I didn't entirely understand what I was watching (I was 11 years old). For days after, though, I would always have "Pop! Six! Squish!" (and only "Pop! Six! Squish!") running on repeat in my head. It's crazy to think that 10 years later, Chicago is still one of my favorite movies and that somehow Broadway has still not really infiltrated Hollywood. That segment reminded me that Catherine Zeta-Jones is more than T-Mobile and that the 1920s (in full Gatsby fashion) were the best years to live in (after the overalls-donning, scrunchie-wearing '90s). Cheers to a fun Broadway musical tribute and to maybe seeing Hairspray at the Dolby Theatre next year. I mean, one can always dream a dream, right?
— Patricia Lee
Three Reasons Why Ted at the Oscars Maybe Wasn't the Worst Idea Ever
I'm already on record defending not only Seth MacFarlane in general, as a somewhat worthy and productive human being, but also Seth MacFarlane specifically, as a non-atrocious pick for Academy Awards host. How much deeper a hole can I dig? OK, here: I liked the Ted bit at the Oscars. For multiple reasons:
Bookended as he was by two fat MacFarlane-as-MacFarlane clunkers — the "homeless guy peeing on the Redbox" joke and the "Nazi breaking in before Christopher Plummer" Family Guy–gag, both of which Seth tried to salvage by turning his "oh gosh oh jeez I just can't help smiling right now" creepiness all the way to 11 — MacFarlane-as-Ted, at least relatively, totally slayed. You know, maybe I'm just a sucker for a solid Jewish cabal reference, but I thought seeing an adorable bear in a tuxedo say "We'll see who the idiot is when they give me my private plane at the next secret synagogue meeting" was a perfectly good time. And at the very least, I do not recall Ted being so brash as to dare play with the sanctity of Christopher "There Would Be a Sir Back There Before 'Chris' If It Weren't for the Pesky Fact That I'm Actually Canadian" Plummer.
Sure, it may have been because of no direct effort of their own, but Ted and Marky From Dorchester did happen to present the night's weirdest award: the "no BS" tie between Zero Dark Thirty's and Skyfall's sound editors. Even better: seeing one gracious sound editor with billowing blond hair come up to collect an Oscar, and then seeing another gracious sound editor with billowing blond hair come up to collect an Oscar. Future sound editors of the world: Start working on growing your billowing blond hair now.
And, the most important and persuasive argument in favor of Ted: This brief intro shot of Bradley Cooper being like, "Wait, I'm fucking supposed to be pretending to look at a bear now?"
— Amos Barshad
Time to Wrap It Up
The "wrap-it-up" music fade-in as tearful starlets and millionaire producers try to rush through blustery thank-yous to their publicists has been a reliable butt of jokes for years, but last night was the first time the ceremony has tried to beat snarky Twitterists to the punch and make it funny on purpose. It was quickly apparent that this was a terrible idea, mostly because the first victim of the ill-conceived Jaws-off was Bill Westenhofer, the visual effects supervisor for Life of Pi, who got played off while lamenting that his company Rhythm and Hues has filed for Chapter 11 — a boring, unglamorous fact that has put a lot of creative, hard-working individuals out of work, lol. It was at that point of the night when Seth MacFarlane's Oscars became not only unfunny, but ignorantly mean-spirited. It's probably hard, with all the flop sweat over making the telecast #relevant #mustwatchTV for #generationVINE to remember that the Oscars can/should also be about recognizing people who have never appeared in an Annie Leibovitz photo shoot, and that a win on this night can often be the only time the majority of the viewers at home will ever have to think about who they are and what they do, but surely there's a better way to move the ceremony along than with a jokey music cue about one step up in dignity from the Big Mouth Billy Bass song.
— Emily Yoshida
And Finally, a Quick Word of Congratulations From Val Kilmer
Congratulations to all my friends who won tonight.

— Val Kilmer (@ValEKilmer) February 25, 2013
Filed Under: Adele, After-Party, Argo, Beasts of the Southern Wild, Ben Affleck, Daniel Day Lewis, Jennifer Lawrence, Jessica Chastain, Life of Pi, Oscars, Quentin Tarantino, Sally Field, Steven Spielberg