New This Is 40 Trailer Offers More Footage of Paul Rudd Pooping
We got the teaser trailer for Judd Apatow's This Is 40 — his first directorial effort since 2009's divisive Funny People — back in April. Now Judd's gone and dropped another one on us, graciously cutting this new trailer with all types of heretofore unseen footage instead of just trying to slide by with the same old trailer spruced up with, like, half of a new scene (I'm looking at you, majority of trailer editors!). A few observations:
• Have you seen the poster for This Is 40? It's worth checking out: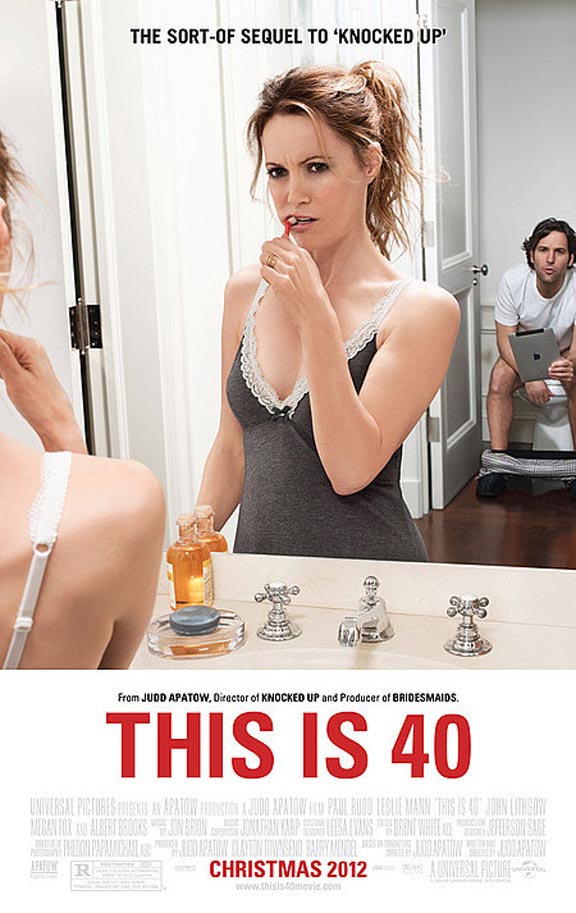 OK, so — Rudd looks illustrated in, Leslie Mann looks unsure of exactly what level of disgust she's supposed to put forth and, oh, also, there's the unseemly insinuation of pooping. Or maybe Rudd sat down to pee because his knees got tired. Who knows? Let's not judge. Anyway, the maybe-pooping scene is unveiled in this new trailer, and thankfully plays much better than it does as a still life.
• According to IMDb, Jason Segel plays "Jason" in this movie, meaning he's either playing the same character as he did in Knocked Up or he's playing a different guy named "Jason." Question: How does the one-time co-proprietor of FleshOfTheStars.com end up as Leslie Mann's personal trainer?
• Does anyone know what black-and-white band photo Rudd has framed in his office? Just asking because I fully plan on being the type of 40-year-old who has framed black-and-white concert photography in my home or place of work, and I don't want to accidentally copy Paul Rudd.
• The weed-cookie hotel-room scene: a conscious or unconscious nod to the same scene in Knocked Up?
• This is partially soundtracked by The Strokes' "You Only Live Once." The alternate demo take of that same song, known as "I'll Try Anything Once," was used in the trailer for Sofia Coppola's Somewhere. Keep this in mind in case they ever bring back Rock & Roll Jeopardy!, I guess?
• The tagline "This is not their story … This is everyone's story" is certainly a bit of a stretch. I don't have the exact data on hand, but I'm fairly confident not "everyone" is a very attractive, rich, white Los Angeles family. But we know what Apatow's going for: a comprehensive take on the perilous rigors and, ultimately, I'm guessing with some confidence, the peerless joys of family. Anyway, can't wait.
Filed Under: Jason Segel, Judd Apatow, Paul Rudd, This Is 40