Never As Good as the Third Time: Sade at the Staples Center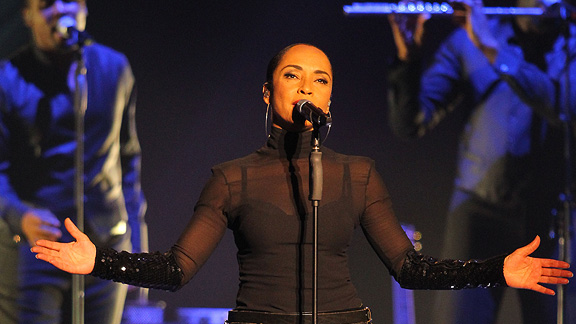 Far be it from me to begin a music review with a description of the performer in question's appearance but Jesus lord Sade looks INCREDIBLE. She is the sexiest woman I have ever seen do really anything, let along sing. But also sing. On the third of three sold-out nights at the Staples Center on Sunday, she commanded the stage from a variety of beautifully art-directed perches, saving the very highest for the encore ("Cherish The Day") where she was lifted atop a tiny skyscraper, at which point my mom started to express concern for her safety.
Sade's show was everything I wanted out of a concert experience. A long set packed to the brim with hits, banter about how genuinely happy she was to be playing in Los Angeles again, and dancing by Sade and her backup singers. Considering her legendary reputation as reclusive, onstage she seemed anything but, playing to the crowd while keeping them in the palm of her hand, which actually enhanced her mystique rather than diminishing it. She worked through her canon of elegant quiet-storm masterpieces as occasional scrims with projections on them (such as red theater curtains) fell down and the awe-struck audience sat completely enraptured. My brother agreed that "Is It A Crime" was probably the standout, if forced to choose one moment that summed up the energy and pure mysticism of the show and Sade as a performer. It fully demonstrated the strength of her singing and her spellbinding stage presence.
Having always having mostly imagined Sade as a kind of spectral voice from the radio, I was mildly surprised how much the show was focused on her (insanely smoking 52-year-old) body, with a lot of posing and dancing. She wore a variety of sexy understated outfits that changed (along with sleek hairstyles) incredibly quickly between songs. The projections (by British music-video director Sophie Muller) presented Sade in different sensual settings: lolling in a field of flowers in a green silk dress, lost in a sea of metropolitan neon signs, swinging a lasso in blue spangled slow-motion. Equally notable was the crowd, almost all couples of varying ages dressed to the nines in smart suit jackets and jewel-toned dresses. In the ladies' room line after the show, a boisterously drunk woman hugged me as she urged us all to appreciate life, and each other, in honor of Sade, then "go home and make love to your man."
Filed Under: Music