MTV EMAs: David Hasselhoff Dominates, Taylor Swift Winks, and Justin Bieber Hides His Pain
The MTV EMAs — that's the Europe Music Awards — went down in Frankfurt, Germany last night. Did you miss anything particularly big? No, of course not; this is an MTV awards show we're talking about here. But there were a few moments, from the all-around performance of David Hasselhoff to the robotic facial machinations of young Taylor Swift, that certainly deserved some small recognition. And what better way to recognize a meaningless award show than with a list of awards even more meaningless? OK, here we go.
Creepiest Wink: Taylor Swift
A lot to digest in this clip above. There's Heidi Klum, by way of intro'ing Taylor Swift, straight murdering a snippet of "We Are Never Ever Getting Back Together." There's the general circus theme brazenly shoplifted from that one totally underrated Britney Spears album. There's a guy in a mini-bicycle, and back-up dancers borrowed from the sex party from Eyes Wide Shut, and the kind of industrial sparks most closely associated with a post-apocalyptic Detroit. And yet, above all, there's Taylor Swift trying to wink.
Dear god, woman, what is that! Taylor, we beg of you — never again. Never, ever ever.
Most Omnipresent: David Hasselhoff
David Hasselhoff: apparently still famous in Germany! Weirdly enough, Hoff was all over these EMAs. Here he is in an ill-advised Felix Baumgartner sketches. The joke was that Hasselhoff was going to best the space jump, only MTV didn't give him a parachute because they wanted to kill him?
And here he is making a port-a-potty cameo during Psy's performance. Hey, I'm pooping here! Ha ha ha.
He also tweeted about hanging out with Kanye, who seemed ecstatic about the opportunity: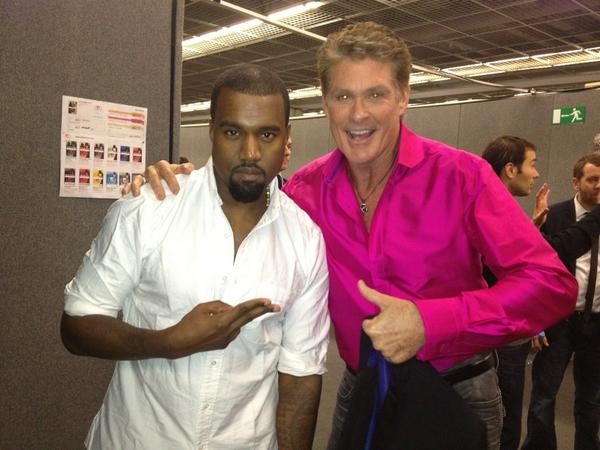 Best Use of Technology: The Killers
To avoid excessive travel, American bands often play the EMAs via a live telecast. To my knowledge The Killers are the first American band, however, to play the EMAs as holograms but not tell anyone. So lifelike!
Worst Use of Technology: Muse
LCD message sunglasses from Hot Topic and a bespoke iPad guitar? Shameful, Muse.
Least Punk Rock Stage Dive: Carly Rae Jepsen
About a minute in, CRJ steps gingerly into the crowd and is twirled around, ever so lightly, by burly security guards. And, somewhere, Iggy Pop is SMH'ing.
Truest To His Soul: Justin Bieber
As you may have heard, JB and his lady Selena Gomez have publicly split. Meaning that, when Bieber pre-recorded this acceptance speech for "Best Male" (Best Male what? Don't ask so many questions), he was, quite possibly, right in the midst of private breakup agony. Just look at him, putting on a tough face for his audience; yeah, he's trying to smile, but he's totally crying on the inside. Also a possible explanation for his reserved demeanor here: He truly doesn't give a shit about winning an EMA.
Filed Under: Heidi Klum, Justin Bieber, Lesser Awards Shows, Mtv, Taylor Swift