Handicapping The Bachelorette Week 2: Soulja Boy Helps Separate the Rapping Wheat From the Chaff
The Bachelorette
Whoever said, "Nothing reveals a man's husband potential like his ability to rap and appear in a Soulja Boy Tell 'Em video," was absolutely right. And deranged. This week, the 14 guys on the group date with Des met with the zeitgeist of the fall of 2007 to record a rap song and video. Interestingly, though, the rapper here could have been anyone because Soulja Boy contributes almost nothing to the episode or the music video. Was he the only rapper whose schedule worked with The Bachelorette? Did Chris Harrison specifically request him? Was "Kiss Me Thru the Phone" Desiree's ring tone? The only thing we learned with certainty is that Juan Pablo is very enthusiastic about American dance crazes (maybe he watched an instructional video?). Yet, maybe we should thank Soulja Boy for being the vehicle that allowed a few of the bachelors to differentiate themselves.
The Front-runners
Last week's top three remain there because they all won the in-date roses. It's unlikely that all three of these guys will make it to the end, but their lead is commanding right now.
BRYDEN
Why he'll win: Because it would be difficult to publicly reject someone who not only served in the military, but also survived a horrific car accident. Bryden came to his one-on-one date armed with photos of his totaled truck and of himself recovering in the hospital. So no one can say that that he didn't almost die.
Misgivings: Bryden seems incredibly boring. Their road trip consisted of four stops: A gas station where Bryden declares Smartfood popcorn to be the best kind, which is like saying Coke is the best kind of cola; El Matador State Beach in Malibu; a lemon grove; and finally the Ojai Valley Inn & Spa, the site of an epic Real Housewives adventure. Until arriving in Ojai and excluding interviews, Bryden utters just 92 words over three minutes, including eight directed at a cashier, multiple "right"s to acknowledge he was listening, a few "that's awesome!"s, a couple of "Uh, yes!"s, and one painful disclosure. He has never had Brie. The only person with a worse airtime-to-words ratio is Soulja Boy.
BROOKS
Why he'll win: Because Des is charmed by someone who refers to barbed wire as "razor blade wiring." After taking Brooks to her bridal salon to try on wedding clothes, followed by a pit stop on the L of the Hollywood sign, Des drives them (in her Bentley) past some "razor blade wiring" until they come to what is possibly Los Angeles's most famous bridge, the 6th Street Viaduct. To me it will always be the place where Jack Shephard tried to commit suicide in the Season 3 finale of Lost, which is hopefully not Brooks's primary association for the sake of romance. There they have dinner, and Brooks is the recipient of the season's first awkward private concert by a mostly unknown musical act.
Misgivings: He seemed to legitimately know some songs by Andy Grammer. Maybe Brooks was faking it, but if he is lying about that, maybe he is not here for the right reasons.
BEN
Why he'll win: Because he is the target of collective ire, he's landing a lot of kisses, and he's maximizing his Des time. Ben dominates the cocktail parties so thoroughly that Mikey T. accuses him of being a politician and Michael G. confronts him about his monopolization of Des after he already has a rose. But unlike the villains that came before him, Ben admits some fault. Maybe he didn't need that alone time once he already had a rose. In this context, self-awareness must be a sign of greatness.
Misgivings: Ben is treading in Jonathan territory. Ben, stop forcing her into dark, secluded spaces that make her ask suspiciously, "Where are you taking me?"
On the Bubble
Watch the music video for "Right Reasons" by Soulja Boy, Des, and the guys to understand the majesty of this second tier:
MIKEY T.
Why he might make the leap: Mikey T. is unquestionably the breakout star of the entire music video endeavor. Des should have given him the group date rose when he greeted Soulja Boy by busting out some "Crank Dat" moves. On top of that, he did the real Harlem Shake in their dance circle. If that doesn't get you a rose, how can we believe in this program? He persevered, though, carrying the entire video on his back. The kneeling-on-Converses move to seem shorter was a brilliant touch. We can't be sure who came up with it, but let's just hope and assume that it was Mikey. He had an advantage because he did not have to "rap" at all, but he refused to stay complacent. He led all group dancing, regardless of whether or not he was doing the right moves.
MICHAEL G.
Why he might make the leap: Michael G.'s (supposedly) improvised rap lyric made it into the song, and that's very impressive; he must be a wordsmith. He also coaxed Ben into admitting wrongdoing with some power words: "I happen to get along with every guy here. You, a lot less." Michael G. cast him as the social pariah and the Wrong Reasons guy with Bryden-inspired brevity. His potential is only limited by his apparent affection for V-neck tees. Among last night's inordinate number of V-necks, Michael differentiated himself with a green, double-layer collar. Is this what you want to be known for, Michael?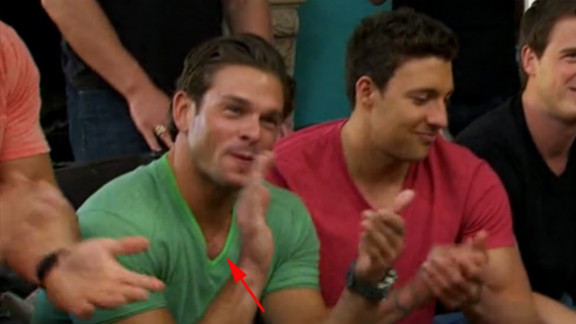 JAMES
Why he might make the leap: James won't be stopped by his inability to rhyme or remember his lines because he is a good time. Even though he couldn't rhyme anything with "Roses are red, violets are blue," he still got a rapping part in the song. When he forgets his line because of Des's blinding beauty, he gets some laughs with his replacement lyrics. The only conclusion is that everyone must like James. Des probably doesn't, but he'll be around for awhile.
Don't Get Too Attached
BRANDON
Why he won't win: Of course Brandon wasn't going home after he "jiggled [his] junk in her vicinity" during the music video. He also danced with a bare ass. But Brandon began his life story with "I was born," which is never a good start. He also displayed an inability to understand jokes and sarcasm. Sorry, Brandon. It won't be long now.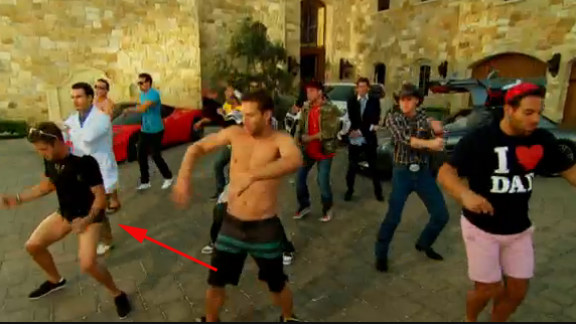 ZAK W.
Why he won't win: Topless Zak is attempting to rebrand himself, but it's too late. He did deliver the line of the night: "No-pants guy? I relate." This is exactly why you can't win. Zak presented Desiree with a journal he bought at an antique shop in a small town, which raises a few questions: (1) When did Zak buy it? (2) Does he always travel with an antique journal that he might give as a gift? (3) Do antique shops carry journals? Too many questions, Zak, and not enough answers.
Still on the Show by Default
BRIAN
Des and this guy spent a suspicious amount of time devoted to his past relationships, yet we still know nothing about them.
ZACK K.
The only thing this dude did was mime a bow-and-arrow motion — uncomfortably close to something Joffrey Baratheon does.
KASEY
Thanks, Kasey, for telling us viewers that each guy is dressed up like a previous contestant. Some of these guys were dressed up as dudes who were eliminated last week (Brian as Mike R., Drew as Diogo). Harsh move by the producers.
JUAN PABLO
Kudos to Juan Pablo for nailing the "flip the burgers" move and playing up his non-American status. That might be all you need to get by.
DAN
All we know about Dan is that he is conscientious when it comes to applying sunscreen.
DREW
I thought this guy would have an impact, but he didn't this week.
CHRIS
BRAD
These two didn't even go on any dates.
Eliminated
WILL
ROBERT
NICK M.
Filed Under: Desiree Hartsock, The Bachelorette